The functional food revolution is rapidly changing old candy stereotypes. The hard candy category, including peppermints and jawbreakers, has collided with the loosely defined cough drop category.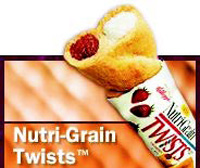 Functional ingredients have radically transformed both categories, which now include Celestial Seasonings' Soothers Herbal Throat Drops and American Licorice Co.'s Herbal Chews. These new products have revolutionized the whole notion of hard candy and the reasons for eating it. Hall's Vitamin C Drops are not simply for a sore throat, they're designed for a healthy lifestyle. Added zinc, calcium, herbal remedies, vitamins, and even vegetable extracts have transformed hard candies into powerful delivery systems for healthy ingredients.
Another major merge of candy concepts consists of health, snack, and candy bars. It's hard to tell just where the distinctions lie with new products like Quaker Fruit & Oatmeal low-fat cereal bars, in flavors such as strawberry cheesecake, and Kellogg's Nutri-Grain Twists, in strawberry and crème, and others. These products have their roots in granola bars, incorporate aspects of cookies, and promote healthy attributes, fun, and confection-like taste. The major distinction is in the formulation and marketing strategy. 
The overall trend of adding functional ingredients to candy makes sense, much as it does in the beverage category, which has seen an initial change of a traditional product becoming a functional food. Consumers want convenience, good taste, familiarity, and healthy ingredients. Candy laced with functional ingredients can offer the whole package. The challenge lies in defining this growing phenomenon and determining just how healthy these products really are. In what category do green tea candy drops belong? 
Candy is tailor-made as a food type through which to distribute healthy ingredients. Per-capita consumption of confectionery products hit 26.7 lb in 1997 in the U.S., the latest year for which figures are available, according to the U.S. Census Bureau. According to the National Confectioners Association, consumption translated into retail sales of $22 billion, with an upward climb that shows no sign of peaking. 
Meanwhile, the broad category of functional foods is growing at an even more torrid pace. Some projections place the total size of the U.S. market at $17–25 billion by 2002. This includes all categories, but a growing proliferation of enhanced candy products buttresses the trend. 
According to Clare Hasler, executive director of the Functional Foods for Health program at the University of Illinois, "People are looking for alternatives to modern medicine, and more are turning to diet to take control of their health." Her program is geared to helping food companies gain a better idea of how functional concepts can be incorporated into mainstream foods for both commercial success and public health viability. 
A key component of confectionery growth is chocolate, which recently has benefitted from scientific studies that give it near-nutraceutical status in its own right. In addition to its recently established neutral effect on blood cholesterol levels, recent research has indicated a possible antioxidant benefit in chocolate similar to that found in red wine, due to a relatively high level of polyphenols. These compounds may also contribute to a reduced risk of coronary disease. Additional research also seems to indicate that chocolate may affect the brain's neurotransmitters, specifically serotonin and endorphins, to improve mood and outlook—which is not a surprise to chocoholics. 
This has not been lost on chocolate mega-marketer Hershey Foods. "There seems to be a great deal of scientific study indicating chocolate is more than just great tasting and enjoyable," company spokesman Michael Kinney said. "But Hershey has always felt that there is room in a healthy diet and active lifestyle for our products." He wouldn't comment on Hershey's development activities aimed at functional products, but Mars, Inc., more actively pursuing the nutraceutical effects of chocolate, apparently believes that the historical popularity of candy and the growing demand for functional foods constitute a trend with staying power. 
So, what's ahead? Look for hard candies to closely parallel beverages, with specific formulations designed for specific tasks, such as added vitamin C and zinc for colds and flu, kava kava and St. John's wort for mood elevation, ginseng and ginko for brain power and memory enhancement, and calcium for bones and skeletal strength. Licorice may gain popularity because of recent studies showing it helps heal gastric ulcers, as well as coughs and asthma. Honey, too, will find its way into more confections. As for chocolate, one Japanese company already has introduced a polyphenol-fortified chocolate for adult males. Meiji's Chocolate Koka™ contains more than double the amount of polyphenol in regular chocolate, which amounts to the equivalent of about 20 glasses of red wine. 
Candy fits the consumer need for convenience: the products are easily purchased and easily carried, and can be eaten almost anywhere. In an era of careful eating, the news that chocolate and nuts can be healthy as part of a varied diet is greatly appreciated. We'd expect to see confections containing other healthy ingredients, and maybe appearing different from the strictly drawn boundaries of candy today, appearing as legitimate meal components and snacks. There are already enough nutrition bars to make the category plausible to the buyer.
by PIERCE HOLLINGSWORTH
Contributing Editor