After having spent nearly 15 years at McCall's and Good Housekeeping magazines, I've learned one thing for sure: America loves celebrities! Today, People magazine outsells Time and Newsweek. "Lifestyles of the Rich and Famous," "Extra," and "P.M. Magazine" rivet television viewers to their chairs. Celebrity cruises, home tours, and book signings draw millions of starstruck fans every year. Even CNN's globally aired Headline News offers daily celebrity updates, in just a "Hollywood Minute!"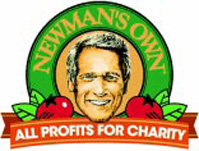 With the current trend to Eatertainment and our national desire to simply have more fun with food, it's not surprising that celebrity cooks, famous chefs, and sports stars are having more influence in our supermarkets than ever before. In fact, in the 1999 Ad Age/ARC Survey: Brands, "fun"—ranking 7.3 on a scale of 1–10—was one of the most important attributes consumers said they will consider in making future brand choices. Being "trendy" is also likely to become more influential in terms of brand appeal, with "hip" ranking a strong 5.8 in the same survey. No wonder Cal's Classic O's (named for Cal Ripken Jr.) and Slammin' Sammy's Frosted Flakes (named for Sammy Sosa) have posted such strong sales!
If the large majority of those surveyed (86%) have their way, advertising and marketing icons, including the Pillsbury Dough Boy, The Jolly Green Giant and his "Little Sprout," and the Budweiser lizards, will occupy an increasingly central position in our cultural mainstream. With an overwhelmingly positive response to these humorous and "warm and fuzzy" characters by consumers age 18–25, this trend is expected to gain in prominence and acceptability. Looks like Borden's "Elsie the Cow" came back just in time!
Clearly, Paul Newman—who will donate more than $100 million to charities this year, as a result of the success of both Newman's Own and Newman's Own Organic 30+ product lines—represents the epitome of celebrity product marketing. But while "big-draw" celebrities make product decisions simpler and more fun, they also require greater-than-average marketing muscle, promotional spending, and in-store attention than their traditional counterparts. And with consumers paying a 15–20% premium, they expect them to taste better than comparable mainstream items. On the up side, however, many retailers are willing to waive slotting fees for these products and give them prominent floor position to help attract elusive younger shoppers, add variety, and service their need for "in-and-out" novelty items.
Likewise, with generations of young people who simply don't know how to cook and others who don't want to, it is not surprising that everyday folks—who offer a comforting and personalized approach to food—are gaining in popularity. Not surprisingly, "personalized products," "personalized services," and "customer service that makes an effort to keep in contact with you" will also be important brand decision points. Nowhere have unknown but personable personalities enjoyed as much success as in the food arena. After all, Famous Amos wasn't always famous, nor was Mrs. Field's or even Wendy! And doesn't Aunt Millie (homemade pasta sauces), Ken (BBQ beans and sauces), or even Marie Callender conjure up warm feelings of comfort, trust, and great homemade taste?
Wolfgang Puck. Paul Prudhomme. Graham Kerr. These names instill a sense of gourmet quality and an aura of provocative fare to today's restaurant take-out spoiled consumers. With Americans wanting to transfer the eating-out experience to home, it's no wonder that restaurant brands—from Chi-Chi's, El Torito's, and Taco Bell's chips, dips, and dinners to California Pizza Kitchen's pizza classics and Starbuck's specialty fare—are crossing to mainstream supermarket channels at an accelerated rate. And since restaurants and celebrity chefs are synonymous with higher-quality food, consumers expect to pay their premium prices.
The future looks bright. With chains like Blimpie developing signature chips and flavors to help differentiate themselves from other chains, a new generation of products with mainstream appeal will fill the potential retail pipeline.
Chefs are becoming stars in their own right and are increasingly creating their own retail product lines. Wolfgang Puck, famous for Spago's notoriety and success, now offers more than 40 pizza and entrée SKUs. At the same time, clever retail chains are hiring nationally recognized chefs to develop restaurant-quality, seemingly gourmet product lines to help differentiate their chains. For example, Graham Kerr, a household name after years as TV's Galloping Gourmet, is now exclusively developing a line of 36 products for Haggen Food and Pharmacy, based in Bellingham, Wash. Clearly, borrowed equity from the restaurant world provides the supermarket a free pass to the upscale perceptions of the products they sell.
From Starbuck's to Spago, today's starstruck consumers will long be lured by celebrity cooks and trendy restaurant fare. While not all celebrities will fly, wise marketers will take the time to sort through the personalities and trendy eateries setting today's culinary pace, identifying those menu items and culinary stars that will have greatest consumer appeal. With the popularity of the Food Channel, the mega trend to eating out and taking out, and the glamour and creativity associated with food, it's a natural and very lucrative premium niche to explore. Just remember, Wheaties has been doing it for years!
by A. ELIZABETH SLOAN
Contributing Editor