Growth in packaging machinery shipments during the decade ahead is projected to grow by about 3.9% for the next three years, to a value of shipments approaching $5.082 billion by 2001. However, packaging machinery made in the United States is faring less well in the export sector, with an 11% decrease during 1998.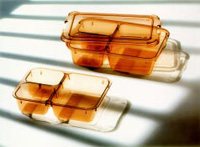 Turmoil in key international markets was blamed for the drop, according to Charles Yuska, president of the Packaging Machinery Manufacturers Institute. Because of the shake-up in the U.S. dollar, packaging machinery built elsewhere had a price advantage in the international market. The change in the money markets appears to indicate that countries such as Brazil, Mexico, and Canada are changing and improving packaging lines rapidly.
The growth in the shipment of packaging equipment seems to come from several sources. According to PMMI, the sustained strength of the U.S. economy, low interest rates, high levels of corporate profits, and continued interest in reducing costs and increasing productivity are all reasons for increased shipments of equipment. But there are other reasons, too, including the need for packaging lines that are increasingly flexible and able to change packaging materials and container or package sizes very quickly. Newer packaging materials and convenient container types are among reasons for upgrading packaging lines. 
These newer containers and packaging materials follow the consumer demands for new food products that taste and look more "natural" and less processed but are still extremely safe. Consumers want what they want, when they want it, at the lowest possible cost. That can mean more different product lines, which gets in the way of lowest possible cost. So packaging equipment that can operate at high rates of speed and can allow changes to be made rapidly are helpful in meeting these goals. 
The kinds of packaging machinery that were major factors in the 1998 shipments can almost be predicted by consumer concerns and preferences, and by regulatory initiatives. Changes in product mix have resulted in increased conveyor lines and other equipment used to handle food items during processing. Coding, dating, stamping, and imprinting machinery was the second largest category of shipments and was up by 3.4% between 1997 and 1998. The biggest changes in shipments were in the categories of dry product filling, up 12.7%, and skin and blister packaging units, up 12.5%. Shipments of form/fill/seal machinery were up 6% to $195 million. 
New technology in packaging appears to have been responsible for the replacement of packaging units that had not been anticipated. About 40% of the 1998 packaging machinery shipments are purchased by the food processing category and 14% by beverages. New equipment was purchased to form new proprietary shapes and sizes of bottles, complete a shift to plastic bottles, make and fill newly designed standup pouches, convert and fill lighter-gauge films, apply new closures, use "freshness" films, provide and apply clearer labels, and perform all of these functions faster. 
Negative factors relating to new packaging equipment indicate that many food companies are trying to reduce the cost for packaging equipment where possible. According to PMMI, consolidations had major effects on packaging equipment purchase. Consolidations called for some projects that had been planned to be delayed or canceled, and some plants were closed. The plant closings released some used equipment lines, changing the total picture of purchases. 
PMMI's reports commented that a large number of major food companies sometimes develop and build their own packaging (and processing!) equipment, which is then not counted in the overall shipments. Machines built by food processors are often designed for very special uses and are limited in quantity. It is one way to totally differentiate packages from those made and filled by commercial machines that are sold on the open market. 
New products and packages trigger purchase of new filling and packaging lines, and some of the new packages require changes in processing equipment as well. New packaging is coming out of the woodwork for a lot of reasons:
The love affair with convenience continues. Columbo's new yogurt package with the two-piece snap-together spoon on the carton lid is an example, as is Gogurt's yogurt in a tube that allows children to eat directly from the package. The introduction of a black, attractive tray for frozen, microwavable foods a few years ago allowed the product to be microwaved and eaten from the package. (While this may not convey the sense of urgency that consuming a whole cheesecake from the package while standing in front of the freezer might, it does demonstrate the full range of convenience required by a substantial number of consumers.) 
Another reason for changing packaging equipment is the increased need to easily identify product in case of a recall or complaint. The number of recalls, while small, occasions a great deal of stress for the manufacturer. Faster printers and coders are being added to packaging lines, along with shrinkwrap equipment that identifies and validates the total count of items in a given code. Shrink wrap is a necessity for shipment to some warehouses, for easy identification, cleanliness, and neatness. 
Packaging equipment for the next several years must serve the needs of processors—they must be more flexible, change sizes and shapes of containers more easily, be able to produce packages from less-expensive but more durable materials, and fill, seal, and label with great speed and accuracy. Some of the new packages designed to run on these machines offer consumers new attributes. 
For instance, prize winners in the the AmeriStar Awards contest sponsored by the Institute of Packaging Professionals and in the WorldStar Awards global competition sponsored by the World Packaging Organization included a plastic juice concentrate container that required new forming, a new closure, and updated fillers. The plastic container allows consumers to thaw the frozen concentrate quickly in the microwave oven without setting off fireworks from metal can parts. The can, designed and made by Graham Packaging Co., L.P., was introduced last December. The container required new molding systems and cap application systems. Graham also won AmeriStar Awards for its Tropicana Twister bottle (shaped like a tornado, with a large side panel and narrow shelf-space requirement) and for Snapple Sun Tea and Hydro Thirst Quencher bottles.
PATENTS
Here is a selection of important patents on food packaging recently issued. Full patents can be obtained at www.uspto.gov free of charge. 
Thermoformable multilayer film and thermoformed container. U.S. patent 5,972,447, filed 9/11/97, issued 10/26/99 to N. Hata et al., assigned to Kuraray Co., Ltd. Describes a thermoformable film or sheet superior in gas barrier properties, mechanical properties, and appearance used to produce a thermoformed container. Film and container are made from a resin including 60–99% ethylene-vinyl copolymer and 40–1% ethylene-(meth)acrylic acid copolymer dispersed as particles in the matrix of the ethylene vinyl copolymer.
Flexible package has a re-closable zipper. U.S. patent 5,972,396, filed 5/15/98, issued 10/26/99 to M.A. Jurgovan et al., assigned to Recot, Inc. Describes a modified flexible package that includes a front and a rear elastomeric wall, sealed together at a top seal at a top end of the side walls. The top seal is formed by applying heat and/or pressure for a given dwell period, and is preferably a delaminating seal. A first zipper part is attached to an inside surface of the front wall, and a second zipper part is attached to an inside surface of the rear. Both the top seal and the zipper engagement members are "pinch-grip opened" under a pinch-grip pulling force applied to the front and rear walls below the zipper. The front and rear walls can resist tearing and deformation during pinch-grip opening. The invention provides a reclosable package that can be opened in an easy one-step manner—"pinch grip opening"—without an additional step of cutting or tearing.
Reduced diameter double seam for a composite container. U.S. patent 5,971,259, filed 6/26/98, issued 10/26/99 to J.E. Bacon, assigned to Sonoco Development Inc. Describes a hermetic composite container consisting of a nonmetallic composite container body and a metal end which are joined by a double seam. The double seam has reduced dimensions, resulting in significant savings in material. The metal end is formed of a low-basis-weight metal less than 0.007 in thick, avoiding substantial wrinkling of the metal end.
Tamper-evident leak-tight closure for containers. U.S. patent 5,971,183, filed 12/15/95, issued 10/26/99 to E.R. Bartsch, assigned to The Procter & Gamble Co. A closure for a container, such as a blow-molded jug, has a neck surrounding an opening with the closure formed of a first and second annular portion. The first annular portion has a wiper seal and a lip seal, and the second annular portion exerts an upward pressure on the lip seal which causes improved sealing and leak-tight properties during shipping, handling, etc. The upward pressure also enhances the effectiveness of the wiper seal. The closure may also include a plug seal and a lower annular portion extending from the second annular portion.
Systems and methods for making decorative shaped metal cans. U.S. patent 5,970,767, filed 8/28/98, issued 10/26/99 to M.W. Hartman et al., assigned to Crown Cork and Seal Inc. Describes a method of making a distinctively shaped metallic can body by providing a can body blank that has a sidewall with a substantially constant diameter; providing a mold cavity with the desired final shape of the can body; positioning the can body blank within the mold cavity; and supplying a pressurized fluid into the mold cavity so that the can body blank is forced by pressure against the mold wall. Axial compression is preferably applied to the can body blank to reduce internal stresses during molding of the container.
Process for producing a gas barrier resin composition useful in packaging food. U.S. patent 5,969,029, filed 10/16/97, issued 10/19/99 to K. Kotani et al., assigned to Sumitomo Chemical Co. Describes a gas barrier resin composition or its film having very high level gas barrier and moisture barrier properties. The resin composition or its film can be produced by dispersing a non-film-forming inorganic laminar compound in a high-hydrogen-bonding resin or resin solution in such a state that the non-film-forming inorganic laminar compound is swollen or cloven with a solvent, and removing the solvent from the dispersion, if necessary in the form of a film, while maintaining the state.
Paperboard package, blank and method and device for producing the same. U.S. patent 5,971,266, filed 12/30/97, issued 10/26/99 to G. Sampaolo et al., assigned to International Paper Co. Describes a container particularly suitable for food products and aseptically packaging liquid foods. The rectangular-shaped blank may be formed from a laminated sheet material that preferably includes a composite of paperboard web, aluminum foil, and intermediate layers of heat-sealable polymer. All blank fold lines are scored, and an induction-sealing flange area is provided around the entire blank perimeter. A unit of several sheet-linked blanks is symmetrically folded about a central axis for juxtaposed alignment of sealing flange areas around the perimeter of the unfolded blank. After induction sealing the package side flange at the bottom of the unit, the resulting tube pocket is open and charged with a quantity of liquid. After charging, the series of edge flanges above the first sealed edge flange are also induction sealed and severed from the unit remainder to complete a pillow-shaped package.
---
Products & Literature
PLAIN CONTAINERS can be decorated on-site using a shrink and roll-fed labeling system. The equipment system can decorate full or empty containers made of PET, HDPE, glass, or metal, including 2- or 3-piece steel and aluminum cans, aerosol or spiral-wound containers. The systems can apply labels made from paper, metallized paper, metallized films, shrinkable films, or other films made from polypropylene, polystyrene, polyvinyl chloride, polyethylene, and blends, in monolayer or laminated structures. For more information, contact B&H Labeling Systems, P.O. box 247, Ceres, CA 95307 (phone 209-537-5785, fax, 209-537-6854)—or circle 372.
NEW RESIN forms cook/chill trays for institutional feeding. The resin, Radel® R polyphenylsulfone, was made into trays demonstrated at the American Correctional Food Service Association Trade Show during August. The trays are designed to hold food that is cooked and rapidly cooled to 40ºF, stored, and reheated to 400ºF and served. The trays (shown in photo) may be reused, so they must withstand hot water, dishwashing detergent, and, presumably, other abuse. The trays, made by Jones-Zylon Co., are provided in two sizes, and can be used with a formed lid or covered with lidding film. For more information on the resin, contact BP Amoco Polymers, Inc., 4500 McGinnis Ferry Rd., Alpharetta, GA 30005 (phone 770-772-8727, fax 770-772-8547—or circle 373.
by FRAN KATZ

Editor
What's New on IFT's Web site? Take a look . . . www.ift.org
Coming in January: IFT's new international electronic magazine . . . www.ift.org