Foodservice is a poorly understood discipline. In fact, many view the business as a black box. So it's incumbent on those in the industry to share knowledge and ideas with one another to improve the function, and to foster understanding and respect for the critical role foodservice plays in food manufacturing.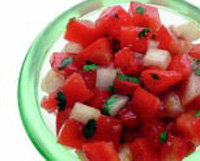 The key to being successful on many levels and driving the industry forward is one's ability to artfully leverage science, technology, and relationships. Specifically, it's imperative to:
• Stay focused on one's roots.
• Constantly challenge existing systems to drive improvements in safety, consistency, operations, and profitability, as well as allow for different executions of the same foods.
• Find ways to overcome the obstacles in delivering culinary balance and differentiation in a highly complex marketplace.
• Always look toward suppliers and create a network of "integrated reliance" with them.
• Understand how important people skills are to success. 
What do those last two bullet points mean? First, they mean that you can buy expertise, you can buy technology, but you cannot buy the ability to enroll others in your vision. Consequently, without people skills, a team of champions will not perform as a championship team. It's that simple. This also illuminates an emerging pattern seen not just in this industry, but in all industries: retailers are moving closer to their suppliers, creating alliances to drive innovation through science and partnerships. 
Second, success in this business means living boldly, not listening to reason, and often ignoring conventional wisdom, because these are unconventional times. So it's critical to have an aggressive vision—a destiny—that provides strategic direction and intense focus. At Taco Bell, our vision is bold—to become America's favorite quick-service restaurant—and it propels us in everything we do. 
Yet, on an implementation level, a vision isn't enough. It must be supported by key enablers—specific strategies to make the aspiration a reality. Ours are:
• Product: Great-tasting Mexican food anytime, anywhere.
• Promise: Make Taco Bell the most energizing place to work, eat, and own.
• Principle: Be the leader.
These supporting pillars are the everyday guidelines we employ to drive us forward to our destiny. Combined with our confident culture of innovation, they have enabled us to always evolve our products, value, and advertising, and to become the largest Mexican quick-service restaurant (QSR) chain in the world. 
--- PAGE BREAK ---
Putting Principle into Action
Emboldened with a dynamic spirit of adventure, how does a group of food technologists, engineers, product development experts, quality specialists, and others reach their given destiny? For us in Taco Bell's Technology and Quality (T&Q) department, it means that it is our accountability to create the products and systems that enable us to reach our destiny. We must develop quality products, deliver accuracy and consistency, and provide profitable solutions. Simply put, we must translate technology and innovation into breakthrough tastes, processes, and fun! 
These accountabilities create significant retail challenges in a food-manufacturing world. In fact, when comparing the two environments, many similarities are found, among them:
• Marketing: Marketing delivers potential buyers through multiple channels to the retail environments (multiple points of sale such as counter and drive-through at freestanding units, gas-and-convenience stores, in-lines, malls, etc.)
• Customer service: Sales personnel greet customers, assess needs, sell and upsell products, and initiate order fulfillment.
• Payment: The transaction is processed at the point of sale.
• Production: The production cycle begins—inventory (raw materials and in-process), manufacture, assembly, and packaging.
• Delivery: Product is delivered, and an invitation issued to visit and purchase again. 
An Extraordinarily Complex Business
Foodservice (especially QSR) is very much a retail business, driven by its particular challenges, constraints, and opportunities. Yet, to most people, it is seemingly simple. On the contrary, unique drivers and complexities compel never-ending innovation. This is a snapshot of some of the intricacies faced by major fast-food companies:
• Thousands of locations that serve as both manufacturing plants and retail outlets.
• Low margins, even though annual sales are in the billions.
• A transaction-driven business—every year, billions of transactions are conducted (about 1.4 billion in our case), and up to 80% of them are customized in some way.
• Speed of service—target throughput for each transaction is just three minutes, so speed of service is problematic.
• Highly variable demand, which is concentrated in dayparts. Demand can vary by a factor of 10 in 30 minutes or less!
• On-the spot production—product cannot be assembled in advance and warehoused for future delivery. For those QSRs that do not stage their foods, product must be built accurately on the spot in three minutes or less by trained, competent workers.
• High turnover and labor costs—average turnover in the QSR industry is unacceptably high (greater than 200%), and labor accounts for 30% of every sales dollar.
• No brand loyalty among core users—consumers move from deal to deal and from promotion to promotion, creating an intense, relentless competitive environment. 
From an internal standpoint at Taco Bell, we have additional layers of business drivers: military channels to serve, ongoing menuboard changes, and multi-branding restaurants with Tricon sister divisions KFC, Pizza Hut, and Tricon Restaurants International, which operates all international units for each brand. From a culinary standpoint, Mexican food is highly complex. The varieties and possibilities of its carriers (corn/flour), sauces (green/red), and limitless ingredient options present a myriad of new taste and texture sensations. 
So how does a QSR chain constantly deliver old favorites and great-tasting new ones in unique ways and at high value to the consumer, yet always be profitable for the company? By tying everything it does to its key enablers and never losing sight of its destiny. 
--- PAGE BREAK ---
One Enabler at a Time
As a rule, those of us in foodservice are continuously challenged to blend technology, systems, and food developments to create products with "crave appeal." In every case, however, it starts with the food. So the first task is to explore culinary trends, challenge conventional wisdom with out-of-the-box thinking, and always provide high-quality ingredients.
• Explore Culinary Trends. One way to survive in a fast-paced, competitive environment is to persistently look for emerging developments through an investigative forum such as a "Chef 's Council." We formed our own Council in 1997 with a unique group of system leaders—Taco Bell senior management, franchisees, operators, and outside experts. Their job is to envision our future and serve as a roundtable of experts dedicated to continually and innovatively leveraging our Mexican heritage. Their task is to bring focus and big ideas in key areas such as food, new processes, and competitive activities. In its short existence, the Council has been instrumental in bringing new items such as Chalupas to our menu, growing our business, and creating what we believe to be one of the strongest new-product pipelines in the industry. 
An internal Chef 's Council isn't the only way to leverage a brand's legacy, however. Reclaim your roots! Get out of the lab as often as possible to reconnect with your brand's particular heritage and to remind yourself of your differentiation. We often look to our Mexican heritage to provide an endless supply of the kind of ideas that made us different in the first place. Contrary to conventional wisdom, you can go home again. In fact, you should, and often.
• Challenge with Out-of-the-Box Thinking. The developmental process around Chalupas demonstrates another behavior necessary to success in this industry: constantly challenging oneself and conventional wisdom. In our case, we looked at Gorditas and asked, using familiar equipment, how else can we prepare flatbread, and, for that matter, tortillas, to create a unique eating experience? We took our existing carriers and tried new processes like grilling, frying, etc. We settled on frying and filled the shells with an assortment of ingredients, from current to new, and customers loved them! The transformational thinking behind Chalupas has enabled us to create a new, flexible cooking platform. Now we have a better "playbox"—new executions of the same foods, yet with more versatility and more fun flavors. 
The greatest transformation in the QSR industry in the past 20 years—"KMinus"—is yet another example of fearless thinking, as well as a true confluence of food, science, technology, and people. Most fast-food restaurants have significantly greater kitchen space than dining room space. In the late 1980s, about 80% of our restaurants were dedicated to food storage and preparation and just 20% to customer dining. We asked ourselves, How do we reverse the equation to drive costs down and sales up? 
Ignoring all barriers, we found the solution: remove ingredient manufacturing and assembly from the kitchen (hence, "K-Minus"), work hand-in-hand with suppliers to develop new ways to pre-prepare and deliver fresh food, and enlarge the dining area to accommodate more customers. Thanks to an interdependence with our business partners, we became a food retailer. The reduced costs and higher margins delivered by K-Minus enabled us to pioneer the value menu concept, dramatically changing consumer QSR expectations that only we, until a few years ago, could meet. By challenging every step of every process and by being unafraid of the consequences, we completely changed our business and our industry, and enabled our suppliers to grow in unimagined ways. 
This is but one example of integrated reliance. Another is our supplier of fresh fruits and vegetables, which innovated its business to serve Taco Bell and forever reengineered the way both organizations do business. Prior to the launch of a new Taco Bell fajita vegetable product, the supplier had four weeks to prepare for an immediate 30% increase in volume. The supplier modified its equipment lines, developed specifications with our Research & Development and Quality Assurance people, found a way to purchase the vegetables without disturbing the supply-and-demand chain (which would have raised prices), and delivered the product for grilling and freezing before it was sent to 21 distribution centers. The supplier's extraordinary thinking yielded an impressive array of benefits for Taco Bell: a variety of simplified, breakthrough processes; new alliances among suppliers; expansion into a new food area with applications beyond today; and millions of dollars in savings. In the process, the supplier's entrepreneurial organization has grown and prospered as never before, and become a leader in supplier-process reengineering. 
What does all this represent? It means that as retailers, those of us in foodservice must move toward our suppliers, because that is where the expertise now lies. Specialists are no longer in-house!
--- PAGE BREAK ---
• Provide High-Quality Ingredients. Consumer research reveals that there's more downside risk in underdelivering on customer expectations than there is upside credit in overdelivering. Consumers demand—and have a right to expect—hot foods that are hot, cold foods that are cold, and, at all times, foods that are made with fresh, high-quality ingredients. Always strive to consistently deliver food as it's intended to be—freshly prepared, served at the right temperature, and portioned correctly. It's the single most important thing to do for customers on each and every visit. 
Leveraging Leading-Edge Technology
Beyond food innovation, look to the tools—the systems and processes by which food is sourced, prepared, and served—to drive the business anytime, anywhere. That means leveraging (and often developing one's own) leading-edge technology to deliver profitable solutions, and designing operationally robust products.
• Use Leading-edge Technology to Deliver Profitable Solutions. Historically, QSR food production lines were complex, yet provided a high degree of efficient production. But as the business grew more complex over time, simplification and profitability became more imperative than ever. This led many chains to reengineer their back-of-house operating systems into new, more ergonomically efficient configurations. At Taco Bell, we pioneered a U-shaped line, which vastly simplifies placement of food ingredients and packaging. Because of its design innovation, the U-line requires one less person to operate, improves speed of service, and enhances food safety and line sanitation with its integrated hand-wash sink and built-in sanitizer basin. 
In addition, the U-Line's automated dispensing equipment for meat, beans, and sauces ensures perfect portioning, lower waste, and higher profits. This solves another industry dilemma, namely, the high turnover in our business and the compression of time under which products are assembled. The line's accurate portioning feature eliminates the need for "tribal knowledge," or inexact methods passed down from crew member to crew member that waste food, time, and money.
• Design Operationally Robust Products. Another catalyst for innovation is the need to produce products that can be created and used within the system, respecting all the existing constraints and opportunities. A prime example is our grill, a heavily used item that's robust because it's sturdy, easily cleaned and maintained, and cost efficient. It does what it's supposed to do very well, with great economy, and within the parameters of our current system. 
Driving A+ Operations 
Our "promise" enabler dives deep into the concept of A+ Operations—running restaurants at the highest possible performance levels. Besides the food, store operations are key, and technology efforts are crucial in positively influencing operations. So it's imperative to focus on three primary activities:
1. Listen and respond to the field in creating robust systems and processes. The first step in listening and responding to the voice of the operator is to design a field-ready process—a systematic, rigorous methodology for rationalizing new processes and systems, fire-testing them for operational impact, top- and bottom-line profitability, and the like. The second step is actually ongoing: constantly develop new and extensive channels for honest, unimpeded, unfiltered feedback, including comprehensive confidential surveys and roundtables. In addition, it's necessary to work hand-in-hand with operators in pilot stores to test and refine good ideas, and to expose and eliminate bad ones.
--- PAGE BREAK ---
2. Provide innovative technological solutions to meet changing consumer demands. Like Tricon, many QSR companies own more than one brand with differing food concepts. In our case, it would seem counterintuitive that a common platform of performance metrics could be developed for tacos (low margins, low food prep, low check average), chicken (intensive food prep, high check average), and pizza (intensive food prep, high check average, home and office delivery). Yet, through constant innovation, we have achieved this with a program called "CHAMPS" (for Cleanliness, Hospitality, Accuracy, Maintenance, Product quality, and Speed). This program ensures A+ Operations in every Taco Bell, KFC, and Pizza Hut worldwide because it transforms restaurant processes and how performance is measured; improves communication to, from, across, and within stores; and provides a powerful recognition program for every level of the system. 
A ground-breaking program like CHAMPS presents a unique challenge: how can it be supported? The answer is, through breakthrough training and educational tools called "Learning Maps®." Colorful and fun, these interactive tools help managers to learn more about the state of the business and to become more effective leaders. The maps also enable everyone in Tricon—restaurant managers and their teams, above-store leaders, brand owners, and business partners—to speak a common language around a shared set of objectives and standards.
3. Train, retrain, and sustain pride in one's function and company. There is a critical need for superior people skills. At its core, people skills is a subset of leadership. Nothing will affect a team or company more greatly than the right—or wrong—leader-led behaviors. One way we bring leadership to life is an abiding set of principles to drive accountability across the Tricon system. We enable these principles by providing challenges and removing barriers to meeting them; empowering and engaging the individual; and having fun! 
A textbook example is a person who first joined Taco Bell as a chef. Over time, her natural leadership skills, passion for the business, and belief in people have enabled her follow her instincts in developing great-tasting food for Taco Bell. At every step of her journey, she has grown herself as well as the business. Today, she not only chairs our Chef's Council, but she is also a key trainer and mentor for our system, educating and coaching franchise, license, and company personnel alike on the depth and complexity of Mexican food. 
Perhaps the best example of empowering individuals and engaging them on a personal level to succeed is our Flatbread Team. When it became apparent that the lone flatbread supplier couldn't meet demand for an impending new-product rollout, a "tiger team" was empowered to find more suppliers. They mobilized their resources and trained team members to make fact-based decisions on the fly. It normally takes about six months to find one qualified vendor. In less than six weeks, the team identified potential suppliers nationwide and taught them new formulas, systems, and process conditions. In trial after trial, the team educated suppliers on how to make identical product, even though formulas and process conditions were different at each company. 
Last, the relentless drive for results so commonly found across this industry cannot be sustained if there isn't an equal sense of fun to recharge the spirit. We frequently find reason to celebrate formally and informally, often bestowing our prestigious "Knights of Steam Table Award" for an accomplishment. We also gather on a periodic basis away from the office to look differently at our business and ourselves. In all cases, the goal is to set the mood for collaboration, cooperation, and success. 
--- PAGE BREAK ---
Communication and Leadership Are the Keys
Bold innovation within a company starts with the attitude and behavior of its people. To drive home the concepts of leadership and accountability at every level—personal, across an entire system, and in the marketplace where one lives and works—leaders must constantly reinforce their people skills and model the right attitude. This is how we derived our "principle" enabler, to be the leader: coach people to be unafraid and to take charge. It is most important to communicate with three goals in mind:
1. Define and articulate objectives/priorities. The thin line between success and failure is proactive knowledge management. When priorities shift, a leader must communicate that fact to his or her people. Nothing less will do, and anything less is a failure of leadership! So, with a laser-like focus, one should continuously identify and review core accountabilities and individual/team objectives, and always update and communicate any changes in priorities. This drives understanding of, and alignment with, system objectives, and enables team members to move forward as one. 
In addition, a commitment to communication excellence and adherence to these few abiding "rules of the road" will help a leader create a culture of honest, unfettered dialogue: listen first; search for verbal and physical clues; communicate openly and frequently; and create top-down, bottom-up, and lateral communication channels.
2. Seek alignment across divisions. In the case of multiple QSR concepts under one corporate umbrella, how does one seek alignment across the system? communicate effectively? team together and team apart? These are daunting, and daily, challenges that we address with a single answer: Be leaders not just for our people or our brand, but for our system; remove ourselves from our safe silos of productivity to understand our shared objectives, activities, and services; seek out the synergy and power of three superbrands under one roof; and, once again, be an agent of change. 
How does this manifest itself at the department level? By providing opportunities at every juncture for visible leadership. This means always having a leadership presence at cross-functional and cross-divisional meetings. Most critically, it means investing in system-wide relationships. Nothing pays higher dividends than the time and effort it takes to nurture productive rapport with counterparts across divisions.
3. Motivate people to feel and act like owners. Ownership breeds accountability, and owners view the business much differently than employees. Owners walk the walk, and talk the talk. To motivate people to feel and act like owners, do the following:
Clarify roles. Most companies (whatever the industry) find themselves with similar or identical job titles that require dissimilar skills and accountabilities. In T&Q, we had two Research & Development directors with identical titles, yet broadly different backgrounds and job accountabilities. We revised their titles and responsibilities to better reflect their talents and abilities to be successful for Taco Bell and for themselves.
Match accountabilities to responsibilities. As part of role clarification, it's also imperative to match accountabilities to responsibilities—that is, give people a job and a checkbook, and empower them to make good decisions. Source and select good people, provide them with clear job definitions, expectations, and resources, and trust them implicitly to do the right thing.
Reward and recognize. Simply put, nothing drives greater job fulfillment and productivity than a culture of reward and recognition. Whether it's planned or spontaneous, simple or complex, frequent celebration of people's achievements—and the way in which they were accomplished—will do more to build a thriving culture than any other strategy.
Build ownership through business training. Remove barriers and bring people out of their silos by taking them "inside the numbers" of the business. Their understanding of what drives those numbers creates a larger awareness of the business and a more focused perspective. From an individual standpoint, it enables people to understand the importance of their work, and how it fits in with the business direction. Once again, the strategy is proactive knowledge management—providing a common platform from which everyone operates. 
--- PAGE BREAK ---
Success Is All about Personal Leadership
The key ideas for success in this business are as follows:
• Stay focused on your roots, yet understand emerging trends.
• Become an industry spokesman, and remove the "black box" stigma that envelops foodservice.
• Act like an owner! Challenge existing systems, and lead with vision and courage. Embrace change, and be an aggressive agent for it.
• Deliver culinary balance and differentiation.
• Drive integrated reliance—whether you're a food manufacturer and or a foodservice retailer, move with your supplier, because that's where much of the expertise is. 
Finally, leading change is not a periodic exercise; instead, it's an ongoing commitment to personal leadership in all situations and at all levels. As well, it's a matter of mentoring, coaching, and supporting your people to enable them to become leaders. It's time for all of us—as individuals and as an industry—to take on the mantle of leadership. 
To do that, invest trust, accountability, and authority in others, so that they can enroll in your vision and strive relentlessly forward with you toward a common goal. If you do these things, you, too, will reach your destiny.
by MARY K. WAGNER
The author, 1997–98 President of IFT, is Chief Technology & Quality Officer, Taco Bell Corp., 17901 Von Karman, MD 1201, Irvine, CA 92614-6221.
Edited by Neil H. Mermelstein
Senior Editor