Food product innovation is alive and well. That's the upbeat assessment gleaned from two recent trade shows—the Food Marketing Institute's Annual Supermarket Industry Convention & Educational Exposition and the National Restaurant Association's Restaurant, Hotel-Motel Show—that together represent the largest annual collection of retail and foodservice products in the United States.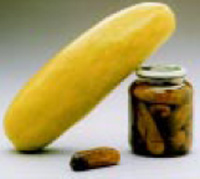 Flavors, functional foods, organics, and time-saving concepts were all headlined. "We are seeing growing numbers of manufacturers producing functional food products that are not only nutritious, but can actively benefit our bodies," said FMI vice president Mike Smoyer. "We expect this trend to have a major impact on the types of products offered in grocery stores."
The same goes for foodservice. "More and more restaurants are offering menu items that feature unique nutritional benefits, including ingredients believed to be beneficial that range from ginseng to garlic," stated Judith Dausch, nutritionist for NRA. "Consumers are increasingly concerned about the quality and value of foods they consume."
While low- and no-fat products are on the outs, products with good-for-you characteristics are in—and so is indulgence, as discussed in the article on pp. 46-67 of this issue. The following is a sampling of some of the most innovative, trend-revealing products I found at the trade shows.
AT THE SUPERMARKET SHOW
Honest Tea. Simple, real brewed tea, lightly sweetened, and all-natural. It comes in varieties such as Kashmiri chai, spiced Indian black tea, Moroccan mint, green tea with peppermint, and Assam, a "malty" black tea from India. Honest Tea, Inc., is a new company that reflects the tremendous strength and growing proliferation of premium brewed teas. And its marketing plays on the healthful benefits of tea.
Veggie Milk. This is a milk substitute made from a blend of soy, rice, and oats. Unlike conventional soy milk, this product contains a wider blend of "plant-based" ingredients. It's fortified with vitamins, minerals, protein, and calcium. The name reflects a boldness in marketing milk alternatives and the growing acceptance of vegetarian diets, especially among teenagers and young adults.
Bird's Eye Chicken Voila! This is the successful meal-in-a-bag concept from Agrilink Foods Vegetable Co. It contains frozen chicken, vegetables, pasta, and sauce in a single bag and is available in eight flavors. Not radical, but a good-tasting product that can go from freezer to table in about 12 minutes. With today's consumer, speed counts.
Seneca Calcium-Fortified Cranberry Juice Drinks. Cranberries continue to play well in an ever-increasing variety of products because of their nutritional properties. This new juice drink from Northland Cranberries Inc. marks one of the first to follow the lead of orange juice processors in adding calcium. It also adds 100% of the RDA for vitamin C.
Lizard Fuel. No, this is not a reference to Budweiser. It's the latest addition to the expanding South Beach Beverage Company product line—a strawberry-banana dairy-based beverage enhanced with Siberian ginseng, astragalus, and yerba mate. The product is designed to increase energy and stamina and is cross-promoted with a mountain bike firm. SoBe's other products include exotic teas, "elixir"-fortified juice blends, energy-boosting fruit punches, and a metabolic enhancer that "makes diet beverages obsolete." The company represents the cutting edge in nutraceutical-based mass-market beverages tailored to specific activities and lifestyles.
Poochies Treats. Upscale pet treats are really designed for humans. For those humans who want their canine friends to share in their indulgences, RusLyn Confections, a West Virginia–based specialty dog food manufacturer, has created hand-dipped carob and butterscotch dog biscuits. They reflect the fact that high-priced specialty foods are not limited to people.
Ensemble. Kellogg Co.'s brand-new brand got a big push and announced that it is adding a special new service. Ensemble Services is a personalized telephone-based personal diet coaching service. The three-month program costs $150. With this service, Ensemble is moving a little bit closer to the Intelligent Quisine concept developed by Campbell Soup Co. And it shows how far a major mass marketer will go today to establish differentiation. Stay tuned.
Total Balance. The Balance Bar Co. of Carpinteria, Calif., announced the launch of a beverage to join its line of health products. Four flavors of Total Balance are offered, each containing protein, calcium, and 22 vitamins and minerals. The product is indicative of the tremendous momentum and proliferation of nutraceutical and healthy beverages in general.
Freschetta Sauce-Stuffed-Crust Pizza. Frozen and refrigerated pizzas are moving steadily upscale, and Minnesota-based Freschetta Foods is one of the leaders. It launched a sauce-stuffed-crust frozen pizza, bringing its line up to a total of 18 premium varieties.
Dawn808. From the fringes, another hangover remedy. This time the concept is molded to the nutraceutical trend. Dawn808 contains tea, alder, licorice root, mountain ash, honey, and gourd and is billed as an "alcohol detoxifying tea." It even suggests that it is a cure for alcoholism, and can help beat a Breathalyzer test. All claims are those of the Korean firm, Glami Co., Ltd. However, the product demonstrates just how big the nutraceutical tent is.
SaladTime Fresh Tomato Salad Kits. Fresh pre-cut bagged salads first appeared a few years ago to mixed reviews. Today, they're one of the fastest-growing segments of the produce aisle. Tanimura and Antle announced that it has solved the tomato problem—fresh tomatoes are too messy to be sliced and bagged with other vegetables—by placing them in a separate bag with salad dressing. The company also markets Cool Cuts, packaged fresh veggies with dip, formulated to appeal to kids. Look for lots more innovation in this fast-moving segment.
Spark. Chocolate-covered coffee beans have long been a popular gourmet specialty item. Now Texas-based Foreman Foods, the company that launched Pop Nots at last year's FMI show, is attempting to take the concept mainstream. The chocolate-covered espresso beans come in a colorful foil pouch for eating anytime.
Radical Raizins. Del Monte Foods is seeking to shake up the dried fruit snack segment with the introduction of flavored raisins, including cinnamon and mixed fruit flavors. Not content to let the sweetened dried cranberry grab too much of its market, Del Monte hopes the new flavors will add appeal and build sales.
Benecol. This is a margarine, new to the U.S., containing plant stanol ester. It was developed by McNeil Consumer Healthcare Co., a subsidiary of Johnson & Johnson. It represents the new wave of products that promote the good that's inside vs the bad (fat, cholesterol) that's taken out. Benecol has been used in Finland for years, and clinical studies show that it aids in reducing LDL cholesterol.
Vlasic Hamburger Stackers. Specially bred giant cucumbers are the basis for this new concept, yielding a pickle chip the same diameter as a good-sized hamburger patty. It shows that there's room for innovation even in the oldest, most-established food segments.
Yoplait Go-Gurt. This simple concept continues the relentless expansion of yogurt-based food concepts. This one puts conventional yogurt in a flexible, squeezable plastic tube. Billed as portable yogurt, the tubes, like elongated foodservice condiment packs, can be refrigerated or frozen overnight, then tossed into a fanny pack or lunchbox.
Snapple Elements. A new approach to New Age functional beverages. This line from Snapple Beverage Corp., comprises six "elements": sun, earth, fire, rain, lightning, and moon. Some are tea blends, others are fruit drinks. All are enhanced with herbs and antioxidants, thus differentiating them from traditional Snapple products. In addition, they are bottled only in a 20 -oz clear-glass bottle.
Amy's Kitchen Canned Soup. Organic soup in a can in five varieties from Amy's Kitchen, Inc. It's significant because organics are a hot category, and this is the first shelf-stable product from this established company. In addition, it demonstrates that organic foods can be highly processed, ready-to-eat products.
Earthbound Farm salad. Also in the organic category is a new line of organically grown, bagged romaine salads from California-based Earthbound Farm.
Lunchables Waffles and Pancakes. Kraft Foods subsidiary Oscar Mayer Foods launched the popular Lunchable line of all-in-one lunchbox meals back in 1988. Since the initial offering of deli meats, crackers, and a drink, the company has added tacos, burgers, and hot dogs, as well as co-branded desserts. Now comes breakfast for lunch—mini waffles and pancakes. The company said that kids love to eat them cold.
Light Done Right. What's in a name? Today, "low-fat" and "no-fat" are out. To underscore the strength of this consumer backlash, salad dressing leader Kraft now has renamed its light products Light Done Right.
In general, Kraft had the strongest new product blitz at the FMI show. In addition to those Kraft products mentioned above, the list included Jack's Pizza Fries, pizza crust strips with pizza sauce for dipping; Post Snack Abouts, cereal snack packs that look and handle just like individual chip bags, strictly for snacking; Post Grape-Nuts O's, a modern version of one of the oldest cereal brands; and Post Create-A-Crunch Mixing Kit, which lets kids mix cereal and extra ingredients by themselves from individual components.
AT THE RESTAURANT SHOW
Terra Chips. Flavored potato chips, taro chips, and sweet potato chips, all with different flavors. The company also introduced a new potato variety called Terra Blues. Made from blue potatoes that are grown in South America, they have 40% less fat than other potato chips. The company also introduced Yukon Gold potato chips in yogurt-and-green-onion and salt-and-pepper flavors. This demonstrates the proliferation of chip variations.
Tyson Foods Original Wraps. From the chicken king come dessert wraps in chocolate, mocha, chocolate amaretto, raspberry, and pineapple flavors. Pineapple wraps using sweet-and-sour chicken were one way in which chicken was incorporated.
Tumaros Gourmet Flavored Tortilla Wraps. These flat breads contain no lard or cholesterol, but the real innovation is in the flavoring. These include Southwestern Chipotle Chili & Peppers, Jalapeño & Cilantro, Sun Dried Tomato & Basil, Garden Spinach & Herb, Pesto & Roasted Garlic, and Indian Curry. They also have honey wheat, whole wheat, and premium white versions, as well as a line of dessert tortillas. The Mexican food segment is becoming highly segmented.
Hubbard Street Grill Ketchapeño. This is a mixture of ketchup and jalapeño peppers. It had to happen—peppers are a trendy ingredient.
Lee Kum Kee Sauces. Sauces also are trendy, especially Asian sauces. Lee Kum Kee varieties include hoisin sauce, vegetarian stir-fry sauce, black bean garlic sauce, chili garlic sauce, premium oyster sauce, and char siu sauce.
Fresh Samantha Juices. Fresh juice also is growing in popularity. Maine-based Fresh Samantha has a beverage line that includes carrot, orange, and grapefruit juices and "body zoomers" such as Crazy Cranberry, Super Juice, and Desperately Seeking C. It also has a line of smoothies such as Ms. Ginger Peach, Banana Strawberry, Mango Mama, and Raspberry Dream, and a power snack called Soy Shake.
The Chili Guy Peppers. According to The Chili Guy company president Gary Brooks, the focus of cuisine is changing. It isn't just ethnic foods anymore, it's also the regional specialties that they represent. For example, "Mexican" food isn't just Mexican any more—the flavors can come from a specific region, often typified by particular seasonings, such as peppers from the Oaxaca region.
Zatarain's Sauces. Fusion cooking—combining the flavors of different cultures—is a hot trend. Zatarain's features Asian Creole Teriyaki Sauce and Creole Mustard & Herb Sauce.
Cheese Teasers. Cheese appetizers remain popular. Anchor Food Products introduced a variation called Cheese Teasers, half-moons of whole-milk mozzarella cheese surrounded by crisp breading that is seasoned with garlic, romano cheese, and oregano.
Century Burger. Vegetarian meat alternatives continue to be a hot trend. Essen Nutrition based its Century Burger on the taste profile of the Burger King hamburger. According to developer M. Anirudhan, the product features added nutrients to make it equivalent to eating meat.
China Mist Teas. Green teas also continue to gain popularity.They are preferred over black teas in China and Japan. However, U.S. consumers have some aversion to natural green tea's earthy flavor. China Mist covers this with varieties that include kumquat and blackberry jasmine.
Emu Meat. Emu meat is very low in fat and has a mild, smooth taste. Thus, it joins the growing list of healthy-alternative meats. It is marketed by Johnson Emu, Inc.
Ginseng Tea and Coffee . Services Unlimited, Inc. featured Ginseng Tea and Ginseng Coffee, reflecting the wildfire popularity of herbal beverages, which are now finding their way into coffee. The company's Panax Ginseng extract is blended with fructose, calcium, soybean, lecithin, and beta-carotene. The company also has a variety of granitas and cappuccino mixes.
Infused Meat. Infused meat products are also gaining popularity. Proper Foods Inc. featured Jalapeño Stuffed Steaks (jalapeño pepper filled with Cheddar cheese and pecan bits), Jalapeño Stuffed Chicken Breasts, Green Chili Filets (stuffed with green chiles and wrapped with pepper bacon), and Smoked Stuffed Pork Chops (smoked pork chops stuffed with sausage, chiles, and apples).
What's next on the horizon? B. Hudson Riehle, senior director of research for NRA, outlined hot food trends to watch during the dawn of the new millennium: infused oils, pan-seared products, espresso/specialty coffee drinks, Asian/Thai influence, and meatless/vegetarian dishes. He also mentioned several trends that are passe, including taco salad, fondue au fromage, cream-based sauces, chef's salad, and blackened foods.
by PIERCE HOLLINGSWORTH
Contributing Editor