Hand-held foods are approaching $2 billion in annual sales and are the fastest-growing segment of the traditional food industry. Last year, according to the 1999 Chain Account Menu Survey, 280 new portable hand-held meals were introduced into the nation's chain restaurants. Even McDonald's is testing a hand-held-only concept—Chipotle's Mexican Grill—while Autobistro serves California commuters fresh hand-held fare from three-lane toll booths.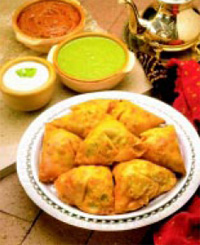 With strong trends toward "eatertainment," interactive eating, sampling, and sophistication, one subsegment—bite-sized finger foods—may well be the niche that moves center stage. With Americans always trying to do "two things at once," look for these bite-sized morsels to provide an answer as Americans continue the graceless practice of eating with their hands.
Playing—or working—with computers is only one of the many activities that consumers are involved in while eating. More than 43 million consumers regularly surfed the Internet from their homes in 1998, according to the Wirthlin Report. In fact, 40% of computer owners now frequently get their news from the Internet, 21% use the Internet for weather information, and 13% chat daily with other users. At the same time, half of workers now report eating on the job, many while performing computer or other work functions at their desk or station.
Nearly 50% of adults admit to eating while watching television, according to the NPD Group. Today, television is on more than seven hours per day in the average household, approaching 50 hours a week. TV Dimensions '98 reports that VCRs are used in 90% of homes and direct satellite offers service to more than 10 million households, making the market for bite-sized portable foods in the home stronger than ever. In fact, late night (8–10 p.m.) has now become the number-one time of day for snacking. According to The Family Economics Nutrition 1998 review, cakes, cookies and pies (12%), dairy desserts (9%), grain based salty snacks (8%), fluid milk (8%), soft drinks (8%), coffee and tea (5%), and alcoholic beverages (4%) were most frequently consumed—totaling only about 50% of what is consumed during this time. While nearly one quarter of adults report snacking between 8 and 10 p.m., 13% snack between 10 p.m. and midnight, leaving the options open for substantial fare.
Commuting continues to represent a greater challenge to consumers as phone use, audio equipment, eating, and heightened traffic further complicate the daily ritual. According to the U.S. Dept. of Transportation, 100 million consumers will commute by car in 1999. With men spending an average of 81 minutes per day behind the wheel and women 64 minutes, it's no wonder that the relative ease of bite-sized pieces is appealing.
Home entertaining is becoming more casual, so it is not surprising that appetizers and bite-sized foods are getting renewed attention. With expensive, labor-intensive sit-down dinner parties a thing of the past, it's become trendy to simply come on over for cocktails and watch a movie together or see the big game . . . and munch away!
If restaurants are any indication, it's clear that breaded and fried characterize America's favorite types of hand-held foods. According to the latest Restaurants & Institutions Menu Census, chicken strips, chicken nuggets, and onion rings are among the top-ten-selling appetizers. With seafood representing 50% of all restaurant appetizer sales, its not surprising that crab cakes were the most frequently added appetizer menu items, all of which are paired with a variety of dipping sauces and salsas.
Not surprisingly, tapas, dim sum, and other bite-sized items are growing in popularity. Italian panini sandwiches are becoming so popular that even Arby's is testing them. Small skewered hot and cold combinations, including yakatori, satay, and skewered sausages, fruits, and vegetables, are skyrocketing in restaurants. So are baby riblets, potstickers, and spring rolls. Today's "do-it-yourself" consumers will follow suit, with increased use of egg roll wrappers, rice papers, baby tortillas, flat breads, and other "packaging" staples for hand-held, bite-sized options. Just looked what happened to the sales of baby carrots and other baby vegetables.
Last but not least, the revolution in bar and tavern food is not only a place for consumers to sample new products but also a place for manufacturers to pick up some clever ideas. While food has never been the focus of most drinking establishments, as designer brews and signature martinis have become the rage in recent years, the food served alongside has become more sophisticated. Salmon has been shown to make an excellent wrap around potato croquettes, tempura is adding a familiar twist to hand-held veggies, and mini bite-sized club sandwiches and burgers—like those from the Dugout Bar & Grill in Oklahoma City—are racing mainstream.
Nearly 60% of consumers eat four or more times a day and demand ease of eating, cleanup, and preparation, so new market opportunities are clear. As consumers continue their behavior of doing "two things at once," pre-prepared—or easily made—bite-sized options will be quickly embraced by today's time-crunched, treat-seeking consumers.
by A. ELIZABETH SLOAN
Contributing Editor