There once was a television show called "Ripley's Believe It or Not!" Every week, host Jack Palance would take the viewer through an assortment of the weird, the unusual, the bizarre. If there had been an episode discussing novel, cutting-edge, or emerging ingredient developments that could have potential impact on foods, then the following would be perfect material for it: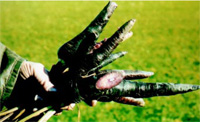 A black carrot used as a natural colorant. Use of plant compounds to promote healthy cholesterol levels. A plant designed to have increased antioxidants. A cranberry extract that has antimicrobial activity. A hybrid vegetable. Mold-free strawberries courtesy of honey bees. A nutraceutical spray administered under the tongue . . .
And these are only some of the innovative ingredients that we will be looking at in this column. I'm thinking of calling Jack Palance right now to see if he's interested in doing such a show. I don't think we would have to worry about ratings either: I'm sure that food scientists wouldn't be the only viewers.
Because of their novel elements, these ingredients may be shaping the parameters for future ingredients, helping us to rethink what they are and what forms they take, what technologies are used to produce them, what roles they play in health and functionality, what potential applications they have, and what their marketing impact may be on specific consumer segments such as the aging Baby Boomers or on the overall population.
There is another interesting aspect worth mentioning before we take a closer look at these ingredients. This year's IFT Food Expo has more than 500 ingredient suppliers highlighting their products, many of which were previewed in the June issue of Food Technology. This is a respectable figure. However, it should be noted that the ingredient developments that will be discussed in this column are all from companies not exhibiting at Food Expo. We should take this as a gentle reminder that IFT has an obligation to keep looking for new developments, and to keep expanding our show to include the best and newest developments that we can find. The word "emerging" should refer not only to ingredients, but also to us as an Institute.
Let's now look at some of these interesting ingredient developments:
• Cholesterol-Lowering Effect of Plant Compounds. Plant compounds sterols and their saturated derivatives stanols have been used in margarine-like spreads to lower cholesterol levels. Such spreads, which have been recently approved by the Food and Drug Administration, can be considered both functional and novel, and may help consumers get their fat with a health benefit.
The chemical structure of these plant compounds is said to be similar to that of cholesterol, and they work by blocking or hindering the absorption of low-density lipoprotein (LDL) cholesterol in the digestive tract while maintaining high-density lipoprotein (HDL) cholesterol levels. Consequently, the use of these functional spreads may have a positive impact on the risk of cardiovascular disease.
Two spreads are currently in the marketplace:
Benecol® contains stanol ester, which is derived from natural plant sources and can be found in small amounts in foods such as corn, wheat, rye, oats, and olive oil. The ingredient is said to be virtually unabsorbed in the digestive tract and in clinical trials lowered LDL levels by up to 14%. Nearly two dozen studies published in scientific journals are reported to support its effectiveness and safety profile. The spread is available in a regular version containing 45 calories and 5 g of fat per 1½ tsp serving, and a lite version containing 30 calories and 3 g of fat per 1½ tsp serving. Developed in Finland, the product is marketed by McNeil Consumer Healthcare, a member of the Johnson & Johnson family of companies, Fort Washington, Pa.
Take Control™ is made with plant sterols from soybeans. In recent studies, including one published in the European Journal of Clinical Nutrition (April 1999), the natural soybean extract helped to promote healthy cholesterol levels, working to block the absorption of LDL cholesterol. Introduced by Lipton, an operating unit of Unilever, Englewood, N.J, the spread is low in saturated fat, free of trans fatty acids, and contains 6 g of fat and 1.1 g of soybean extract per tablespoon serving. 
--- PAGE BREAK ---
• Bioactive Cranberry Extract. A purified extract from cranberry juice reportedly having high antioxidant and antimicrobial activities has been developed by ShanStar Biotech Inc., P.O. Box 10, Chadwick Bay, N.Y. 14048 (phone 877-742-6782, fax 716-366-0136). Called ShanStar™, the extract may be used in beverages, power bars, cereals, nutritional supplements, and other products.
The extract, produced by a process which removes nearly all sugars and acids, is said to have a high content of polyphenols which studies have shown are key for antimicrobial and antioxidant activities. A report in the New England Journal of Medicine (Vol. 339, No. 15, October 8, 1998, pp. 1085–1086) confirms that cranberry's antimicrobial activity is due, in large part, to a group of polyphenols known as proanthocyanidins which work to inhibit adherence of E. coli bacteria to the bladder wall. Testing found that the extract contains 10 times more polyphenols than a leading brand.
According to the manufacturer, 1 g of the extract provides as many antioxidants as 10 oz of cranberry juice cocktail. Furthermore, in-vitro studies have shown that the extract is 32 times more effective as an inhibitor of bacterial growth than other commercially available cranberry supplements.
The ingredient is available as a cranberry-red powder having less than 2 calories/g. It has a minimum shelf life of one year.
• Seafood nutraceutical. A powdered ingredient combining several health-promoting compounds found in seafood will be launched by Bjorge Biomarin A/S (N-6057 Ellingsoy, Norway, phone 47-70-11-53-00, fax 47-70-11-53-33) at Food Ingredients Europe '99 in Paris. Called Nucleomega, the natural product is rich in nucleic acids and nucleotides, omega-3 polyunsaturated fatty acids, proteins/protamines, and essential minerals and vitamins.
Recent studies have shown that nucleotides stimulate the immune system, protect against intestinal injury and diarrhea, and have a beneficial effect on protein synthesis, the liver, cholesterol level, and learning ability. Preliminary research also indicates that nucleotides may influence lipid metabolism and enhance the nutritional value of omega-3 fatty acids. Such evidence suggested the potential value of developing a product which combines nucleotides and omega-3s, as well as other nutrients.
The powdered ingredient, a natural product derived from seafood only, is said to offer easy application into the finished product.
• Natural Antimicrobials. Commonly used synthetic antimicrobials are found naturally in many food products, and their toxicological safety as food additives is ensured by regulatory authorities. However, consumer perceptions regarding the benefits of natural has generated a growing interest in the development and use of natural antimicrobials in foods.
A report on naturally occurring antimicrobials in food has been released by the Council for Agricultural Science and Technology, 4420 W. Lincoln Way, Ames, IA 50014-3447 (phone 515-292-2125, fax 515-292-2125). The CAST task force report discusses the chemistry, occurrence, activities, mechanisms of action, uses, application potential, and research development needs of natural antimicrobials. These agents may be derived from bark, stems, leaves, flowers, and fruits of plants, various animal tissues, or microorganisms. Noted sources are herbs, spices, fruits, milk, eggs, and lactic acid bacteria used in food fermentation.
Of the many natural antimicrobials discussed in this report, only a few have been tested or applied to foods. Examples of those that have been approved and have found certain uses include egg-white lysozyme, hydrogen peroxide, ethanol, the antibiotic natamycin, and the bacteriocin nisin. For more extensive use, there is a need for research to examine their efficacy and functionality in models of food systems and foods; toxicology and safety in food formulation; interactions with food components and other preservative systems; mechanisms of action against microorganisms; influences on food quality; methods of application in commercial formulations; and extraction, isolation, and economical production. 
--- PAGE BREAK ---
• Natural Antioxidant. A natural rosemary extract with antioxidant properties said to be equal to those of commonly used tocopherols has been developed by Kemin Industries, Inc., 2100 Maury St., Des Moines, Iowa 50301-0070 (phone 515-266-2111, fax 515-266-2258). Produced through an improved extraction process using tetrafluoroethane, the ingredient may be used to provide a natural shelf life extension for many pet and human food products.
According to the manufacturer, plans are underway to commercialize the technology within the next 24 months. The company also announced that it has signed an exclusive, worldwide commercial license agreement with Great Britain–based Advanced Phytotonics Ltd. for the development of background patent rights for the process.
Kemin intends to develop a range of new natural antioxidant products for the pet and human food industries as well as explore other opportunities in different business sectors. A rosemary agronomic production and breeding facility will be established later in 1999.
"The identification and development of additional, highly efficacious antioxidant molecules from natural sources provides us with a broader range of technologies to position our feed, food, and petfood customer base at the cutting edge," noted a Kemin representative.
The company is an international manufacturer and marketer of specialty ingredients, nutritional additives, and environmental products for animal agriculture and human foods. Products include mold inhibitors, natural and synthetic antioxidants, organic minerals, carotenoids, enzymes, acidifiers, gluconeogenic agents, and flavors.
• New Acidulant. Sodium acid sulfate, a dry inorganic acid made from sulfuric acid and sodium chloride, was designated Generally Recognized as Safe (GRAS) by FDA on June 5, 1998, and is approved as a leavening agent in cake mixes, pH control agent, and processing aid. The acidulant is manufactured by Jones-Hamilton Co., 30354 Tracy Rd., Walbridge, Ohio 43465-9792 (phone 419-666-9838; fax 419-666-1817) and will be available for sale in July 1999.
According to the manufacturer, the flavor profile and sour intensity rating for the acidulant indicates that it imparts a clean, smooth tartness with no aftertaste, and offers a new taste profile for beverage and leavening systems. Yellow cakes made with a leavening system that contained sodium acid sulfate is reported to have good height, texture, and crumb structure. Sensory tests concluded that the cakes had a light, clean taste with no off flavors.
Several particle size distributions are available, and the product is certified kosher.
• Natural Food Colorant. A concentrated vegetable extract produced by GNT International B.V., the Netherlands, may be used as an innovative natural food colorant. Called Exberry® Black Carrot, the product provides a range of vibrant red hues, and its coloring principle is derived from a group of anthocyanins which reportedly exhibit a superior stability compared to those found in other fruits and vegetables.
Black carrots (Daucus carota) have been grown and eaten in the East for at least 3,000 years. Historical records indicate that they were cultivated in parts of Europe in the 12th century and in Holland by the 14th century. They were commonly consumed until about 1750, when Dutch breeders developed the familiar orange variety. The black carrot is still consumed in some parts of the world, such as Spain, Pakistan, Afghanistan, Turkey, and Egypt.
--- PAGE BREAK ---
Its use as a natural colorant was said to be pioneered by GNT. The vegetable extract, which will be featured at FI Europe '99, is processed by means of physical methods, using only water as the solvent. This procedure enables the manufacturer to produce a natural, consistent, and cost-effective product which is capable of delivering a range of colors from strawberry red to burgundy wine. It also has a neutral flavor.
According to the manufacturer, its performance is superior to that of many other anthocyanin colorants because it maintains its red color at higher pHs and it is less susceptible to degradation from heat and light exposure. At pH 3, the product can be formulated to give bright red shades, as well as shades that are more purple than grape skin. At a more neutral pH, it gives mauve shades, and at a low pH it may be used an alternative to carmine.
For more information on this colorant, contact Exberry® Application Laboratories, Inc., 660 White Plains Rd., Tarrytown, NY 10591 (phone 914-524-0600; fax 914-524-0681).
• Fruit and Vegetable Developments. Recently, during a visit to the supermarket, I noticed tomatoes the size of grapes. Appropriately called "grape tomatoes," they were very sweet and tasty, and again reminded me of some of the interesting developments going on in the area of fruits and vegetables.
For example, a new blackberry variety called the Kiowa is said to yield larger blackberries—weighing about 10 g each and bigger than a quarter. Regular blackberries are usually 5–6 g each and about dime-sized. The variety, developed by the University of Arkansas, is still in the testing phase, but horticulturists at the University of Georgia College of Agricultural and Environmental Sciences feel that the berry has exciting prospects.
Researchers at University of California at Davis found that both apple juice and fresh apple components contain significant amounts of phytonutrients that are thought to play a critical role in supporting and promoting good health. By using LDL cholesterol extracted from the blood of individuals with normal cholesterol levels, the researchers determined that apple products significantly slowed the oxidation process. Oxidation is believed to be a key event leading to buildup of plaque in arteries, which can lead to their blockage and cardiovascular disease. Two epidemiological research studies from Finland recently demonstrated that apple phytonutrients may contribute to a reduced risk of both heart disease and lung cancer. Further information is available from Processed Apples Institute, Inc., an international association of producers of processed apple products, 5775 Peachtree-Dunwoody Rd., Suite 500-G, Atlanta, GA 30342 (phone 404-252-3663; fax 404-252-0774).
Honey bees may be used to deliver beneficial fungi, bacteria, and viruses to strawberries, pome fruits, and clover. In a recent study, researchers at Cornell University and New York State Agricultural Experiment Station in Geneva, N.Y., found that the honey bees can disseminate spores of Trichoderma (T22) to strawberry flowers to control Botrytis fruit rot and increase yield. According to the researchers, as bees exit the hive on the way to the field, they walk across a "footbath" of gray powder, picking up as many as 100,000 Trichoderma spores per bee. As they forage for nectar and pollen, the bees leave spores of T22 behind in the flowers. T22 fights the familiar gray mold known as fruit rot by outcompeting the rot, spore for spore.
Trichoderma can be applied as a spray, but coverage would be wasted because the spray covers leaves as well as flowers. Bees are by far the most efficient and effective delivery system. Bees achieve better control, using one-tenth of the amount that would have to be used in a sprayer.
--- PAGE BREAK ---
Furthermore, growers are able to maximize strawberry yields through better pollination. On the average, a 20% increase in berry size due to honey bee pollination was reported in data collected over five years.
A new vegetable hybrid—a cross between broccoli and Chinese kale—has been introduced under the name Broccolini by Mann Packing Co., Inc., P.O. Box 690, Salinas, CA 93902 (phone 408-422-7405, fax 408-422-1131). The diminutive hybrid vegetable, generically described as sweet baby broccoli, has a long, slender stem, reminiscent of asparagus, and is topped with small flowering buds that resemble a cross between broccoli florets and an asparagus tip. It is said to have a sweet, delicate flavor with a subtle, peppery edge. The flavor is milder and sweeter when cooked. When eaten raw, the vegetable has a tender yet crunchy texture. It is completely edible, from flower to stem, and its texture is less fibrous than either broccoli or asparagus. The hybrid was developed by Sakata Seed America of Morgan, Hill, Calif., during an eight-year process.
A broccoli sprouts variety has been developed which is said to contain 20 times the concentration of an antioxidant compound sulforaphane glucosinolate (SGS) as mature, cooked broccoli. Researchers have found that SGS functions as an indirect antioxidant, inducing or boosting the activity of the phase 2 detoxification enzymes. These enzymes act as a defense mechanism, triggering broad-spectrum antioxidant activity that neutralizes many free radicals.
Called Fresh Alternatives™ Brocco-Sprouts®, the product is marketed by the Brassica Sprout Group, Baltimore, Md. This company was formed by The Sholl Group II, Inc., Minneapolis, Minn., and the Brassica Protection Products LLC (BPP), Baltimore, Md. BBP was created by Johns Hopkins University researchers who hold a patent for the SGS-rich broccoli sprouts. More information about this product is available from BBP, 600 E. Lombard St., Suite 522, Baltimore, MD 21201 (phone 410-837-9244).
• Low-Calorie Sweetener. Low-calorie sweetener D-tagatose has been found to be a prebiotic, promoting the growth of bacteria that aids digestion in the colon and reducing the number of harmful bacteria. Furthermore, bacteria in the colon also break down tagatose, increasing the amount of butyrate produced from normal diets. Butyrate is known to arrest the growth of neoplastic or cancerous cells. Following research on pigs, studies with human volunteers showed that tagatose produced nearly a 60% increase in the amount of butyrate in the colon.
In addition to these newly discovered health benefits, the bulk sweetener has a low caloric value, does not cause dental cavities, and is beneficial to diabetics.
Biospherics Inc., 12051 Indian Creek Court, Beltsville, MD 20705 (phone 301-419-3900), holds the patent for the sweetener, and MD Food Ingredients of Denmark has licensed the technology. Generally Recognized as Safe Status in the United States is expected shortly by the companies.
--- PAGE BREAK ---
• Nutraceutical Under-the-Tongue Spray. Health-enhancing substances found in marine algae may be administered under the tongue through a spray developed by the French company ISI in conjunction with Ceva, a seaweed research firm also in France.
Called Algo Dynamics, the spray provides natural ingredients extracted from three different algae rich in nutrients known for boosting vitality, slowing the aging process, promoting weight loss, and stabilizing body functions. The spray contributes toward the recommended daily allowance of magnesium, iron, zinc, calcium, and iodine, as well as various mineral salts, trace elements, and vitamins, including B-12. Weight loss is enhanced by a brown algae called Ascophyllum nodosum, which has been used in herbal remedies for its slimming effects.
According to the manufacturer, the under-the-tongue spray format provides an important advantage over conventional nutritional supplements ingested in pill or powder form. Rather than requiring transformation by stomach acids, the product is rapidly delivered to the blood stream from under the tongue and safely assimilated by the body. More information is available from French Technology Press Office, One E. Wacker Dr., Suite 3740, Chicago, IL 60601 (phone 312-222-1235; fax 312-222-1237).
PATENTS
Milk whey protein–containing powder and process food obtained by using the same. U.S. patent 5,907,031, filed 8/1/1997, issued 5/25/1999 to T. Soeda et al., assigned to Ajinomoto Co., Inc. Describes a powder obtained by reacting a solution containing a milk whey protein with transglutaminase, heating the reaction solution at a high temperature, and then drying the resulting product. The milk whey protein composition has an excellent taste and imparts a smooth and pleasant feel on the palate.
Process for the preparation of a low-calorie, liquid butter substitute. U.S. patent 5,906,856, filed 1/22/1997, issued 5/25/1999 to A. Roden et al., assigned to ConAgra, Inc. Describes a liquid butter replacement which exhibits a fat-like mouthfeel despite a very low or no fat content, as well as having a good color and flavor, and a degree of fat-like melt. It is prepared from an aqueous solution consisting of a cross-linkable carbohydrate gelling composition (preferably pectin) and at least one gelling agent (preferably a calcium salt) that together form a heat-stable inner gelled phase. This phase is agitated to produce gel particles that provide an organoleptic sensation similar to fat. The weight of the fat mimetic is at least 75% of the weight of the butter substitute. It is then combined with a second, continuous outer phase containing an unhydrated, heat-reversible or heat-thinning, water-soluble gelling agent, and preferably salt and milk or milk solids.
Fat-free corn chips. U.S. patent 5,904,947, filed 3/27/1996, isssued 5/18/1999 to J. Jensen et al., assigned to The Procter & Gamble Co. Describes fat-free corn chips which contain less than 0.5 g digestible fat in a 30g serving. The chips consist of up to about 50% of corn masa; a fat-free filler selected from mixtures of starch, protein, and nondigestible fiber; and other essentially fat-free ingredients, including salt, emulsifiers, and seasonings.
--- PAGE BREAK ---
Products & Literature
VANILLA may be used to help accent yogurt-based beverages. A vanilla blend, Madagascar Bourbon-Indonesian Pure Vanilla, is suitable for yogurt drinks using vanilla, chocolate, or coffee essences because of its staying qualities. Madagascar Bourbon Pure Vanilla compliments fruit-flavored yogurt drinks, such as strawberry, mango, and kiwi. The masking properties of vanilla may also be utilized in yogurt beverages which incorporate nutraceuticals. For more information, write to Nielsen-Massey Vanillas Inc., 1550 Shields Dr., Waukegan, IL 60085-8307 (phone 847-578-1550; fax 847-578-1570)—or circle 352.
PEDIOCIN-CONTAINING INGREDIENT, Alta® 2341, is said to inhibit the growth of Listeria monocytogenes in ready-to-eat meat products. Produced by a strain of lactic acid bacteria, the ingredient contains natural metabolites, including organic acids and the bacteriocin pediocin found in typical fermented meat products. It provides extended shelf life and improved flavor and texture, and can be used in virtually any processing environment. It is available in powdered form. For more information, write to Quest International Flavors & Food Ingredients Co., 5115 Sedge Blvd., Hoffman Estates, IL 60192 (phone 847-645-7000; fax 847-645-7070)—or circle 353.
INSTANT SAUCE is said to provide an authentic Italian flavor. Called Classic Instant Marinara Sauce, it is a flavorful blend of Italian-style tomato sauce, accented with onion and basil. The meatless sauce, described as thick and tangy, may be added over pasta, or is a suitable accompaniment to calzones, fried mozzarella sticks, pizza bread, and other food items. The product requires only the addition of water. For more information, write to Griffith Laboratories, One Griffith Center, Alsip, IL 60658-3496 (phone 708-371-0900; fax 708-389-4055)—or circle 354.
KOLA EXTRACT can be easily incorporated into flavor systems. Extracted from the seeds of the Cola acuminata species, Kola is a bittersweet flavoring used in commercial caramels, chocolates, ice creams, icings, baked goods, and soft drinks. Native to the tropical West Africa, Jamaica, Brazil, and India, the Kola nut is widely used as a central nervous stimulant, antide-pressant, diuretic, and headache reliever. Its phenolics and tannins are said to provide antioxidant benefits. The extract is available in a variety of forms, including solid, spray-dried, powdered, tincture, and fluid forms. For more information, write to Folexco, 150 Domorah Dr., Montgomeryville, PA 18936 (phone 215-628-8895; fax 215-628-8651)—or circle 355.
COATING SYSTEMS are said to emulate the rich flavor and smooth mouth feel of traditional cream-based sauces, such as Three-Mushroom Alfredo, Four-Cheese Pesto, Grand Newburg, and Mia Marsala, but are low in fat. The synergistic marinade-glaze systems deliver flavor without frying and enable low-fat claims. For example, when applied to skinless chicken, these custom coatings are said to deliver a product that is at least 94% fat free. For more information, write to Newly Weds Foods, Inc., 2501 N. Keeler Ave., Chicago, IL 60639 (phone 773-489-7000; fax 773-292-3809)—or circle 356.
CALCIUM GLUCONATE may be used to fortify nutritional beverages. Its solubility makes it suitable for fortification of clear liquids. It will not precipitate out of solution, making possible the formulation of sparkling beverages. In opaque liquids, its solubility eliminates the need for shaking or stirring of the product. Calcium gluconate has a mild acidity which aids in the pH regulation of beverages. Its bland taste blends easily with fruit flavors. For more information, write to PMP Fermentation Products, Inc., 500 Park Blvd., Suite 450, Itasca, IL 60143-1260 (phone 630-250-7033; fax 630-250-7094)—or circle 357.
BLUEBERRY PROMOTION MATERIALS are available, including the Blueberry Real Seal™, a packaging symbol which identifies products containing real, cultivated blueberries. The seal can be found on almost every food category, including baked goods, dairy products, cereals, beverages, and confections. July is National Blueberry Month, and the nutritional and culinary advantages that blueberries possess will be recognized. For more information, write to North American Blueberry Council, Food Technology Program, P.O. Box 281294, San Francisco, CA 94128-1294 (phone 800-824-6395; fax 650-340-8568)—or circle 358.
SYNTHETIC GLYCERINES may be used as humectants, sweeteners, solvents for food flavorings and colorings, emulsifiers in baked goods, smoothing agents, and heat transfer media for frozen foods. Products available include Optim Glycerine 99.7% USP and Dow Glycerine 96% USP from Dow's production site in Freeport, Tex., and Dow Glycerine 99.5% USP from its production site in Stade, Germany. Advantages of synthetic glycerine include consistent high quality, including low odor level, good clarity, and consistent sweet taste. Dow has announced its plans to expand capacity for epichlorohydrin—the major raw material used in the production of synthetic glycerines—later in 1999. For more information, write to The Dow Chemical Co., P.O. Box 1206, Midland, MI 48641-1206 (phone 800-447-4369; fax 517-636-8033)—or circle 359.
USE OF CHEESE as an ingredient has gained consumer preference. According to a survey conducted by Dairy Management Inc., consumers are selecting foods containing cheese 37% more often in 1997 than in 1990. Key attributes that contribute to cheese's popularity are flavor, nutritional profile, and functionality. Current projects researching cheese include milk treatment and its effect on cheese functionality; improving sensory characteristics of low-fat cheddar; improving whiteness of mozzarella; the effect of temperature variations on the stretchability of mozzarella; and the effect of moisture content in lower-fat mozzarella on product texture and mouthfeel. For more information, write to Dairy Management, Inc., 10255 W. Higgins Rd., Ste. 900, Rosemont, IL 60018-5616 (phone 847-803-2000; fax 847-803-2077)—or circle 360.
by DONALD E. PSZCZOLA
Associate Editor