Microwave ovens were introduced in the United States in 1967 by the Amana Co. Sharp LC had already introduced microwave ovens in Japan, where they were used commercially in hotels and restaurants. Microwave ovens were initially criticized as a gimmick that would spoil home cooking. The easy-to-use appliances never did replace home cooking, and most owners use the home microwave oven as a fast way to boil water for tea or coffee, heat frozen foods, defrost frozen foods for further cooking, or make popcorn. Today, 90% of American homes have at least one microwave oven, and students in a lot of college dorms who don't have other means of cooking use microwave ovens for late-night sustenance.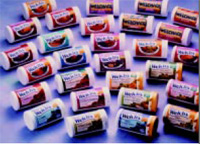 Microwave usage has suddenly gotten very important in the medical field, where microwaves are used to treat tumors, benign prostatic hyperplasia, and other medical anomalies. Microwave radiometry is also used to measure and classify snow types and ice fields in making weather forecasts. But in the food field, microwave technology has centered around some processing techniques. Microwave technology is used to dry pasta, onions, garlic, and other foods and to partially process food mixtures.
In the home, microwaves are used for speed and convenience, rarely to cook foods from scratch. Microwave packaging has been heavily researched, with complicated suscepters to enhance browning. Smart packaging now is available for microwavables, allowing different amounts of heat to be applied at different locations within the package.
A number of relatively new patents have been issued on microwavable packaging, and these suggest the direction that microwave packaging may be heading. A pair of U.S. patents (5,864,123 and 5,910,268) discuss active elements, which may be looped slots or strips that are made to become resonant or non-resonant during microwave heating of the load in response to the presence or absence of a food charge, or the presence or absence of adjacent dielectric material. The interference effects can be used to intensify microwave heating or reduce the effects of heat, depending on the location of the active elements.
Another U.S. patent for microwavable food wraps (5,858,487) provides a nonstick layer that includes a chrome complex of stearic acid and a polyester film layer that overlays an unperforated single aluminum susceptor layer, a polymer emulsion adhesive layer, and a paper layer. Still another area of interest is the use of pallet positioning of seafood, particularly lobster and seafood coated with sauce, within plastic film. The product is microwaved before the packaging film is ruptured. Both U.S. patents (5,863,576 and 5,863,578) were issued to Carnival Brand Seafood Co. of Fort Lauderdale, Fla.
Microwave-Friendly Can Speeds Juice Reconstitution
Using a microwave oven to defrost juice for reconstitution has been a no-no, even after concentrate began to be packed in composite packages instead of all-metal cans, because the composite still had metal tops. But now, an all-plastic can allows defrosting in the microwave oven and reconstitution in a pitcher in 60–90 sec. Welch's, best known for its expertise in grape products, has become a full-service fruit product processor. The company offers the all-plastic can filled with concentrated juice in a wide range of varieties.
The plastic can is the first major innovation in frozen juice since the peel strip that first appeared in 1979, according to Welch's spokespersons. The fruit-juice giant ran a consumer test on the new package, and found that 91% of the 500 participants in the study considered the plastic can to be unique or different; 90% considered the total package (juice and can) to be a high-quality product; and 90% found the product as good as or better than they expected it to be.
The most important quality of the all-plastic can is believed to be the convenience factor—the ability to serve the product in minutes. The strip used to open the can is easy to tear, and that, according to consumers, is also important, as is the fact that the can is recyclable.
The plastic can was developed at Welch's Technology Center in Billerica, Mass., jointly with Graham Packaging Co., L.P., York, Pa., which manufactures the cans. Because Welch plans to grow from its present $600 million to $1 billion in revenues by 2005, and because new products contribute 25–30% of the company's annual revenue per year, cutting the time from inception of new product work to market introduction makes a difference.
The plastic cans are used for a number of pure juice products and juice cocktails, and "ades" or juice drinks. Welch's is the leading producer of Concord and Niagara grape products.The products were introduced in New England, and are now being shipped into Eastern Seaboard markets. They will be rolled out nationally within the next 18 months.
Plastic Lidding Resists "Retort Shock"
The plastic lidding used to seal plastic tubs of portioned and packed food must be able to retain barrier properties that may be lost because of infiltration of oxygen triggered by absorption of moisture during pasteurization of the food. These properties are not restored for a period of time, and the food may be damaged by oxygen infiltration in the interim. New compounds developed for the ready-made-meal and convenience-food lidding contain three plastic films, one of which is an ultrathin (0.1-μm) ceramic barrier trademarked Ceramis® PETP film. The structures, called Dualid®, are available as a fixed seal and a peelable lid system, and may be made transparent.
The laminates can be used on most existing filling machines, and are price comparable with PVDC, aluminum, and EVOH laminates. The materials are produced by Algroup Lawson Mardon, P.O. Box Bellerivestrasse 17, Zurich, Switzerland 8034.
PATENTS
Some recent patents issued for food packaging are included. Patents can be obtained by downloading from www.uspto.gov. There is no cost for this service.
Polymers containing antimicrobial agents. U.S. patent 5,906,825, filed 10/20/97, issued 5/25/99 to S.G. Seabrook Jr. et al., assigned to Magellan Companies, Inc. Describes polymeric compositions containing antimicrobial agents, including naturally occurring extracts from plants and herbs such as capsicum, grapefruit seed extract, lemongrass oil, tea tree oil, citric acid, or other chemical disinfectants in polymers, including silicones, polystyrenes, polyacrylates, polyurethanes, polyalkalenes, or other polymers. These materials are useful as food-contact articles, including packaging items.
Hollow containers have a very thin, inert or impermeable inner surface layer provided by coating the inside surface of the preform. U.S. patent 5,906,787, filed 8/8/96, issued 5/25/99 to G. Plester, assigned to The Coca Cola Co. Describes fabrication of a polymer, chosen for its barrier and/or inertness properties, within a container preform made from other polymers. The inner layer can be provided using a controlled coating method by coating the injection mold core rod prior to injection molding or by coating the preform after injection molding. A tie layer can be used to enable the layers to be combined without melting the layer interface. The technology can be used to improve the shelf life of the food packed inside such containers and makes the packages suitable for recycling.
Multi-container package with individually removable containers. U.S. patent 5,904,263, filed 11/25/97, issued 5/18/99 to D.T. St. Pierre et al., assigned to Kraft Canada Inc. Describes a multi-container package including individually sealed containers which are easily separable from one another by weakened zones between adjacent containers. The containers have tab portions which extend under the peel tab, and are dimpled to facilitate separation. Several multi-container packages are manufactured as a unit using a die and conventional heat-sealing processes, then separated by transverse cuts.
Plural atmosphere package. U.S. patent 5,901,848, filed 12/24/97, issued 5/11/99 to M.P. Gorlich et al., assigned to World Class Packaging Systems, Inc. Describes a package for holding food products that has at least two compartments having different atmospheric conditions. Each of the compartments may be sealed by a membrane having different permeability. The membranes may be sealed to a peripheral flange extending around the compartments. The peripheral flange is designed to facilitate severing in place on the tray of a membrane from a continuous web of material.
---
Products & Literature
BEVERAGE
-
DEDICATED LASER
codes different substrates simultaneously. A new version of the DDC 2 Digital Laser Coder has been optimized for use on beverage containers that are frequently made of multiple materials, such as glass or plastic with paper neck labels. By using two laser heads that may be placed up to 76 cable feet apart, individual containers and cartons may be coded simultaneously. Variable digital control of laser pulses allows an operator to adjust the power to match the substrate, so that the keyboard operator can produce codes on thin-wall PET containers without burn through. The digital control stops coding if the line stops, so that continuous laser action does not burn through containers, causing leaks. Information about the laser is available from Domino Amjet, Inc., 1290 Lakeside Dr., Gurnee, IL 60031 (phone 847-244-2501, fax 847-244-2645) —
or circle 350.
NEW CLOSURE meets CPSC regulations that took effect in July of this year. The tube closure includes a push-and-turn mechanism for products that have to be in child-resistant packages this year, according to Consumer Product Safety Commission regulations. The senior-friendly closure, designed by Rexam Closures, was developed with Cebal Tubes North America to provide an integrated packaging system. For more information, contact Rexam Closures, 3245 Kansas Rd., Evansville, IN 47711 (phone 812-867-6671, fax 812-8667-6861) —or circle 351.

by FRAN KATZ 
Editor
What's New on IFT's Web site? Take a look . . . www.ift.org