Microwave energy is being used commercially to dry foods, as discussed in the November 1998 Processing column, but microwaves are being used for other processing purposes, as well.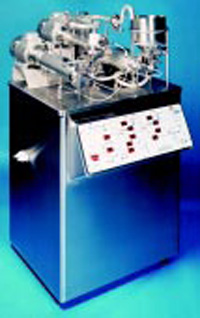 According to Charles Buffler, President of the International Microwave Power Institute and Vice President of the Microwave Research Center, a Division of the Rubbright Group, Inc., Marlborough, N.H. (phone 603-876-4076), the largest uses of microwave processing of food today are tempering of meat for further processing and precooking of bacon for foodservice use. His statement was echoed by Gene Eves, Director of R&D, The Ferrite Co., Inc. (phone 603-881-5234).
Fish, beef, and other products frozen in bulk are tempered to make them easier to further process. The frozen blocks are brought from approximately 0ºF to just below freezing (approximately 20–30ºF) for slicing or grinding or chopping followed by forming into patties, which are then frozen again. Conventional tempering methods using water or air subject the outer surfaces of the bulk product to warmer temperatures for long enough for the heat to penetrate to the center. This produces large temperature gradients. Because microwaves fully penetrate the frozen product, heating the inside and outside at the same time, microwave tempering can be performed in minutes. Eves said that microwave processing equipment is being used to temper 4 billion lb of frozen food/year.
With respect to bacon processing, Eves said that about half of total bacon usage is in foodservice and that virtually all foodservice bacon is precooked in microwave ovens. In addition, almost 10% of the bacon sold in the supermarket is microwave precooked. He said that microwave processing equipment is available that can precook 80,000 slices/ hr and that, overall, about 2–3 million slices of bacon are microwave processed per hour. Buffler added that the bacon is prevented from curling during processing by being held flat between a pair of belts as it passes through the microwave chamber. The belts are microwave transparent and perforated so the fat falls through.
The third largest application of microwave processing, also quite large but much smaller than bacon cooking and tempering, is sausage cooking, according to Buffler. In sausage cooking, as well as other meat and poultry applications, microwave processing is used to reduce drip loss—loss of water, fat, nutrients, and flavor. Another application of microwaves—continuous pasteurization or sterilization—is being worked on in the United States, he added, but isn't currently being used commercially. Europe and Japan, on the other hand, have large businesses in sterilized shelf-stable meals.
As for advances in microwave processing of foods, Buffler said that mathematical modeling is one of the most exciting areas. For example, software can model microwave oven heating patterns. An example is available on the Internet at www.wqed.com.pl.
Eves said there's been growth in system size and power of microwave processing systems and growth in bulk conveyorized microwave processing of foods. Another trend is combining high-intensity microwaves with external heat sources, such as hot-air impingement or infrared energy, with the goal of cooking products in less than 1 min. These energy sources are used to brown the product surface, while the microwave energy is used to heat the interior. The results are frequently higher yields, improved quality, and higher throughput.
He also said that work is being done on using single-mode ovens instead of larger multimode ovens. Small ovens are far less expensive than large traditional ovens, and the physics of the process force all identical products to be treated identically. Industrial multimode ovens have been difficult to use for pasteurization and sterilization, he added, because of the difficulty of proving that all items have been treated identically. In a single-mode oven, every item passes through the same pattern of energy. Industrial ovens which use 915 MHz can be designed to maintain a single mode, whereas large multimode industrial ovens and home microwave ovens can't.
The single-mode concept, Eves said, is similar to use of fiberoptics, in which light is transmitted with only one pattern in one direction instead of bouncing around; in single-mode microwave ovens, the microwaves are directed and don't bounce around. Single-mode ovens can accommodate cross-sections up to 6 in. but can be very long, e.g., 100 ft. Multimode food ovens typically can also be very long and accommodate cross-sections up to 4 ft. Single-mode ovens have existed for a long time, he said, but their application to foods hasn't been completed. Driving work on the single-mode concept is precooked, prepasteurized, portion-controlled foods made safe without use of chemicals.
Buffler added that his organization is extending the concept of single-mode microwave processing to using several controlled modes, which can provide more-precise heating patterns than can be obtained with a single applicator. Mathematical modeling is allowing the design of these controlled-mode applicators.
Another trend in microwave processing equipment, Eves said, is the use of electronic process controls. Almost all new industrial ovens have PLC controllers and touch-screen human interfaces. This makes it possible, Eves said, to build in a lot of smart cooking information, similar to what is found in home microwave ovens. Operators work off of a touch screen and a menu.

The major manufacturers of microwave food processing equipment are listed in Table 1.
Two educational programs sponsored or cosponsored by the International Microwave Power Institute will be presented this month:
• IMPI's 34th Annual Microwave Symposium, "Celebrating the 50th Anniversary of the Microwave Oven," will be held in Arlington, Va., on July 18–21. It will feature short courses on modeling oven design and performance for food and industrial processes, regulatory compliance for industrial microwave manufacturers and users, and modeling oven design and performance for consumer and commercial products, plus technical sessions on microwave food products, dielectric properties, microwave modeling, microwave cooking, microwave power sources, "smart" microwave ovens, microwave vending, microwave heating and drying, active and passive microwave packaging, microwave chemistry, microwave oven control systems and sensors, and related topics. For information on attending this symposium, contact IMPI at 703-257-1415.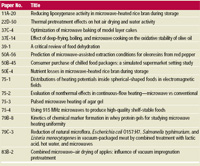 • A workshop, "Microwave Technology and Applications for the Food Industry," co-sponsored by IMPI and IFT's Continuing Education Committee, will be held in Chicago, Ill., on July 23–24, as part of the Institute of Food Technologists' Pre-Annual Meeting Continuing Education Programs. The workshop will feature presentations on microwaves and how they interact with food, food chemistry, geometry, and effects on microwave interaction; microwave oven characteristics, product tolerances, and window of product qual-
PATENTS
Continuous chewing gum manufacture from base concentrate. U.S. patent 5,908,645, filed 6/5/1996, issued 6/1/1999 to D.J. Townsend et al., assigned to Wm. Wrigley Jr. Co. Describes a method for making chewing gum by preparing a gum base concentrate and combining it with other gum base ingredients and other chewing gum ingredients in a single continuous mixer.
Method of freeze-preserving vegetables. U.S. patent 5,910,331, filed 7/3/1996, issued 6/8/1999 to N. Kitagawa et al. Describes a method for quickly freezing vegetables, such as cucumbers, eggplant, white rape, leaf mustard, and radish, whose cells are broken and commercial value is lost when processed by a conventional freeze-preservation method. The vegetables are pickled for 24–48 hr in a mixture of a polysaccharide and one or more of a monosaccharide, disaccharide, oligosaccharide, or sugar alcohol, with or without salts. Then the vegetables are quickly frozen and stored in a freezing environment. The polysaccharides surround cells of vegetables to remove their water content and protect them, and the monosaccharide, disaccharide, oligosaccharide, or sugar alcohol and/or salts permeate into cells to replace the water and thereby prevent formation of ice crystals.
Process for producing frozen yogurt mix using S. thermophilus starter culture. U.S. patent 5,910,329, filed 3/7/1996, issued 6/8/1999 to D.L. Willrett et al., assigned to Rhodia Inc. Describes a process utilizing a yogurt starter culture medium of milk solids, yeast, phosphate, and a minor but substantial amount of a flavor-neutral, enzymatically treated lactalbumin which improves shelf life and flavor of yogurt product mix by accentuating development of Streptococcus thermophilus and utilizing it to ferment the yogurt base. A dry culture medium comprising milk solids, yeast extract, phosphate, and an enzymatically treated lactalbumin is added to water. The mixture is pasteurized and cooled, then inoculated with a lactobacilli-free and bifidobacteria-free culture of S. thermophilus. The inoculated mixture is cultured for a period of time to develop a yogurt starter culture, which is used to inoculate a yogurt base, which in turn is cultured to develop a ripened yogurt base. The yogurt base is then cooled to a fermentation rate-reducing temperature. The final frozen yogurt mix is prepared by blending the ripened yogurt base with a second mixture, usually containing stabilizers, milk solids, sugar, and water.
Method of producing fully cooked and breaded bone-in poultry product. U.S. patent 5,908,648, filed 10/22/1996, issued 6/1/1999 to B.J. Afman et al., assigned to OSI Industries, Inc. Describes a method for producing a fully cooked and breaded bone-in poultry product, such as chicken, in which the steps of pre-dusting, batter, breading, and par-frying are performed in advance of full cooking in a vapor cooker. Each piece is marinated with a seasoned solution, dusted with a powder of flour and egg white, breaded, fried for a limited time and temperature sufficient to par-fry each piece, then exposed to heated water vapor for a time and temperature sufficient for each piece to reach internal temperatures of at least 160ºF, and frozen.
---
Products & Literature
MICROWAVE TEMPERING OVEN,
the MIP6, is designed to temper a variety of products, including beef, pork, chicken, fish, seafood, fruits, and vegetables, from 0ºF to 28ºF. It comes complete with color touch screen and PLC control for exact tempering. The program allows for preset product menus to be used by operators in the event of product changes. The menu automatically calculates throughputs and presets system for any type of product. In a typical operation, prestaged product is indexed into the oven, the low-emission doors close, and the product is moved inside the oven. At the end of the process, the finish-tempered product is indexed out of the oven to be further processed. Microwave tempering can be performed in minutes with no bacterial growth. The drip loss savings are said to provide a payback within one year. For more information, contact The Ferrite Co., Inc., 24 Flagstone Dr., Hudson, NH 03051-4904 (phone 603-881-5234, fax 603-881-5406,
www.ferriteinc.com
) —
or circle 365.
MICROWAVE EQUIPMENT DESIGN AND ENGINEERING are provided by the Microwave Research Center. The company works with major manufacturers of industrial food processing equipment to integrate microwave technology into the equipment. Capabilities include in-house modeling, prototyping, testing, and microwave property measurement. For more information, contact the Microwave Research Center, a Division of the Rubbright Group, Inc., 126 Water St., Marlborough, NH 03455 (phone 603-876-4076, www.rubbright.com) —or circle 366.
HACCP AUDITING SOFTWARE, the Keller-Soft™ auditHACCP™, makes it easier for users to conduct a self-audit of their own or their vendors' food safety processes and hazard analysis critical control point programs. The program takes users step-by-step through designing, conducting, and analyzing an audit. The software includes regulatory information, audit questions and checklists, and a calendar for scheduling and documenting audits. For more information or a demonstration, contact J.J. Keller & Associates, Inc., P.O. Box 368, Neenah, WI 54957-0368 (phone 888-373-3171 or 920-722-2848, www.jjkeller.com) —or circle 367.
PATHOGEN REDUCTION/HACCP GUIDE answers frequently asked questions about the U.S. Dept. of Agriculture's pathogen reduction/HACCP rule requiring federally inspected meat and poultry plants to initiate a variety of steps designed to reduce the occurrence and number of pathogenic microorganisms on meat and poultry products. The updated 16-p guide discusses the USDA rule, prerequisite programs, microbiological testing for Escherichia coli and Salmonella, HACCP systems, and laboratory services available. For a copy of Pathogen Reduction and HACCP Question & Answer Guide, contact Silliker Laboratories Group, Inc., 900 Maple Rd., Homewood, IL 60430 (phone 708-957-7878, fax 708-957-8449)—or circle 368.
MINIATURE SCRAPED-SURFACE HEAT EXCHANGER, Model FT25, can be configured as a margarine crystallizer, a continuous ice cream freezer, and a UHT system which can handle particulate-containing products such as soups. It can process 10 L/ hr, and the results can be scaled up with confidence. An electronically controlled feed pump and controllable mutator speeds up to 1,000 rpm provide precise control over the feedstock. For more information, contact Armfield Ltd., Bridge House, West St., Ringwood, Hampshire, BH24 1DY, England (phone +44-1425-478781, fax +44-1425-470916, www.armfield.co.uk) —or circle 369.
by NEIL H. MERMELSTEIN
Senior Editor
What's New on IFT's Web site? Take a look . . . www.ift.org