Once it was pretty easy to identify an alternative drink. For example, back in the seventies if you saw a frozen "smoothie" concoction being sold at some local beachfront stand, you knew it was delicious, but it wasn't exactly mainstream.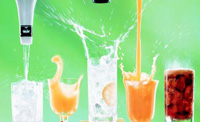 But today things are different. You have oxygen-enhanced water, vitamin-fortified alcohol, soy–tea combinations, beverages that can actively burn off fat, bottled iced coffees, herbal-containing smoothies that act more like "soothies,"and a wide range of exotic exotic-flavored drinks. As you can probably guess from just this short list, a variety of ingredients are "redefining" beverages, slipping (or should I say, sipping) them into the beverage mainstream.
Innovative ingredients are helping to make today's beverages value added, taking conventional liquid refreshment one step farther. Water—the source of life—is made even better, as fruit flavors or no-calorie sweeteners are lightly added. Milk products are nutritionally enhanced to relieve inflammation or provide improved function of antibodies. Beverages having exotic tastes are being made even more exotic by flavors from around the world. And low-calorie beverages that help people lose weight go even farther than that by reportedly burning calories off by using "metabolic enhancers."
Beverages that weren't so perfect in the past are also being reshaped, finding new benefits. For example, soy milk is being improved by use of flavors and better processing so that the product doesn't have undesirable tastes associated with soy. Use of vanilla can cut down the bitterness of a full-bodied beer. Tea can be fortified to help the immune system. Carbonated diet drinks can taste even sweeter by sweetener blends.
This column will take a brief look at some of these new ingredient developments in 10 beverage categories.
There are, of course, a wide variety of beverages to choose from, so we can't sample them all. However, I feel the following beverages have some interesting ingredient developments worth noting. They include (1) alcoholic beverages, (2) bottled water, (3) soy drinks, (4) smoothies, (5) dairy beverages, (6) coffee drinks, (7) carbonated beverages, (8) iced or hot tea beverages, (9) juices, and (10) health drinks.
• Alcoholic beverages. With nutrient systems utilized in a wide variety of applications, it should not be too surprising that they find their way in alcoholic drinks as well. At Fi Ingredients Europe 1999, Fortitech, Inc., Schenectady, N.Y., exhibited an alcoholic energy drink. The beverage, developed as a social drink, is formulated with a nutrient system consisting of vitamins and specialty ingredients that was custom designed by the company.
Another ingredient that has a not-so-typical application in alcoholic beverages is vanilla. Produced by Nielsen-Massey Vanillas, Inc., Waukegan, Ill., Madagascar Bourbon Pure Vanilla Extract can provide a pleasing taste to beers, hard liquors, or cream liquors. According to the vanilla manufacturer, the extract can mellow out the flavor and cut the bitterness of a full-bodied stout beer, while providing a rich, creamy, smooth flavor; furthermore, the extract brings out the flavors of cream liquors and adds a vanilla flavor note to hard liquors. Possible drinks that can be created include vanilla vodka or vanilla schnapps.
--- PAGE BREAK ---
Alcoholic beverages can take advantage of tropical flavors (mango, for example, is one of the hottest flavors this year in nonalcoholic applications) or combinations of exotic flavors. Such flavors or flavor combinations can create new taste experiences that may appeal to a broader range of consumers. At the 1999 IFT Food Expo, Robertet Flavors, Piscataway, N.J., highlighted prototype wine beverages made with new fruit flavor combinations. These flavored alcoholic fruit coolers, Natural Apricot Mango and Natural Hawthorn Berry, have an alcohol content of 2.0% by volume and a juice content of 5.0%. Formulation sheets for both beverages are available from the company.
Soft drink meets wine in a beverage referred to as Tinto de Verano. Described as a Mediterranean drink popular in Europe, it combines a clear, calorie-free soft drink (called Casera) with red wine, lemon, and ice cubes. The drink was recently introduced to the United States by La Casera S.A., Madrid Spain, at the 1999 Fancy Food Show in New York, and is being promoted for its light, refreshing taste and health properties associated with red wine.
• Bottled waters. Near Water is the name given to a new genre of drinks in Japan. The beverage can be described as natural water with a small amount of fruit juice and other ingredients added to provide a more refreshing taste as well as possible health benefits. These ingredients may include fruit flavors such as peach, apple, strawberry, and pear; minerals, including calcium and iron; and vitamins.
The concept of adding flavors and other ingredients (and even oxygen) to bottled waters is finding expression in a number of products recently introduced to the United States.
In March 1999, Veryfine Products, Inc., Westford, Mass., introduced a calorie-free, lightly fruit-flavored water called Fruit2O™The noncarbonated product, the company's first flavored water, is available in six natural fruit flavors: lemon, lime, orange, cherry, raspberry, and strawberry. It is sweetened with sucralose, which earned the 1999 IFT Food Technology Industrial Achievement Award, and is the first time the no-calorie sweetener has been used in a flavored water. Available under the name Splenda from McNeil Specialty Products, the sweetener is said to complement the fruit flavors very well and is highly stable, maintaining 99% of its sugar taste after six months of shelf life. Citric acid or a combination of citric and malic acid is also added to the formulation. Sweetness and acid content of the beverage is low to bring out the subtle fruit flavors.
Clearly Canadian, Vancouver, British Columbia, unveiled O+2™—bottled natural spring water enhanced with oxygen—last October at InterBev98. An unflavored "super-oxygenated" version is said to contain up to 10 times the normal concentration of oxygen naturally found in water. Also available are two flavored versions, Fruit-Citrus and Berry-Citrus, which are enhanced with up to five times the normal concentration of oxygen. These two products, reported to be the first flavored, oxygen-enhanced beverages available in North America, contain high fructose corn syrup, citric acid, natural flavor, and sodium benzoate, in addition to oxygenated water. Formulated as a refreshment for athletes or active individuals, the beverages are produced under license using a process developed by Life O2 International, Naples, Fla., which infuses oxygen into liquids at several times the level of ordinary bottled water. Enhanced oxygen in water may help increase endurance of athletes and decrease recovery time after physical exertion.
Aqua Vie Beverage Corp., Ketchum, Idaho, has recently launched a new line of lightly flavored still waters called Hydrator ™. Varieties (and the main flavors they represent) include Avalanche (pear and guava); Bamboo (Japanese cherry); Harvest (French strawberry); Java (Kona coffee); McIntosh (McIntosh apple); Paradise (orange and peach); and Sun Tea (tea and lemon).
According to the International Bottled Water Association, Alexandria, Va., sales of bottled water has increased by more than 10% in 1998, making this segment the hottest in the beverage industry. Factors such as purity, convenience, and no calories help explain the appeal of bottled water. However, the addition of flavors, calorie-free sweeteners, and ingredients with nutraceutical properties may have a positive impact on the market, helping to extend it even further.
--- PAGE BREAK ---
• Soy drinks. Some of the functional and nutritional benefits of soy were explored in an article, "Putting Soy and Other Nutraceuticals Under the Microscope," in the September 99 issue of Food Technology. One area where there has been some interesting developments has been soy drinks. Flavors such as chocolate, vanilla, and strawberry have been used to mask the bitter, beany taste frequently associated with soy milk. Furthermore, soy beverages can be made with exotic tea blends; this not only improves the taste of soy, but also takes advantage of the popularity of tea. Fruit juices, coffee, and other beverages may also be added to soy.
Besides the addition of flavors, functional problems can be solved in other ways. For example, certain production processes have been improved so that even unflavored varieties may taste like regular milk. Or the removal of gas-fermenting carbohydrates from the soy can help alleviate internal gas associated with the consumption of soy. Solutions such as these may help move soy beverages into the mainstream market.
Let's look at some products recently developed:
Odwalla, Inc., Half Moon Bay, Calif., added three new flavors to Future Shakes, a line of dairy-free, chilled products made with soy milk and organic oat milk. These flavors include (1) Dutch Chocolate, (2) Café Latte, and (3) Inner Chai, which is described as a spicy beverage containing black tea, cinnamon, ginger, cardamom, cloves, black pepper, and honey.
Soy protein powder shake, recently available nationwide, is manufactured and marketed under the name Health Source™ by Ross Products Div., Abbott Laboratories, Inc., Columbus, Ohio. The powder, available in chocolate, strawberry, and vanilla flavors, as well as unflavored, can be mixed with milk, juice, water, yogurt, or blended with fruit, to create a convenient shake. Strawberry smoothie, blueberry yogurt smoothie, orange yogurt smoothie, and mocha cappucino are some examples of beverages that can be created with the powder.
The product is made with Supro XG Brand Isolated Soy Protein manufactured by Protein Technologies International, St. Louis, Mo. The ingredient, a concentrated form of soy protein, provides 20 g of that component. Specially processed to retain high levels of soy isoflavones, it delivers 55 mg of that phytonutrient, which studies have shown may have health benefits. The beverage also contains 70% of the daily value for calcium and 25% of the daily value for vitamin D.
Studies have focused on soy's health benefits in the areas of cancer, heart disease, kidney ailments, menopause, osteoporosis, and cognitive deterioration. Recently, a drink mixture containing soy isoflavones was developed in England which has the potential to help strengthen immune systems of patients suffering from cancer. Called Immune Action, the special formula utilizes SoyLife®, a processed soy product from Schouten, Minneapolis, Minn., as well as vitamins, minerals, and other health-promoting ingredients. The result of the efforts of the BeWell Company, Peterborough, England, the drink was administered to patients at the Bristol Cancer Hospital. The hospital reportedly put 100 patients on a program using the formula, and every participant responded to the drink within five days with improved white cell counts. The summer 1999 (Vol. 1, No. 3) issue of SoyLife Update, a 6-p newsletter available from Schouten, provides details of this story.
• Smoothies, soothies, slushies, and other such frozen delights. Smoothies, like wraps a couple of years ago, are becoming very mainstream today. In fact, both products share some interesting similarities. Before their "invasion,"they had a long history—wraps coming from the ethnic realm, while smoothies originated first from home-made concoctions and then later from health bars, primarily on the West Coast. Both products are very flexible—a variety of healthy or functional ingredients can be incorporated into their formulation to create different tastes and textures. Consequently, both serve as ideal prototypes for ingredients suppliers to showcase their products.
--- PAGE BREAK ---
If one was looking for one of the most dominant applications at the 1999 IFT Food Expo, smoothies (or slushies) could very well be it. Some examples included formulations made with (1) tropical fruits such as banana, mango, melon, passion fruit, and pineapple (Chiquita Brands, Inc., Cincinnati, Ohio); (2) soy isoflavones (Schouten USA, Minneapolis, Minn.); (3) corn-derived ingredients such as syrup, starch, and maltodextrins (Corn Products, Bedford Park, Ill.); (4) soy, berry flavor, and ginseng (Comax Manufacturing Corp., Melville, N.Y.); (5) masking agents (Virginia Dare, Brooklyn, N.Y.); (6) chai tea fortified with antioxidants (American Fruit Processors, Pacoima, Calif.); (7) mango flavor and dairy ingredients (Ungerer & Co., Lincoln Park, N.J.); (8) green tea, mango, and peach (Gold Coast Ingredients, Inc., Commerce, Calif.); (9) flavor blends of cream, tangerine, cinnamon, and chocolate (Robertet Flavors, Inc., Piscataway, N.J.); and (10) soy and strawberry-banana flavor (Ottens Flavors, Philadephia, Penn).
At Fi Ingredients Europe this year, Fortitech, Inc., Schenectady, N.Y., featured a fruit-flavored, crushed-ice beverage designed to appeal to children of all ages. The beverage is formulated with a nutrient premix containing encapsulated vitamins. As the drink is digested, the encapsulation dissolves and the vitamins in the drink are absorbed to perform their functions. The slush drink is manufactured in various flavors, including orange and strawberry.
Although "soothie" is not a beverage, I'm including it here because it obviously is playing off the word "smoothie." (Special recognition to the person at Watson Nutritional Ingredients Div., West Haven, Conn., who coined the word.) A soothie is an ice cream prototype formulated with an herbal blend of Goldenseal, Ginger, Chamomile extract, and Green Tea powder. These botanicals are said to improve digestion, ease upset stomach, and relieve the symptoms of overindulgence.
For more information on smoothies, see the Business/Marketing column in the September issue of Food Technology, page 34.
• Dairy beverages. Nutritionally enhanced cow's milk, developed by Stolle Milk Biologics, Inc. (SMBI), Cincinnati, Ohio, is said to be essentially the same in natural composition as normal cow's milk but promotes several important health benefits. First, it can complement the body's anti-inflammatory response, relieving inflammation caused by injury or disease. Second, it can improve the function of antibodies which are vital in protecting the body against various diseases. Third, it can enhance athletic performance, reducing aches and pains experienced by athletes, lessening recovery time among marathon runners, and promoting a decrease in the percentage of body fat in athletes. Other studies have also suggested that it has the potential to lower blood cholesterol, ease joint pain, protect lungs, and improve intestinal health. Powdered milk products, derived from nutritionally enhanced cow's milk, can be used as ingredients in the formulation of dairy beverages, as well as other applications.
At the 1999 IFT Food Expo, Dairy Management Inc. (DMI), Rosemont, Ill., highlighted several dairy beverages which earned recognition in a contest sponsored by DMI and funded by dairy farmers. The contest, "Discoveries in Dairy Ingredients," was created to introduce food science students at U.S. colleges and universities to the versatility of dry dairy ingredients, including milk, whey, and whey derivatives. Winning entries included a whey-based beverage called Whey Cool!ers (submitted by Washington State University); Tropicolatta, a skim milk-based beverage that included papaya puree and coconut milk (submitted by Cornell University); and Moo Juice, a complete line of dairy-based dry mixes that can be reconstituted to make nutritious shakes (submitted by California Polytechnic State University).
In a related story, Moo Juice was also the winning entry in a contest sponsored by National Starch and Chemical Co., Bridgewater, N.J. The competition, which was open to students of food technology in North America, awarded the most creative application or innovation for the Novation series of starches. These starches, which won the 1998 IFT Food Technology Industrial Achievement Award, provide the benefits of modified food starches without having received the same processing modifications. The winning entry consisted of instantized nonfat dry milk, sugar, native starch (Novation 5600), whey protein concentrate, natural and artificial flavor, and xanthan gum. The function of the starch was to increase body, viscosity, and smoothness, and it was said to have excellent dispersibility. Also, it did not mask the flavors of the beverage, which was available in chocolate, banana, and strawberry versions.
--- PAGE BREAK ---
• Coffee drinks. A bottled iced coffee has been introduced under the Arizona brand, previously known for its bottled teas. The product, manufactured by Ferolito, Vultaggio & Sons, Lake Success, N.Y., is available as a blend of 100% Colombian coffee and milk in Mocha Latte and Latte Supreme varieties. It made its debut in September.
Iced cappuccino also has the potential for fortification, as demonstrated by Watson Nutritional Ingredients Div., West Haven, Conn., at the 1999 IFT Food Expo. The ready-to-drink prototype, using a premix designed by the company, is said to provide 18 essential vitamins and minerals, as well as fiber. In particular, it is an excellent source of calcium.
A.M. Todd Botanicals, Montgomeryville, Pa., previously known as Folexco/East Earth Herb, has introduced a new coffee extract. Described as a more creatively formulated botanical mix, the extract (Number 7) reduces the amount of active flavor normally needed to augment extracts used in the formulation of beverages and other applications. It is available in spray-dried, tincture, and fluid, glycolic, and solid extract forms.
U.S. patent 5,958,497 (filed 8/6/1997, issued 9/28/1999 to R. Grimm et al., assigned to Nestec S.A) describes an inulin-containing, water-soluble chicory extract powder which may be combined with instant roasted ground coffee. The caramelized powder is said to contain an inulin content of between 40 and 65%, a reducing sugar content between 4 and 10%, and a combination of fructose and glucose of less than 5%. The powder and the instant coffee (the latter in an amount between 5 and 95%) is passed through an extruder for treatment.
• Carbonated beverages. Sweeteners—both nutritive and nonnutritive—have had a major impact in the area of carbonated beverages. For example, Pepsi had launched its one-calorie Pepsi One, made with a proprietary blend of acesulfame-K and aspartame, while Triarc Beverage Group introduced Diet RC Cola sweetened with sucralose.
At the 1999 IFT Annual Meeting, researchers from Nutrinova Inc., Somerset, N.J., evaluated various sweetener solutions in a sugar-free lemon-lime carbonated beverage to determine their effects on flavor profiles. Single sweeteners tested included aspartame, sucralose, and high-fructose corn syrup. Sweetener blends contained combinations of aspartame, ace-K, sucralose, and sodium saccharin. The researchers found that single sweeteners tended to have more chemical and sweet aftertaste, while blends containing ace-K had flavor profiles closer to high-fructose corn syrup.
• Iced or hot tea beverages. Tea is my choice for a drink that can represent indulgence as well as comfort. For that reason, tea products made with a variety of flavors and herbal ingredients are one of the clearest examples of a beverage that has crossed into the mainstream. See the article, "Indulging in Foods That Make You Feel Good," in the July 1999 issue of Food Technology, page 56, for a summary of some of the ingredient developments pertaining to it.
--- PAGE BREAK ---
Judging by new product launches, green (and increasingly black) tea, chai (a blend of tea, spices, and milk), and herbals (especially echinacea) seem to be among the hottest types in this area. For example, Arizona Beverages, Lake Success, N.Y., recently added to its line Asia Plum Green Tea, a product containing green tea, plum juice, ginseng, and honey. Oregon Chai, Portland, Ore., introduced Chai Charger, a tea latte using gingko biloba, ginseng, and guarana. These herbals are said to give an energy boost to the black tea, honey, and spice formulation. Traditional Medicinals, Sebastapol, Calif., is making available Echinacea Elder, a blend of elderberry, organic chai, and echinacea.
Therapeutic hot and iced teas were sampled at the 1999 IFT Food Expo. Watson Nutritional Ingredients Div., West Haven, Conn., highlighted a ready-to-drink iced tea prototype, Immun-A-Tea, formulated with a premix containing echinacea, rose hips, ginger, vitamin C, zinc, and l-lysine—nutraceuticals that may be effective against both bacterial and viral infections. Robertet Flavors, Inc., Piscataway, N.J., featured therapeutic hot tea prototypes, referred to as "Aromatherapy." These drinks included Natural Violet Evening Aura, a blend of plum, cinnamon, and violet flavors, and Jasmine Cosmic Calm, a blend of passionfruit, mango, orange, and jasmine.
• Juices. Juices will be referred to pre dominantly in the next section, health drinks, so I won't be discussing their nutraceutical benefits here. Instead, we'll be looking at some flavors and flavor combinations, as well as the potential for the emergence of even more exotic flavors.
According to a representative from Bush Boake Allen, Montvale, N.J., mango is one of the hottest flavors this year, finding application in a variety of products, including even coffee. Based upon the number of products or prototypes launched having mango as a flavor, it's difficult to argue with this observation.
Mistic Brands, White Plains, N.Y., recently introduced Mango-Carrot juice drink, a blend of orange, carrot, and mango juices and other fruit flavors that contain 100% of the recommended daily allowance of vitamins A and C. In 1998, Orange Carrot juice drink had made its debut. The company reported that last year carrot juice and carrot juice blend sales were up 52% and mango juice blends were up 37%.
Saratoga Beverage Group, Saratoga Springs, N.Y., expanded its Fruit for Thought fortified fruit juice line to include eight flavors, one of them being Mellow Mango.
At the 1999 Worldwide Food Expo, which was held in Chicago on October 28–31, Virginia Dare, Brooklyn, N.Y., featured flavor combinations such as Fuzzy Mango Lemonade and Strawberry-Kiwi Green Tea in still beverages.
While mango may be hot, it is also quite clear that the same could be said for other exotic flavors or flavor combinations. Recently, ITI, Inc., Lawrenceville, N.J., and Quicornac SA, Ecuador, jointly started a Web page focusing on the use of passionfruit concentrate. (See www.passionfruitjuice.com for more information.)
In addition to mango, Dragoco, Inc., Totowa, N.J., manufactures a wide range of other tropical flavors. Flavors from South America and the Caribbean include Caju, Cupuacu, Guarana, Guava, Mamay, Guanabana, Mandarin, Papaya, Passionfruit, Purple Mombin, and Lulo. Pacific Rim flavors include Carambola, Coconut, Durian, Kalamansi, Kiwi, Lychee, Pineapple, Pomegranate, and Uglifruit. These flavors and their characteristics are described in the Dragoco Report (2/1999), published by the company. Use of these emerging flavors and combinations would obviously create exotic beverages that are even more exotic, or if you will, exotic exotic beverages.
--- PAGE BREAK ---
• Health drinks. Fresh Samantha, Inc., Saco, Maine, manufactures fruit and vegetable juices, teas, and smoothies made with botanical extracts available from A.M. Todd Botanicals, formerly Folexco/East Earth Herb. The beverages, marketed in grocery and convenience stores, health clubs, and restaurants on the East Coast, are reported to surpass $35 million in 1999.
One new product is O Happy Day, a combination of apple juice, bananas, blackberries, orange juice, and blueberries, along with a botanical extract, St. John's Wort, which has been shown to produce improvements in depression, anxiety, insomnia, and other psychological conditions.
Other products include Crazy Cranberry, a cranberry juice product fortified with calcium, magnesium, and vitamin D; Get Smart, made with apple juice, strawberries, orange juice, bananas, and guava nectar with gingko biloba (40 mg/serving) and gotu kola (30 mg/serving); and Apple Berry Ginseng Tea, which is a blend of apple juice, water, premium herbal tea, pure honey, and ginseng—an aromatic root which has been shown to help increase energy, endurance, and stamina.
Fresh Samantha will soon open a juice bar in Portland Maine, where it will be offering made-to-order smoothies, with a choice from 18 fruit and fruit juice blends and one of three botanical enhancements, referred to as an Immunity Builder blend, a Stress Reducer, and a Brain & Body Food. One item highlighted is called Tropical Vacation, a combination of coconut, pineapple, orange, and banana, with a blend of echninacea (300 mg/serving) and astragalus (100 mg/serving). These botanical extracts have been shown to help the body's immune systems fight off infections such as the common cold.
Naked Juice, Glendora, Calif., recently made available Mojave Magic, a juice fortified with nopal, aloe vera, and agave (ingredients derived from cacti) which aid in digestion and promotes internal cleansing, as well as psyllium husk, a source of dietary fiber.
South Beach Beverage Co., Norwalk, Conn., developed SoBe Lean Metabolic Enhancer, a healthy refreshment drink for people interested in losing weight. The reduced-calorie drink is formulated with three natural metabolic enhancers which will help diet drinkers burn off fat. The three enhancers include CitriMax™an appetite suppressant which inhibits fat creation; Chrome Mate® a patented form of the mineral chromium which can help the body metabolize fat and reduce the level of LDL cholesterol; and Carnitine, an amino acid that can help the body produce energy through efficient utilization of oxygen. The sugar-free drink is sweetened with a blend of aspartame and ace-K, and contains 5 calories per serving. It is available in three flavors—citrus, tropical fruit, and peach.
In 1999, Tropicana, Bradenton, Fla., added other versions of its calcium-fortified juices, including a pulpier calcium-fortified orange juice (Tropicana Premium Grovestand Calcium) and a grapefruit juice that reportedly contains more calcium than milk (Ruby Red Grapefruit Juice).
At the 1999 IFT Annual Meeting, researchers from The Procter & Gamble Co., Cincinnati, Ohio, discussed a technology that prevents off-color development when highly bioavailable iron, such as ferrous sulfate, is added to chocolate-containing beverages. An unacceptable gray color caused by the addition of iron was prevented by lowering the beverage pH from 6.6 to 5.7 using citric and malic acids. The study also found that the bioavailability of the iron from the beverage with added acid was the same as that from the standard ferrous sulfate.
--- PAGE BREAK ---
PATENTS
Method for adding flavor materials to beverages. U.S. patent 5,955,132, filed 5/24/1991, issued 9/21/1999 to S. Spica et al., assigned to Campbell Soup Co. Describes a way of adding essences, aromas, concentrates, or any other flavors or flavor mixtures to a beverage after it has been filled to volume in a container and prior to the final sealing of the container with a closure or lid. The method, which uses a rotary liquid dispensing machine, prevents the loss of substantial flavors and essences during the processing of juices.
Low-fat, shelf-stable, ready-to-drink milk shake beverages having the mouth feel of high fat milk shake beverages. U.S. patent 5,955,136, filed 5/15/1998, issued 9/21/1999 to T. Laaman et al., assigned to Pepsico, Inc. Describes a low-fat milk shake beverage which has the mouthfeel of a full-fat version, has about 1.1% or less fat, is shelf-stable for at least six months of nonrefrigerated storage, and is ready to drink. The beverage is formulated with a combination of three carrageenans–one kappa having strong casein reactivity, one kappa having weak casein reactivity, and one lambda to increase viscosity. Also included in the formulation is a dairy ingredient consisting of cream and nonfat milk solids, a sodium or potassium orthophosphate buffering agent, a modified food starch acting as a fat mimetic, a nutritive sweetener, and an alkaline agent.
Microcrystalline-starch-based product and use in foods. U.S. patent 5,962,047, filed 6/14/1996, issued 10/5/1999 to A. Gross et al., assigned to Opta Food Ingredients. Describes a starchbased product consisting of water-insoluble microcrystalline starch, glucose, and short-chain glucooligosaccharides, and having an average particle size of less than about 10 mu and a smooth consistency. The product, which is typically dried to produce a powder, may be incorporated in foods and beverages as a bulking agent to add bulk to the product without adding significant fat or calories; as a fat, sugar, and/or flour replacer; or as a component in a stabilizer complex in frozen foods, particularly to prevent the formation of ice crystals.
---
Product Update
BEVERAGE WEIGHTING AGENT, sucrose acetate isobutyrate (SAIB), has been approved for use by the Food and Drug Administration on June 4, 1999. Without weighting agents or stabilizers, flavoring oils separate from other beverage components and rise to the surface. Available from Eastman Chemical Co., SAIB-SG weighting agent increases the specific gravity of the flavoring oils used in citrus beverages, giving increased stability to the finished beverage. It is offered as undiluted and in two low-viscosity blends. For more information, write to Eastman Chemical Co., P.O. Box 431, Kingsport, TN 37662 (phone 423-229-5609; fax 423-229-1064)—or circle 350.
CHELATING AGENT—called Versene EDTA—may be used to preserve the integrity of vitamin C and other antioxidant vitamins (A, D, and E) from the degrading effects of minerals and uncontrolled metal ions in sports drinks, bottled ice tea, fruit juices, and other fortified beverages. Uncontrolled metal ions can interact with vitamin C to destabilize the flavor of these drinks, leading to taste loss, color deterioration, shorter shelf life, and chemical degradation of other ingredients. Iron, in particular, causes the antioxidant qualities of vitamin C to degrade very quickly. Use of EDTA will inhibit undesirable metal-catalyzed reactions by forming strong complexes with the metal ions. The resulting structure, known as a chelate, deactivates the metal ion and prevents it from reacting with vitamin C. Consequently, the nutritional value of iron and the antioxidant vitamins is preserved. For more information, write to The Dow Chemical Co., 100 Larkin Center, Midland, MI 48674 (phone 517-636-2940; fax 517-638-9836)—or circle 351.
--- PAGE BREAK ---
GUM BLEND combining guar gum and pectin has application in fruit-based beverages. Called Ticagel™ PG-730, the product is made from a specially processed bland guar which does not impart an undesirable taste, and contains a percentage of pectin for adequate protein stabilization. It was introduced at the 1999 IFT Food Expo. For more information, write to TIC Gums, Inc., 4609 Richlynn Dr., Belcamp, MD 21017 (phone 410-273-7300; fax 410-273-6469)—or circle 352.
POTASSIUM GLUCONATE may be used in sports drink formulas to deliver health benefits without a bitter aftertaste. Its addition as a supplement in these beverages can help alleviate symptoms of muscle cramping that athletes may experience during strenuous exercise. It is very soluble and can be used in clear beverages without any recipitation. The additive is certified as GRAS and meets Food Chemical Codex specifications. For more information, write to PMP Fermentation Products, Inc., 500 Park Blvd., Suite 450, Itasca, IL 60243-1260 (phone 630-250-7033; fax 630-250-7094)—or circle 353.
CALCIUM-ENRICHED CHOCOLATE MILK may be achieved by using coprocessed microcrystalline cellulose and calcium carbonate. The ingredient—called Avicel Plus®—is said to provide calcium fortification with superior stability; suspend both calcium and cocoa particles over a wide temperature range, 0–40°C; give smooth, rich mouthfeel and texture; provide suspension stability with low viscosity; and have high tolerance to variations in milk protein quality. It is recommended by the manufacturer for all types of processed chocolate milk. For more information, write to FMC BioPolymer USA, 1735 Market St., Philadelphia, PA 19103 (phone 215-299-6000; fax 215-299-5809)—or circle354.
FORTIFICATION PROBLEMS associated with the addition of iron in beverages is addressed by a product called SunActive Fe. Consisting of ferric pyrophosphate and emulsifiers, the blend disperses insoluble iron in liquid formulations and masks off flavors. For more information, write to Taiyo International, Inc., 4700 W. 77th St., Suite 175, Edison, MN 55435 (phone 612-832-5273; fax 612-832-9897)—or circle 355.
FEVERFEW is a nutraceutical extract used as a treatment for migraine headaches, arthritis, and colitis. Containing 1.2% parthenolide, the ingredient is suitable for fortifying foods and beverages. It is available in a variety of forms, including spraydried powder, tincture and fluid, and glycolic and solid extract. For more information, write to A.M. Todd Botanicals, 150 Domorah Dr., Montgomeryville, PA 18936 (phone 800-634-4418; fax 215-628-8651)—or circle 356.
FREEZE-DRIED FRUIT POWDER—called Blueberry Crystals™—may be used to add natural juice content and taste to dry beverages. Made from a blend of premium concentrate and puree, the dried blueberries are said to be a potent source of natural color and sweetness. The product remains free-flowing at ambient temperatures of 70°F, is a suitable replacement for juice concentrates, and has a moisture content of below 3%. Recent studies have found that blueberries contain anthocyanins, as well as dietary fiber, vitamin C, and iron, and may help prevent some urinary tract infections. For more information, write to Crystals International, Inc., 600 W. Dr. M.L. King, Jr. Blvd., Plant City, FL 33566-5117 (phone 813-754-2691; fax 813-757-6448)—or circle 357.
FRUIT-BASED SLUSH DRINKS may be formulated with flavors available from Wixon Fontarome. Peach Slush Drink (#704-70-A) contains Natural Peach Type Flavor #224-50-E, and presents a fuzzy peach profile. Granny Smith Apple Slush Drink (#704-70-B) includes Natural Green Apple-Type Flavor #223-94-C, and reflects the profile of the natural fruit. For more information, write to Wixon Fontarome, 1390 E. Bolivar Ave., St. Francis, WI 53235-4521 (phone 414-769-3020; fax 414-769-3024)—or circle 358.
--- PAGE BREAK ---
COFFEE EXTRACTS and flavored coffee concentrates are shelf stable, capturing the complex, roasted essence and flavor of the freshly brewed drink. The extracts are available in Expresso, Dark Roast, and Medium Roast versions, as well as specialty blends. The concentrates include Natural & Artificial French Vanilla, Mocha, and Hazelnut. Natural versions of the French Vanilla and Mocha are also offered. For more information, write to Blue Pacific Flavors & Fragrances, Inc., 1354 S. Marion Ct., City of Industry, CA 91745 (phone 626-934-0099; fax 626-934-0089)—or circle 359.
NATURAL LEMON FLAVORS, available in spray-dried form, have application in beverages, as well as cake mixes and other dry mix products. The flavors come in single or 5-fold strength. For more information, write to St. Louis Flavors Corp., P.O. Box 1212, Fenton, MO 63026-1212 (phone 636-349-0020; 636-349-1839)—or circle 360.
DAIRY-BASED BEVERAGES utilize creative flavor combinations. Natural Chocolate Raspberry Fudge Cream Drink is formulated with natural raspberry WONF and natural chocolate flavor. Meringue Cream Drink contains natural lemon flavors. Both drinks are shelf stable and low pH. For more information, write to J. Manheimer, Inc., 546 Rte. 46, West Teterboro, N.J. 07608 (phone 201-641-5599; fax 201-329-9801)—or circle 361.
ENCAPSULATION STARCHES—called HiCap™—are said to have a lower viscosity than traditional encapsulating agents; be compatible with water-soluble substances; and form very stable oil-in-water emulsions of very fine particle size. These high-load encapsulation starches allow preparation of spray-dried flavor with oil content as high as 40% that exhibit oil retention and oxidation resistance equal to or better than alternative agents loaded at 20% oil. The starches are suitable for flavor encapsulation for beverage mixes and cloud encapsulation for breakfast drinks and creamers. For more information, write to National Starch and Chemical Co., P.O. Box 6500, Bridgewater, NJ 8807-0500 (phone 800-797-4992; fax 609-409-5699)—or circle 362.
"OPPORTUNITIES FOR BEVERAGES" is the title of an article in Focus, a 4-p newsletter published by Purac. The article discusses the use of lactic acid (Purac®), potassium lactate and sodium lactate (Purasal®), calcium lactate (Puracal®), ferrous lactate (Puramex® FE), and magnesium lactate (Puramex® MG) in a variety of beverages. Among the applications discussed include specialty beverages (children's drinks, dilutables, and powder drinks) and sports drinks. Also discussed is how lactic acid can enhance the flavor intensity in sweetened beverages as well as how problems associated with calcium interactions can be overcome. For more information, write to Purac America, Inc., 111 Barclay Blvd., Lincolnshire, IL 60069 (phone 847-634-6330; fax 847-634-1992)—or circle 363.
VANILLA EXTRACT, Madagascar Bourbon Pure Vanilla, may be used to enhance the flavor of fruit juices. Cranberry juice is said to have a particular affinity for the aromatic vanilla. Strawberry flavor, as well, may be paired with vanilla, which brings out the richness of the fruit without overpowering its delicate nature. The extract goes into solution easily and gives depth to richly colored beverages without changing their hue. Lightly colored beverages can also take advantage because the ingredient dissolves instantly into solution without affecting the color of the liquid. For more information, write to Nielsen-Massey Vanillas, Inc., 1550 Shields Dr., Waukegan, IL 60085-8307 (phone 847-578-1550; fax 847-578-1570)—or circle 364.
COLORANTS—certified FD&C High-Tint Aluminum Lakes—may be used in powdered beverages such as sweet fruit-flavored instant drinks and instant cocoas. The dry, insoluble, low-moisture colorants are said to provide increased tinctorial strength to reduce the amount of colorant needed by instant beverage manufacturers, while delivering color stability and uniform distribution. They are available in a broad range of colors. For more information, write to Colorcon, 415 Moyer Blvd., West Point, PA 19486 (phone 215-699-7733)—or circle 365.
by DONALD E. PSZCZOLA
Associate Editor