New packages are part of the beverage world—a major change from the days when the popular cola drink in its hourglass bottle was instantly recognizable. Beverages have changed too, from a preponderance of colas to a wide variety of beverages that are meant to be consumed for a variety of reasons.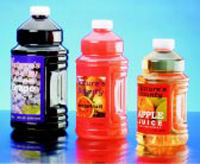 There are energy drinks, nutraceutical beverages, fruit and vegetable drinks for the 5-a-day crowd, milk and flavored milk, smoothies, and meals in a can. Of course, there's also beer and alcoholic beverages, with a lot of new premixed cocktails that resemble fruit or milk drinks. Tea and coffee beverages shouldn't be forgotten either. They come in bottles, boxes, and cans, and can be consumed directly from the container, or poured into something a little more comfortable. The crossover between beverages, including juices and tea and nutraceutical beverages, is often delineated by the package—the more expensive nutraceutical beverages often have overprinted sleeves, molded glass bottles with distinctive designs, and shrink wrappings. If the major difference between fortified beverages and nutraceuticals is often perception, the package helps to differentiate clearly which is which.
Bottles can be a problem, as Anheuser Busch discovered in early September, when 5.8 million twist-off bottles of Bud were recalled, after the brewery found that their suppliers had supplied glass bottles with misshapen rims. Still, most glass bottles are expertly made, and offer a classy look, with the suggestion of purity and clarity, to new beverages. The range of new glass containers is equal to the range of new products, including nutraceuticals, juice, spring water products, and others.
SoBe (South Beach Beverages) has come up with two new flavors of its nutraceutical brews. Karma contains kava kava, St. Johns wort, valerian with B-complex, and Drive includes epimedium, ginseng, muria puama, selenium, and zinc. They are packaged in SoBe's broad-mouthed containers with breakaway reclosable caps and molded glass bottles. SoBe reports a 400% increase in volume in 1998. The beverages are clearly exotic—the appearance of the container says "grownup."
Clearly Canadian, one of the first companies to enter the New Age craze in the early 1990s, saw a growth spurt of 15.6% between 1997 and 1998. In 1997, the Vancouver-based firm had 57 employees. The headcount grew by 24%, according to Hoover's Online. The packaging is still primarily the bowling-pin-shaped colored glass bottle, clearly recognizable as Clearly Canadian, but offered in several sizes.
The concern over juice safety, and the need to pasteurize or otherwise treat juices to greatly reduce bacterial content, has triggered a group of new containers in various sizes. Juice sales have grown, and the market has shifted to new types of juice with fresher flavor. Market balance has shifted, too, with the addition of Tropicana to the Pepsi family and the head-to-head marketing of Tropicana and Minute Maid, with Coca-Cola's clout. New packages have been introduced at break-neck speed by all of the juice companies to better compete.
Odwalla, Inc., the company that had an unfortunate problem with E. coli O157:H7 a couple of years ago, has recuperated from dropped sales and is now growing again. A new package made from recyclable high-density polyethylene (HDPE) allows the company's expanded refrigerated juice line to retain better fresh fruit flavor, and favors national distribution. According to the company, the package extends juice life by about 40%. The package has a tamper-resistant, screw-on cap, which permits consumers to reclose the beverage when drinking the beverage while moving or motoring. The bottle is shaped like an obelisk, and has a four-sided wrap, printed with company information, nutrient content, and kosher certification.
According to Odwalla spokespersons, the package costs about 50% more, but because of slightly reduced package content, the price per container to the consumer is the same as before. National roll-out of the juice products is now underway. 
A number of companies producing juice and juice-based beverages are increasing their product line with additional package sizes, sometimes in new packages, sometimes as extensions of current lines. Welch's decided to use a companion glass bottle to the rest of its single-serve juice beverages when it decided to add White Grape Juice Cocktail to its 18+flavors offered in glass bottles and aluminum cans. Early this year, the processor added an all-plastic can for frozen grape juice concentrate that permitted the product to hit the serving pitcher in two minutes flat. The package, made of HDPE by Graham packaging, York, Pa., won a number of awards, including kudos for recyclability. 
PATENTS
Full-text patents may be obtained from the www.uspto.gov Web site. Access the full-text portion through either the Boolean search feature, using key words or assignee or inventors, or the patent number search.
Polyphenols as polycarbonate branching agents. U.S. patent 5,948,876, filed 12/8/1997, issued 9/7/1999 to R. Mestanza et al., assigned to General Electric Co. Branched poly-carbonates are prepared from a branching resin with a molecular weight to 3,000 with a linear or branched polycarbonate, by melt extrusion with an appropriate catalyst. Materials may be used for blow-molding large containers that require enhanced flow properties of the polycarbonate compound.
Printed cook-in shrink film. U.S. patent 5,948,490, filed 10/2/1996, issued 9/7/1999 to C.D> Raines et al., assigned to Plicon, Inc. A cook-in package for food products has a printed label layer positioned within at least one well portion of the package. The printed package serves dual purposes and eliminates the need for a second printed shrink bag. The printed package can be formed and cooked while retaining readable qualities of the label.
Modified atmosphere package. U.S. patent 5,948,457, filed 6/9/1998, issued 9/7/1999 to G.R. DelDuca et al., assigned to Tenneco Packaging, Inc. Modified packaging method creates a modified atmosphere in a package, including an inner and outer package. The inner package is made of a polymeric material that is substantially permeable to oxygen, and the outer package is substantially impermeable to oxygen. After a food product like raw meat is placed in the inner package, the inner package is flushed with a mixture of gases to remove oxygen. The flushed inner package is sealed and inserted into the outer package, which is then flushed with a mixture of gases to remove oxygen from the outer package, and sealed. An oxygen scavenger is provided in the package and activated with an oxygen uptake accelerator to increase the rate of residual oxygen absorption.
By-product absorbers for oxygen scavenging systems. U.S. patent 5,942,297, filed 3/7/1996, issued 8/24/1999 to D.V. Speer et al., assigned to Cryovac, Inc. A package for oxygen-sensitive goods uses a barrier material, an oxygen scavenging system, and a polymeric base which is reactive with the by-products of oxygen scavenging. The oxygen scavengers may be used to replace 15- to 40-micrometer layers of aluminum foil in some applications, and are thin, flexible, and transparent in use.
---
Products & Literature
HOT-FILLABLE PET CONTAINERS have pinch-grip for easy handling. A family of stock, blow-molded bottles permit filling at higher temperatures without distortion. The neck finish is crystallized, which allows a better integral seal with the closure. The pinch grip makes it easier to pick up and hold (no more grape juice explosions when the bottle slides out of junior's hands), and the container is designed so that it handles the higher amount of vacuum that exists when the container cools from 185–195oF. For more information, contact Schmalbach-Lubeca, Plastic Containers USA, 10521 Hwy. M-52, Manchester, MI 48158 (phone 734-428-4515, fax 734-428-8887)—or circle 373.
SHRINKWRAPPERS are used for packing cylindrical packages like bottles in film-only packages, film and flat cardboard support, or tray and film packages. These are particularly useful in packaging for bulk sales of individual items, such as packages for club or wholesale stores or for foodservice. The Novopac Lancio systems by Impianti Novopac SRI of Allesandria, Italy, is represented in the U.S. by Omega Design Corp., 211 Philips Rd., Exton, PA 19341 (phone 610-363-6555, fax 610-524-7398)—or circle 374.
GABLE-TOP PACKAGING SYSTEM by Tetra Rex and Tetra Pak provides a state-of-the-art extended shelf-life system for gable-top packaging systems that provides a 3-point sterilization system. The system includes treatment with 3% hydrogen peroxide vapor, a patented UV light process, and a hot-air dryer/remover, as well as a sterile air/clean air system, aseptic diaphragm valves, and self-contained automatic cleaning. The product shelf life of dairy or juice products in the gable-top containers is extended to 90 days. The system, TR/18ESL, protects against Listeria, E. coli, Salmonella, yeast, and molds. An additional feature of the packaging is the "Sahara" bottom, a design that prevents leakage. For more information, contact Tetra Rex, 909 Asbury Dr., Buffalo Grove, IL 60089 (phone 847-465-7000, fax 847-465-8505)—or circle 375.
STRETCH BLOW-MOLDED BOTTLE in a 5-gal size is made from a new polymer designed to meet the standards for optical clarity and taste that have been developed by water bottlers for international use and that meet regulatory requirements worldwide. The Eastapak Aqua™ polymers have the self-leveling properties that are characteristic of PET, and the polymers can be stretched equally in all directions, permitting larger-sized containers to be formed. For more information, contact Eastman Chemical Co., P.O. Box 431 (B471), Kingsport, TN 37662-5371 (phone 423-229-3078, fax 423-229-1008)—or circle 376. 
by FRAN KATZ
Editor