More than 24,000 food technologists gathered in Chicago, Ill., for the IFT Annual Meeting & Food Expo, July 24–28, 1999. Although product development and ingredient technology represent the major portion of Food Expo, quality control and laboratory testing were also important themes. More than 150 companies exhibited laboratory instruments, testing kits, and supplies for food testing and analysis.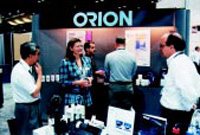 Today's food processor is faced with a variety of inherent challenges resulting from volume production. With the introduction of Hazard Analysis Critical Control Point (HACCP) systems in food plants, identification of hazards and critical control points (CCPs) and routine monitoring of those CCPs are needed to allow corrective actions to be taken to meet the required quality standards.
The trend in new instruments is to provide analytical information at the plant floor level, while maintaining good selectivity, sensitivity, and stability. The movement of instruments out of the laboratory to the plant floor is true for microbial testing as well. Along with this trend is the desire for increased information flow, as illustrated by the interest in reporting lab results electronically such as with software for Web-based statistical quality control.
The following are some of the laboratory instruments and products that were exhibited at this year's Food Expo.
Chemical Sensors Moving to Plant Floor
A variety of chemical sensors for rapid analysis of foods, beverages, flavors, and packaging materials were exhibited. The goal of these devices is to provide good selectivity, sensitivity, and stability, while providing QC/QA information at the plant floor level. Applications in the food industry include the investigation of common manufacturing problems such as contamination, loss of intensity of flavor, and aging or spoilage of the food products. The trend is for laboratory instruments to move out of the laboratory to at-line stations and then directly online. Also, the instruments are becoming easier for technicians to use.
A chemical sensor, called the HP4440A, may be used for the rapid qualitative and semi-quantitative analysis of foods, alcoholic and nonalcoholic beverages, flavors, and packaging materials. The device consists of a headspace sampler coupled directly to a quadrupole mass spectrometer. Unlike gas chromatography with mass spectral detection (GC/MS), there is no chromatographic separation of the sample components. The analytical result is a single "chromatographic peak" containing the overlapping spectra from all of the volatiles in the sample. These overlapping spectra create a complex pattern that is characteristic for that sample. Sample differences, caused by aging, impurities, variations in ingredients, and other factors result in variations in the composite spectral pattern. Chemometrics software is used for spectral pattern recognition and for model building. Once trained to recognize known samples, unknown samples can be classified in 2–5 min each and can indicate if a material is good or bad or determine its grade. The sensor has been used to determine the geographic origin of coffee and citrus oils, detect adulterants in olive oil, and determine the age of butter. For more information, contact Hewlett-Packard Co., 2850 Centerville Rd., Wilmington, DE 19808 (phone 302-633-8021; fax 302-633-8902)—or circle 382.
--- PAGE BREAK ---
A food analysis system utilizing a mass spectrum detector and a proprietary array of metal oxide sensors has been developed. This hybrid detection system consists of two different types of gas sensors: a mass spectrometer detector combined with a proprietary array of metal oxide sensors. By combining these two complementary techniques, the issues of selectivity and sensitivity of the measurement can be optimized. For more information, contact Alpha M.O.S., 102 Towne Centre Dr., Hillsborough, NJ 08876 (phone 908-359-9396; fax 908-359-9398)—or circle 383.
Volatile compounds in foods may be measured with the TV 9000. The device consists of a heated injection port of a chromatograph and a chromatographic detector linked by a heated capillary 10 cm long and the necessary gas control unit. The signal is integrated by a PC-based chromatographic integration system. The signal can be interpreted either by measurement of the area under the signal or by measurement of height and width at 50% of the curve. For more information, contact Brechbühler AG, Switzerland (phone 41-1-732-31-31; email info@Brechbühler.ch) —or circle 384.
Gas chromatograph system, the AromaTrax™, may be used for the determination of aroma profiles. This system consists of a computer-controlled multidimensional GC/olfactometer which is capable of determining flavor profiles of food products. The method consists of trapping the top-note headspace at a desired loading on an absorbant and then thermally desorbing it onto the first GC nonpolar column of the two-column multidimensional instrument. A flame ionization detector (FID) trace is obtained for the first column separation. Subsequent runs take carefully controlled heartcuts of selected retention time regions of the FID trace and passing them onto a second polar column. Detection of components eluting from the second column is done by tandem PID and olfactometry. The process is controlled by a microprocessor imbedded in the GC and accessed through PC software. An olfactogram is obtained by accessing a software program through a touch-screen monitor as the aromas are noted at a sniff port. For more information, contact Microanalytics, 2713 Sam Bass Rd., Round Rock, TX 78681 (phone 512-218-9873; fax 512-218-9875)—or circle 385.
Portable electronic nose may be used in the field to detect volatile compounds in food products. The device uses an array of sensors, composed of dispersed conductive particles within organic polymers, which expand like a sponge when they come in contact with a vapor, increasing the resistance of the composite. The normalized change in resistance is then transmitted to a processor to identify the type, quantity, and quality of the odor based on the pattern change in the sensor array. This unit can detect multiple odors, can work in almost any environment without special sample preparation or isolation conditions, and does not require advanced sensor design or cleaning between tests. The manufacturer also plans to use its technology in disposable packaging, providing an objectivity absent from current spoilage, freshness, and contamination monitoring techniques. For more information, contact Cyrano Sciences, Inc., 73 N. Vinedo Ave., Pasadena, CA 91107 (phone 626-744-1700; fax 626-744-1777)—or circle 386.
--- PAGE BREAK ---
Traditional laboratory-based wet-chemistry techniques are being replaced by process-oriented instrumentation that is automated, is easy to operate, and provides rapid results. Edible oil analysis serves as a good example of where a single analytical technique can measure simultaneously a range of key quality parameters that include free fatty acids (FFA), iodine value (IV), and trans fatty acids (tFA) values at various stages of the production process. The Edible Oil Analyzer is based on FT-IR technology. It is designed for use at or near the production line, and results are said to be consistent with traditional wet-chemistry measurements. The unit simultaneously measures IV, FFA, and tFA. It features solvent-free operation, a heated sampling system for the analysis of high-melting-point fats, remote monitoring and data logging over networks, and automated self-diagnostics. For more information, contact Perkin Elmer LLC, 761 Main Ave., Norwalk, CT 06859-0010 (phone 800-762-4000 or 203-762-4000)—or circle 387.
Fat and oil determination in a wide range of food and agricultural products may be accomplished with the FastFat™ HT. This new extraction system is said to provide fat data in minutes. The unit is based on supercritical fluid extraction. This process uses CO2 in place of ethers and chlorosolvents. The basic system runs two samples at once in a turnaround time that typically averages 15–30 min. The system can be expanded with additional extractor modules to run up to six samples simultaneously. For more information, contact Isco, Inc., P.O. Box 5347, Lincoln, NE 68505 (phone 402-464-0231)—or circle 388.
Waterproof pH meters, the miniLab Series IQ120 and IQ125, may be used in quality assurance and research applications in the food industry. The compact meters feature silicon-chip pH sensors that are said to provide stable readings in seconds. The sensors are 5.5 in long. The probe stores dry and requires no maintenance. The meters are O-ring sealed. Other features include automatic temperature compensation, battery saving power-off, low-battery indicator, and a replaceable reference. Accuracy is in the ±0.1 pH range, and the meters measure samples as small as one drop. For more information, contact IQ Scientific Instruments, Inc., 11021 Via Frontera, Suite 200, San Diego, CA 92127 (phone 858-673-1851; fax 858-673-1853)—or circle 389.
Conductivity meter, Model 162A, is said to offer the convenience of measuring conductivity, resistivity, total dissolved solids, or salinity by pressing a single key to toggle between modes. The meter uses Orion 4-electrode DuraprobeT cells or 2-electrode cells with integrated thermistors and automatically recognizes Orion conductivity standards. Temperature compensation options include linear with adjustable temperature coefficient and nonlinear for natural and ultrapure waters. Advanced datalogging options include user-defined timed interval down to 5 sec, manual or reading differential logging. Bidirectional RS232 allows remote operation of the meter from a PC. A variety of probes are available for optimal sample measurement. Complete USP testing packages are available. For more information, contact Orion Research, Inc., 500 Cummings Center, Beverly, MA 01915 (phone 978-232-6000; fax 978-232-6015)—or circle 390.
Color measurement system, The HunterLab ColorFlex™, is self-contained and includes built-in software. It may be used for basic color measurement or more-sophisticated applications in the food industry. The unit uses dual-beam xenon flash technology plus the choice of either diffuse/8º or 45º/0º optical geometry based on application and sample type. For product- or customer-specific applications, the unit offers 99 setup configurations for customizing display outputs, tolerances, and indices. With port-up or port-forward measurement orientation, a variety of sample-handling accessories, and a port plate for wet samples, the unit can be adapted to measure the color of many different types of food samples, including powders, pastes, pellets, and opaque or translucent liquids or solids. Typical applications include quality control of incoming raw materials, verification of finished product color, and monitoring of color throughout the production process. For more information, contact Hunter Associates Laboratory, Inc., 11491 Sunset Hills Rd., Reston, VA 20190-5280 (phone 703-471-6870; fax 703-471-4237)—or circle 391.
--- PAGE BREAK ---
Pathogen Testing Critical for Food Processors
Although the Centers for Disease Control and Prevention has recently reported a decline in the incidence of foodborne disease and a decline in the number of Salmonella infections has been touted by the U.S. Dept. of Agriculture as a result of its Pathogen Reduction/Hazard Analysis and Critical Control Point rule and HACCP programs undertaken by the Food and Drug Administration for seafood and other food products, foodborne pathogens and their detection remain a critical concern of food processors. A variety of methods for microbial detection were exhibited at this year's Food Expo.
Pathogen Detection System, the Transia Elisamatic II, is intended for companies that need a user-friendly and cost-effective method for detecting foodborne pathogens such as Salmonella, Listeria, and Escherichia coli O157. It is a compact, robotic analyzer specifically designed and optimized for use with Diffchamb's rapid Transia test kits. These tests rely on the specificity of the antibody–antigen reaction and enable a food pathogen to be detected within 48 hr. The unit may be programmed for "walk-away" operation, and up to 186 food samples can be analyzed at the same time. For more information, contact Diffchamb AB, Baika Bargogata 7, 42246 Hisings Baika, Sweden (phone 46-31-58-3270)—or circle 392.
Genetics-Based Testing for pathogens is being offered by Silliker Laboratories Group, Inc. Silliker has installed the BAX® PCR screening system produced by Qualicon. Silliker participated in a comprehensive study with USDA and a Texas food processor that compared traditional methods and PCR for E. coli O157:H7 in ground beef patties. The results of the study will be presented at the IAMFES meeting. Following the ground beef study, Silliker installed PCR in the company's Madison, Wis., lab and conducted a six-month evaluation program. PCR, according to the studies and tests conducted at the Madison lab, provides faster turnaround, greater specificity, and increased sensitivity in the detection of E. coli O157:H7. Depending on the product matrix, experience with other rapid methods, and turnaround requirements, researchers at Silliker noted that a combination of PCR and other rapid tests may encompass a desirable testing program for many companies. For example, food processors using an ELISA-based test as a primary screen might opt to use PCR to confirm or reject presumptives as a secondary screen in lieu of time-consuming cultural confirmations. For more information, contact Silliker Laboratories, 900 Maple Rd., Homewood, IL 60430 (phone 708-957-7878; fax 708-957-1483)—or circle 393.
Luminometers for the rapid testing of harmful bacteria, yeast, and mold in a variety of dairy, beverage, and food products were exhibited at Food Expo. These instruments included the Advance.im software packages. Operating on a Windows 95/98 and NT 4.0 platform, the software is said to enhance the capabilities of the instrument. It can be used to control the working of the luminometer by providing for sample identification, system interfacing, and instrument maintenance. With the capability to interface with all major LIM systems, pertinent testing information can be shared across various lab locations. It also allows for different levels of security access. For more information, contact Celsis International, BIRL Bldg., 1801 Maple Ave., Evanston, IL 60201 (phone 800-222-8260; fax 847-467-6602)—or circle 394.
Rapid identification of Staphylococcus aureus in foods and beverages may be made with the Petrifilm Rapid S. aureus Count. The plate allows results in 26 hr. Testing for S. aureus is important in the food processing industry to indicate substandard handling or sanitation issues. Thirty percent of the general population is S. aureus positive and may shed the organism during food handling. Testing for S. aureus provides HACCP verification of effective environmental sanitation. In addition, the test provides a food microbial risk assessment. This new test provides processors results that are said to be equivalent to the combined three-plate Baird-Parker agar and tube coagulase tests in a single procedure. It consists of a sample-ready Petrifilm plate that has been coated with modified Baird-Parker nutrients. The plate is accompanied by a small blue disk that has been coated with a microbial growth indicator and a thermonuclease-reactive agent. This disk is placed within the plate's well during the final steps of the test procedure. Confirmed S. aureus colonies may appear in as early as 30 min during the final incubation period. The test provides confirmation of all suspect isolates in a single procedure. With conventional testing methods, confirmation of presumptive S. aureus results usually involves the subjective choice of typical and representative colonies for further testing. For more information, contact 3M Microbiology Products, 3M Center Bldg., 275-4E-1, St. Paul, MN 55144 (phone 612-733-0942; fax 612-737-7678)—or circle 395.
--- PAGE BREAK ---
Microbial Plate Design, called Sim-Plate™, has been improved by modifying it to include an absorbent sponge to soak up excess liquid, eliminating the previously required pour-off step. SimPlate assays are performed by placing a sample and premeasured media onto a Sim-Plate device and incubating for 24 hr for coliform/E. coli and Total Plate Count tests and 48 hr for yeast and mold tests. The test results are then read by counting the number of fluorescent wells and referring to the MPN chart to determine total counts. For more information, contact Idexx Laboratories, Inc., One Idexx Dr., Westbrook, ME 04092 (phone 207-856-0300; fax 207-856-0630)—or circle 396.
Salmonella Test, called Assurance Gold Salmonella EIA, gives accurate next-day results. The streamlined enrichment protocol provides next-day results for processed foods, considerably less than the two days required by most other rapid methods. The test allows for visual or instrumental readout of test results. Visual results can be obtained by simply comparing the presence of a blue color in samples to the color standard card provided. If a numerical result is preferred, the test results can be read with a standard microplate reader to obtain the exact optical density. The test uses a proprietary antibody system, which detects both motile and nonmotile Salmonella while minimizing cross-reactivity. The unique enrichment protocol utilized by the test allows for greater sensitivity without sacrificing speed. Diagnostic test kits for the detection of other foodborne pathogens, including Listeria monocytogenes and E. coli O157:H7, are also available. For more information, contact BioControl Systems, 12822 S.E. 32nd St., Bellevue, WA 98005 (phone 425-603-1123; fax 425-603-0080)—or circle 397.
A new method for the rapid isolation of Salmonella, called the Sprint Salmonella method, has been developed, based on a greater understanding of traditional enrichment methodology and utilizing an innovative timed-release-capsule delivery system. The growing incidence and serious consequences of Salmonella food poisoning have prompted numerous attempts to improve the detection of contaminated products. The primary goal of faster methods must not, however, compromise sensitivity and reliability. Outbreaks due to low levels of contamination and from stressed cells are well documented. It is important therefore, that any new method allow for the complete recovery of all cells, healthy and injured. In testing, the new method was found to be at least equivalent in performance to the ISO reference method for raw and processed foods when contaminated with healthy cells, and it performed significantly better with processed foods spiked with stressed cells, with results obtained 24 hr sooner. For more information, contact Oxoid, Inc., 217 Colonnade Rd., Wepean, ON, Canada KZE 7K3 (phone 800-567-8378)—or circle 398.
Moisture Measurements in a Minute
A recently introduced moisture analyzer, the μWave, may be used for many food applications and is said to give moisture measurements in 1 min or less. The instrument has taken the steps of pre-and post-weighing out of the measurement process, performs all of the weighing functions, and does not require an external analytical balance. It even prompts the user to add sample and signals when the appropriate amount of sample has been applied. Upon lid closure, the instrument begins the test.
The instrument is said to be able to test most materials for moisture from 1%-moisture powders to less than 1% solids in slurry and liquid materials. The instrument works in the following manner: Microwave energy generated from the unit is focused directly onto the sample. This is accomplished by splitting the transverse magnetic and electric microwaves and concentrating this energy directly to the sample through the use of a patented Y-shaped waveguide and circular chamber design. Splitting the microwave energy via the waveguide creates an electrical stirring of the energy. The transverse magnetic energy travels vertically and is focused specifically onto the sample. The chamber size in the unit is one tenth the size of traditional microwave moisture analyzers. The patented chamber of the unit coupled with the waveguide is said to allow for more efficient and focused absorption of microwave energy by the sample. This provides for more even heating from the bottom of the sample without charring. For more information, contact Omnimark Instrument Corp., 1320 S. Priest Dr., Suite 104, Tempe AZ 85281 (phone 602-784-2200; fax 602-784-4738; e-mail [email protected]) —or circle 399.
--- PAGE BREAK ---
New Software Makes Data Reporting Easier
Statistical Quality Control (SQC) in a Web-based mode was demonstrated by Northwest Analytical, Inc. According to the company, modern production and regulatory practices require distribution of SQC charts and reports within the company, as contract deliverables to customers, and as part of compliance reports to regulators. The conventional sources of SQC data—laboratory information management systems (LIMS), plant floor data collection, and manufacturing information systems—are faced with issues such as mixed vendor network technologies, multiple data sources, access problems, performance, and scal-ability. The Web browser provides the desirable alternate technology. The network exists and is independently supported, security is standardized, and browser-based systems are easier and less costly to scale. Web browsers provide a standard user interface that is optimized for high graphics content. Web servers can provide SQC reporting for LIMS and manufacturing information systems. For more information, contact Northwest Analytical, Inc., 519 S.W. Park Ave., Portland, OR 97205-3207 (phone 503-224-7727; fax 503-224-5236; e-mail [email protected]) —or circle 400.
Another software package of interest was the Texture Profiler Analysis (TPA) software demonstrated by Instron Corp. The Merlin II package is a suite of software for food testing setup, control, data collection, result generation, and report preparation. The software features a Windows-based graphical user interface that utilizes easily recognizable icons to identify system functions and features. The modular design of the software enables it to be configured to perform an assortment of food measurement related tests. Instron also exhibited its 5500 Series testing systems that can be configured to perform varied tests on food packaging and packaging materials. Peel and tear testing can be conducted on packaging materials, tapes, and adhesives. The systems have the ability to run crush, burst strength, and other compression related tests on packages, cartons, and boxes. Tensile strength tests can also be executed on packaging and other similar materials. For more information, contact Instron Corp., 100 Royall St., Canton, MA 02021-1089 (phone 800-564-8378; fax 617-575-5725)—or circle 401.
by JAMES GIESE
Associate Editor