Since this is the last IFT Food Expo of the 1900s, it would be appropriate to do an "ingredients time capsule." That way, a century from now, food scientists and marketers will have an idea where we were—from an ingredients standpoint—at the close of the century.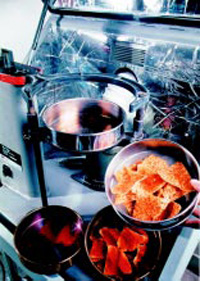 For our time capsule, we picked a dozen ingredients or applications that we thought were interesting or novel, and may be reflective of the directions that ingredients of the future may go. Obviously, this is a very small roundup. For a much more comprehensive view, see the Ingredients Preview of the 1999 IFT Food Expo in the June issue of Food Technology. Also, don't forget to look at the trends article on page 103 of this issue. In particular, there are stories that focus on the different ways that nutraceutical products, especially soy, are being studied and the different directions that flavors are taking in applications ranging from culinary to nutraceutical.
Not surprisingly, several of the products chosen in this column are nutraceutical in nature. They were selected because they were very innovative and demonstrated the kinds of products that we may see more of in the future. Also, their development suggested how certain hurdles can be overcome.
More and more, the partnerships between the ingredient supplier and the food manufacturer or between the ingredient suppliers themselves are being highlighted, thus increasing the visibility or presence of both parties. Some of the selected ingredients will reflect this trend.
Several of the ingredients offer improved functionality which can respond to problems that food developers have. Also, these ingredients can demonstrate the effect that technology push vs marketing pull have.
And finally some of these ingredients are at the cutting edge—they may not yet have been approved in the United States or they may have just recently been introduced.
It would be interesting to speculate how food professionals a century from now will view these products. Their perception—either positive or negative—will probably depend on how the food industry itself has changed, and what kind of climate is fostered. Will the emphasis be on new technological developments? Will there be new, innovative ingredients created to respond to new challenges? Will nutraceuticals be considered mainstream by then? What kinds of partnerships will be formed? Will future ingredients have their roots in these products today? These are only some of the many questions that will be answered then. And since we're intending to freeze ourselves (or at least James is, Don is intending to time travel) we'll be on hand to find out the answers. Until then, the following are the ingredients and applications we chose for the time capsule.
--- PAGE BREAK ---
Cake developed for cardiovascular health
Although there were a variety of nutraceutical prototypes demonstrated on the show floor—many of them in the form of beverages, such as smoothies and yogurt drinks—one of the most innovative and different was Cardio-Cake highlighted by Watson.
The prototype is fortified with a custom premix of antioxidant vitamins (C, E, and beta-carotene), minerals (calcium), fatty acids (oleic and omega-3s), and soluble and insoluble fiber available from the company. Research has shown that these nutrients may help in maintaining lower LDL (low-density lipoprotein) cholesterol levels and a healthy serum cholesterol metabolism, as well as reducing the risk of atherosclerosis and lowering blood pressure.
The use of the premix offers various advantages. For example, it provides an alternative source of oleic acid. (One of the best sources of this nutrient is meats, which are also high in saturated fatty acids.) Also, the premix does not provide unpleasant tastes or aromas, and has increased stability.
The product, which is hand held and can be enjoyed as a snack item or part of an "on-the-go" breakfast, may be one of several products of the future that specifically address cardiovascular concerns. Because the product is low in fat, it allows patients on a fat- and cholesterol-controlled diet a greater choice of foods. Furthermore, it also serves the interests of those consumers who are looking for convenience foods to fit their busy schedule.
Who says you can't have your cake and eat it, too?
For more information, write to Watson—Nutritional Ingredients Div., 301 Heffernan Dr., West Haven, CT 06516 (phone 800-388-3481; fax 203-932-3000)—or circle 350.
Vitamin-packed burrito named after comic strip character
Imagine a food product developed by a new company started up by the creator of a comic strip. Imagine that product, a burrito, fortified so that it provides all the nutrients necessary for one day. Imagine that frozen product, despite being packed with vitamins and minerals, providing a desirable taste. And imagine that hand-held product being convenient and easy to prepare.
Don't turn to the funny papers to find this product. Rather, turn to the business or food section because it is already a commercial reality. A fortified burrito called the Dilberito™ is said to deliver 100% of the recommended daily intake of 23 essential vitamins and minerals in a single serving. Fortified with a custom premix available from BASF Corp., the vegetarian product was developed by Scott Adams Foods, Inc., Newton, N.J.—a company founded by the creator of the comic strip Dilbert.
The premix, compatible with processing and preparation requirements, is designed to supplement the product's natural nutrients while not affecting the distinctive flavors of the four varieties, including Mexican, Garlic & Herb, Barbecue, and Indian. According to the package label, vitamins and minerals found in the burrito include calcium sulfate, magnesium oxide, ascorbic acid, vitamin E, beta carotene, ferric-III-orthophosphate, zinc sulfate monohydrate, D-biotin, niacinamide, calcium D-pantothenate, copper gluconate, vitamin D-3, manganese sulfate monohydrate, riboflavin, vitamin B-6, thiamin monohydrate, vitamin K-1, vitamin B-12, folic acid, chromium chloride, potassium iodide, sodium molybdate, and sodium selenite.
After processing, the product is flash-frozen for distribution and storage. Consumers can prepare the burrito by microwave or conventional oven. Each single-serve portion comes with a packet of its own sauce. The product is currently available at participating 7-Eleven stores, and will be found in nationwide supermarkets, convenience stores, and natural food outlets.
For more information about the premix, write to BASF Corp., 3000 Continental Dr. North, Mount Olive, NJ 07828-1234 (phone 973-426-5587; fax 973-426-5399)—or circle 351.
--- PAGE BREAK ---
Soy ingredient adds health-enhancing factors in burger
A new type of processed soy product containing higher levels of isoflavones has been used to produce a new soy burger that provides a variety of health-enhancing factors. The new LifeBurger™ patties from Gardenburger, Inc., were announced earlier this year, and details on the new patties were available at the Schouten USA booth at the IFT Food Expo. The 3-oz patty has the taste and texture of a hamburger and is made with soy protein, soy isoflavone concentrate, and flax seeds—all of which are under study for their health-enhancing potential. The soy burgers will be available beginning in August where natural foods are sold.
Schouten manufactures SoyLife, a processed soy product containing high levels of isoflavones. The ingredient is available in a range of different granulations to meet the needs of various products and processing capabilities. With a choice of regular, micro, or granules, the ingredient may be used in a wide variety of applications, ranging from supplement formulations to functional foods such as bars, cookies, cereals, and drinks. Besides isoflavones, it is also said to be a rich source of protein, oligosaccharides, antioxidants (vitamin E), saponins, omega-3 fatty acids, protease inhibitors, and other soy phytonutrients. All of these have been linked to specific health benefits by numerous scientific studies and epidemiological reports.
Researchers have found evidence that consuming soy protein in sufficient amounts may lower serum cholesterol, a critical risk factor for heart disease. In 1995, the New England Journal of Medicine published an analysis of 38 studies on soy protein, which demonstrated a significant reduction in both total cholesterol and harmful LDL cholesterol. In light of this and other research, the Food and Drug Administration is considering a petition by Protein Technologies International, Inc., to advise consumers that 25 g of soy protein daily, as part of a diet low in saturated fat and cholesterol, may reduce the risk of heart disease which is associated with many factors.
The LifeBurger patties will contain a level of isoflavones that meets or exceeds the daily amount shown to be beneficial in a wide range of studies. Such research has led soy experts to recommend 30–50 mg of isoflavones daily as part of a healthy diet. While some researchers consider a specific recommendation premature, research seems to indicate that isoflavones aid in the healthy maintenance of heart and bone health. The scientific basis of this theory is that isoflavones are similar to naturally occurring human hormones known to be heart-protective and to promote bone density.
The product will come in a box of two patties. The ingredient listing for the product is soy protein concentrate-hydrated, water, wheat gluten, isolated soy protein, autolyzed yeast extract, maltodextrin, flax seeds, natural flavor, soy isoflavone concentrate flour, wheat fiber, vegetable gum, roasted garlic, sea salt, carrageenan, konjac flour, dried onion, caramel color, dried garlic, natural grill flavor (from expeller-pressed vegetable oil), and spice. For more information on isoflavones and SoyLife, contact Schouten USA, Inc., 3300 Edinborough Way, Minneapolis, MN 55435 (phone 612-920-7700; fax 612-920-7704)—or circle 352.
--- PAGE BREAK ---
Ingredient blocks sweetness in nonfat peanut butter spread
More and more ingredient suppliers are highlighting their ingredients in products that have recently been commercialized or will be in the near future. (In the past, ingredients were discussed in general prototypes.) By drawing attention to the partnership between the ingredient supplier and the manufacturer of the food product, both sides benefitted.
One interesting example of this was the use of a flavor and texture modifier, marketed under the name Envision® by Domino Specialty Ingredients, in a new nonfat peanut butter spread. Called Go Nuts™, the patented food was developed by Lynda Nestelle, in cooperation with Domino, and is made with defatted peanut flour, maltitol, flavoring ingredients, natural preservatives, and salt. Two tablespoons provide 95 calories—half that of regular peanut butter. The spread may be used in both commercial and industrial products. It does not promote tooth decay and is diabetic friendly.
According to the ingredients supplier, the flavor and texture modifier controls sweet perception in the nonfat spread. The special formulation, produced by cocrystallization technology, blocks sweetness receptors on the tongue.
For more information about the use of the ingredient in the peanut butter spread, write to Domino Specialty Ingredients, 1100 Key Highway East, Baltimore, MD 21230-5180 (phone 410-783-9730; fax 410-783-8640)—or circle 353.
Mycoprotein provides structure to meat alternatives
Quorn™ is the brand name for a range of meat alternatives produced using mycoprotein as the major ingredient and produced by Marlow Foods Ltd., a U.K. company. Mycoprotein is the name given to a tiny mushroom-like plant, which is grown using a fermentation process. It consists of RNA-reduced cells of the Fusarium species ATCC 20334 grown under axenic conditions in a continuous fermentation process.
Mycoprotein has not yet been approved for use in the U.S. However, it is pending approval as a food additive with the Food and Drug Administration. Mycoprotein is approved for use in Quorn products in the United Kingdom, Austria, Belgium, Denmark, Holland, Germany, the Republic of Ireland, Sweden, Switzerland, and Taiwan.
Quorn products are made from a mixture of mycoprotein with vegetable flavorings and a small amount of egg white, formed to the required shape, and then cooked prior to use. They have the taste and texture of their lean-meat equivalents, yet deliver the additional nutritional benefits of being generally lower in fat and higher in dietary fiber. These products have a simulated meat product structure, which is achieved by binding the mycoprotein cells together with the other ingredients in the recipe. This mimics the muscle fiber/connective interaction in muscle tissue.
Mycoprotein contains all the essential amino acids, including methionine and lysine. The Protein Digestibility Corrected Amino Acid Score (PDCAAS) for mycoprotein is 0.91. It is equivalent to beef and other commonly used food proteins. Besides being a good source of protein, the product is low in fat and is a good source of dietary fiber. The consumption of mycoprotein has been shown to significantly reduce total and LDL serum cholesterol levels, according to studies provided by the company.
For more information, contact Marlow Foods Ltd., 1800 Concord Pike, Wilmington, DE 19850-5457 (phone 302-477-8000; e-mail [email protected]) —or circle 354.
--- PAGE BREAK ---
New methylcellulose gels in meatless products
A new line of super-gelling methylcellulose was introduced by Dow Chemical Co. during the month of July to coincide with the IFT Annual Meeting in Chicago, Ill. The new methylcellulose was designed for formed food products such as veggie burgers and restructured seafood. With the surge in interest in these products, the ingredient is very timely. The ingredient is said to deliver a firmer, moister, and more pleasuring texture when used in vegetable protein-based food products such as meat-free hamburgers or wieners.
The thermal gelation properties of the ingredient help to prevent formed foods from drying during cooking, retain their form, and contribute to greater consumer satisfaction. According to the company, the ingredient will stabilize food products in a manner similar to egg white. Since it may be used in vegetarian-type products, the ingredient offers the advantage of not being derived from an animal source.
For more information, contact The Dow Chemical Co., 100 Larkin Center, Midland, MI 48674 (phone 517-636-2940; fax 517-638-9836)—or circle 355.
Chocolate emulsifier introduced from Europe
Quest International Flavors & Food Ingredients Co. has introduced Admul WOL® 1408K, a new kosher emulsifier, to the U.S. confectionery market. The company claims that chocolate manufacturers can gain cost efficiencies and improved functionality without sacrificing product quality and taste with the new emulsifier.
Quest International has been selling a range of polyglycerol polyricinoleic acid (PGPR) emulsifiers under the Admul WOL brand name in Europe for several years. For the past three years, Quest has worked closely with the U.S. confectionery industry to establish PGPR as a GRAS ingredient. Data supporting both the safety and efficacy of this new ingredient recently was presented to the Food and Drug Administration. As a result, PGPR is now available to U.S. chocolate manufacturers.
It is recommended that the emulsifier be used with lecithin, the current standard emulsifier in chocolate. Both emulsifiers offer certain key functional properties that complement each other, creating a synergy that provides greater rheology control. The properties of the emulsifier allow precise control of the flow characteristics of molten chocolate. It is used to decrease the yield value (force that is necessary to initiate flow) of chocolate. Lecithin and other emulsifiers mainly affect the plastic viscosity of chocolate. When used in conjunction with lecithin, it provides full control of the rheological properties of chocolate. Controlling rheology is important because it allows for a more complete coating of many confectionery pieces, which is essential to the controlled drying of these products.
Manufacturers can reduce yield values in standard chocolate by increasing the use of cocoa butter. However, this is an expensive option. PGPR reduces yield values and lowers the surface tension of chocolate, allowing for thinner, more even coatings of confectionery pieces without increasing cocoa butter content. The reduction in yield value also improves the release of entrapped air in chocolate and allows for smoother, more efficient molding or depositing of chocolate products.
In other confectionery applications, such as thick coatings, designs, or drops, chocolate is formulated to have a specific yield value. The yield value is necessary to maintain shape until the chocolate sets. The new emulsifier can be used in these applications to reduce the amount of cocoa butter in the chocolate, while maintaining the specified yield value. According to the manufacturer, 0.1% Admul WOL 1408K can be used to replace between 1–2% cocoa butter in the chocolate.
For more information, contact Quest International Flavors & Food Ingredients Co., 5115 Sedge Blvd., Hoffman Estates, IL 60192 (phone 800-226-4695; fax 847-645-7070)—or circle 356.
--- PAGE BREAK ---
Dry powder adheres seasonings to snacks
A starch-based adhesion system called Dry-Tack® is said to adhere seasonings to snack foods such as chips, pretzels, and extruded products without the use of oil or water. Produced by National Starch and Chemical Co., the dry, free-flowing powder is preblended with seasonings and applied while the substrate is hot.
When heat is applied at 250–300ºF, the powder melts in less than 30 sec, providing a high degree of tackiness, which keeps the seasonings attached to the snack. Since no liquids are needed, the snack retains its dryness, providing a desirable crisp mouthfeel. At temperatures below 200ºF, the adhesion system is very stable.
The product provides a variety of benefits. Less seasoning is required since a higher percentage remains on the snack food. Blending is made easier, compared to spraying liquid solutions onto snacks. The resulting snack is more consistent, with a desirable texture and appearance. Furthermore, the system is especially well suited for lower-fat products to improve the adhesion of seasonings and flavors.
The system consists of dextrose, dextrin, enzyme-converted corn starch, food-grade wax, and modified food starch.
For more information, write to National Starch and Chemical Co., 10 Finderne Ave., Bridgewater, NJ 08807-0500 (phone 800-797-4992; fax 609-409-5699)—or circle 357.
Lecithin powder offers alternative to fluid versions
A free-flowing lecithin-based powder has been developed by Central Soya which may provide functional benefits over standard fluid soy lecithin. Called Centroflo™ 8215, the kosher ingredient may be used to emulsify cooked soups, sauces, and gravies, and can slow starch retrogradation in yeast-raised baked goods.
According to the manufacturer, the ingredient is produced by combining wheat flour and enzyme-modified soy lecithin. The enzymatic process changes the physical shape of a selected lecithin fraction, allowing it to slow the crystallization that occurs in many baked wheat flour products.
The powdered product is said to be easy to handle and is packed in 50-lb boxes, eliminating the need for steel drums. Initial market tests have indicated performance levels equal to or above those of standard fluid lecithin products.
It is estimated that the world's food processors use 350 million lb of lecithin annually. Of that, a large portion is standard fluid lecithin for cookies, crackers, cakes, and breads. The company feels that this ingredient can provide a cost-competitive alternative which can convert a significant segment of the market, and in particular, can add a new dimension to lecithin use.
For more information, write to Central Soya Co., Inc., P.O. Box 1400, Fort Wayne, IN 46801-1400 (phone 219-425-5100; fax 219-425-5818)—or circle 358.
--- PAGE BREAK ---
Manufacturer highlights flavor concepts
Robertet Flavors highlighted several new flavor concepts at the IFT Food Expo. To showcase flavored alcoholic fruit coolers, the company introduced apricot-mango and hawthorn-berry flavored wine beverages. The apricot-mango flavor seems to capitalize on the tropical flavor trend. The hawthorn-berry contains a mixture of hawthorn, mixed berry, and wine flavors. Hawthorn is a spring flowering shrub of the rose family with pink fragrant flowers. The combination evokes the natural trend.
As a take on the rising influence of Latin culture, the company exhibited Granisado frozen beverages. The drinks are similar to granitas. The Citrus Cajata Granisado was a combination of cream, tangerine, cinnamon, and chocolate flavors. The Dulce de Leche Granisado is a mixture of caramel and condensed milk and a version of the very popular Latin flavor.
The company also exhibited aromatherapy hot teas featuring their Stabil-Lok™ flavors. The first was called Violet Evening Aura. The flavored hot tea beverage was an aromatic blend of plum, cinnamon, and violet flavors reputed to strengthen hearts, relieve stress, and comfort the soul. The Jasmine Cosmic Calm drink was a blend of passion fruit, mango, orange, and jasmine reputed to relieve stress, inspire confidence, and encourage optimism.
Finally, the company had a Mediterranean apple baklava that contained their Mediterranean phyllo and Red Delicious apple flavors. The flavors were combined into a syrup, which is used at 7–14 g per 30 g of pastry.
For more information, contact Robertet Flavors, 10 Colonial Dr., Piscataway, NJ 08854 (phone 732-981-8300; fax 732-981-1717)—or circle 359.
Flavors find innovative uses in dairy-based products
Target Flavors, Inc. exhibited their Dairy-Base 2000 system of milk, cream, and stabilizers that were designed for acidified milk-based beverages. The system allows for the formulation of dairy beverages containing juice. The beverage base is said to stabilize protein and fat and provide microbiological integrity.
The dairy-based, protein-stabilized emulsion contains cream, milk, and food-grade stabilizers. It was designed for high-acid, low-pH liquid food systems where milk or cream is a desired ingredient. Suitable applications include carbonated beverages, salad dressings, cocktail mixes or prepared cocktails, and fruit juices. The company had Pina Colada, Strawberries and Cream, and Orange Mango and Cream fruit and cream smoothies at the Food Expo.
The ingredient can be processed in a conventional juice or hot-fill facility. It does not require refrigeration. The emulsion stability is two months at ambient temperatures. The recommended usage levels are 2–10% in the finished product.
--- PAGE BREAK ---
The company also exhibited some low-fat, fortified yogurt prototypes that showcased the company's flavor systems designed for functional foods. These included Tropical Tranquility, which was touted as reducing stress and anxiety; Raspberry Passion & Strawberry Cheesecake, which was said to promote a healthy heart; Peanut Butter & Jelly, which was said to help in building strong bones; and Citro Charge, which was claimed to increase energy.
The flavor systems formulated for the nutraceutical-type yogurts help mask some of the harsh flavors that might be contributed by the vitamins or other compounds. For example, the Citro Charge yogurt contains ginseng, guarana, gingko biloba, and vitamins A, C, and E.
For more information, contact Target Flavors, Inc., 7 Del Mar Dr., Brookfield, CT 06804 (phone 203-775-4727; fax 203-775-2147)—or circle 360.
Fruit-based ingredient adds fiber to frozen desserts and other products
A pectin-based, fruit carbohydrate extract called Nutripec may be used to add fiber to applications, as well as provide a variety of functional benefits such as stabilizing, bulking, and product extending. Produced by Blue Pacific Flavors & Fragrances, Inc., the natural ingredient is suitable for use in beverages, frozen desserts, baked goods, and other applications.
Available as a paste, the ingredient is composed of fruit sugars, starches, pectin, cellulose, minerals, and lignin found in the original raw fruit. It contains both soluble and insoluble fibers, which can offer health benefits and which may be added to applications, such as frozen desserts, that may not contain dietary fiber.
In formulations where the ingredient is combined with a percentage of other types of seedless fruit puree, it can aid in the production of frozen products, such as fruit juice smoothie beverages, creamy fruit desserts, and sorbet type products. According to the manufacturer, functional attributes include the following: acting with other fruit combinations as a natural stabilizer; allowing for the reduction of more expensive fruits in the formulation; aiding in the formulation of a fine crystal size; providing a "juice %" to the end-product label; and offering vitamins and minerals not added or supplemented chemically.
For more information, write to Blue Pacific Flavors & Fragrances, Inc., 1354 South Marion Court, City of Industry, CA 91745 (phone 626-934-0099; fax 626-934-0089)—or circle 361.
by DONALD E. PSZCZOLA
Associate Editor
by JAMES GIESE
Associate Editor