IFT's Annual Meeting and Food Expo serves as a showcase for some of the latest and most innovative laboratory equipment of the year for the food industry. This year, again, laboratory suppliers emphasized quality and safety. While many of these products seemed familiar, they actually represented another year's worth of development and use. Let's take a closer look at some of the innovative products highlighted at the IFT Food Expo. This year, lab developments are organized into three sections: (1) new instruments, (2) novel techniques, and (3) new business developments during the last year that were reported on at the IFT Annual Meeting and Food Expo.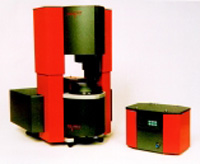 New Instruments
Unit represents the next generation in controlled stress/strain rheometers. Operating in both controlled stress and constant strain modes, the Stresstech HR, ATS Rheosystems, Bordentown, N.J., is designed for research and quality control and couples ultra-low-position resolution, high-angular velocity, and a wide torque range with a user interface working in a Windows environment. The software features multitasking, help screens, and data file transfer capabilities to other applications such as spreadsheets. All measuring systems, i.e., couette, cone/plate, plate/plate, and solid strips are supported. A built-in modem allows for remote control operation, service diagnostics, and software updates. Temperature range is -180 to 500°C.
Sensor offers new approach to enose technology. Agilent Technologies, Wilmington, Del., introduced the new Agilent 4440B Chemical Sensor. The new user interface is said to completely integrate the entire system: hardware, control software, and Pirouette analysis software. The instrument is easy to use and is optimized for the routine operator for use in the QA/QC lab. Applications include the monitoring of incoming raw materials and finished product. For the knowledgeable user, the unit provides access to all the internal data including the mass spectra.
New pH meter has both ISFET and glass electrodes. IQ Scientific Instruments Inc., San Diego, Calif., exhibited their new pH meter that allows users to use both non-glass ISFET sensor probes and traditional glass electrodes. The stainless steel probe stores dry and needs no maintenance. The durable ISFET silicon chip sensor is said to eliminate problems associated with glass bulb sensors. It may be used for field work, food testing, and industrial applications. The general-purpose stainless steel, non-glass probe may be used for most applications. Features include recognition of seven buffers, 0.1 or 0.01 pH resolution, automatic or manual temperature compensation, and one-point or two-point calibration. The meter is contained within a chemical-resistant rubber holster and is said to be able to withstand a 10-foot drop onto concrete.
Immunoconcentration provides next day detection of Salmonella. bioMerieux, Inc., Hazelwood, Mo., was offering VISAS ICS—a new VIDAS® assay using an automated immunoconcentration technique that provides next day detection of Salmonella eliminating the selective enrichment process. The company was also offering VIDAS ICE—A new assay using an automated immunoconcentration technique designed to concentrate E. coli 0157 and improve the confirmation of positive screened food samples. Another bioMerieux instrument, the Bactometer®, is an automated system for the rapid detection and enumeration of microorganisms that can be used to monitor all stages of production from raw materials to the final product.
--- PAGE BREAK ---
Microwave moisture analysis monitors and adjusts power levels for reproducible results. The compact SMART System5 from CEM, Matthews, N.C., provides automated microwave moisture/solids analysis. The patented temperature feedback system adjusts the microwave energy to maintain the user-defined temperature setpoint. The sample is continuously weighed during the drying process to ensure complete dryness and prevent burning. The unit is said to not require dilution of high carbohydrate samples before moisture/solids analysis. The temperature feedback system adjusts the microwave energy to maintain the user-defined temperature setpoint, allowing the system to accurately test high carbohydrate samples without overheating them.
Microwave workstation emulates consumer ovens. Fiso Technologies Inc., Canada, had a temperature recording Microwave Workstation. The workstation includes a microwave oven with an electronic interface, a fiber-optic slip-ring for temperature and pressure measurements, control and data collection software, cables, and manuals. The workstation emulates and reproduces the behavior of most types of consumer microwave ovens by letting the user adjust the peak power and the duty cycle. It has a peak power range from 0 to 1100 watts. The unit offers the ability to create, save, and execute multi-step cooking programs using the included software.
Food texture analysis demonstrated. Instron Corp., Canton, Mass. demonstrated food texture analysis on a Single Column 5542 Machine, with their new Merlin v4.3 Software. Texture profile analysis, puncture, deformation, shear, tension, and snap testing as well as package and seal testing are available on the unit. Instron's Food Texture Analysis System measures textural properties on a wide range of foods and food products. The system can be used for texture profile analysis, puncture deformation, shear, tension, and snap test as well as testing of food packaging.
New sample extractor offered. Isco, Inc., Lincoln, Neb., a manufacturer of analytical Supercritical Fluid Extraction (SFE) instruments, offered their FastFat HT 6-sample extractor. The unit extracts six samples simultaneously for rapid, high throughput fat determination in snack foods, meats, oilseeds, and other processed foods and ingredients. Isco was also offering systems for liquid chromatography and for monitoring environmental water quality.
NIR unit allows measurements at all processing steps. Kett, Anaheim, Calif., introduced the KJT-270, a near-infrared composition analyzer for laboratory and QA/QC applications, providing non-contact and nondestructive analysis of most liquids and solids. The unit allows customers to measure moisture, fat/oil, protein, ethanol, and other organic components during any phase of processing with easy-to-use instrumentation.
Milk allergen unit added to testing kits. Neogen Corp., Lansing, Mich., introduced the addition of a milk allergen unit to their line of allergen test kits. Neogen now has test kits for detection of milk, peanut and egg allergens, all available in quantitative or screening formats.
New water activity meter introduced. Decagon Devices, Inc., Pullman, Wash., recently introduced a new water activity meter, the AquaLab Series 3TE. It measures water activity between 0.100 to 1.00 in under 5 min. The instrument is said to give users a temperature stable sampling environment without an external water bath. It allows users to choose onscreen a regulated temperature from 15 to 40°C. No additional equipment is required.
Moisture analysis possible on very dry materials. Omnimark Instrument Corp.,Tempe, Ariz., exhibited a new microwave moisture analyzer which provides test results in seconds. The instrument has a patented delivery of concentrated microwave energy focused specifically to the type of sample. It is said to be accurate on the range of moisture measurements from 0.5% to 99.99%. The new microwave moisture analyzer offers what is said to be an exclusive "splash" method which allows for testing of very dry materials and powders. With the new unit, moisture analyses can be performed accurately on materials as low as 0.5% moisture.
--- PAGE BREAK ---
Concentration workstation showcased. Zymark Corp. , Hopkinton, Mass., showcased the TurboVap® 96 concentration workstation. It is said to provide environmentally controlled evaporation for 96-well microplates and deep-well plates. The concentration workstation provides an alternative to manual methods of concentration organic solvents. In addition, the BenchMate workstation automates sample preparation including reagent addition, filtration, weighing, vortexing, and injection.
Miniature-scale research and development equipment exhibited. The British company, Armfield, Ltd., Hampshire, U.K., exhibited a variety of their miniature-scale research and development equipment for food processing. On show for the first time was the first full production model of the FT74DI direct steam injection ultra-heat-treated (UHT) unit. It is suitable for high-viscosity products. The Carbo-Fill carbonater filler that gives drinks developers precise control over small sample carbonation and filling. A range of scraped surface heat exchangers can be configured as a margarine and shortening crystallizer, an ice cream maker, or a UHT unit.
Portable thermal analyzer used in processing areas. Setaram, Grand Prairie, Tex., had the SETline 300, which is designed to fulfill the needs of thermal analysis for controlling materials on site at the places of production, processing, and transport. These instruments may be used in both laboratory and processing settings. They use a newly developed technique based on micro technologies either on silicon substrate or on a thin-layer or ceramic substrate. The sample can be studied during heating and cooling. 
New Business Developments
Dietary supplement encyclopedia available. BioValidity, Lansdale, Pa., announced plans to offer a professional online subscription program for its BioNutritional Encyclopedia®. Subscriptions will be available through www.biovalidity.com. The BioNutritional Encyclopedia is a tool for the development of functional foods and nutraceuticals. The database provides evidence-based information of more than 200 vitamins, minerals, herbs, and other dietary supplements. It can be searched by body system, health concern, and dietary supplement and includes more than 800 benefit statements written as structure/function claims following the FDA's Dietary Supplement Health and Education Act of 1994.
Eurofins expands food safety division. Eurofins Scientific, Dayton, N.J., has expanded its food safety division, which has been created in June 1999, through the acquisition of 90% of the shares of Laboratoire de Bromatologie du Centre Ouest (LBCO). The lab specializes in microbiology, physical, and chemical analysis, consultancy, quality control auditing, and training. LBCO is mostly present in the southwest part of France. This acquisition enlarges the Eurofins Scientific Group's geographical coverage in France with an accredited laboratory in the West of France, and logistic teams complementing the group's national network.
Netherlands lab added to Silliker's international network. In the first quarter of 2000 2000, Silliker bioMérieux Inc. has acquired Conex B.V. one of the top food testing labs in the Netherlands. Conex is the most recent addition to the expanding Silliker network. Last July, Silliker Laboratories Group, Inc., (USA) and bioMérieux Alliance, (France) announced the creation of a global Silliker laboratory network. The leading international network of accredited food testing and consulting labs, there are currently 25 Silliker labs with more than 1,000 employees in the US, Canada, France, England, Italy, Belgium and now, the Netherlands.
--- PAGE BREAK ---
Online ordering of testing instrumentation. Cole-Parmer Instrument Co., Vernon Hills, Ill., announced the introduction of FoodTechSource.com online ordering. The site offers customers the ability to purchase food testing and processing instrumentation over the Internet. More than 7,000 food-related items are featured. It also features features, regulatory updates, news items, and new product information. 
New Techniques
New laboratory techniques presented. A variety of new food laboratory techniques were presented at the Annual Meeting during Technical Session 68 on "Innovative Food Analysis Techniques for the Next Century." The session included information on novel techniques in the detection of irradiation treatment of food; emerging new techniques for food quality assessment; molecular dynamics 
using magnetic resonance; changes in analytical techniques in response to nutritionlabeling regulations; the detection of genetically modified objects; and the solid-phase micro extraction analyses of flavor compounds in foods. More information on this session can be found at www.ift.org.
Optical and ultrasonic profiling techniques compared. Researchers at the Food Colloids and Biopolymer Lab, Univ. of Mass., presented information on profiling techniques for food emulsions. Many new products such as infant formulations, sports drinks, and nutritional beverages contain high mineral contents. The high mineral content can adversely influence the stability and physicochemical properties of these products because of ion binding and electrostatic screening effects. Analytical techniques to nondestructively monitor the impact of minerals on emulsion stability can be very helpful to develop these products. The researchers found that ultrasonic and optical profiling techniques are suitable for nondestructively monitoring creaming in optically opaque systems. They also found that applying both techniques will lead to an improved understanding of the factors that influence creaming in food emulsions.
New technique developed for the rheological evaluation of spreadable foods. Researchers at the Food and Bioprocess Engineering Laboratory, Univ. of Wisconsin, and the Dept. of Food Engineering, Istanbul Technical University, explored the problem of measuring rheological properties of spreadable foods using traditional rotational viscometers. These instruments encounter slip at the measurement interface during testing of these foods. Alternate techniques are needed to rheologically evaluate such foods as mayonnaise, cream cheese, peanut butter, and other foods. The researchers wanted to determine the flow properties of mayonnaise and cream cheese using the lubricated squeeze flow (LSF) technique. An apparatus, known as the UW Meltmeter, originally developed to study melt and flow properties of cheese, was used to perform the LSF tests. The researchers found that the LSF method was well suited for rheological evaluation of spreadable foods without the problem of slip that is common when using some conventional methods.
Herbal remedies pose many analytical challenges. Recent trends in the marketplace have highlighted the popularity of herbal remedies. The analytical verification of label claims on these products is of importance to the consumer and pose many analytical challenges. One of the labs that specialize in this type of work is Industrial Laboratories of Denver, Colo. A key question in the testing of dietary supplements is determining the methodology used. Also, label claim verification essentially addresses the issue of quality and does not answer questions related to safety. And, safety is not only of concern to consumers, it is the number one concernof the government. There are currently no "official" government or industry methods for botanical ingredient or finished product testing.
by JAMES H. GIESE
Associate Editor