IFT's Food Expo is generally considered an ingredients show, since the vast majority of exhibits relate to ingredients, but it really isn't. There are many other types of exhibits, including processing, packaging, instrumentation, and various services. The following are brief descriptions of some of the noteworthy items exhibited at this year's IFT Food Expo in the area of processing and related services.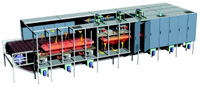 Company offers Refractance Window drying services. MCD Technologies Inc., Tacoma, Wash. (http://mcdtechnologiesinc.com) promoted use of its Refractance Window™ dryers and evaporators that use water to dry delicate products, maintaining high levels of essence, color, flavor, and aroma in foods. The dryer uses water to transmit heat into the product to be dried. A slurry of liquid product or a monolayer of particulates is evenly applied to the top surface of the conveyor belt, a sheet of special plastic that floats on the surface of hot water. Infrared heat in the circulating water beneath the belt passes directly through it and into the moist product. Gentle, rapid drying takes place at atmospheric pressure. Because the process is self-limiting, the infrared heat transfer "window" closes as the product dries. Conducted heat evaporates most of the final moisture. A Model 5 dryer can remove up to 1,000 lb of water/hr. 
The company is offering its drying services at its Tacoma facility for throughput testing to determine accurate production output of a customer's specific product. Production models of the dryer are available for large-scale product tests, market samples, and contract drying, and lab models are available for in-house test drying and small-scale manufacturing. 
The company also noted that its new affiliate, MCD Products of Colombia, South America, manufactures Tropical Delicacies, a line of fruit and vegetable flakes and powders dried by the Refractance Window technology.
Alliances help reduce risk of foodborne disease. Ecolab Inc., St. Paul, Minn. (www.ecolab.com), provider of sanitation and pest elimination systems and services for the food industry, recently announced a strategic partnership with irradiation technology provider IBA (www.iba.com) to provide food processors with one comprehensive resource for the latest in sanitation and employee hygiene programs, food surface treatment products, and advanced food irradiation technologies. By combining their expertise through a multiple interventions process, the two companies can help reduce the risk of contamination in a company's operations by providing protection at all critical processing points. 
Under the new agreement, Ecolab becomes the exclusive sales agent in North America for IBA's line of accelerator systems for cold pasteurization of food. IBA will also offer customers a variety of services including ongoing, in-plant consultation and system design and management, based on comprehensive food product analysis to determine process and dose. 
Ecolab has also formed a strategic alliance with FreshLoc Technologies, Plano, Tex., an innovator in wireless food safety technology. FreshLoc equipment monitors temperature, humidity, and other conditions affecting fresh food by utilizing wireless measurement devices connected to the Internet. This helps protect consumers from the dangers of foodborne illnesses caused by improper temperatures at various points along the food supply chain, including distributors, supermarkets, and restaurants. Ecolab will provide direct sales, installation, and customer service, and FreshLoc Technologies will provide technical service and monitoring.
--- PAGE BREAK ---
Center offers collaborative food safety research. The National Center for Food Safety and Technology, Summit-Argo, Ill. (phone 708-563-1576), explained its collaborative food safety research effort among food companies, the Food and Drug Administration, and university-based food scientists. Experts from industry, government, and universities pool their resources and ideas and work together to achieve common goals. Through corporate membership in this consortium, food processors, packagers, and suppliers stay up-to-date on food safety and technology issues. By sharing the cost and risk, member companies control their research and development costs while remaining "in the loop" of new technology developments and emerging food safety issues. University-based scientists, principally with the Illinois Institute of Technology, provide expertise in relevant basic and applied sciences. FDA provides scientific and administrative personnel, laboratory and pilot-plant equipment, and funding. 
Current projects include research on a biotechnology information database; Riboprint™ technology for food safety; effect of washing and/or sanitizing methods on the microbial ecology and safety of fresh fruits and vegetables; inactivation of Clostridium botulinum by high-pressure processing; system validation protocol for computerized sterilization control; food processing line sanitation using ozone and other chlorine substitutes; survival of food pathogens during the 60-day aging period of hard cheese made from unpasteurized milk; pulsed electric field; UV disinfection of juices; process development for separation/concentration of pathogens; effect of ozone sterilization on plastic packaging materials; HACCP plan for fruit/vegetable juices processed by continuous high-pressure and aseptic packaging; effects of minimal processing on foodborne pathogens; effects of gamma and e-beam irradiation on food packaging materials; effects of processing on mycotoxins in foods; and magnetic thermometry.
Center provides services, outreach, and R&D opportunities. Cornell Univ., Ithaca, N.Y. (www.nysaes.cornell.edu/cifs/) described its Vinification and Brewing Technology Laboratory, a 2,000-sq-ft facility equipped to manufacture wine, beer, mead, vinegar, and other fermented products, which opened on March 31, 2000. It is available for wineries, breweries, suppliers, equipment manufacturers, educators, consumers, national associations, and students to test new technologies and piloting procedures. Workshops, experimental research projects, and certification programs will integrate the brewers' and winemakers' experiences with resources and scientists of the Institute. 
In addition, the U.S. Dept. of Agriculture has announced formation of the Northeast Center for Food Entrepreneurship at Cornell University and the University of Vermont. The center provides services, outreach, and research development opportunities in business/product/process development, product safety, process/product technology transfer, and product commercialization. Facilities include the fruit and vegetable processing pilot plant; the food processing and development laboratory; and controlled temperature and humidity chambers for storage and shelf-life studies.
Pilot plant offers drying services. National Drying Machinery Co., Philadelphia, Pa. (www.nationaldrying.com), promoted use of its test facility to evaluate new products and processes, as well as to confirm drying data on existing machines to upgrade capacity and meet future needs. The testing equipment provides the flexibility needed to develop the optimum drying parameters for any application that requires drying, baking, roasting, curing, and cooling processes. 
The facility's continuous conveyor dryer (shown in drawing above) is capable of processing market-size samples, enabling the user to scale up process parameters for full production-size machinery or improve existing process parameters, and the stationary test dryer is capable of testing small batch samples of a variety of products, allowing the user to optimize drying times, operating temperatures, and airflow volumes and direction to minimize process operating costs and increase product quality. 
The company also exhibited its thermal processing equipment, including a new ultra-sanitary design for vegetable roasting, tempering tunnels, cooling tunnels,and food dehydrators.
--- PAGE BREAK ---
Institute offers research and education programs. The Joint Institute for Food Safety and Applied Nutrition at the University of Maryland, College Park (www.jifsan.umd.edu), described its programs designed to provide the scientific basis for ensuring a safe, wholesome food supply. A multidisciplinary research and education program established by the Food and Drug Administration and the University of Maryland, JIFSAN includes research and outreach components from FDA's Center for Food Safety and Applied Nutrition and Center for Veterinary Medicine, the university, and public and private partnerships. 
The cooperative research programs will provide the scientific expertise and mechanisms for exchange of technical information and scientific concepts in food safety, human nutrition, and animal health and production for use by both the public and private sectors to ensure the continued safety and wholesomeness of the food supply. The programs include research on risk analysis, including risk assessment, management, and communication components, to promote the development of risk-based, scientifically supportable safety standards; research on microbial pathogens and toxins to provide support for implementation of sound reliable public health policies such as HACCP programs; study of food composition to provide the necessary data to establish sound food safety and applied nutrition policies; and research on animal health sciences and food safety to provide the necessary data to establish and support public health policies in regulating animal drugs, food additives, feeds, and veterinary medical devices.
Company offers contract fluidized bed processing. International Processing Corp., Winchester, Ky. (phone 606-745-2200) offered its contract manufacturing technologies for fluid bed drying, fluid bed agglomerating, top spray coating, and bottom spray coating. IPC is one of three companies in the Glatt Group that maintain contract manufacturing facilities. The other two are Glatt Air Techniques in Ramsey, N.J., and IPC Process-Center in Dresden and Binzen, Germany. The continuous fluid bed can be used to dry temperature-sensitive products, build particles from powder by agglomeration or from liquids by granulation, or coat particles.
Center offers mixing equipment testing. Littleford Day, Inc., Florence, Ky. (www.littleford.com), offered its Process Development and Testing Center to assist customers in process development and scale-up. The center features equipment for testing purposes, including mixers, dryers, reactors, granulators, intensive mixers/coolers, and support equipment such as filtering and vacuum drying systems. A full-day program can include premixing and post-mixing discussions and engineering reviews, plus a comprehensive detailed test report. Companies can run test batches of their product before making a large capital investment, whether they are planning a new product, having processing difficulties with a current one, trying to solve an environmental objective, or simply need increased efficiency in production. Companies can also rent its processing equipment for testing in their own manufacturing, laboratory, or development environment.
Center offers technical and business development services. The Food Processing Center at the University of Nebraska-Lincoln (http://fpc.unl.edu) provides product development assistance, international sales penetration, pilot-plant facilities, marketing and promotional strategies, testing and laboratory services, distribution analysis, and educational programs. The center is a multidisciplinary resource which offers both technical and business development services to meet the needs of diverse clients, including manufacturers, entrepreneurs, suppliers, distributors, associations, retailers, and foodservice providers. 
The center provides technical and business assistance to the food industry on a confidential basis. State-of-the-art pilot plants (grain, dairy, meat, fruit and vegetable, and fermentation) assist in the transition between benchtop product development and actual manufacturing, and the laboratories provide benchtop product development. Support services include chemical, microbiological, and sensory laboratories. Business development services include consulting services, entrepreneur assistance, and custom processing. 
Among other things, the center has an extrusion pilot-plant facility with capabilities for ingredient assessment, product/process development, demonstrations, and sample production for trade shows and test markets. Auxiliary equipment available includes premixers, various extrusion dies, and final drying equipment. The center also has a corn tortilla, wheat tortilla, and snack chip testing and production facility which can be used for preliminary testing, full traditional nixtamalization processing, corn hybrid/quality assessment, instant masa evaluation, corn snack chip processing, die-press wheat flour tortilla production, ingredient/additive assessment, and product development.
--- PAGE BREAK ---
Homogenizer produces variety of products. Stephan Machinery Corp., Columbus, Ohio (www.stephan-usa.com), exhibited its homogenizer for straining and emulsifying soups, sauces, and desserts. The unit is placed directly under the cooking vessel discharge. The soup or sauce flows out of the discharge valve directly into the rotor/stator emulsifying system. While passing through the homogenizer, the product is perfectly homogenized, pureed, and strained, then can be recycled directly back into the cooking vessel through a pipe system or discharged through a valve. With the addition of an easy-to-install funnel, the unit can professionally manufacture vegetable puree, soups and sauces, mayonnaise, dressings, pancake batters, meat emulsions, pates, quark, and cream desserts. The company also manufactures mixers, blenders, emulsifiers, vacuum tumblers, UHT mixing systems, and pilot-plant systems.
Spinning cone column recovers aromas. Flavourtech Americas, Inc., Graton, Calif. (www.flavourtech.com), exhibited its spinning cone column aroma recovery system, which combines solids-handling capabilities, very high efficiencies, and extremely short processing times. The spinning cone column is a liquid-gas contacting column otherwise known as a distillation or stripping column, belonging to the same family of mass-transfer devices as packed, plate, and bubble-cap columns. It captures and preserves volatile flavor components from all kinds of liquids or slurries at high speeds and low temperatures. What distinguishes it is the use of gentle mechanical forces to enhance the distillation process. The cones spin the liquid into a thin, turbulent film, increasing the mass-transfer efficiency. Capacities range from 100 to 80,000 L/hr. Instant coffee, iced tea, multiple dairy products, and fruit and vegetable concentrates and purees are some of the products processed by this method, with consequent retention of natural aroma/flavor volatiles which previously were lost.
Infrared measurement provides process optimization. NDC Infrared Engineering Inc., 5314 N. Irwindale Ave., Irwindale, CA 91706 (phone 626-960-3300, fax 626-939-3870, www.ndcinfrared.com) introduced its MM710 Multi Constituent Infrared Gauge, designed for on-line measurement and control of critical processing parameters. It can measure up to four variables simultaneously, such as fat, moisture, protein, and sugar, in a wide range of products, including snacks, starch, cereals, milk powders, tea, coffee, chocolate, cocoa, biscuits, potato flakes, bread crumbs, sugar, and nuts. The near-infrared analyzer can tolerate changes in lighting, product or ambient temperature, and relative humidity.
Coating systems facility is available for testing. Vector Corp., Marion, Iowa (www.vectorcorporation.com), described its continuous coating systems for the application of flavors, glazes, sugars, and film coatings to food, candy, and cereal. Product throughput can range up to 7,000 lb/hr. The Hi-Coater pan coating systems feature an integrated closed air design that exploits the thermodynamic efficiency of the process air to maintain minimal process times and maximize coating quality. A laboratory test facility is available for customer product testing and equipment evaluation.
Company offers services from concept to construction. Foster-Miller, Inc., Waltham, Mass. (www.foster-miller.com), described its consulting services, which include custom equipment, product, and process design; robotic systems and engineering design; advanced materials technology development; smart sensor and electronics design; thermal systems; transportation systems and structural modeling; and management services. The company also described its Pathfinder program, in which the company's senior engineers and scientists help their clients remove technical barriers and resolve management issues, so the solution is clear and the technical direction is firmly established. They discuss critical project parameters, identify and evaluate options, and arrive at a focused strategy.
Custom retort processing and spray drying services are offered. Diehl, Inc., Defiance, Ohio (www.diehlinc.com), manufacturer of nondairy creamers, powdered shortening, dessert topping, and custom hydration, promoted its custom retort processing and custom spray drying services.
--- PAGE BREAK ---
High-pressure processing provides high-quality preservation. Flow International Corp., Kent, Wash. (www.flowcorp.com), exhibited its ultra-high-pressure equipment for in-line food processing. The high-pressure process allows rapid, nonthermal preservation of high-quality food products without using heat, freezing, chemicals, or irradiation. Foods retain their fresh or just-prepared flavors without loss of nutrition, color, or texture. The system was recently ordered by a large meat company and a processor of fruits and juices. The company has more than 50 food safety units in operation or on order.
R&D center offers fats and oils services. Food Protein Research and Development Center, Texas A&M Univ., College Station, Tex. (www.tamu.edu/foodprotein), described its services in training, pilot-plant, and laboratory facilities in oilseeds extraction, food and feed extrusion, fats and oil refining, and membrane separation. The research programs include fats and oils good laboratory practices, extrusion technology industry services, separation sciences, analytical services, and specialty oils research. 
The fats and oils program focuses on improving yields and quality of oils from refining operations, modification of oil properties, and applications in food products. The center has a complete pilot-plant processing line for oilseeds and oilseed products, from handling, cleaning, and preparation of the seed to manufacture of finished products, such as oils, margarines, shortenings, mayonnaise, and salad dressings.
New R&D facility will open in fall. The Dept. of Food Science and Technology at Ohio State University, Columbus (www.fst.ohio-state.edu), described its laboratory-scale pulsed electric field processing system and three major pilot plants, including a new R&D facility that will open this fall. The department's emerging food processing technologies make fresh-like quality and functional foods with extended shelf life.
Custom manufacturing capabilities are offered. IFP Custom Processing Group, Cameron, Wis. (www.ifpinc.com), described the custom manufacturing and research and development capabilities it provides. They include agglomeration, instantizing, encapsulation, coating, spray drying, blending, and a broad range of packaging services. On-site pilot plants within the two main IFP production facilities provide prompt and dedicated technical support. Prototype development, process refinement, scale up, troubleshooting, and additional technical support are also available from IFP's Technical Center to handle more challenging projects, proprietary product/process development, contract research, and a full range of technical services. Pilot-plant trials allow scale up based on data collected during the research and development stage.
New refractometers are introduced. Liquid Solids Controls, Inc., Upton, Mass. (www.liquidsolidscontrol.com), introduced its Model 614 X-1 process refractometer and a long-insertion-probe sensing head. The company also exhibited new single-sensing-head and dual-sensing-head digital process refractometers that can be used with the long-insertion-probe sensing heads for tanks, vessels, and vacuum pans for the measurement of Brix, percent solids, and percent concentration in juices, syrups, milk, whey, tomato products, jams, jellies, and other food products. The extended-probe sensing head, originally designed specifically for the sugar industry, provides remote readout of the above parameters, as well as temperature, date, and time.
New R&D center offers prototype development services. Mane, Cincinnati, Ohio (phone 513-248-9876), described its recent investment in state-of-the-art facilities in Cincinnati, including a research and development center, flavor manufacturing facilities, and new headquarters. The new R&D center has 11,000 sq ft of new laboratory space and will have full-service application laboratories for the development of complete prototypes, including beverages, baked goods, confections, savory/meat, dairy, nutraceuticals, and value-added seasonings. In addition, Mane Flavors described its specialized technologies for its high-efficacy flavor line, new encapsulated delivery systems, and unique patented technologies for cooling agents.
--- PAGE BREAK ---
Firm supplies process equipment and facilities. Niro Inc., Hudson, Wis. (www.niroinc.com), specializing in the design and supply of process lines and turnkey production facilities for the manufacture of food and dairy products in liquid and powder form, described its spray dryers, evaporators, bulk powder packaging systems, and membrane filtration systems, as well as its engineering, fabrication, installation, and startup services.
Continuous processor and batch mixer are exhibited. Readco Manufacturing, Inc., York, Pa. (www.readco.com), exhibited its twin-shaft Continuous Processor, which is used for producing a uniform, homogeneous product for pastas, doughs, and confectionery products, and its Containerized Batch Mixer, a powder blender used for sanitary, dedicated formulations.
Supercritical fluid extraction services are available. Thar Designs Inc., Pittsburgh, Pa. (www.thardesigns.com), described its design and manufacturing of systems for supercritical extraction, ranging from pilot to plant scale. It develops and optimizes systems for such applications as natural products, nutraceuticals, flavors, fragrances, and essential oils.
Engineering firm offers food plant design services. Webber/Smith Associates, Inc., Lancaster, Pa. (www.webbersmith.com), an engineering/architectural firm specializing in the design of food and beverage processing, manufacturing, and distribution facilities, discussed its in-house process, controls, and packaging engineering expertise for total dairy processing plant design. The company also provides construction management services through its subsidiary, Thermal C/M Services, Inc.
Centrifuges and centrifugal separators are available. Westfalia Separator Inc., Northvale, N.J. (www.wsus.com), exhibited its new nozzle centrifuges, which have self-adjusting nozzles along with pressure discharge of effluent and cream phases, and a new line of decanter clarifiers. The company's centrifuges are used in the dairy, beverage, oil and fat recovery/processing, starch, biotechnology, and other industries.
Global food technology services are offered. The Central Food Technological Research Institute, Mysore, India (phone +91-821-514534), offers a wide variety of services to the food industry worldwide. They include process engineering and plant design, long-term strategic research, biotechnology research, analyses, technical services, and training. CFTRI has a state-of-the-art pilot plant with such equipment as twin-screw extruder, ultrafiltration/reverse osmosis units, supercritical fluid extraction units, dryers, including an accelerated freeze dryer, centrifuges, aroma recovery unit, can fabrication and canning lines, roller flour mill and bakery, grain processing equipment, and scraped-surface evaporator. Services include plant design, equipment design, process scale-up, project engineering, and package design and development.
by NEIL H. MERMELSTEIN
Senior Editor