Every year at the IFT Annual Meeting, there seem to be certain "buzz words" that stand out. "Fat replacers," "reaction flavors," "next generation," and "clean labels" are just a few examples from the past. This year, again, there were certain words that bubbled to the surface. But while many of them sounded familiar, they actually seemed to have different meanings, at least from those I remembered in the past. These meanings often varied depending on the context they were used in, and the companies that used them. During these moments of deja vu, it was as if the dictionary itself was being rewritten.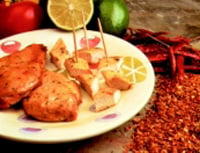 Take, for example, the word "interactive." At a recent candy show, that might describe a way of making your own candy bar using select ingredients included in a kit. At the IFT Food Expo, "interactive" might refer to an ice cream using an encapsulated flavor which interacts with an individual's senses of sight, sound, taste, smell, and touch. 
Fusion was another notable example. In recent years, the word has come to mean the combining of culinary flavors from different regions. But at this year's show, definitions—and illustrations—were much broader. We saw such interesting couplings as nutraceutical–indulgent, traditional–new, functional–healthy, and comfort–ethnic. One company even tried to use the word in a "business" sense, describing its global research and development and processing capabilities. 
Familiar prototypes were being redefined. Products included pizzas representing different regions such as Vietnamese Spring Roll Pizza; Polish dumplings with a Brazilian taste; beef jerky with a cheese filling; potato chips seasoned with a hot dog flavor; and many, many others. 
Not surprisingly, I suppose, the word "Texas" probably brought more different connotations, more different meanings (overt and subconscious) than any other word at the IFT show. Check on "Texas tea," for example, discussed in this article. 
Let's now take a closer look at some of the innovative products highlighted at the IFT Food Expo. 
This year, since there is so much redefining going on in these here parts, I thought we might organize the article a little bit differently, dividing it into three sections: (1) new ingredients, (2) novel prototypes, and (3) new business developments launched at the IFT Annual Meeting & Food Expo. Also, this month's Ingredients column will cover some interesting Internet developments that were seen at the show and elsewhere.
New Ingredients
Tapioca starch helps reduce processing time. New tapioca starch called Crispioca has been developed by National Starch and Chemical Co., Bridge-water, N.J., for use in fried or baked puffed snacks. The modified food starch is said to feature a rapid hydration profile which allows quick dough formation and permits cutting or slicing immediately after forming without a drying stage in some applications. In addition, it contributes to a more uniform cell structure and expands more readily in fried snacks. 
The starch, available as a white to off-white, slightly coarse powder, provides a bland flavor and can be used to create food systems that exhibit a wide range of textures, depending on the other ingredients. In addition to its use in fried or baked puffed snacks, the ingredient can be added to cookies, breading mixes, and other baked goods to bind moisture.
--- PAGE BREAK ---
Tomato-based ingredient provides dietary fiber. Tomato fiber concentrate called Vitacel has been developed by J. Rettenmaier & Sohne, Germany, to provide dietary fiber enrichment and other functional advantages in foods such as vegetarian burgers and catsup. 
The ingredient is produced as a byproduct during the extraction of lycopene from the ripe tomato fruit. In addition, most of the soluble components are removed through extraction, including sugars contained in the tomato along with most of the lipids and fat-soluble coloring. 
According to the manufacturer, the yellowish-brown powder has a dietary fiber content of more than 65% (with 55% insoluble). It contains a significant amount of lignin, which is not a polysaccharide and is resistant to intestinal flora. While other dietary fibers are partially broken down into low-molecular-weight substances in the colon, lignin maintains its effectiveness during the entire movement through the colon. The ingredient also consists of 20% protein. 
Because of its composition, the tomato fiber has a high water-binding capacity. It can bind 11.5 times its weight with water, it is largely independent of temperature, and is stable even under cold conditions. A colloidal gel is obtained when the fibers are sheared in water using high shearing forces.
New cherry variety makes U.S. debut. A new cherry variety, called Balaton, is making its first commercial appearance in North America this year. According to the Cherry Marketing Institute (CMI), the variety (Prunus cerasus) offers many special characteristics that may be of interest to food manufacturers. 
The dark-skinned European morel-lo-type cherry was first introduced in the U.S. in 1984. After years of testing and experimentation, there are commercial plantings that will come into production in the next three to five years. Limited quantities of the new variety are available this year. 
Through the efforts of CMI, growers and fruit processors in Michigan, Utah, and Wisconsin conducted extensive tests of the variety. Michigan State University has run field trials through its tart cherry breeding program. 
General characteristics of the cherry include a firm character (like a sweet cherry); deep mahogany skin color; pleasantly tart, not sour taste; and a pH of 3.47.
From hot dogs to caramel, dairy ingredients find innovative use. Several new product applications developed through dairy research were highighted by Dairy Management, Inc., Rosemont, Ill. 
Food scientists at Ohio State University developed a reduced-fat hot dog using whey protein concentrate to replace some of the pork and beef trim used in the mixture. This method cuts the calories to 60 per serving—less than half the calories in a full-fat version—and reduces the fat to 8%. The ingredient also delivers a clean flavor, excellent mouthfeel, and textural properties. 
--- PAGE BREAK ---
Researchers at the Dairy Powders and Concentrates Applications Program, California Polytechnic State University, created a cocoa mix that utilizes 200 mg of dairy calcium to make one serving of the drink an excellent source of calcium. A smaller grind of calcium was used for enhanced mouthfeel and texture. The same team also produced a peanut-flavored energy bar using a blend of whey protein concentrate, milk proteins, and soy protein isolate. This application provides 15 g of protein to meet the nutritive requirements of serious athletes or healthy snackers. 
Researchers at the Whey Applications Program at the University of Wisconsin developed a nutraceutical caramel. Using nonfat dry milk, milk minerals, and whey protein concentrate, this caramel has the desired flavor characteristic of a standard version, while the dairy ingredients add a nutritional boost.
New soy protein isolate provides improved taste. A new soy protein isolate has been developed by Cargill which is said to reduce or eliminate soy's "beany" taste. Improved flavor will allow the ingredient to be incorporated at higher levels into snacks, yogurts, beverages, and other mainstream foods. 
Cargill currently produces the soy isolate product in a laboratory setting, and expects a pilot facility to be completed next February. A full-scale production plant is planned to be constructed within the following two years. 
The bland-tasting soy protein isolate—Cargill's first entry into the soy isolate segment—makes possible the development of new food items with high soycontent without sacrificing taste. Furthermore, the company has done extensive development of special foods containing enough soy protein to qualify for FDA's health claim. Foods containing 6.25 g of soy protein per reference amount could use the claim, providing the food is low in total fat, saturated fat, cholesterol, and sodium.
Agar stabilizer has a no-boiling feature. Soluble agar systems developed by TIC Gums, Inc., Belcamp, Md., do not require boiling for complete hydration and may be used to create gels and other textures. The manufacturer combined these non-boil agars with other hydrocolloids to create a line of specialty stabilizers, marketed under the name Agaroid RS. 
The ingredient (Agaroid RS 520) may be used as a gelatin replacer in gummy bears. When added to cold water, the system only needs to be heated to 180°F to achieve full gelling capacity. (Traditional agar must be boiled for three to five minutes to reach complete hydration during processing.) 
Consequently gummy bears can be made more easily and less expensively with the ingredient.
Corn protein isolate is produced by new process. A novel process to refine corn—or germ from the kernel—without having to subject the kernel to harsh steeping or cooking has been developed and patented by EnerGenetics, Inc., Keokuk, Iowa. 
Developed in collaboration with the U.S. Dept. of Agriculture/Agricultural Research Service under a Cooperative Research and Development Agreement, the process is said to produce a higher-quality food and pharmaceutical protein from the kernel or germ than that produced by traditional refiners. The new protein is called Corn Protein Isolate or CPI. 
The process also produces other higher-quality products from the kernel, such as corn fiber, oil, starches, and zeins.
--- PAGE BREAK ---
Caramel is combined with other natural colors. The visual appeal of a wide range of food and beverage products can be enhanced by combining caramel colors with other natural colors. Some of these combinations were highlighted by D.D. Williamson and Co., Inc., Louisville, Ky. 
Caramel color functions with other natural colors in the following ways: (1) to deepen the color intensity of the other colors; (2) to reduce the brightness of natural colors; (3) to raise the hue index of caramel color (the addition of carmine, for example, can make a certain caramel color even redder); and (4) to make a new color in combination with others (a yellow-tone caramel color could combine with blue to yield a green color). 
Other combinations with caramel color include grape skin extract (purple), paprika oleoresin (chocolate brown liquid), red beet extract or annatto (butterscotch tan or peanut butter tan), purple carrot concentrate plus beet red (strawberry liquid), and a variety of others. 
Recently, D.D. Williamson formed a partnership with ColorMaker, Inc., Anaheim, Calif., a manufacturer of natural color blends for the food, pharmaceutical, nutraceutical, and cosmetic industries.
Hydrolyzed whey protein isolates reduce hypertension in rats. A study has shown that hydrolyzed whey proteins reduced hypertension in rats. Results of the study, which may be promising news for humans who suffer from hypertension, were discussed by Davisco Foods International, Le Sueur, Minn. 
The study indicated that a single oral administration of the ingredient (BioZate™), at doses of 75 or 150 mg/kg in conscious, unrestrained, spontaneously hypertensive rats significantly reduced mean arterial blood pressure from one to seven hours after administration, with a return to initial blood pressure levels within 24 hours. 
The enzymatic hydrolysis of the WPI manufactured using ion-exchange technology produces antihypertensive peptides, which suppress angiotensin-converting enzymes (ACEs). ACEs catalyze the degradation of angiotensin I into angiotensin II, a strong vasoconstrictor. 
Studies on humans are to begin shortly. 
In addition to their potential antihypertensive value, these ingredients offer special functional, nutritional, and sensory properties in nutritional supplements, infant formulas, sports drinks, meal substitutes for weight reduction programs, and other dietetic and medical foods.
Cold-water-swelling starches have features of cook-up starches. A new line of cold-water-swelling potato and tapioca starches called Paselli™ EZ were developed by Avebe America, Inc., Princeton, N.J. The starches, which are said to produce textures similar to cook-up starches but require no heat, may be used in a variety of products, including salad dressings, soups, sauces, gravies, fruit preparations, bakery fillings, pudding, instant beverages, processed meat products, and snacks. 
Food technologists involved with cold-processed salad dressings will be interested in Paselli EZ 1911 CWS because the new product provides a thin/thick type shear-related effect. This starch is said to solve the viscosity loss problems conventional CWS products encounter when dressing goes through a colloid mill or other high-shear operation. The necessity of adding more starch to accommodate viscosity loss is not needed.
--- PAGE BREAK ---
Food gums offer enhanced gel structure and viscosity range. A new line of Methocel food gums are said to provide three times the gel strength of conventional methylcellulose products, resulting in a superior gel structure and enhancing the flavor release of the final product. Available from Dow Chemical Co., Midland, Mich., the super-gel gums are currently used in a wide variety of food products. 
According to the manufacturer, these ingredients are used as binding agents in foods that traditionally relied on binders such as egg whites. Foods, such as onion rings, hors d'oeuvres, sauce-filled appetizers, and some vegetable-based foods can be produced without using egg whites. The gums gel at much lower concentrations and temperatures than substances such as egg whites, while providing cost and processing advantages. 
The food gums are currently available in high-, medium-, and low-viscosity grades. Other additions are in development and are scheduled for commercialization in the next two years.
New vegetable shortening produces stable icings. A pure vegetable shortening called Cremol acts as a high emulsifying system for producing stable icings and cream fillings. Developed by Bunge Foods, Bradley, Ill., the ingredient is a white plastic shortening made from a blend of selected vegetable oils. 
According to the manufacturer, cakes made with the shortening are tender and moist. When it is used in bucket icing applications, it provides excellent shelf stability. It is also certified kosher. 
Novel Prototypes
Taking ice cream to a new level. A soft-serve ice cream featuring root beer–flavored carbon dioxide inclusions was demonstrated by Balchem Encapsulates, a business segment of Balchem Corp., Slate Hill, N.Y. According to the manufacturer, the inclusions burst open in the mouth to add fizz and enhanced flavor, creating a sensation similar to that of eating a root beer float. 
"It's one thing to eat a bowl of tasty ice cream, but it's quite another when the ice cream begins popping in your mouth as root beer flavoring overtakes your taste buds," said Winston Samuels, vice president and general manager of the company. 
The hydrophobic root beer flavoring, called Encap Carbon Dioxide Inclusion, was developed using encapsulated technology, which makes possible the injection of a long-lasting flavor that appeals to a variety of senses. The method used is said to withstand any moisture conditions.
New twists on pizza. Pizza, often regarded as a comfort food, has been adapted by Heller Seasonings & Ingredients, Inc., Chicago, Ill., to demonstrate ethnic or regional tastes. 
"Comfort foods allow consumers to reconnect with their roots, which provides a sense of tranquility and relaxation. The difference today is that consumers want different taste twists with these familiar foods," said Sandi Balco, Director of Sales and New Business Development for the company. 
--- PAGE BREAK ---
Several pizza prototypes were highlighted at the IFT Food Expo. These products, promoted under the banner "Pizza with Pizzazz," included the following: (1) Cornbelt Pizza (hearty Marinara Sauce with a Roasted Corn note topped with a Midwestern-style bratwurst, corn, chopped green bell peppers and onions, and mild Cheddar cheese); (2) Vietnamese Spring Roll Pizza (Asian sauce imparting notes of basil and coconut, topped with bean sprouts, shredded carrots, shrimp, and garlic-seasoned pork, with a light sprinkling of mozzarella cheese); Hollywood Pizza (garlic and sun-dried tomato pesto sauce topped with chopped artichokes, red onions, mushrooms, and mozzarella cheese); and Citrus Salsa (tangy citrus salsa sauce on a pizza crust layered with carrots, broccoli, black beans, marinated chicken, topped with Monterey Jack cheese). 
The prototypes were developed by food scientists at Heller Seasonings' Technical and Culinary Center in Bedford Park, Ill. In addition to the new flavors for pizza, they have created a number of product concepts that can help manufacturers develop other comfort foods with new ethnic twists.
Tuna burgers are fortified with omega-3s. Tuna burgers, fortified with omega-3 polyunsaturated fatty acids available from Roche Vitamins, Inc., Parsippany, N.J., were introduced. Reportedly containing 1,000 mg of essential omega-3s, the frozen seafood product is manufactured by Aquacuisine, Inc., Boise, Idaho. 
Research has shown that omega-3s may influence several factors that modify the risk or severity of coronary heart disease, including the blood clotting process, the levels of lipids in the blood, and blood pressure. Also, they may contribute to healthy brain development and function. 
The tuna burgers are flavored with roasted red pepper, garlic, onions, and low-fat mozzarella cheese. A 3.2-oz (90-g) patty contains 170 calories (50 from fat)
It serves as a quick and easy seafood meal that is high in protein and low in saturated fat, and contains a nutrient that may contribute to heart health.
Polish dumpling goes Brazilian. Brazilian Parmesan Pirogi was one of thirteen fusion-inspired foods unveiled by Kerry Food Ingredients, Beloit, Wis. The prototype, made with the company's cheese and dairy flavors, is drizzled with a Parmesan cheese sauce and stuffed with a cheese filling that includes diced sweet peppers and a touch of chipotle. 
Prototypes highlighted at the IFT Food Expo emphasized the theme of fusion, combining cutting-edge technologies, culinary experience, global R&D and processing capabilities, and creative ideas to develop foods that have unique tastes, textures, and appearances. 
Other foods highlighted included Spicy Chargrilled Soy Empanadas, a soybean-based meat alternative that has a fibrous texture that resembles that of whole muscle meat; Moqueca Turkey Roast, featuring Brazilian marinade and rub blends and natural tomato flavor; and a Chai Tea Granita with Ginseng. Several selections, such as S'more Ice Cream, Lemon Zest Bars, and Chocolate Peanut-Flavored Bars, represented the company's recently acquired sweet flavorings technologies.
--- PAGE BREAK ---
Bite-sized snack combines beef jerky with cheese. A sandwich snack—a beef jerky with cheese filling—was featured by A.E. Staley Manufacturing Co., Decatur, Ill., as a creative (and tasty, I might add) way of highlighting ingredients available from the company. 
The "jerky cheese-flavored bites" incorporate Mira-Gel® 463, an unmodified instant corn starch which manages water for faster drying time and improved texture; Neto® 7300 high-maltose corn syrup and Staleydex® 333 dextrose, which help build solids and lower water activity; and Super Envision® Flavor and Texture Modifier, a high-fructose corn syrup which allows high sweetener levels without unwanted sweetness. Other ingredients include salt, black pepper, garlic powder, marjoram, and cayenne red pepper. 
According to the manufacturer, the combination of these ingredients makes possible a low-water-activity, shelf-stable snack that incorporates the jerky bite with a chewy cheese flavor.
Systems enhance flavor and texture of poultry. Flavor and texture systems were developed by Griffith Laboratories, Alsip, Ill., to fit the needs of both chefs and food processors. Designed for poultry products, these systems provide a Southwestern or Mexican Flavor. 
Fiesta Lime Chicken is a marinade that delivers a complete natural citrus flavor; combines a variety of Southwestern flavorings, including chilies, green and red bell peppers, and cilantro; and offers enhanced meat texture while maintaining the juiciness of chicken. 
Taquisa Nuggets are a blend of chicken, onion, and Cheddar cheese, seasoned with Mexican spices, smoke, tomato, and Cheddar cheese flavorings. A masa flour predust and masa crumb breading provide the crispy bite on the exterior of the nugget. 
Spicy Rojo Dip delivers an earthy sweetness along with a small dose of heat for an authentic Mexican flavor. Its dark red color and fullness of flavor may be used as a complement to the Taquisa Nuggets.
But it doesn't taste like soy. Raspberry Creme Brulee Soy Protein Fortified-Milk Shake was developed by Robertet, Piscataway, N.J., to showcase a natural soy -masking flavor, one of the company's Camouflage™ Taste Modifiers. The flavor is said to cloak objectionable off-notes while allowing desirable flavor profiles to come through. 
Products such as these are also being developed to meet FDA's new soy protein health claim which allows low-fat foods containing 6.25 g of soy protein per serving to be labeled with a cardiovascular health claim.
--- PAGE BREAK ---
Flavors highlight French and Mexican cuisines. Two new savory flavors were added by Kraft Food Ingredients Corp., Memphis, Tenn., to its Cuisines of the World™ line. The culinary flavors included Cuisine of Mexico (Puebla Style) and Cuisine of France (Parisian Style). 
Cuisine of Mexico included such dishes as reddish-brown mole, chicken enchiladas, corn tortillas, red rice and refried beans, and poblano, ancho, and tomatillo sauces or salsas. 
Cuisine of France, associated with ingredients such as butter, cream, and herbs, is designed to help food processors in the development of classic bistro-style applications such as Chicken a la Bercy, Chateabriand sauce, and Beurre Blanc sauce. 
Cuisines of the World is the name given to describe a line of complex flavorings that capture the authentic flavors of different regions throughout the world. These gourmet international flavors reflect global culinary standards while simulating the cooking process, allowing food manufacturers to control flavor consistency and intensity while minimizing processing steps and ingredients.
Alginate-stabilized yogurt offers creaminess, full body. A smooth, creamy Swiss-style yogurt stabilized with alginate compares favorably with versions containing starch or gelatin. The prototype for the yogurt was developed by FMC BioPolymer, Philadelphia, Pa., using its alginate, Protanal GP 1155. 
The alginate is said to impart full body, smooth creamy consistency, short texture, and a clean mouthfeel for excellent flavor release to stirred yogurts. For a thicker consistency, starch can be added to the yogurt formulation. 
The set viscosities of the alginate-stabilized yogurts are comparable to that of a gelatin/starch control. Fruit preparations or other inclusions are easily stirred into the yogurt without affecting the creamy consistency. Prototype formulations allow up to a 50% reduction in stabilizer use level with alginate over a gelatin/starch control.
Do those chips remind you of a baseball game? "Wild Snack Food Ideas" accurately describes a variety of seasonings that impart the taste of highly recognizable foods to snacks such as chips or popcorn. For example, Hotdog Seasoning for potato chips is said to combine the taste of hotdog with ketchup, mustard, and relish (hold the onions). Mighty Caesar Seasoning for popcorn combines cheese and garlic and can compliment a wide range of snack bases. 
These prototypes illustrate the creative development of seasoning blends by utilizing extensive knowledge of flavors and spray drying. These blends can be custom designed as well. Other snack prototypes highlighted included Four Cheese Dip Mix with Tortilla chips, Spicy Cheddar Dip Mix with Tortilla chips, "Big On Cheese" Cheddar Cheese Snack Crackers, and Cheddar Cheese Seasoning on Corn Curls. 
Also, at the Wild booth, several menus were available describing products formulated for specific categories. In addition to snacks, these included sweets, culinary, beverage, and nutraceuticals.
What is Texas tea? You might wonder what "Texas tea" is. I know I sure was wondering. Actually, according to a representative from Virginia Dare, the company that developed the prototype, the name comes from a classical tune, entitled, "The Ballad of Jed Clampett." You might remember the following lines: "An' then one day, he was shootin' at some food,/An' up thru the ground came a bubblin' crude./Oil that is! Black gold! Texas tea." 
Of course, readers can draw their own conclusions, but I don't think we're really drinking crude oil, but rather a refreshing tea drink formulated with a variety of flavors. These prototypes included: Lone Star Lime Tea, made with Natural Black Tea Concentrate and Natural Kiwi-Lime Flavor WONF; Grand Prairie Berry Tea, made with Natural Darjeeling Tea Flavor WONF and Natural Mixed Berry Flavor WONF; and Red River Tea, made with Natural Black Tea Concentrate 300X and Natural Wild Cherry Flavor WONF. 
Virginia Dare also demonstrated its flavor technology in three 12% butterfat soft-serve ice creams, fruit beverages, and fortified products such as frozen drinks and nutritional bars. The company showed how flavor-masking agents can reduce beany off-flavors in soy-fortified foods.
--- PAGE BREAK ---
Fortified doughnut product is suitable for feeding programs. Fortified do-nut product, designed to meet USDA Child Nutrition Specifications, was developed by Fortitech, Inc., Schenectady, N.Y. The prototype is enriched with two sources of calcium and lactalbumin to increase the nutritional value of the protein content. This additive also protects vitamins, A, B, and E, and compensates for nutrient losses incurred during high-temperature processing. 
Other fortified products highlighted included a chocolate-malt flavored, iron-enhanced, high-fiber, low-fat energy shake designed to replenish vitamins and minerals that are lost during exercise or health exhaustion; a white yogurt–covered, berry-flavored protein bar fortified with encapsulated vitamins and minerals; fortified tea and juice beverages designed to prevent floating particles and sediment from settling on the bottom of the bottle; and an enriched cheese puff product. 
These custom formulations offer a comprehensive selection of vitamins, minerals, amino acids, nucleotides, nutraceuticals, and other specialty ingredients. Each system is manufactured as a customized, single-ingredient premix in powder or liquid form, depending on its application. Premixes are developed to meet nutritional guidelines without compromising product texture, color, or taste.
A Southwestern mayonnaise can be created using ingredient mix. A mayonnaise imparting a Southwestern flavor can be created using Chipotle Mayonnaise Seasoning, a product developed by Pacific Foods, Kent, Wash. 
According to the manufacturer, the ingredient mix consists of chili peppers and other spices, maltodextrin, dehydrated garlic, salt, sugar, hydrolyzed soy protein, dehydrated red bell peppers, natural smoke flavor, and other ingredients. Add package contents (0.55 oz) to one cup of mayonnaise. 
The flavorful mayonnaise works well on beef, chicken, pork, or cheese.
New Business Developments
Alginate company officially announces its new name. ISP, the company that acquired Kelco Alginates from Monsanto in October 1999, hosted a gala event to officially announce a name change from Kelco Alginates to ISP Alginates.
Steve Post, president of ISP Alginates, emphasized that Kelco Alginates' entire management team has been kept intact during the transition. He added, "We are the world's largest producer of alginates and harvest kelp. This gives us a greater ability to develop innovative products and meet customer needs."
Algins, naturally occurring hydrocolloids derived from seaweed, are used in foods as a nonfat gelling or thickening agent. Examples of these foods are salad dressings, sauces, beer, fruit pie fillings, pet foods, and beverages.
Attending the event, held during the 2000 IFT Annual Meeting in Dallas, were key customers and select media. The gourmet seven-course dinner at the Mansion on Turtle Creek was prepared by Dean Fearing, who has been named one of the top chefs in the U.S.
The company also displayed its new corporate logo, which depicts a seamless "strobe" from the well-known Kelco Alginates name to the new ISP Alginates name.
ISP, world headquartered in Wayne, N.J., produces more than 300 specialty chemicals extending into a variety of industries including beverage and nutraceuticals.
--- PAGE BREAK ---
Joint venture specializes in phosphates. A new company specializing in phosphates, Astaris LLC, St. Louis, Mo., has made its debut, the result of a joint venture uniting the phosphate operations of FMC Corp. and Solutia, Inc. With operations in North America and Brazil, the company will bring to the industry one of the broadest portfolios of food-grade phosphates for use in bakery, beverage, dairy, meat and poultry, seafood, nutrition, and other products.
The phosphate supplier highlighted a variety of its ingredients, including Mag-nificent®, a source of magnesium for cereals, baked goods, and beverages; Levn-Lite®, a heat-activated leavening agent for cakes, pancakes, and waffles; Glass H, a sodium hexametaphosphate for increasing shelf life of juices and juice-based beverages; and Nutrifos®, a phosphate preservative.
Phosphates are multifunctional additives that can provide a variety of uses within the same application. Some of these functions include acidulants, emulsifiers, coagulants, leavening agents, pH control, flavor enhancers, sequestrants, mineral supplements, and stabilizers.
The company, with year 2000 sales estimated at $600 million, sources its phosphorus products from 17 manufacturing locations in the U.S. and Brazil.
Ajinomoto expands global aspartame operations. Ajinomoto U.S.A., Inc., New York, N.Y., the U.S. subsidiary of Ajinomoto Co., Inc., of Tokyo, Japan, has announced that the company is expanding its marketing of aspartame directly to the food manufacturing market. Ajinomoto was instrumental in the introduction of aspartame more than 30 years ago with its technology for the aspartame production process. In March 2000, reflecting a long history of change for its aspartame business, Monsanto Co. agreed to sell its NutraSweet business to J.W. Childs Equity Partners II LP for $440 million. At that time, Monsanto also sold its interests in two European joint ventures to make sweeteners—NutraSweet AG and Euro-Aspartame SA—for $67 million in cash to joint-venture partner Ajinomoto Co. Inc. 
With the completion of the purchase of Monsanto's 50% equity in Euro-Aspartame SA and NutraSweet AG, Ajinomoto became a global supplier of aspartame. The company now holds the top supplier position in both Europe and Asia, and is number two in U.S. market share. According to Toshio Takahashi, General Manager of Ajinomoto's Sweetener Dept., the marketing plans for the company include specific goals for each region, and they will attempt to expand their business in the emerging markets of Asia and Eastern Europe. Meanwhile, pricing in the Japanese market will be reduced to stimulate market consumption as companies introduce new sugar-free and reduced-calorie foods and beverages. 
NutraSweet AG, located in Zug, Switzerland, will be renamed Ajinomoto Switzerland AG, while Euro-Aspartame S.A., located in Dunkirk, France, will be called Ajinomoto Euro-Aspartame S.A. Ajinomoto's aspartame sales offices are located in Tokyo, Japan; Zug, Switzerland; Sao Paolo, Brazil; and Paramus, N.J. In the past year, Ajinomoto U.S.A., Inc. also announced that the company began construction on a new technical development center near its current manufacturing facilities in Eddyville, Iowa. The center, to be known as the Technology and Engineering Center of the United States (TECUS), will primarily focus on conducting research and feasibility studies for seasoning and new product development.
--- PAGE BREAK ---
Cerestar will build new applications lab. Cerestar USA has begun construction on a new applications lab at its corporate headquarters in Hammond, Ind. "Ingredient suppliers are being asked to assume a larger role in product development, because mergers and acquisitions have left food processors with fewer resources for their own in-house research and development," said Kevin Weber, vice president of sales and marketing services. Weber says that Cerestar USA will assign separate application staff members to work on bakery, convenience, and diary product lines. 
The applications lab is expected to be completed by the end of 2000. It will include a wet lab for production modeling emulsified sauces, starch jellies, hard candies, soups, sauces, dairy products, and frozen dairy desserts and for emulsification and encapsulation of flavors and oils. A full test kitchen will provide production modeling for bread, bakery products, and refrigerated and frozen foods.
Cargill and Hayashibara introduce trehalose to Americas. Cargill, Minneapolis, Minn., and Hayashibara Co. of Japan announced that they have signed a letter of intent to evaluate the trehalose market in the Americas to determine the feasibility of Cargill's establishing a manufacturing and marketing business for the multifunctional sweetener. 
Trehalose is a unique, naturally occurring sugar with many functional characteristics. It is about 45% as sweet as sucrose. Trehalose may be used as a component of sweeteners, seasonings, preserved and frozen foods and soft drinks, and as a moisture retainer in cosmetics and a preservative in pharmaceutical products. 
If the two companies determine that the trehalose market and business conditions are suitable, Cargill will be granted exclusive rights to the Hayashibara technology in the Americas. Cargill will then design and construct a large-scale trehalose production facility. 
Trehalose produced by the Hayashibara technology has been self-affirmed as generally recognized as safe (GRAS) as a multiple-use direct additive for general use in foods. A GRAS notification submission has been filed with the U.S. Food and Drug Administration, and is currently under review by the agency. 
In other business news, Cargill recently announced plans for a three-year, multi-phase expansion of its food starch operation in Cedar Rapids, Iowa. The first phase, which will significantly increase specialty starch production capacity, will be completed October 1. Total investment over the project's three phases is expected to approach $50 million. Corn grinding capacity will not be increased for the expansion. 
Also, at the Food Expo, Gerkens Cacao, Wormer, Holland, announced the introduction of four new cocoa powders today that give customers a wider range of quality cocoa products. Sold under the Gerkens brand name, two of the powders, produced at the Cargill Cacao plant in Ilheus, Brazil, are 10/12 Marquis, a deep red powder, with an intense European-style cocoa note; and 10/12 Brazilian Black, a deep, dark color that rounds out the Gerkens line. Also due on the market are two powders from the company's new processing plant in the Ivory Coast. These products are ready for sampling and will be on the market starting January 2001: 10/12 Bueno, an all-natural cocoa powder with a fruity, fresh flavor suited to all applications; and 10/12 Mejor, an alkalized cocoa powder, with a well-rounded flavor ideal for dairy applications.
Collaboration creates broad-based color supplier. BFGoodrich Food & Beverage Ingredients, Richfield, Ohio, and Overseal Color, Inc. have formed an exclusive U.S. alliance to provide the food and beverage industry with a substantially increased line of FD&C synthetic and natural colors, as well as application and formulation technical services. 
Jim Donnelly, senior business manager of BFGoodrich says that the alliance establishes a major new force in the industry, providing food and beverage producers with the ultimate resource for colors and technical services. According to Paul Collins, commercial director of Overseal Color, the alliance will be virtually transparent to customers, as BFGoodrich's trained technical sales force will represent Overseal Color throughout the U.S. 
BFGoodrich colors, offered in single and pre-blended formulations, are available in liquid, powder, granule, suspension, and emulsion formats. Overseal Colors offers a broad range of natural colors in both liquid and dry formats, as well as GM-compliant colors. 
In another business announcement, BFGoodrich noted that it has acquired BASF Corporation's Acid Blue 9 business. Acid Blue 9 is used in non-food-related coloring applications such as cleaning products, turf markers, inks, and various agricultural applications.
--- PAGE BREAK ---
Corn Products expands global presence. Corn Products International, Inc., Bedford Park, Ill., announced an agreement establishing a venture with IMASA-Industrias de Maiz S.A. that will ultimately span Argentina, Chile, and Uruguay. Under this agreement, Corn Products International and IMASA will combine their operations and activities in the three countries. Corn Products International is making a cash contribution in addition to contributing its operations within the area. 
The resulting ownership in the combined business is approximately 73% for Corn Products International and 27% for Hernan Boher and Gustavo Boher, who currently hold a controlling interest in IMASA, the largest corn refiner in Argentina and leading producer of high-fructose corn syrup in South America. The business in the three countries will be conducted under the current names of Corn Products International's affiliates in the area. With combined sales of approximately $160 million, the venture will be a leading corn refiner in South America with strong positions in several important product lines, including high-fructose corn syrup, dextrose, maltodextrin, maltose, glucose, and starch. "This transaction establishes the combined operations as a business with strength in product know-how, process technology, and the marketplace," said Konrad Schlatter, Corn Products chairman and chief executive officer. Corn Products highlighted global presence at the Food Expo with global gumballs formulated with Cerelose® dextrose. The dextrose acts as the primary sweetener in the chewing gum as well as providing a hard coating.
Cooperatives form new dairy and cheese ingredients company. Two of the world's largest dairy marketing cooperatives, Dairy Farmers of America, Springfield, Mo., and the New Zealand Dairy Board, Santa Rosa, Calif., announced the launch of a major new joint venture company called DairiConcepts™. Named to reflect the company's emphasis on innovation, DairiConcepts will manufacture and market a range of cheese and dairy ingredients. 
Operated as a joint venture with equal ownership and management, the new company will capitalize on the combination of the distinct strengths of the two partner groups: the vertical integration and spray-dry expertise of DFA and the cheese ingredient development skills of NZMP. 
Among the special products that were being highlighted at the Food Expo by the new joint venture are Supernatural® 80,000 and 50,000 Series Cheese Ingredients. These cheeses are said to have intense flavor profiles, ranging from 3 to 5 times greater than that of regular cheeses. This enables the formulator to reduce costs and fat content while maintaining the desired level of cheese flavor. The ingredients are offered in Cheddar, American, Blue, Swiss, and Italian flavor profiles. The 80,000 Series products are made for formulations that will be subject to further heat treatment, such as sauces, soups, and processed and imitation cheese products. The 50,000 Series is acid-stabilized and pasteurized, making it useful for high-acid foods such as salad dressings, dips, and spaghetti sauces. The group is also offering enzyme-modified cheese with what is said to be at least 10 times the flavor of regular cheeses. These are available in true Cheddar, Blue, Parmesan, and Swiss flavors.
OmegaTech reacquires rights to DHA technology. An agreement to reacquire from Pharmacia Corp. (formerly Monsanto) all of the rights for the production and use of docosahexaenoic acid (DHA)–rich marine algae using its proprietary technology was announced by OmegaTech, Inc., Boulder, Col. at the IFT Annual Meeting. 
DHA—a long-chain omega-3 polyunsaturated fatty acid—is essential to good health. Studies have shown that it has several benefits, such as acting as an important building block in all cells, sustaining normal blood pressure and promoting normal blood clotting, reinforcing the immune system, and helping to prevent illnesses characterized by the breakdown of brain and eye cell structure. Although it is an essential nutrient, the body cannot produce adequate amounts, so it must be obtained from the diet. 
Researchers at Omega-Tech focused on developing a fermentation technology for the production of DHA in whole-cell algal biomass. In the early 1990s, the company succeeded in isolating strains of algae that met its objectives and developed a method for cultivating, harvesting, and processing DHA-rich algae. Various food categories can be enriched with DHA-rich oil (40% DHA) that is extracted from the algae; these include baked goods, baby food products, and breakfast foods. The oil can also be used to enrich a variety of other foods including salad dressing, mayonnaise, margarine, sauces, and baked goods. Or the oil can be incorporated into infant formula or encapsulated and sold as a health supplement.
Nabisco combines food ingredient companies. Nabisco, Inc., Parsippany, N.J., a manufacturer of cookies, confections, crackers, snacks, and premium grocery products, has announced a restructuring to form a new food ingredients group. The group, Nabisco Ingredients, is the result of Nabisco's recent acquisition of Chicago-based Favorite Brands International, a manufacturer of sweet inclusions such as marshmallow products, caramels, and gummi candies. This restructuring will produce an expanded product line for customers, including manufacturers in the cereal, baking, food processing, confection, dairy, and nutraceutical industries. Nabisco's branded and unbranded products will be combined with Favorite Brands International's sweet ingredients to create new sweet and savory offerings.
by DONALD E. PSZCZOLA
Associate Editor