A business trend to watch during the next decade is the "upscaling" of commodity foods. Milk, eggs, coffee, soy, frozen vegetables—even macaroni and cheese—are being recast as upscale specialty foods in an effort to entice consumers and improve sagging margins.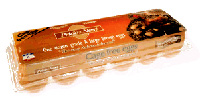 If you are what you eat, nobody wants to be a staple, especially in a strong economy. So gilding staples and moving them upscale creates the best of both worlds—familiarity and status. It also enables processors to improve margins. Bottled water is a good example. Fill a plastic bottle with H2O, make sure it's pure, give it a fancy name and pretty label, and charge a dollar or more per pint. It's pure marketing. But the basic concept is broadening at a rapid pace.
• Eggs. Egg Innovations of Port Washington, Wis., markets eggs. They come from normal chickens and are sold by the dozen through supermarkets, like most eggs. That's where the similarity with their store-brand case-mates ends. Pride of the Nest brand eggs are laid by chickens fed a natural grain diet and are free of hormones, the company says. In addition, its chickens "live in a more natural environment. They perch, scratch, and nest wherever they choose." The company nestles its "cage free eggs" in a clear plastic carton featuring a striking full-color insert. The eggs are priced at a premium. Egg Innovations also markets eggs that contain 25% less fat and more vitamin E than regular eggs.
Researchers at the University of Wisconsin developed the Eggstasy brand for Egg Innovations. They're real eggs, modified through breeding and special rations to contain less cholesterol. The packaging also features clear plastic and color graphics. Rounding out the upscale egg line are Mountain View organic eggs in four sizes and Vegetarian Harvest eggs from chickens fed only natural grains. Whether any of these eggs make your omelet taste better is debatable. However, feed, growing conditions, and expensive packaging move these eggs upscale and answer needs of a segment of the consumer population concerned about health, environmental issues, and animal rights.
• Soy. Archer Daniels Midland Co., Decatur, Ill., the "supermarket to the world," achieved $16 billion in sales last year. Faced with slumping export demand and domestic price cycles, the company looks to cash in on government claims that soy reduces the risk of heart disease. While soy isolate isn't new, the company's NutriSoy is a branded soy protein isolate developed as an industrial ingredient for a range of processed foods, including beverages, ready-to-eat cereal, and bakery foods. The company also has plans to create NutriSoy-based consumer foods of its own. NutriSoy, like Monsanto's NutraSweet sweetener before it, is a designer ingredient, promoted by product packaging and ingredient-specific advertising.
Such positioning may give ADM a brand that moves out of the commodity category and into the high-margin bracket. ADM is working with Kellogg Co., which bought health food processor Worthington Foods, Inc., late last year, and DuPont, which has its own branded SupraSoy product. Sales of soy-based natural foods rocketed up by 35% to $117 million last year. The pie isn't very big, but it's growing and the margins are fat.
• Vegetables. You won't find much fat in frozen vegetables, nor will you find much consumer interest these days. This is a problem for Pillsbury Co.'s Green Giant subsidiary, which has been blessed with tremendous brand strength and cursed with flagging sales. The answer may lie in the expanding interest in meal solutions that use vegetables as the core of a total meal concept. Many consumers want to do some cooking, often called "speed scratch," and they're willing to pay more for products that help. Value-added concepts like Create a Meal! from Green Giant hit the trend head-on. The line includes 18 varieties in three categories: pasta and beef, oven roasted, and stir-fry. Add a little meat, a little cooking, and you've got a hot meal.
Going a step further, venerable vegetable processor Birds Eye, now a subsidiary of Agrilink Foods, includes meat in its 11-variety Voila! line of frozen vegetable-based meals. The company also markets Creations, a seven-variety line of mixed vegetables and sauce. While neither of these products is new, they point the way to profit in today's marketplace. Sales of frozen vegetables are in decline, category-wide, according to Information Resources Inc., a Chicago-based retail product-tracking firm. Sales of vegetable-based meal solutions, however, are showing double-digit growth.
• Coffee. The coffee category continues to find new ways to add value and elevate the profit margin. Led by the Starbucks Coffee juggernaut, virtually every coffee marketer has moved upscale. Dunkin Donuts recently introduced Dark Roast and expanded its chilled Coolatta line. Convenience store chains such as Coastal Mart also are upgrading coffee service. Its new coffee program includes extensive employee training and a new name: ReJavaNate!
C-stores are turning to companies such as Seattle's Best Coffee, a Starbucks competitor, to revamp their coffee programs. Supermarkets are seeing a profit boost from specialty whole bean coffees such as Eight O'Clock, Millstone, and Papanicholas.
The trend is also reshaping the Hawaiian agricultural landscape. Kona coffee has long been a prized specialty product, with an exceptionally high price tag. Today, however, coffee is rapidly replacing pineapples and sugar throughout the islands. This "Estate"-grown coffee is marketed like wine, with the name of the estate and region on the label. Hawaiian coffee production reached 60,000 60-kg bags last year, up from 33,000 two years before, according to the Hawaii Dept. of Agriculture.
Whether estate coffee, bottled spring water, organic eggs, garlic and ginger stir-fry veggies, and soy-fortified, cholesterol-fighting breakfast cereal with milk poured from a retro-style, thermoformed milk bottle, gilded commodities are a trend to track, as long as the economy stays robust.
by PIERCE HOLLINGSWORTH
Contributing Editor