Understanding the broad diversity of nuts can make a person confused or—dare I say—even a little nutty. This is because nuts belong to many different plant families with many different forms and characteristics from many different origins around the globe. If one attempted to do a family tree for nuts, one would find many distant cousins, to say the least.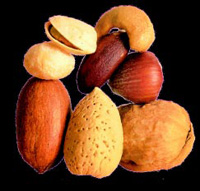 Let's look at a few examples of this diverse group. The most obvious one is the peanut—which isn't even a nut, but a legume that grows underground. The almond is a drupe or a stone fruit related to peaches, plums, and cherries. Pine nuts—or pignolias—are actually tiny seeds nestling within the cones of a stone pine. Pistachios belong to the same family as the cashew, mango, sumac, and poison oak. Pecans and walnuts are distant relatives in the juglandaceae family. Coconuts are the fruit of tropical palm tree. Sunflower seeds have a crunchy taste and are often used as nut substitutes. We can go on, but I think you get the idea.
Once you look beyond their diversity, however, I think you will find many interesting similarities. For example, their biochemistry and nutritional makeup are similar. Furthermore, over the past decade, studies have been looking at their nutraceutical or health benefits. Although about 80% of the calories in nuts comes from fat, most of that fat is monounsaturated and polyunsaturated fatty acids, which may help lower total blood cholesterol and improve cardiovascular health. Nuts may also play a role in reducing risks of cancer, diabetes, and other chronic diseases.
The health benefits of nuts may have increasing impact on their use as an ingredient, especially in a climate emphasizing nutraceuticals. Time will determine the extent of this impact, but until then, nuts will continue to offer a variety of functional benefits, including flavor or flavor enhancement, crunchy texture, compatibility with other ingredients such as chocolate, honey, or fruits, and enhancement of the product's appearance and color.
Nuts have always been popular around the holidays, but now they are being promoted as an ingredient for all seasons. A visit to the supermarket reveals the success of nuts in cereals, ice creams, coffee and creamers, bakery products, confections, snacks, and other products.
This ingredients section will look at some of these benefits as they relate to six nuts—almonds, walnuts, peanuts, pistachios, pecans, and hazelnuts.
Almonds. Mentioned in the Old Testament of the Bible, almonds are one of the world's oldest cultivated foods. Botanically related to stone fruits (peaches, plums, and cherries), they may have originated in China and were considered a valuable commodity on the ancient "Silk Road" trading routes stretching throughout Asia to Greece, Turkey, and the Middle East.
In the days of their empire, the Romans were said to distribute sugared almonds as gifts to great men at public and private events. Two thousand years later, President Clinton chose cinnamon-glazed almonds as a snack to be served at both the 1993 and 1997 inaugurations.
Almonds were first brought to the New World in the mid-1700s by Spanish Franciscan missionaries who planted almond trees in California. Because of ideal growing conditions, the trees prospered,and today almonds are California's largest tree nut crop in total dollar value and acreage. According to The Almond Board of California, the state supplies the entire domestic market and produces 80% of the world's supply.
--- PAGE BREAK ---
Statistics released by the board indicate that almond shipments in October 1999 totaled more than 107 million lb, setting a single-month record and bringing the crop-year-to-date totals to 246 million lb. More than 30 million lb were shipped domestically. Western Europe remained the strongest export market, with Germany accounting for 25% of exports. Shipments to China were up more than 600% over the previous year.
Almonds are nutritious and low in saturated fat. One ounce of almonds reportedly contains more than 35% of the daily value (DV) for vitamin E, 21% DV for magnesium, 8% DV for calcium; and 6% DV for potassium, as well as 3 g of dietary fiber. Almonds are also one of the best plant sources of protein. Approximately 67% of the fat in almonds is monounsaturated.
Over recent years, a variety of studies have suggested the potential health benefits of consuming almonds and other nuts. New research presented at Experimental Biology '99, an annual conference of research leaders sponsored by the Federation of American Societies for Experimental Biology, addressed some of the following developments:
• Maintaining weight loss. Researchers from Harvard University reported that a low-calorie diet containing almonds, other nuts, and olive oil was as effective for weight loss as a low-calorie, low-fat diet, and more effective for weight-loss maintenance. Participants in both diet groups lost an average of 10 lb over a 12-mo period. Six months later, the nut and olive group maintained the weight loss and showed a significant decrease in blood pressure, while those on the low-fat diet began to regain lost pounds and showed no change in blood pressure. Possible reasons for this benefit are that consumption of almonds helps achieve better satiety as well as adds flavor and variety to the diet.
• Contributing to a heart-healthy diet. A study from the University of California at Davis demonstrated an improvement in blood lipid profiles among men and women who replaced 50% of their habitual fat intake with either whole almonds or almond oil for six weeks. They had reductions in LDL cholesterol levels (11% with whole almonds and 12% with almond oil) and maintenance of HDL cholesterol levels. Researchers from Harvard University found that 4,000 male and female heart attack survivors who ate nuts at least twice weekly had a 25% reduction in risk of recurrent coronary heart disease, compared to those who never consumed nuts. Reductions in risk were seen in both those on cholesterol-lowering therapy and those not on such therapy.
A number of components in nuts can help explain their potential in lessening the risk of heart disease: (1) monounsaturated fats, which can help improve blood cholesterol levels; (2) vitamin E, an antioxidant; (3) arginine found in high levels in nut protein; (4) cholesterol-lowering dietary fiber; and (5) the minerals magnesium and copper, which may help control blood pressure.
• Reducing colon cancer risk in rats. Researchers at the University of California at Davis showed that a high-fat diet rich in whole almonds inhibited colon cancer precursor cells from developing in rats chemically treated to induce this cancer. The researchers also noted that this diet was more effective than the diet consisting of wheat bran.
• Providing other potential health benefits. Ongoing studies are also looking at the effects of almond consumption in such areas as diabetes, Alzheimer's disease, and athletic performance.
--- PAGE BREAK ---
In addition to their nutritional or nutraceutical benefits, almonds add a delicate buttery flavor compatible with a wide range of cuisines, including Latin American, Mediterranean, and Asian; a crunchy texture; and an upscale image.
According to a 1997 Consumer Focus Group study, more than 30% of the new product introductions that contained nuts included almonds. A total of 63 chocolate-almond candies made their debut that year. Almonds captured 31% of the new products in the baked goods category, 62% of the new beverages, and 28% of the new dairy products.
One new product in today's marketplace is Almond Breeze, a milk alternative introduced by Blue Diamond Growers, a farmer's cooperative based in Sacramento, Calif. Made from almonds, the product is available as a nondairy beverage containing only 1% unsaturated fat. It is lactose free, has no cholesterol, and is enriched with calcium, vitamins A, D, and E, and other nutrients. Aseptically packaged in 32-oz drink boxes, it is shelf stable for up to one year. Having a mild flavor, the product is suitable for use in coffee or on cereal, as well as in baking formulations, desserts, or sauces.
Other examples of food products recently commercialized include Hershey's Nuggets with Almonds, Post's Cranberry Almond Crunch, Brach's Almond Supremes, and Nut*Thins with Almonds.
A number of almond-based ingredient developments, available in a wide range of forms and applications, have been introduced over the past year:
Roasted blanched almonds in slivered form have the flavor overtones of green onions, garlic, salt, and lemon. The crunchy product is suitable as a snack; as a garnish on soups or salads; or as a topping for pasta, sandwiches, and seafood. At the National Pizza Expo, held in Las Vegas, Blue Diamond Growers demonstrated the use of the ingredient in creating a Venetian Almond pizza. A mixture of artichoke hearts, red pepper, garlic, oil, parsley, cheese, and almonds is used as the pizza topping. Additional almonds may also be sprinkled.
Also from Blue Diamond are several other new ingredients. For example, almond butter, prepared by grinding dry roasted almonds to a paste-like consistency, is available in smooth and crunchy types. The product may be used in bakery applications, spreads, fillings, soups, sauces, confections, and other applications. A new version of the product, almond butter chips, is offered for use as a baking or topping ingredient. An almond-based confectionery ingredient in a compound wafer form is said to have a smooth texture and a nutty flavor which enhances confections. It may be stored for up to six months.
Paramount Farms, Lost Hills, Calif., has a full line of processed almonds, including natural and manufactured products. Its natural almond line features Nonpareil, California, and Mission varieties of numerous sizes and grades. The manufactured almond line has many natural and blanched forms, including whole, sliced, diced, slivered, and meal, which can be customized to meet specifications.
The Almond Board of California, Modesto, Calif., has a retail baking brochure, "Bakers Know . . . Almonds Are In," which includes innovative almond bakery ideas from retail bakeries across the country. The brochure demonstrates how almonds can add value, flavor, and texture to bagels, danish, and other traditional items, or to upscale desserts such as Pear and Almond Tart and Linzer Bars. Also introduced is "Tips for the Technologist," an almond resource guide designed to help food technologists meet specific formulation needs for new products and line extensions. The guide also includes information on almond forms and functions, specifications and composition, formulations and manufacturing benefits, consumer preference, and nutrition research.
--- PAGE BREAK ---
Walnuts. Dating back to 7000 B.C., tree walnuts are one of the oldest known foods, their cultivation originating in ancient Persia and spreading to Greece, China, and the Mediterranean. In honor of their chief god, the Romans called them Juglans regia ("the nut of the gods" or "nuts of Jove, the king"). The Greeks associated walnuts with the human head because the shape of the kernel resembled a brain, and they often prescribed walnuts to cure head wounds.
Although the English walnut originated in Persia, it got its popular name from the British. When the walnut tree was introduced to Britain in the 1500s, the English gave it the name walnut because the word wal meant "foreign." English merchant ships carried the product to ports around the world and the name "English walnut" became commonplace, replacing the word "Persian." In the U.S., the nut was brought by English settlers to the New England area, and later in the 1700s by Spanish missionaries to California. Today, the vast majority of walnuts marketed in the U.S. are of the English variety. Walnuts grown in California account for two-thirds of the world's walnut trade. More than 200,000 tons of walnuts are harvested annually, between late August and early November.
Another variety, black walnuts (Juglans nigra), is native to North America where they grow wild in 16 central and eastern states in the U.S., and was considered an important source of food for the American Indians and early settlers. According to Hammons Products Co., Stockton, Mo., a processor and supplier of black walnuts, the variety continues to grow in popularity nationwide, and has a rich distinctive flavor compared to other walnut varieties for use in baked goods, ice cream, confections, soups, casseroles, pasta dishes, and other products. The flavor of black walnuts is said to combine well with chocolate, caramel, cinnamon, and other flavors. At the 1999 Worldwide Food Expo, the company featured Black Walnut Ice Cream. Other ice cream products made with the variety include Black Walnut Fudge and Black Walnut Cinnamon Oatmeal Cookie. Customers using black walnuts include Blue Bell, Baskin' Robbins, Dreyer's Grand Ice Cream, and Dean Foods.
Walnut and walnut oil are an important source of an essential fatty acid, alpha-linolenic acid. This omega-3 fatty acid, often found in fish oils, is important for healthy metabolism and helps to reduce serum cholesterol levels. Studies have shown that consuming these essential fatty acids can reduce the incidence of stroke and other heart diseases.
Walnuts also provide a wide range of vitamins and minerals, including thiamin, vitamin B-6, folacin, vitamin E, iron, zinc, copper, magnesium, phosphorus, and potassium, as well as contribute substantial amounts of dietary fiber. Furthermore, they contain micronutrients such as ellagic acid, quercitin, and others, which may prevent different types of diseases. More research, however, needs to be done to understand better the role of these micronutrients.
Walnuts offer a variety of beneficial physical and chemical characteristics, including a delicate, slightly astringent flavor which helps enhance other flavors in an application; a low water activity and moisture content which allow walnuts to be easily integrated into chocolate or bakery products; a crunchy texture that has a positive impact on the application; and availability in a range of sizes and colors. Walnuts are also extremely functional in a variety of food processes, such as freezing, baking, broiling, refrigeration, frying, and microwaving.
A number of applications highlighted over the past year illustrate the versatility of this ingredient. For example, walnuts may be used to formulate veggie burgers and other meat alternative products. Kellogg's recently purchased Worthington Foods, Inc., Worthington, Ohio, which specializes in meat alternatives, using walnuts in one of its branded products, Natural Touch veggie burgers. Sales this year are expected to exceed $170 million.
Walnuts often find creative use in holiday foods. Available from the Walnut Marketing Board, Sacremento, Calif., is a formula for Caribbean Christmas Ring, a ring-style quick bread which provides a walnut crunch with an orange sugar glaze.
Other formulations featured by the Walnut Marketing Board include Polish walnut rolls, chocolate walnut bars, cranberry-walnut pretzels, and pickled walnuts.
--- PAGE BREAK ---
Peanuts. Peanuts are actually legumes, which are members of the pea and bean family, Leguminosae. (They are also called "ground nuts" because they develop below the soil.) As a group, they provide the best source of concentrated protein in the plant kingdom.
Native to South America, they were introduced to Africa by European explorers, and then reached America when slaves planted them as a food crop in the southern colonies. During the Civil War, they were frequently consumed by soldiers.
Anyone interested in the history of the peanut knows, of course, the name George Washington Carver, the botanist who pioneered peanut research at the Tuskeegee Institute. There, from 1903 to 1943, he developed more than 300 uses for the peanut. It is fitting that on September 30, 1999, the U.S. Department of Agriculture named a new headquarters facility in Beltsville, Md., as the George Washington Carver Center. Agriculture Secretary Dan Glickman proclaimed October 4–8, 1999 as "George Washington Carver Recognition Week."
According to the Peanut Institute, Atlanta, Ga., more than 2.4 billion lb of peanuts are consumed in the U.S. each year, with about 50% consumed as peanut butter. India and China account for more than 50% of the world's peanut production, while U.S.'s contribution is in single digits. One quarter of the peanuts grown in this country end up in candy, however (Irene Chalmer's The Great Food Almanac).
Recent studies involving the peanut may be demonstrating that the type of fat in the diet is more important than the amount. Such a finding may not only change dramatically the dietary advice that has been given over the past 20 years, but also lead to the development of innovative fat ingredients.
A study conducted by researchers at Penn State University showed that a diet high in monounsaturated fatty acids (MUFAs) from foods such as peanuts, peanut butter, peanut oil, and olive oil reduced the risk of heart disease by 21%, while a low-fat diet replacing saturated fat with carbohydrate reduced it by 12%. The researchers maintained that a MUFA diet (34–36% fat), compared to a low-fat one (25% fat) or the average American diet (34% fat), can lower triglycerides and raise HDL cholesterol, factors which can help explain the heart risk reduction.
During the six-month study, subjects used peanut butter instead of butter on bagels and toast and snacked on peanuts instead of rice cakes, popcorn, and other high-carbohydrate snacks. Peanuts contain one quarter of the carbohydrates found in other snack foods such as pretzels and chips, and three times as much protein. Furthermore, peanuts and peanut products are a rich source of other nutrients, including vitamin E, folic acid, soluble fiber, arginine, plant sterols, copper, zinc, selenium, and magnesium.
Findings of the study, "High-Monounsaturated Fatty Acid Diets Lower Both Plasma Cholesterol and Triacylglycerol Concentrations," was published in the December 1999 issue of the American Journal of Clinical Nutrition.
Over the past year, several other studies have focused on the potential health benefits of peanuts:
According to research at Harvard Medical School and Brigham and Women's Hospital in Boston, almost three times as many people were able to stick to a higher fat diet that included peanuts and peanut butter during an 18-month weight-loss study. Subjects on this diet lost more weight than those on a low-fat diet.
--- PAGE BREAK ---
Researchers at the State University of New York at Buffalo examined the content of beta-sitosterol (SIT)—a phytosterol which may inhibit the growth of such cancers as colon, prostate, and breast—in peanuts and peanut products. Products and their content (mg SIT/100 g) included peanut flour (44), peanut butter (120), snack peanuts (160), and unrefined peanut oil (191). The amount of SIT in unrefined peanut oil is comparable to that of soybean oil.
Dietary data collected by USDA for the Continuing Survey of Food Intakes by Individuals (1994–96) and examined by researchers at The Pennsylvania State University showed that peanut eaters tend to have higher levels of key nutrients and overall healthier diets than non-peanut eaters. Furthermore, the body mass index (a measure used by health professionals in estimating overweightness and chronic disease risk) of peanut eaters was found to be favorable to that of non-peanut eaters.
Recent research suggests that eating low-glycemic-index foods such as peanut butter, along with a diet high in cereal fiber, can significantly reduce the risk of non-insulin-dependent diabetes. A diet high in sugar and low in fiber triggers the body to increase production of insulin in an attempt to regulate blood sugar. However, non-insulin-dependent diabetes commonly goes into remission with proper diet, weight loss, and exercise. The glucose in peanut butter, for example, is digested more slowly, leading to a gradual increase in blood sugar.
In August 1999, peanut growers and members of the industry met to coordinate their efforts in research aimed at alleviating consumers' allergies to their products. "While less than one percent of Americans are allergic to peanuts, it's still a critical issue for our industry to help solve, said the executive director of the Alabama Peanut Producers Association. Southeastern peanut growers have helped secure up to $500,000 in federal funding for new research which aims to breed the allergen out of the plant itself. That research will be carried out by the University of Georgia, University of Florida, Auburn University, and Alabama A&M. Furthermore, research is being done to develop a peanut allergy vaccine at the University of Arkansas and Mt. Sinai Medical Center.
Pistachios. Pistachios date back to the Holy Lands of the Middle East. According to legend, lovers met beneath the trees to hear the pistachios crack open on moonlit nights for the promise of good fortune. The Queen of Sheba was said to be nuts about pistachios and monopolized the entire Assyrian supply for herself and her court. Although that act sounds incredibly selfish, anyone who has ever started eating a jumbo bag of pistachios knows her reaction is actually quite understandable.
The nut was brought to the U.S. in the 1880s, but it would take many years of experimentation before it could be successfully grown here. In fact, in 1976, the first commercial crop of 1.5 million lb was harvested on less than 1,500 acres. In the 1980s, the stormy relationship with Iran, a major producer of pistachios, brought an end to that market, but fueled U.S. domestic production. Today, California is the world's second largest pistachio producer, yielding more than 100 times the amount of the first harvest.
Pistachios are relatively high in monounsaturated and polyunsaturated fats which reportedly maintain HDL cholesterol. Furthermore, one quarter cup of shelled pistachios offers 300 mg of potassium, 6 g of protein, and 3 g of dietary fiber.
Ever since I was a child, one of my favorite desserts is pistachio pudding because of its wonderful light green color (proving that some foods can be both green and appealing); those nutty specks adding a crunchy texture; and, of course, that rich flavor.
Today, pistachios continue to help enhance or upscale product lines by adding color, crunchy texture, and flavor. For example, a confection combining whole-kernel pistachios with milk chocolate was developed exclusively for the 1999 IFT Food Expo by Paramount Farms, Lost Hills, Calif. Called Panachio, the product is said to provide a rich buttery taste and colorful appearance that adult consumers will find appealing.
Pistachios are available in a broad range of types, grades, and forms, including in-shell, whole kernels, diced (small, medium, large, and fine), and meal. Recently, Paramount Farms introduced two new forms, sliced and slivered. Sliced are especially suitable for bakery and grain-based foods, such as muffins, pastries, cereals, and breakfast or health bars. Pistachio slivers may be used to coat chocolate bars or add a special twist to dairy and prepared food applications.
--- PAGE BREAK ---
Pecans. The pecan tree, a member of the hickory family, is native to the Mississippi Valley region of the U.S., growing wild from Illinois to the Gulf of Mexico. The nut reportedly derived its name from "paccan," an Algonquin word meaning "nut with a hard shell to crack."
For the native Americans of that region, pecans were the main staple during the winter months, and they eventually introduced the nut to the early settlers of Georgia. Most pecans are cultivated commercially in the southern states, with Georgia being the top producer, accounting for more than 30% of the annual crop. Georgia's 1997 pecan production was 90 million lb, followed by Texas, 70 million lb; New Mexico, 40 million lb; and Oklahoma, 18 million lb.
Pecans are a good source of oleic acid, thiamin, magnesium, protein, and fiber. As is true with the other nuts discussed in this section, most of the fat in pecans is unsaturated, which studies have shown may help lower total blood cholesterol and preserving HDLs. Researchers at the University of Georgia have been studying oleic acid in pecans, trying to determine which varieties can help best combat heart disease. So far, they have noted that plumper, fuller pecans have higher oleic acid contents.
The flavor and texture of pecans are compatible with a wide array of foods, and it is estimated that there are more than 1,200 uses for pecans in prepared dishes. Pecans may be incorporated into baked goods, dairy products, confections, salads, desserts, puddings, souffles, meats, cereals, and vegetables. And, of course, let's not forget pralines and pecan pie, which originated in the South.
The Georgia Pecan Commission has available a wide range of recipes which illustrate the versatility of the pecan. Here are just a few: Pecan-Crusted Trout, Pecan-Pesto Pizza, Orange Pecan Biscotti, Pecan-Apple Muffins, Chicken Salad with Pecans, Pecan-Basil Vinaigrette, Lemon Pecan Green Beans, Sweet Potato Pecan Souffle, Pecan Cream Cheese Pound Cake, and Georgia Pecan Blue Cheese Ball.
Hazelnuts. An ancient Chinese manuscript claims that hazelnuts (also called filberts) are one of the five sacred foods be bestowed by God upon mankind. I guess you can't expect a higher endorsement than that.
One of the oldest agricultural crops, hazelnuts (Corylus Avellana L.) are believed to have originated in Asia and then extended into Europe. Turkey is the world's leader in hazelnut cultivation, accounting for more than 75% of the annual worldwide production. Nearly 98% of the U.S. production is grown in Oregon, which make up about three to four percent of the total world supply of hazelnuts.
Hazelnuts contain such vitamins and minerals as folic acid, vitamin E, copper, magnesium, phosphorous, iron, and thiamine. Fat content is about 55% and is primarily monounsaturated. The nut is said to provide a delicate, buttery crunch for use in confections, baked goods, snacks, cereals, and ice cream.
Hazelnuts are available in a variety of sizes and forms, including hazelnut butter, which can be used as an alternative to peanut butter, and sweetened hazelnut paste.
A new exhibitor at the 1999 IFT Food Expo, Hazelnut Council, Matawan, N.J., promotes the use of hazelnuts in a variety of applications and represents many of the world's hazelnut producers, importers, and distributors.
--- PAGE BREAK ---
PATENTS
Baking improver. U.S. patent 6,007,850, filed 5/7/1996, issued 12/28/1999 to A. Van Duijnhoven, assigned to Quest International B.V. Describes a baking improver, based on fermented cereal germs, which can alleviate some of the negative side effects in dough-handling properties associated with gluten- rich dough. The baking improver also contributes to the flavor and aroma of baked goods. Preferred cereals for this purpose are wheat, barley, and rye.
Nut spread having reduced fat and reduced calories and process for producing the same. U.S. patent 6,010,737, filed 7/11/1996, issued 1/4/2000 to M. Meade, assigned to CPC International Inc. Describes a reduced-fat and reduced-calorie nut butter composition, particularly a peanut butter, having the texture and organoleptic characteristics of full-fat products. The nut butter has up to 60% reduced fat by weight and up to 34% reduced calories by weight. The composition is produced with full-fat nuts and roasted, partially defatted nuts and/or roasted, partially defatted nut flour, a low- or no-calorie triacylglycerol oil, and a low- or no-calorie bulking agent.
Oil-in-water dispersions of beta-carotene and other carotenoids stable against oxidation prepared from water-dispersible beadlets having high concentrations of carotenoid. U.S. patent 6,007,856, filed 8/8/1997, issued 12/28/1999 to D. Cox et al., assigned to The Procter & Gamble Co. Describes oil-in-water dispersions of beta carotene and other carotenoids which are especially useful in dilute juice beverages for providing vitamin A fortification and color. The dispersions are stable against oxidation, even in the presence of polyphosphates.
---
Next Month
Usually we go from soup to nuts. But March's ingredients section will be doing it the other way around, as we will be looking at new ingredient developments for soups and sauces. Remember to bring your spoon.
---
More "Nutty" Ingredients
PARTIALLY DEFATTED INGREDIENTS, whole nuts and granules, can be made from peanuts, cashews, and other nuts. Peanut flour can be reduced to below 1% fat and offered with bland, intermediate, and heavily roasted flavor profiles. The ingredients are produced by an extraction process in a way so that they are not subjected to heat or any physical process that would reduce quality. For more information, write to Comet Rice Ingredients, 12100 Wilshire Blvd., Suite 605, Los Angeles, CA 90025 (phone 310-820-4496; fax 310-820-2559)—or circle 350.
ARTIFICIAL NUT FLAVORS have application in hard candies and confections. Artificial Almond Flavor is said to provide a rich, yet delicate flavor of the natural food and has a recommended starting usage level of 0.2% in hard candy. Artificial Butter Nut Flavor is characterized as a robust nut flavor with a smooth buttery background, and has a recommended starting usage level of 0.3%. For more information, write to Flavor & Fragrance Specialties, 300 Corporate Dr., Mahwah, NJ 07430 (phone 201-828-9449)—or circle 351.
ALLERGEN-FREE PEANUT FLAVORS may be used in a variety of bakery, cereal, confectionery, snack, and dessert applications. Each flavor can deliver a specific peanut profile, ranging from roasted skin type to butter cookie type. Containing no peanut-derived ingredients, the kosher, water-soluble flavors were developed to help customers alleviate peanut allergy concerns. For more information, write to Wild Flavors, Inc., 1261 Pacific Ave., Erlanger, KY 41018 (phone 606-342-3526; fax 606-342-3604)—or circle 352
NUT INGREDIENTS are available for use in snacks, confections, and other products. Nuts, processed to meet specification and application requirements, are offered raw, roasted, buttered, or honey roasted. Confectionery-coated nuts include peanuts, almonds, and coconut. Praline pecans, almonds, and macadamias are also offered. For a copy of a 6-p brochure discussing manufacturing capabilities, write to Georgia Nut Co., Inc., 7500 N. Linder Ave., Skokie, IL 60077-3222 (phone 708-674-3717; fax 708-674-1173)—or circle 353.
FORMULA FOR COATED PEANUTS is offered by A.E. Staley Manufacturing Co. A combination of corn syrup (NETO 7300) and tapioca dextrin (11) provides excellent adhesion for coating. A light and crispy textured coating is developed with a dry mix containing starch (X-Pand'R 287C) upon baking. Texture of finished product is developed without frying. For a copy of the formulation, write to A.E. Staley Manufacturing Co., 2200 E. Eldorado, Decatur, IL 62521 (phone 800-526-5728; fax 217-421-3167)—or circle 354.
THAI PEANUT SAUCE consists of lime, chili, peanuts, and garlic. The flavorful sauce is suitable as traditional satay dip or as a dressing for fruit or noodle salad. For more information, write to Yoshida Food Products, 8338 N.E. Aldenwood Rd., Portland, OR (phone 503-872-8446)—or circle 355.
ARTIFICIAL PEANUT FLAVOR 227-31-N is said to capture the essence of the peanut without actual nut derivatives. The product has a strong aroma of roasted peanuts, complemented by the taste of peanut butter. It is available in both oil- and water-soluble forms, and may be used for frozen dessert coatings or candy applications. Recommended usage is 0.20% for ice cream coating, 0.40% for confectionery, and 0.50% for hard candies. For samples and more information, write to Wixon Fontarome, 1390 E. Bolivar Ave., St. Francis, WI 53235 (phone 414-769-3020)—or circle 356
---
Web Sites Worth Cracking Open
Almond Board of California, www.almond.org
American Peanut Council, http://peanutsusa.com
Blue Diamond Growers, www.bluediamondgrowers.com
California Pistachio Commission, www.pistachios.org
Georgia Pecan Commission, www.georgiapecans.org
Hazelnut Council, www.hazelnutcouncil.org
Hazelnut Growers of Oregon, www.hazelnuts.com
International Tree Nut Council, www.nuthealth.org
Peanut Advisory Board, www.peanutbutterlovers.com
Peanut Institute, www.peanut-institute.org
Walnut Marketing Board/California Walnut Commission, www.walnut.org
by DONALD E. PSZCZOLA
Associate Editor