Consumers may be turning to fresh foods, but the sight of neat peach halves covered with tasty syrup in a glass jar evokes "fresh," even though the food is commercially sterile. A number of processors are adopting jars for their products, including Del Monte Foods and S&W Growers, who are packaging fruit in glass, and Campbell Soup, who introduced a home-made style of soup in glass jars. Why are processors adopting a heavier, breakable container?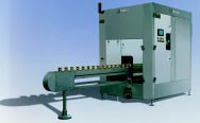 For one thing, the glass jar says homestyle, which Del Monte uses as a point of differentiation for its products. Its Orchard Select products are available in four varieties of fruit halves and slices, labeled with the company logo as it appeared in 1892. The glass jars hold 26 oz of fruit and syrup and are merchandised either prominently on grocery shelves or in the fresh produce section of the supermarket. The information that accompanies the product notes that the "canning" process was invented by Nicholas Appert in 1809 and that the Mason jar—designed by John Landis Mason in 1858—is a generic term for a glass jar designed for home canning.
The Glass Packaging Institute's Clear Choice Awards for 1998 featured S&W Growers' Private Reserve, with fruit grown by Tri-Valley Growers. These products, packaged in 30-oz Mason-type jars vacuum packed with a screw-top lid, advertise that the fruit is packed within three hours of picking. Containers are displayed in the fresh fruit section of supermarkets.
A number of companies produce Mason-type and other glass containers. For a list, see the Glass Packaging Institute's Web site at www.gpi.org.
PATENTS
Copies of individual patents can be downloaded from www.uspto.gov using a Boolean search and entering either the patent number, assignee, key words, or inventors. There is no charge.
Multi-layer structure with heat stable high barrier polymer, method therefor and product therefrom. U.S. patent 6,007,902, filed 8/19/1997, issued 12/28/1999 to A. Adur et al., assigned to International Paper Co. Describes a multilayer laminate structure for producing a package, container, or carton. The structure consists of a substrate coated with a liquid crystal polymer (LCP) with an intervening tie layer. A second embodiment provides a surface layer disposed on the LCP layer, sandwiching the LCP layer between the surface layer and the substrate.
Tray for the improved packing and cooling of produce. U.S. patent 6,007,854, filed 4/14/198, issued 12/28/1999 to A. Cadiente et al., assigned to Plexiform Co. Describes baskets for the packing of fruit that are provided with ventilation channels disposed upon a lower surface of the basket. Vent apertures communicate between the ventilation channels and the produce stored in the baskets. After the baskets are packed with produce, they are loaded into trays. The trays may be provided with tray vents which align with the ventilation channels. Alternatively, the trays may be formed without tray vents to improve some cooling regimes. In this manner, entire pallets of produce-filled baskets can be efficiently chilled by introducing a flow of cooling air into the baskets and thence through the produce packed inside. The trays and baskets are sized to occupy all of the surface area of a standard shipping pallet and to minimize the movement of the baskets within the trays and of the trays with respect to one another.
Three-sided pouches, machine, and method of making. U.S. patent 6,006,501, filed 3/30/1998, issued 12/12/1999 to S.E. Davis et al., assigned to Winpak Lane, Inc. Describes a form, fill, and seal packaging machine having at least one multichannel former for forming a pair of streams of three-side-sealed pouches. At least one multichannel former includes a shaped top and an open central forming area in which a strip of material brought to the former by a drive means from a roller is bent over and folded into a unique figure 8 or infinity sign tubular configuration as it exits from the bottom. The unique configuration is then side sealed and cut into two tubular elements, which are then bottom sealed, filled, top sealed, and cut off in the machine to form two separate streams of three-side-sealed pouches.
---
Products & Literature
UNIQUE FAMILY OF RESINS combine benefits of epoxies and thermoplastics. Called BLOX resins, the products offer a range of processing options. The high-adhesion barrier resins are excellent gas barriers and have good clarity, mechanical strength, and toughness. They are recommended for multilayer rigid packaging of oxygen- and carbon dioxide–sensitive beverages such as beer, juice, and carbonated soft drinks. Tetra-Pak uses one of the BLOX resins in its new Sealica™ high-barrier PET packaging designed for beer and other beverages. The Sealica product uses special equipment to injection mold a PET preform and overinject a single layer of the proprietary barrier material while the first layer is still on the platen. For more information on BLOX, contact Dow Chemical Co., Customer Information Group, Attention Element #1-DK9W, P.O. Box 1206, Midland, MI. 48642 (phone 800-441-4369, fax 517-832-1426)—or circle 357.
UPDATED SEAMER, Model 62H, outputs 225–700 cans/min and offers a variety of options for controlled atmospheres, including undercover gassing and steam vacuum. A titanium nitride–coated chromium cobalt seaming roll is standard for the undercover gassing model. The seamer offers driven lower lifters, a programmable controller PLC, and automatic oil lubrication. For information, contact Angelus Sanitary Can Machine Co., 4900 Pacific Blvd., Los Angeles, CA 90058 (phone 323-583-2171)—or circle 358.
RECYCLABLE COATINGS for PET containers have been introduced. A new-generation Bairocade gas barrier coating was introduced for use on single-service juice containers manufactured by Graham Packaging. The coating, an epoxy-amide type, is being used on the outside of 16-oz bottles for Northland Cranberries, Cliffstar, and Old Orchard Brands. The newest generation of coating is applied to single-serve containers using an electrostatic spray gun, after which the bottles are cured in infrared ovens to produce the superior protection, plus the clear, glossy finish that resists scuffing. And the coating doesn't change the "1" resin identification code, so it is easy to recycle. For more information, contact PPG Industries, Inc., One PPG Place, Pittsburgh, PA 15272 (phone 412-434-3131)—or circle 359.
by FRAN KATZ
Editor