New Food Analysis Instrumentation
New analysis techniques are constantly being developed and existing techniques optimized. In the food industry, the most common and important analytical food examinations involve either nutrient analysis or the determination of pesticide residues.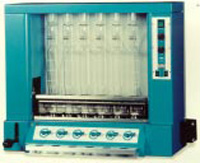 Nutrient analysis is a widely complex field that demands many different sample preparation, analytical, and detection techniques depending on the type of food and other factors. A variety of methods are used. For example, total nitrogen content is determined by the Kjeldahl or biuret methods, or chromatographic methods may be used to fractionate, isolate, identify, and determine carbohydrates in foods.
The determination of percent fat is one of the more common tests performed in the food industry, and many different methods exist. The choice of the appropriate method is based on the type of food, how the data are used, or a given standard within an industry. Fat measurement procedures include Soxhlet extraction, chloroform/methanol extraction, acid hydrolysis, alkaline hydrolysis, Babcock, and the NLEA method, which is normally recommended for low-fat labeling claims.
Brinkmann Instruments, Inc., Westbury, N.Y., is offering the Buchi Soxhlet Fat Extractor Model B-810 with six extraction places. It contains an aluminum block that is heated by steam or oil and replaces electric heaters for additional safety. A built-in steam generator is used for extractions with petroleum ether.
An example of the changes associated with nutrition labeling and determination of lipids in foods is the Food and Drug Administration's proposed rules for the labeling of trans fatty acids. FDA has amended its regulations on nutrition labeling to require that the amount of trans fatty acids in a food be included in the Nutrition Facts panel. Included in this proposal is a new nutrient content claim defining "trans fat free" and a limit on trans fatty acids wherever there are limits on saturated fat in nutrient content claims or health claims. The proposed rule on trans fatty acids (also called "trans fat") would require that the amount of trans fat per serving be added to the amount of saturated fat per serving so that the amount and percent Daily Value (%DV) per serving on the Nutrition Facts panel will be based on the sum of the two. When trans fatty acids are present, an asterisk (or other symbol) would be required after the heading "Saturated fat" to refer to a footnote stating that the product "*Includes __ g trans fat." This footnote would be optional on foods that contain no trans fat (i.e., less than 0.5 g per serving, as analytical methods cannot reliably measure lower levels), except when a fatty acid or cholesterol claim is made. The free fatty acid fraction may be extracted from lipids by adsorption chromatography such as TLC or HPLC.
Perkin-Elmer, Norwalk, Conn., offers a new Edible Oil Analyzer that simultaneously measures and reports on trans fatty acids, free fatty acids, and iodine value. The dedicated analyzer features the Scientist Inside™technology. This technology has the necessary methods and references built into the system. The analyzer verifies quality of grade and performs quality control analysis in both raw oils and final product. The analyzer may be used for all major commodity vegetable oils such as soybean, palm, canola/rape, sunflower, peanut, and cottonseed.
Problems in the development of analytical methods for the determination of various vitamins include a lack of specificity of traditional chemical methods, interferences in microbiological assays, incomplete extraction from the sample, and incomplete measurement of the complexed forms of the vitamin.
--- PAGE BREAK ---
New methods are constantly being devised for vitamin analysis. For example, a new column-switching technique for determination of vitamin D3 in soy milk or other foods has been developed by S.J. Park and a group at the Food Science and Technology Dept. at the Kyung Hee University in South Korea. The new HPLC method uses a column-switching technique based upon the polymer-coated mixed function phase (PCMF) and a C-18 semi-micro-column. The surface structure of the PCMF phase and the geometry of the packed column for the primary separation made it possible to inject hundreds of microliters of soy milk samples into the system. The separated portion in the primary chromatography was transferred into the main column with an intermediate column. A system using an intermediate column was designed to save time when a main column was used. The method showed excellent precision with good sensitivity and speed with a detection limit of 0.3 ng/mL. The total analysis time per sample was less than 20 min, and the mean coefficients of variation for assay were less than 4.0%.
Analytical methods such as flame photometry, atomic absorption, and inductively coupled plasmas are used for determining various elements in foods. New atomic absorption spectrometers, such as the PerkinElmer AAnalyst™ 700 and AAnalyst 800, feature an automated motorized atomizer exchange that allows switching between flame and graphite furnace AA by a software command. Both instruments are equipped with a burner system and gas controls for flame AA. The AAnalyst 700 is also equipped with a Heated Graphite Atomizer (HGA®) graphite furnace with deuterium background corrector, while the AAnalyst 800 is equipped with a Transversely Heated Graphite Furnace (THGA) with longitudinal Zeeman-effect background corrector. Both graphite furnace systems include True Temperature Control (TTC) and integrated platform tubes, and both offer full Stabilized Temperature Platform Furnace (STPF) conditions for almost interference-free trace metal analysis.
The neutral detergent fiber method is an official assay for the determination of dietary fiber in cereal grains. It measures cellulose, hemicellulose, and lignin. The newly released, Fiwe Fiber Extraction systems from AnalytiChem Corp., Bowie, Md., may be used for the determination of crude fiber, acid and neutral-detergent fiber, dietary fiber, cellulose, and lignin. A proprietary technology is said to allow for cold or hot extractions with reproducible results.
The measurement of pesticide residues is an important food safety issue. Analytical methodology is important for the regulatory monitoring of pesticide residues in foods and beverages in order to enforce tolerances set by regulatory bodies such as the U.S. Environmental Protection Agency and the U.S. Dept. of Agriculture. The primary traditional method for pesticide analysis is packed or capillary column GC with one or more element selective detectors; confirmation is achieved by ancillary methods such as use of a second column of different polarity or GC/MS. HPLC with a C-8 or C-18 bonded silica column and conventional or photo-diode array UV or fluorescence detectors have been widely used in pesticide analysis. Spectrophotometry is used for residue analysis in situations where simplicity, cost, and other more complex instruments are not available.
Recently, thin layer chromatography and capillary electrophoresis (CE) methods have been developed for the analysis of foods. The technique may be used for analysis of a variety of food, biological, and environmental samples and for residues of various pesticides, including insecticides, herbicides, and fungicides, belonging to different chemical classes.
Increasingly, immunochemical methods are being developed for environmental pesticide analysis. The most important method is enzyme-linked immunosorbent assay or ELISA. Various commercial test kits are available in various formats such as microtiter plates or magnetic beads. An ELISA method for the carbaryl quantification in crop extracts and an immunoassay for determination of 3,5,6-trichloro-2-pyridinol have been developed.
Luminescence technology has also been applied to pesticide residue testing. Charm Sciences, Inc., Malden, Mass., provides a 15-min insecticide screen for organophosphates and carbamates.
--- PAGE BREAK ---
PATENTS
Nucleic acid probes and methods for detecting Streptomyces enterococci. U.S. patent 5,994,059, filed 5/30/1995, issued 11/30/1999 to J. Hogan et al., assigned to Gen-Probe Inc. Describes a method for preparing probes, as well as several probes for use in qualitative or quantitative hybridization assays of food and water samples.
The method consists of constructing an oligonucleotide that is sufficiently complementary to hybridize to a region of rRNA selected to be unique to a non-viral organism or group of non-viral organisms to be detected. Hybridization assay probes for Mycobacterium avium, Mycobacterium intracellulare, the Mycobacterium tuberculosis-complex bacteria, Mycoplasma pneumoniae, Legionella, Salmonella, Chlamydia trachomatis, Campylobacter, Proteus mirabilis, Enterococcus, Enterobacter cloacae, Escherichia coli, Pseudomonas group I, Neisseria gonorrhoeae, bacteria, and fungi also are described.
Method for quantification of biological material in a sample. U.S. patent 5,985,594, filed 11/6/1996, issued 11/16/1999 to A. Croteau et al., assigned to Idexx Laboratories, Inc. Describes a method for detection of a biological material in a sample. The method includes the steps of liquifying the sample (if necessary) and pouring the liquified sample into the incubation plate. The incubation plate has a generally flat horizontal surface, and the surface is divided into a plurality of at least 20 recessed wells. Each well is adapted to hold an aliquot of liquid and is sized, shaped, and formed of a suitable material, to hold the aliquot within the well by surface tension. Any excess liquid from the liquified sample is poured from the surface of the plate. The method then involves incubating that incubation plate until the presence or absence of the biological material is determined.
---
Products & Literature
NITROGEN/SULFUR ANALYZER,
the 9000 Series, can perform total nitrogen and/or total sulfur analyses in gas, liquid, or solid samples. These analyzers comply with ASTM D4629, D5176, D5176, D5453, D5762, and D6069. They are said to produce results in 30 sec, and feature a data handling system with 32-bit, Windows™-based, custom-designed software. Remote instrument operation and real-time analysis support are available via pre-configured modem. For more information, contact Antek Instruments, 300 Bammel Westfield Rd., Houston, TX 77090 (phone 800-365-2143; fax 281-580-0719;
www.antekhou.com
)—
or circle 373.
ANALYTICAL BALANCE, the Adventurer™, is suitable for general laboratory use. This balance offers 17 different weighing modes and can handle parts counting. The balance offers a standard RS232 interface for communication with computers and other peripheral devices. The integral weigh-below hook is said to simplify below-balance weighing applications, including density determination, and an ergonomic leveling system. It is available in capacities ranging from 150 g to 4,100 g and displays units from 1 mg to 0.1 g. For more information, contact Ohaus Corp., 29 Hanover Rd., Florham Park, NJ 07932 (phone 973-377-9000; www.ohaus.com) —or circle 374.
HAND-HELD REFRACTOMETER, the Leica BRIX15HP®, is designed to measure concentration as ºBrix from 0 to 15 in 0.1 increments. This tool is useful for analysis of single-strength juices and other low-concentration fluids. The unit features a focusable eyepiece with an adjustable eyeguard. The refractometer incorporates an automatic temperature compensation mechanism that increases sensitivity and accuracy of readings. Without automatic temperature compensation, temperature variations can cause readings to be inaccurate by more than 12 º Brix. For more information, contact Leica Microsystems Inc., P.O. Box 123, Buffalo, NY 14240 (phone 716-686-3000; fax 716-686-3085; www.leicaead.com) —or circle 375.
--- PAGE BREAK ---
MODULAR DIGITAL PUMP, Masterflex® B/T®, is designed for large fluid transfer and dispensing applications. Both variable-speed drive and controller are protected from water spray. A 25-ft (7.6-m) weather-resistant cable connects the wash-down modular drive and the wall mount controller. Input pumping parameters are entered through membrane keypad and display flow rate, dispensing volume, copy number, and motor rpm on four-digit LED. Calibrate manually or use nominal calibrations stored in memory. This model operates at flow rates from 0.3 to 45 L/min (0.07–12 gal/min). For more information, contact Cole-Parmer Instrument Co., 325 E. Bunker Court, Vernon Hills, IL 60061-1844 (phone 800-323-4340; international 847-549-7600; www.coleparmer.com) —or circle 376.
LIQUID AUTOSAMPLER, the AQUA Tek 70, is a liquid autosampler designed for VOC analysis of water and wastewater samples. The autosampler holds up to seventy 40-mL vials. This autosampler is said to aid in sample preparation with automatic sample measurement, automatic standard addition, and high temperature rinsing. For more information, contact Tekmar-Dohrmann, 7143 East Kemper Road, Cincinnati, OH 45249 (phone 800-543-4461; fax 513-247-7050; www.tekmar.com) —or circle 377.
SULFUR COMPOUNDS DETECTOR, Sievers SCD™, has been designed for detection of sulfur compounds that are below the detection capabilities of flame photometric detectors. It is said that the linear and equimolar response of unit means that the calibration and quantitation are simplified. It is equipped with an optional FID adapter for simultaneous hydrocarbon and sulfur results with one injection. For more information, contact Sievers Instruments, Inc., 6060 Spine Rd., Boulder, CO 80301 (phone 303-444-2009; fax 303-444-9543; www.sieversinst.com) —or circle 378.
DIFFERENTIAL SCANNING CALORIMETER, DSC-60A, is an automated differential scanning calorimeter that features an integrated 24 place autosampler and built-in LN2 cooling reservoir. The temperature range of this calorimeter is –130 to 600ºC with a variably selected heating and cooling rate of 0.1 to 99.9ºC per min or hr. PC control and data collection and reporting is supported by TA software for Windows™. Test and report formats are stored as templates, and report printing can be automated. For more information, contact Shimadzu, 7102 Riverwood Dr., Columbia, MD 21046 (phone 800-477-1227; fax 410-381-1222; www.shimadzu.com) —or circle 379.
NITROGEN COMPOUNDS DETECTOR, Sievers NCD™, is a nitrogen-specific detector. It is said that hydrocarbon matrices do not adversely affect this nitrogen detector. The response to nitrogen species is equimolar, and the unit has an optional FID adapter for simultaneous hydrocarbon and sulfur results with one injection. For more information, contact Sievers Instruments, Inc., 6060 Spine Rd., Boulder, CO 80301 (phone 303-444-2009; fax 303-444-9543; www.sieversinst.com) —or circle 380.
LIQUID HANDLING WORKSTATION, the Presto™, is a new tool for microplate applications. The workstation is equipped with two pipet arms and individually controlled syringe pumps for liquid transfers. The small size of the foot print allows the workstation to be used on a standard lab bench-top. This unit performs reagent addition, serial dilutions, transfers, and plate reformatting using 96 and 384 well plates. This workstation also features exact liquid level sensing and automatic mixing with each liquid delivery step. For more information, contact, Zymark Corp., Zymark Center, Hopkinton, MA 01748 (phone 508-435-9500; fax 508-435-3439; www.zymark.com) —or circle 381.
RESEARCH RHEOMETER, the MCR300, is a new rheometer that features an air-bearing supported EC motor. This motor is said to offer transient response and range in torque of 0.0005 –120 mNm, and normal force of 0 – 50N. The unit contains a direct strain control in oscillation for controlled strain oscillatory measurements. Automatic gap setting, thermal gap compensation and normal force controlled gap setting and testing are standard on this rheometer. A Peltier-regulated temperature controller for concentric cylinder is provided. For more information, contact, Paar Physica USA, Inc., 1 Industrial Way West, Eatontown, NJ 07724 (phone 732-389-0193; fax 732-389-2457; www.paarphysica.com) —or circle 382.
--- PAGE BREAK ---
PROTEIN CHARACTERIZATION, the E-Z PRO™, is a detector specifically designed for the characterization of proteins. This detector provides molecular size (to <1 nm), conformation, and absolute molecular weight of a native or denatured protein sample in a single experiment. It incorporates a modified lightscattering detector and a four capillary differential viscometer detector. The detector operates on-line in a continuous-flow mode and can be added directly to an existing GPC or FPLC® system. For more information, contact, Viscotek, 15600 West Hardy Road, Houston, TX 77060 (phone 281-445-5966; fax 281-931-4336; www.viscoteck.com) —or circle 383.
WELL PLATE SYSTEM, the Versaplate™, is a new 96-well plate system that allows the user to switch from single-tube processing to 96-well parallel processing without method revalidation. The user can customize individual well plates by bed size and sorbent type. The plate tubes are said to be compatible with vacuum manifolds and are snapped in place with luer fittings. This system may be used to screen multiple sorbents or to optimize sorbent bed masses on a single plate. For more information, contact Varian Inc., Dept. 87, P.O. Box 954, Santa Clarita, CA 91355-9054 (phone 800-421-2825; www.varianinc.com) —or circle 384.
BATCH PROCESSOR, the RSI 6, is designed with a 1-L stainless steel insert bowl and a 6-L bowl, enabling processing with both small and larger batches in one processor. The 1-L bowl can is said to be capable of processing batches as low as 50 g and the 6-L bowl for batches up to 3 lb. This unit is said to be suited for sample preparation for nutritional analysis, trace analysis and specific content analysis, quality and control testing, concept formulations and product developments that require environmental control. The batch processor features double jacketed bowls, vacuum attachments and double-scraper assemblies. For more information, contact Robot Coupe, P.O. Box 16627, Jackson, MS 39236-6627, (phone 601-898-9679; fax 601-898-9134)—or circle 385.
OIL ANALYZER, the Edible Oil Analyzer, allows the user to measure and report, in a pass or fail format, key oil-quality control parameters such as the Free Fatty Acid (FFA), trans Fatty Acid (tFA), and Iodine Value (IV) for most commodity vegetable oils. For laboratories that perform a combination of titrations and gas chromatography to measure all three key oil-quality control parameters, this analyzer is said to reduce analysis time by 97%. The analyzer monitors the processing of oils at all stages of production, particularly during hydrogenation, and is a Fourier-Transform Infrared Spectroscopy based instrument. A transmission cell, sample pump, and transfer line are heated to generate the spectroscopic data. The spectra are recorded at 80ºC with a transmission pathlength of 0.1mm. The chemometric technique of Partial Least Squares is then applied to determine if the parameters of the oil sample match a library of samples and are within specification. For more information, contact Perkin-Elmer, 761 Main Ave., Norwalk, CT 06859-0237 (phone 800-762-4000 ext. 2522 or (+1) 203-762-4000 ext.2522; fax (+1) 203-762-2812; www.perkin-elmer.com/ai) —or circle 386.
SAMPLING PRODUCTS CATALOG, Nasco's 1999-2000 Sampling Products Catalog is now available. The 32-page catalog features wide range of products used for sampling in the food, dairy, water, sewage, medical, pharmaceutical, veterinary, environmental, soil, forage, cosmetic, and industrial markets. Sampling bags with "Puncture Proof Tabs" are included with the catalog. The catalog also features several new products. For a free copy, write to NASCO, Dept. WP9912, 901 Janesville Ave., P.O. Box 901, Fort Atkinson, WI 53538-0901—or circle 387.
MASS SPECTROMETER, the TurboMass™ Mass Spectrometer, may be used for the determination of volatile organic compounds (VOC) and semi-volatile organic compounds. This mass spectrometer can perform a Selected Ion Monitoring scan while acquiring data in the Full Scan Mode. The combination of the two scanning modes, in a single run, creates a process called Simultaneous Selected Ion & Full Ion Scanning. This scanning feature is said to help eliminate preconcentration and sample clean-up steps. This feature is also said to reduce the number of analyses by combining a wider range of analyte responses in a chromatographic run. This unit was designed as a detector for the AutoSystem XLJGC. For more information, contact Perkin-Elmer, 761 Main Ave., Norwalk, CT 06859-0237 (phone 800-762-4000 ext. 2522 or 203-762-4000 ext. 2522; fax (+1) 203-762-2812; www.perkin-elmer.com/ai) —or circle 388.
--- PAGE BREAK ---
MACROMOLECULE ANALYSIS CD-ROM, the "Solutions for the Analysis of Macromolecules", is a new tutorial available on CDROM. This CD-ROM is said to provide comprehensive information on the application of Beckman Coulter's P/ACE™ MDQ Capillary Electrophoresis System with laser-induced fluorescence detection. This new CD-ROM features four voice-narrated seminars covering research areas of specific CE systems: glycoprotein analysis, carbohydrate analysis, nucleic acid analysis, and molecular characterization. Computer animation describes processes such as separating and quantifying proteins by molecular weight. This CD-ROM also uses video and animation to deliver information on the hardware, software, and chemistries that are available for macromolecular characterization. The CD-ROM tutorial can be requested online at www.beckmancoulter.com/glycoprotein. For more information, contact Beckman Coulter Inc., 4300 N. Harbor Boulevard, P.O. Box 3100, Fullerton, CA 92834-3100 (phone 800-742-2345; fax 800-643-4366)—or circle 389.
STEREOMICROSCOPE, the Lecia MZ9.5, is a new stereomicroscope designed with standard magnification range from 6.7 to 80x, and 9.5:1 zoom for biological and life science applications. The computer-controlled optical design systems were used to develop lenses using new types of glass with enhanced optical properties. This modular design allows the user to add accessories and customize the stereomicroscope for specific application. All components and accessories retrofit to existing Leica products. For more information, contact Leica Microsystems Inc., 111 Deer Lake Rd., Deerfield, IL 60015 (phone 800-248-0123; fax 847-405-0030; www.leica-microsystems.com) —or circle 390.
BIOLOGICAL SAFETY CABINET, the Heraeus HERAsafe® HS 12, is a Class II, type A/B 3 safety cabinet featuring an aerosol-tight, motor-driven front window that seals the inner chamber to protect users and samples. The main filter extends over the entire work area and it is protected against accidental damage by a metal laminator sheet. This model maintains negative pressure in areas subject to a contamination risk, which is said to ensure that particles are always returned to the pressure chamber and absorbed by an ULPA filter. Front and side non-reflecting windows are made with multi-pane safety glass and offer all-round visibility. The cabinet combines non-reflecting side panels and rear walls, glare-free lighting, and optional removable arm rests. Other features include a monitoring system that alerts the user in the event of a blower or filter failure, and a keypad lock to limit unauthorized access. Flexible side panels available in glass/stainless steel or polycarbonate, a choice of UV lights, various support stands, and ducting kits are options made available to met specific customer requirements. For more information, contact Kendro Laboratory Products, 31 Pecks Lane, Newtown, CT 06470-2337 (phone 203-270-2203; fax 203-270-2500)—or circle 391.
SAMPLE FILTERS, Balston models: 31S6, 31G, 41S6, and the 91S6, are a line of new stainless steel sample filters designed to protect process analyzers and monitoring equipment. The sample filters are said to remove solids and liquids from gases with 99.99 efficiency at 0.01 μm, and solid particulate removal from liquids to 0.2 μm. The new design requires no tools to change the filters. Other design features include: 2" NPT ports, maximum temperature of up to 400ºF, and maximum pressure of up to 500 psig. For more information, contact Whatman Inc., P.O. Box 1262, Tewksbury, MA 01876 (phone 800-343-4048; fax 978-858-0625)—or circle 392.
MASS DETECTOR, the AMD, is a new single quadrupole mass detector. When used in combination with HPLC Systems, this detector reveals information about the molecular structure of specific biological and environmental compounds in a mixture or sample. The information produced by the detector is then used to certify the identity of those compounds. This detector features a dual orthogonal sampling technique for enhanced signal-to-noise ratios. Some options available with this model include: OpenLynx for open access/combinatorial chemistry; BioLynx for protein/peptide data interpretation; MaxEnt for enhancement of complex/multiple charged spectra; and FractionLynx for mass-directed autopurification. For more information, contact Waters Corp., 34 Maple St., Milford, MA 01757-3696 (phone 508-478-2000; fax 508-872-1990; www.waters.com) —or circle 393.
AMINO ACID ANALYZER, the AAA-Direct™, is an aminoacid analysis system which uses integrated pulsed amperometric detection. As a result, amino acids are said to be detected directly, without pre- or post-column derivatization. This direct detection techniques is applicable to a range of applications in protein characterization and food analysis, and for monitoring largescale cell cultures and fermentation broths. For more information, contact Dionex Corp., P.O. Box 3603, Sunnyvale, CA 94088-3603 (phone 408-737-0700; www.dinex.com) —or circle 394.
--- PAGE BREAK ---
ZERO AIR GENERATOR, the Whatman Zero Air Generator, is now available in four models. New features include: an upgraded high-tech design, continuous visual operation status display, and wall mounting bracketry. These four models are said to produce up to 30 L/min of hydrocarbon-free air from existing compressed air supply, and increase zero air flow rates of up to 20%. These generators allow gas chromatographers to supply, control, and automate their gas supplies for GC-FID's. They are also said to reduce the total hydrocarbon content to less than 0.1 ppm, measured as methane. For more information, contact Whatman Inc., P.O. Box 1262, Tewksbury, MA 01876 (phone 800-343-4048; fax 978-858-0625)—or circle 395.
MEMBRANE AIR DRYER, the Balston 76-100-4050, is a new membrane air dryer designed for applications requiring-40ºF dewpoints and flow rates up to 100 SCFM. This air-drying system is said to remove all other compressed air contaminates down to 0.01 micron in size. The system utilizes a patented membrane technology to dehydrate and purify compressed air. The dryer is shipped complete with prefilters, auto drains, and membranes modules all assembled in a cabinet with inlet and outlet ports mounted on top. For more information, contact Whatman Inc., P.O. Box 1262, Tewksbury, MA 01876 (phone 800-343-4048; fax 978-858-0625)—or circle 396.
MICROWAVE SYSTEMS, the Microdigest 3 and Microdigest 6 systems, are new microwave systems which feature focused microwave power to each sample position. Each sample position has an integrated infrared temperature control from 0 to 400ºC. The systems include individual 4-place piston pumps and reagent additions (including hydrofluoric acid). The systems operate with a remote microprocessor control that programs each sample individually for all digestion parameters. For more information, contact Brinkmann Instrument Inc., P.O. Box 1019, Westbury, NY 11590-0207 (phone 516-334-7500; fax 516-334-7506)—or circle 397.
GAS GENERATOR, the Whatman FT-IR Purge Gas Generator, is designed for use with FT-IR spectrometers to provide a purified purge gas and air bearing gas, utilizing standard compressed air. Impurities such as water vapor and carbon dioxide are said to be removed to 100ºF pressure dew point and less than 1 ppm respectively. Models are available with flow capacities ranging from 3.1 to 102 L/min. For more information, contact Whatman Inc., P.O. Box 1262, Tewksbury, MA 01876 (phone 800-343-4048; fax 978-858-0625)—or circle 398.
---
by JAMES GIESE
Associate Editor