Added-value" foods—whether fresh, frozen, or canned—have been a blessing to the food sector, producing skyrocketing sales of stagnant commodities and stodgy staples and creating a new generation of convenience foods with multi-billion-dollar foodservice and retail market segments.
Fresh-cut produce will more than double to $16 billion by 2003, according to a 1999 report from the Fresh-cut Produce Association. Supermarket Business Market Overviews has suggested that value-added meats—worth $3.6 billion—have captured 8% of meat sales and pre-prepared and case-ready products have put fresh fish sales solidly back in the "black" after 30 years of flat or declining sales. Boneless chicken breast is now the best-selling chicken part, skillet meals just became a billion-dollar-plus category, and the growth of canned tomatoes continues to benefit from pre-seasoned and ethnic options. While convenience will drive added-value products more than ever this decade, watch as a new subtle social agenda offers opportunities for some new and nontraditional twists and turns!
Lack of time will continue to be the biggest barrier to preparing meals in a more traditional manner; 74% of consumers say it's the No. 1 reason they serve "prepared meals" at home. The inability to plan ahead, for whatever reason, contributes to the lack of time. Today, about half of meal preparers don't make dinner decisions before 4:00 p.m., and only one-quarter plan their meals before 9:00 a.m. In fact, one in three shoppers feel that by 5:30 p.m., it's too late to start preparing even a "speed scratch" meal. With 80% of consumers eating at 6:00 p.m. or later, the need for almost instantaneous meal solutions will increase.
Cleaning up is clearly the most distasteful part of the eating-at-home process. In fact, nearly 4 in 10 say they buy prepared foods simply because they don't want to clean up. Products that can reduce the amount of cleanup and those that require no planning will have a higher chance of success. While 94% of women take more than 20 minutes to make dinner—suggesting that they prefer to put some effort into the process—more than two-thirds put a 30-minute threshold on "convenient prepared meals," says Stouffers' Skillet Sensations Cooking Habits and Trends.
Adding value means giving consumers what they want. It's important to know what consumers find enjoyable about dinner preparation and maintain those qualities. While serving the finished meal is the most enjoyable phase of the preparation elements, "stirring and sautéing" (39%) is seen as more enjoyable than "preparing meat" (26%) and "chopping the ingredients" (19%). Experiencing flavor and texture (84%), smelling the aroma (77%), seeing color and presentation (65%), and hearing the food sizzle (37%) are also key characteristics, according to the Stouffer publication. The accompanying chart illustrates desired features of packaged meals.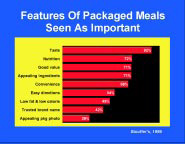 Case-ready and value-added fresh, pre-cut, pre-cleaned, and marinated products are pleasing shoppers, retailers, and restaurateurs alike. Clearly, flavorful, time-saving commodity additions will always be welcomed. A recent addition, Fresh from the Start value-added potatoes from Hapko Farms/Maine Packers of Caribou, Maine, provide fresh, pre-washed potatoes that are already scalloped, diced, or shredded and ready to cook. This eliminates America'sleast-favorite kitchen chore, peeling potatoes.
With the "boomers"—those grown-up, sophisticated "Flower Children" who brought us Earth Day, recycling, organics,and animal rights—dominating the market for the next 30 years, watch for a new series of product differentiators based on a renewed social and environmental consciousness.
With trend-setting culinary institutes now training chefs in sustainable agriculture, watch for increasing professional attention and publicity regarding growing or grazing conditions, purity of water, and other fair treatment and quality farm and factory issues to provide distinct competitive platforms. Because 89% of the general population are at least passively concerned about the environment and 40% of women consider themselves ecologists, a "passive green" attitude will also be a subtle force for decades to come. Not surprisingly, "cause marketing" will experience renewed appeal.
With this newfound "religion"—although 75% of Americans believe that biotechnology will provide benefits for their family in the next five years—there is little question that the genetically modified organism (GMO) controversy will soon be coming to our shores. In the United Kingdom, both food retailers and restaurateurs face stiff fines for not disclosing GMO ingredients, while 77% of U.K. consumers support a ban on commercial growing of GMO crops. In March, a European Consortium was formed to ensure that supermarket private-label products are GMO free. And in a 1999 survey of 11 European nations by Healey and Bakers, 61% of shoppers tried to avoid GMO products. In the U.S., Greenpeace and the Chef's Collaborative already have 1,500 chefs' signatures agreeing never to serve "FrankenFoods." GMA reports that up to 60% of products on U.S. supermarket shelves contain GMOs, so this trend will have a major impact on our food industry. While the mainstreaming of the GMO movement is still 6–9 months away, manufacturers need to formulate positions, platforms, and perhaps products directed at this highly emotional issue, writes STS TrendSense in its annual publication.
While nutrition, flavor, degree of freshness, and even product endorsements are potent added-value parameters, those products directed at reducing preparation and planning time and complexity, providing pleasurable sensory experiences, and conveying a sense of wholesomeness and social/environmental peace will clearly be the leaders in tomorrow's added-value marketplace.
by A. ELIZABETH SLOAN
Contributing Editor