The shape and material of the package makes a drink distinctive, and, in some cases, the container costs more than the contents. Beverage manufacturers sell the beverage and container as a total package, and, indeed, the container is vital to the drinking experience.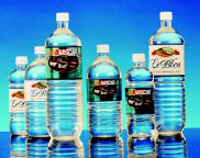 Beverage manufacturers come in several guises: there are manufacturers of soft drinks, still beverages, dairy drinks, coffee, tea, juices, juice drinks, sports drinks, performance drinks, beer and spirits, and, now, nutraceutical beverages that are some combination of the above.
The container holds the beverage, keeps it cold or hot, protects it against oxidation and/or sunlight, and provides convenience via easy-open tops, drink-from-the-closure types, and multipack containers that make it easier to carry home enough packages to keep a family or collection of significant others guzzling all weekend.
New containers for beverages are primarily in the premium, noncarbonated lines, although soft drink containers (mostly cans) are decorated differently for special campaigns. Plastic bottles for 12-oz and larger containers are generally standard shapes, but some are forming bottles more like their original glass designs. Some of the "alternative" beverages are appearing in glass bottles with molded designs, larger mouths, color transfers, and foil-based tamper-proof caps. There is a flurry of interestingly shaped aseptic packages with flexible characteristics, and juices are being packed into a variety of aseptic packages, cartons, and other containers.
Polyethylene terephthalate (PET) bottles with special decorations, including some pop tops, have become the package of choice for water and sports drinks, for obvious reasons: they don't break when runners, rowers, bikers, or race-car drivers drop them. LeBleu Corp., Advance, N.C., sent a recent press release on their use of PET bottles from Schmalbach-Lubeca, Manchester, Mich. (phone 734-428-9741) to market water under the Nascar® brand to the 50 million race-car fans who have high levels of brand loyalty. LeBleu clearly wants to align itself with the sport, selling to race-car buffs through supermarkets, convenience stores, and mass retailers.
South Beach Beverage Co. (SoBe), Norwalk, Conn., uses glass for its premium beverages, with its latest entry, Lizard Lightning, further supporting increases in volume (400% in 1998). The beverage is opaque, and the bottle portrays a large green lizard on a skateboard. The dairy-based product is orange-mango flavored and contains ginseng, wolfberry, and guarana. SoBe has signed Andy Macdonald, the world's overall skateboard champion, as a company spokesperson. The bottle, generally shaped like SoBe's soy-based-beverage bottles, has a longer neck and generous serving size (20 oz).
Consumption of beverages varies in different countries. Americans are major soft drink consumers. In 1997, the average American drank 861 8-oz servings of carbonated soft drinks (more than Canada and Europe combined), 315 servings of coffee, 301 servings of milk, 408 servings of beer, wine, and spirits, and 139 servings of juice. Europeans consumed 191 servings of soft drinks (mostly in 6-oz containers), 248 servings of coffee, 271 servings of milk (often poured from a flexible bulk container), and 221 servings of beer. The European market (34 Eastern and Western European countries) is just emerging as a juice market, with 115 8-oz servings of juice per capita (most juice servings are small, closer to 4 oz).
There are occasional blips of major consumption: according to the National Restaurant Association, 75% of restaurants ordered more champagne than ever to accommodate customers on this year's millennium New Year's Eve. As of this writing, we won't have heard how much was actually consumed, but we did hear rumors in late December that there might be a shortage.
Packages for beverages are changing to lighter-weight, more easily cased units. In the United States, cartons that hold 6 units are being replaced with shrink-wrapped, 24-unit cases. However, the alternate beverages are showing up in larger containers that fit the younger set, who seem able to consume massive quantities of beverage. Niches for beverages include the larger packages purchased at wholesale clubs, smaller portions for older households, premium products in 20-oz or so containers, and flexible packages and drink-boxes. Recycling has blossomed in urban areas, and the need for more glass collet (chopped glass for reuse) indicates that it's use is growing. For recycling reasons, single-material containers have some edge in some communities.
PATENTS
Included are some of the important patents issued recently. Copies of these patents can be downloaded at www.uspto.gov using the patent number search option.
Beverage can having instant winner type game thereon. U.S. patent 5,992,892, filed 12/12/1997, issued 11/30/1999 to M.W. Schaefer et al., assigned to Aluminum Co. of America. Describes a promotional gaming device for beverage cans which includes ink-jet-printed indicia of winning status on an exterior surface of the can and an opaque removable material covering the printing. The opaque material may be scratched off or peeled off to reveal the prize indicia.
Paperboard package, blank and method and apparatus for producing the same. U.S. patent 5,971,266, filed 12/30/1997, issued 10/26/99 to G. Sampaolo et al., assigned to International Paper Co. Describes a container, and the blank from which it is formed, that is particularly suitable for packaging liquid products and aseptically packaging liquid foods. The rectangular-shaped blank is a laminated composite of paperboard web, aluminum foil, and intermediate layers of heat-sealable polymer. All blank fold lines are scored, and an induction sealing flange area is provided around the entire blank perimeter. After induction sealing the package side flange at the bottom of the unit, the resulting tube pocket is charged with a quantity of liquid. Then the series of edge flanges above the first sealed edge flange are also induction sealed and severed from the unit remainder to complete a pillow-shaped package which includes a standing flange seam around three of four edges. The pillow corners are collapsed along diagonal corner score lines to triangular gable points, and the side and ends of the pillow mechanically erected to orthographic planes with the standing seams and corner gable points folded flat against an adjacent plane.
Treatments for microwave popcorn packaging and products. U.S. patent 5,994,685, filed 11/18/1997, issued 11/30/1999 to E.C. Jackson et al., assigned to Golden Valley Microwave Foods, Inc. A microwave popcorn package includes a sheet construction of flexible paper folded in the form of an expandable bag. The sheet construction may include one or more plies of material. In preferred applications, the package includes an inner ply of paper to which has been applied an adhesive, to provide improvement in grease-proofness. In some preferred arrangements, the package includes inner and outer plies, and the outer ply also includes an adhesive applied to it, to provide grease-resistant character.
Pressure vacuum release hermetic valve for flexible packages. U.S. patent 5,992,635, filed 8/14/1998, issued 11/30/1999 to W.J. Walters, assigned to Fres-Co System U.S.A. Describes a flexible, gussetted package having an interior for holding foodstuffs under vacuum and a mouth to provide access to the contents of the package. The package is formed of a flexible material and has a front panel, a rear panel, a pair of opposed side gussets, and a pressure-equalizing valve. The valve includes a displaceable slitted-aperture disk located on a valve seat and is arranged to operate in a first mode in which gases within the package are allowed to vent by passing through the interface between the disk and the valve seat while the ambient atmosphere is precluded from entering the package. The valve also operates in a second, transitory, mode in which the slitted aperture in the disk allows a small amount of the ambient atmosphere to gain ingress into the interior so that the package's walls give a smooth appearance. A layer of silicone oil is provided on the disk to facilitate operation of the valve.
---
Products & Literature
FAST-CHANGEOVER AIR CONVEYOR SYSTEMS, with emphasis on specialty products of different sizes, are replacing dedicated single-size-bottle lines. Neck guides can be used on such systems, and can be positioned to fit either shaped or straight-walled PET bottle necks. For more information, contact NOLU Plastics Inc., 900 C Tryens Rd., Aston, PA 19014 (phone 610-358-1770)—or circle 370.
A NEW MATERIAL for beverage containers, Nylon-MXD6 blend, can be shaped into bottles as a multilayer material with PET, using co-injection molding and stretch blow molding. It exhibits better gas barrier properties than stretch blow-molded PET bottles. The multilayer bottles can be produced thinner than conventional PET, while providing as much protection as single-layer PET. For those interested in recycling, this means that the bottles are easy to compact. Carbonation is retained longer in the multilayer bottle. The blended material has aroma-preserving characteristics and odor-proof properties. For more information, contact Mitsubishi Gas Chemical Co., Inc. 520 Madison Ave., New York, NY 10022 (phone 212-752-4620, fax 212-758-4012)—or circle 371.
ACID-ETCHED DECORATING enhances the perceived value of wines and spirits. The frosty appearance is produced by a process that allows either full-bottle frosting or clear-window designs or panels on various bottle shapes, including those with handles and profiles. The decorating line is flexible and versatile. It offers fast changeover to accommodate 1-oz to 5-gal bottles in minutes, and can run at speeds of 120,000 bottles/day. For more information, contact Permanent Label Corp., 801 Bloomfield Ave., Clifton, NJ 07012 (phone 973-471-6617)—or circle 372.
---
The shape and material of the package makes a drink distinctive, and, in some cases, the container cost more than the contents.
---
What's New on IFT's Web site? Take a look . . . www.ift.org
by FRAN KATZ
Editor