Now that the holidays are over and we've all watched "The Christmas Carol" so many times that we can't remember (or was that because of the rum egg nog?), I can't help associating those "spirits" of past, present, and future with this month's Ingredients section on alcohol flavors.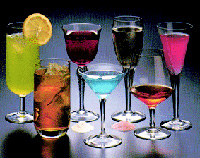 To help me write this column, I called upon their assistance as ghost consultants. And, since Scrooge had already been redeemed and they weren't doing all that much anyway, they eagerly obliged. Especially after they learned that I was going to be writing about spirits. I didn't tell them what kind of spirits because I didn't want to upset these spiritual manifestations once they were summoned.
My first visitation naturally came from the spirit of the past who showed me many things that I had not thought about in a long while. For example, I remember how, back in 1982, I attended my first food show—it happened to be the Food Marketing Institute's Supermarket Industry Convention—and I saw a sea of frozen piña colada mixes, daiquiri slushes, and other such products. It was at that precise moment that I knew that writing about the food industry was going to be fun. The spirit of the past also showed me other memories such as the great wine cooler craze and, yes, even the advent of clear beer.
But just as the tears were coming into my eyes, that spirit disappeared and made way for the spirit of the present. I had expected a big jolly fellow, but he was kind of thin and was talking about moderation and health and something about the many nutraceutical children that were ready to come out from beneath his robes. I was going to ask him if he knew of any fortified beer products in the marketplace, but before I could get the answer, he, too, had vanished.
And then the spirit of the future appeared and he promised to show me many of the wondrous developments soon to take place regarding flavors or ingredients derived from alcohol. He would also guide me through an array of products that recreate the flavor notes of alcohol, as well as some of the novel food applications using these ingredients. I found this spirit to be . . . well, rather spirited, and nothing like that grim specter in Dickens's tale.
So now let me play the role of Scrooge's former business partner Jacob Marley and introduce you to a few very special spirits of the New Year.
• Intoxicating ice cream? "Scoops Up" may be the correct phrase to utter if you happen to be at a New Year's Party somewhere in northern Wisconsin. There, a frozen dessert made of a distilled spirit has been introduced by The Ice Cream Bar, Inc., 400 N. First, Suite 304, Minneapolis, MN 55401 (phone 612-339-4212). Called Blend's, the novel product is available in restaurants, grocery stores, bars, and other such retailers. Its distribution throughout the rest of Wisconsin is expected shortly.
--- PAGE BREAK ---
A cooperative effort between the company and the University of Minnesota, the product was the result of a patent-pending stabilization process which made it possible to combine real liquors and liqueurs with ice cream. Researchers at the university reportedly created formulations and manufacturing methods that stabilized the alcohol molecules, preventing them from interacting with the ice crystals and milk proteins found in the ice cream. The frozen-solid product can remain stable for up to a year, maintaining a desirable taste and texture during that time.
Although the product has the same texture as ice cream and is handled in the same way, there is one very important difference: the product can only be sold to and consumed by persons of legal adult age. The Bureau of Alcohol, Tobacco, and Firearms (ATF) and the Food and Drug Administration (FDA) have determined it to be a distilled spirit because it is intoxicating. Furthermore, the two agencies have determined that the words "ice cream" cannot be used to label the product for marketing purposes. As such, packaging for the product will carry the same government warning as beverage alcohol products, as well as an additional statement warning consumers that while it looks like ice cream, it is actually distilled spirits.
The line of frozen desserts will be available in a variety of flavors, including Brandy Alexander, Grasshopper, Pink Squirrel, and Golden Cadillac. (Flavors will reportedly have a 2–5% alcohol level.) The initial line will have nine flavors, but will eventually include up to 30. The product will be packaged in single-serve 100-mL containers.
The product was invented by Daryl Orris, President of The Ice Cream Bar, Inc. According to Orris, it took ATF four years to determine how to regulate this unique product combining alcohol with ice cream. ATF usually encounters products that are liquids.
• Beer flavor untapped. If you like your chili on the hotter, spicier side, a concentrated beer flavor powder may provide some interesting benefits. Its characteristic flavor is said to go well with spicy flavors such as cayenne pepper or paprika. The ingredient reportedly allows the chili's heat to gradually build up, so that the flavor of the peppers and seasonings come through, while rounding off any initial blast of heat.
At the recent Suppliers Night in Chicago, the use of a concentrated beer flavor in chili was demonstrated by Butter-Buds Food Ingredients, 2330 Chicory Rd., Racine, WI 53403 (phone 414-598-9900; fax 414-598-9999). The ingredient, called Beer Buds™, is prepared by spray-drying beer with maltodextrin. Water and alcohol are removed, but the flavor of beer is concentrated in a free-flowing powdered form.
The ingredient, which may be labeled as a "natural flavor" or "maltodextrin and beer," offers several advantages over liquid beer. Because it is a powder, it provides convenience and easy handling, and can be used in applications such as snack seasonings and other dry blends where it was previously not possible to use liquid beer. The product does not require refrigeration and eliminates concerns about flavor stability, safety, and licensing requirements.
According to the ingredient's manufacturer, the product may be used in a variety of applications, including batters, breadings, marinades, sauces, dips, breads, and snack seasonings. Typical usage levels range between 1.5 and 3.0%. Lower levels enhance savory flavors, provide fermented, malty background notes, and harmonize other seasonings. Higher levels, on the other hand, impart distinctive beer notes.
A six-page brochure, "Cooking with Beer Buds," is available which includes several formulations for beer batter, spicy potato chips, pizza and beer-flavored corn snack, Cheddar brew soup, beer sauce mix, and beef-in-ale pie filling.
--- PAGE BREAK ---
• Alcohol in powdered form. Spray-dried alcohol powders (also called "powdered alcohol") have been developed by Senba San Francisco Food Processing, 291 Geary St., Suite 205, San Francisco, CA 94102 (phone 415-398-4533; fax 415-398-3189) for use as an ingredient in a variety of nonbeverage applications. The powder contains approximately 30% alcohol by dry weight, and is said to maintain a high degree of the original flavor of the alcohol solution. It is available in such flavors as brandy, rum, whiskey, red wine, white wine, and vodka.
According to the manufacturer, the powder is produced in the following way. A solution of water and alcohol is mixed with maltodextrin and then spray-dried at relatively low temperatures. Each molecule of alcohol is encapsulated by dextrin during the spray-drying process and the smaller water molecules are allowed to pass through the surface and evaporate. There is about a 5% loss of alcohol on the surface of each droplet.
The powdered alcohol may be used in such applications as cake mixes, ice cream mixes, jelly and jams, dried soups, cheeses, chocolates, biscuits, breads, hams and sausages, candies, gourmet coffees, and sauces. By adding the ingredient to a dry mix, it can improve the taste and batter consistency of the product, while accentuating flavors.
It offers various advantages over liquid alcohol such as convenience, easier handling and storage, and reduced safety concerns. Furthermore, alcohol powders (with an addition of 1.5% salt) can be handled without having a liquor permit and without paying federal alcohol taxes.
The ingredient is labeled as a natural flavor.
• Antioxidant properties of grape seed extract. Remember the "French Paradox"? That was the report of 1981 linking wine consumption with a reduced risk of heart disease. In today's nutraceutical climate, studies such as that one and others following are providing the impetus for developing grape-derived ingredients that offer health benefits.
Red wine is made by crushing the grapes and allowing the skins, seeds, and even the grape stems to ferment together with the pulp and juice, a process that creates a mixture rich in antioxidant compounds. Grape seeds, in particular, contain large amounts of flavonoid substances known as proanthocyanidins which exist as monomers (single residues), oligomers (two or more residues), and polymers (multiple residues).
Polyphenolics, Inc., 433 Airport Blvd., Suite 403, Burlingame, CA 94010 (phone 650-373-2163; fax 650-373-2074), focuses on developing grape seed extract and related products which have proven health and nutritional benefits. The company is a wholly owned subsidiary of Canandaigua Brands, Inc., a leading producer and marketer of beverage alcohol brands in North America. Canandaigua produces in excess of 25 million cases of wine a year at its seven wineries and crushes more than half a million tons of grapes per year.
Several of Canandaigua's wineries provide Polyphenolics with select grape seeds, grape skins, and other raw materials that have been prepared by the wineries for extraction. Polyphenolics then employs a proprietary process to produce a grape seed product (Vinox™) with a consistent composition of monomers, oligomers, and polymers to provide key health benefits such as antioxidant action (LDL oxidation inhibition), blood vessel relaxation, and increased elimination of cholesterol and fats from the body.
Researchers at the University of Scranton recently completed two in-vivo studies using the grape seed extract. The studies showed a significant decrease in total cholesterol in subjects having high cholesterol as well as a decrease in LDL (low-density lipoprotein) in all participants of the study.
According to the manufacturer, the water-soluble extract is typically available as either a powder or granulate. Liquid products have recently been developed for the food and beverage industries.
--- PAGE BREAK ---
• Flavors recreating wine characteristics. A line of natural wine flavors for use in confections and chocolates, sauces, salad dressings, carbonated beverages, and other products was recently developed by Robertet Flavors, Inc., 10 Colonial Dr., Piscataway, NJ 08854 (phone 732-981-8300; fax 732-981-1717). These flavors were said to be created by the company's flavorists after performing extensive research and evaluation of the flavor makeup of popular varietal wines.
The natural wine flavors (and the notes they provide) include Chablis Types NV-23,128 (crisp, dry, nutty) and NV-23,180 (dry, citrus, fruity); Chardonnay Wine Type (rich, buttery, fruity, dry); White Zinfandel Wine Type (spicy, berry, and cassis notes); White Wine Type (crisp, dry, with pineapple notes); Cabernet Sauvignon Wine Type (full-bodied, with raspberry, cassis, and fig-like notes); Merlot Wine Type (smooth, plummy with vanilla notes); and Red Wine Type (cassis, fig-like with slight cedar notes).
According to the manufacturer, use levels range from 0.05 to 0.25% in vinaigrette. Other application levels are available on request.
Also, at the 1999 IFT Food Expo, Robertet highlighted prototype wine beverages made with new fruit flavor combinations. These flavored alcoholic fruit coolers, Natural Apricot Mango and Natural Hawthorn Berry, have an alcohol content of 2.0% by volume and a juice content of 5.0%.
• "South of the Border" flavors. Turn on that classic Jimmy Buffet tune, "Margaritaville," as you read this section. Flavors of alcohol, "South of the Border" style, have been featured in several applications over the past months.
At the 1999 IFT Food Expo, NewlyWeds Foods, 4140 W. Fullerton Ave., Chicago, IL 60639 (phone 773-489-7000; fax 773-489-2799) highlighted Margarita Madness chicken wings. The application featured the exotic citrus flavor of margarita, with a pinch of garlic, onion, and a hint of smoke from the grill. The flavor was available in the form of a marinade and rub system.
At the 1999 Worldwide Food Expo, SKW Biosystems, Inc., 620 Progress Ave., Waukesha, WI 53187-1609 (phone 414-547-5531; fax 414-547-0587) highlighted Tequila Lime Ranch Dip, featuring a butttermilk flavoring that provides pronounced cultured notes as well as accentuates the volatile flavor components of fresh buttermilk. An egg yolk flavoring imparts a well-rounded savory flavor with an egg-like finish. The formulation includes 1.250% tequila.
Tequila Lime, a seasoning for potato chips, was developed by Heller Seasonings and Ingredients, 6363 W. 73rd St., Bedford Park, IL 60638 (phone 800-323-2726; fax 708-594-2342).
The Blendex Co., 11208 Electron Dr., Louisville, KY 40299 (phone 800-253-6339; fax 502-267-1024) offers a special Bloody Mary seasoning which can be custom-blended to turn tomato juice into a mixer. The company also makes available colored salt crystals which can provide a bright touch to margaritas when added to the rim of the glass.
--- PAGE BREAK ---
• Liqueur/liquor flavors. By identifying key flavor ingredients, analytical experts and flavorists at Virginia Dare, 882 Third Ave., Brooklyn, NY 11232 (phone 718-788-1776; fax 718-768-3978) have created a wide variety of liqueur/liquor flavors that reportedly duplicate or improve on "the real thing."
According to the supplier, these flavors can find application in the following ways. First, they may be used in end products which are not traditionally formulated with real alcohol because of labeling, health reasons, cost restraints, or formulation and processing problems. Second, they can be used to enhance the flavor characteristics of alcohol-containing beverages without increasing the alcohol content. Third, they can be used to flavor beverages which are traditionally formulated with alcohol but a nonalcoholic version is desired.
Some examples of flavors available include amaretto, anisette, beer, Bloody Mary, bourbon, brandy (apricot, peach, orange, mocha, coffee, rum, and regular), cassis, champagne (regular or pink), lime rickey (cherry and regular), colada (piña and strawberry), cognac, creme de cocoa, creme de menthe, Curaçao, daiquiri flavors, gin and sloe gin, Irish creme, liqueur (coffee and orange), Madeira, mai tai, margarita, mimosa, mint julep, peach schnapps, rum, sambuca, screwdriver, tequila, tom collins, vermouth (dry, Italian, and sweet), whiskey (rye, scotch, sour, and regular), and a variety of wine flavors.
A variety of applications using these flavors are possible. For example, in 1997, the company developed a frozen dessert flavor, Mocha Blackberry Brandy. The dessert was described as having a full-bodied coffee flavor with a hint of chocolate and laced with rich sweet blackberry brandy notes.
• Enhancing marinades with bourbon flavor. Alcohol flavor systems may be added to nonbeverage applications such as marinades for meat, barbecue sauces, or snack seasonings. One such system is Bourbon Flavor created by Innova, A Griffith Laboratories Co., 2021 Swift Dr., Oak Brook, IL 60523 (phone 630-928-4800).
The flavor, recreating the flavor characteristics of bourbon, is said to give the application an extra flavor punch without the actual alcohol content.
In addition to this flavor, other alcohol flavor systems available include tequila, vodka, and rum.
• Manufacturer of cooking wines acquired. Monarch Wine Co., Atlanta, Ga., a leading supplier of wines, cooking wines, and wine powders to the food industry, was purchased by Todhunter International, Inc., West Palm Beach, Fla., a major distiller and supplier of brandy, rum, and wine to the alcohol beverage industry. The acquired company will be known as the Monarch Wine Division of Todhunter.
The acquisition, completed on November 18, 1999, is expected to increase Todhunter's presence in the food and beverage industries. Monarch has specialized in the manufacture of wines, custom-blended wines, and cooking wines as well as base wines for producers of vinegar and cordials. Its product line has included cooking wines such as Burgundy, Chablis, Chianti, Claret, Madeira, Marsala, Red Port, Rose, Sherry, Dry Vermouth, and other varieties. These products may be denatured with salt, pepper, garlic, or onion. Also available are wine powders (Chablis, Burgundy, and Sherry) and fruit juice concentrates (apricot, blackberry, cherry, peach, and raspberry).
At the 1999 IFT Food Expo, Monarch introduced a Chardonnay varietal cooking wine which can add its unique flavor profile to marinades, soups, condiments, spreads, and entrees.
--- PAGE BREAK ---
•Toasting the New Year. Flavors for use in a nonalcoholic champagne sparkler having 10% juice are available from David Michael & Co., Inc., 10801 Decatur Rd., Philadelphia, PA 19154 (phone 215-632-3100; fax 215-637-3920). The application is formulated with Natural Flavor Champagne Type #20716 at 0.20%, a pear juice concentrate at 7%, and apple juice at 3%.
David Michael offers a wide range of flavors for alcoholic beverages and flavors for nonalcoholic products. Available is a full line of blenders for products such as gin, vodka, whiskey, and rum. Flavor formulations for a variety of alcoholic beverage applications include those for schnapps-type cordials. The company's line of "Adults Only Flavors" for nonalcoholic applications include champagne (already noted above), strawberry margarita, chocolate apricot brandy, and many others which duplicate the tastes of real alcohol.
This column has discussed a variety of novel ingredient developments, but it should be noted that as we enter the new millennium, there are already several new alcoholic beverages that have been recently introduced into the marketplace. Here are some examples:
Early in 1999, Anheuser-Busch, Inc., St. Louis, Mo., made available nationwide Tequiza, a malt beverage combining the tastes of lime and tequila. The product is made by blending lager beer with blue agave nectar and a natural flavor of lime and imported tequila. The blue agave nectar and the lime/tequila flavor are said to add a slightly sweet, refreshing quality to the malt character of the beer.
The tequila-flavored beer is said to be performing beyond initial expectations, and there is talk that another product, Rumba, combining beer and rum may be in the works.
Canandaigua launched Arbor Mist, a line of slightly fizzy, fruit-flavored varietal wines, reportedly 6% alcohol, in flavors such as Peach Chardonnay and Strawberry White Zinfandel. The beverage is packaged in an upscale-looking frosted bottle. According to reports, the new brand has grabbed a 3% share of the wine business in less than a year.
To all Three Stooges fans, this beer is bound to attract attention. Called Three Stooges Beer, the lager product is marketed by Panther Brewing Co., Westwood, Mass., which is named after the fictitious brewing concern that Moe, Larry, and Curly worked for in their 1935 short, "The Three Little Beers." Formula for the beer was developed by consultants from the beer industry, and the product is described as an "old-fashioned drinking beer." The bottles bear the names and likenesses of the Three Stooges (sorry, die-hards, no Shemp, Curly Joe, or Joe), as well as scenes from their movies. The bottlecaps have their faces as well. A second formulation, Curly's Light, has been developed for light-beer drinkers.
In celebration of the new millennium, Boston Beer Co., Boston, Mass., has created Samuel Adams Millennium, believed to be the world's strongest beer at about 20% alcohol by volume. The beer is described as having a smoky gold color, with a rich alcoholic aroma and a full-bodied flavor similar to that of malty, mild whiskey. Its flavor has overtones of vanilla, butterscotch, pear, and a hint of cinnamon. The beer retails at $200 a bottle and is available in limited quantities.3
On the other hand, if one wants to toast the Jewish New Year (October 1), one can try He'Brew®–The Chosen Beer. Developed by the Shmaltz Brewing Co., San Francisco, Calif., the product is described as a gourmet, kosher microbrew with chutzpah! According to the manufacturer, it is a rich, crisp, and light-brown ale which is certified under the highest standards of the Orthodox kosher community by Kosher Supervision of America.
But, alas, my time with the spirits is growing short. Grabbing the hem of his dark robe and in a trembling voice, I asked the spirit of the future, "Spirit, tell me, tell me, now. Will I live long enough to see many of these future developments?"
The spirit didn't say anything. He didn't even point to any gravestone. But then after a moment, his long bony hand pulled out from beneath his robe a bottle of Three Stooges Beer, and he solemnly presented it to me.
"Nyuk, nyuk, nyuk" was all I heard him say as he vanished.
--- PAGE BREAK ---
PATENTS
Emulsion glaze for dough products. U.S. patent 5,989,603, filed 1/10/1997, issued 11/23/1999 to D. Lonergan et al., assigned to The Pillsbury Co. Describes shaped, unbaked dough products which are coated with a glaze consisting of water, oil, and a hydrophilic colloid. The application of the glaze to the dough products, followed by baking, mimics the frying step which is traditionally used in the production process of certain dough products.
Non-staining, acid-stable, cold-water-soluble, edible green color and compositions for preparing acidic foods and beverages. U.S. patent 5,993,880, filed 10/1/1998, issued 11/30/1999 to J. Frost et al., assigned to Kraft Foods Inc. Describes a new form of green color prepared by specially treating copper chlorophyllin to make it acid-stable and cold-water-soluble. The composition has a combination of properties which make it especially suitable for use in dry mixes for acidic beverages and foods, such as gelatin desserts. The dry, water-soluble composition contains copper chlorophyllin, a solid fixative, and a hydrophilic surfactant.
Compositions for inhibiting oxidation. U.S. patent 5,993,881, filed 4/16/1998, issued 11/30/1999 to J. Gray et al., assigned to Board of Trustees operating Michigan State University. Describes a composition for inhibiting oxidation in various foods which are prone to this problem. The composition uses a tart cherry natural extract containing a mixture of anthocyanins to accomplish the inhibition. The anthocyanin-containing fractions are particularly useful in high- and low-moisture foods.
Stabilizer system for liquid nutritional formulas. U.S. patent 5,993,885, filed 5/22/1998, issued 11/30/1999 to E. Lin et al., assigned to Nestec S.A. Describes a stabilizer system for liquid nutritional formulas containing a hydrolyzed protein source, a lipid source, and a carbohydrate source. The stabilizer system, which consists of a gel-forming carrageenan and a diacetyl tartaric acid ester of mono- and diglycerides, provides the nutritional formula with improved color and physical stabilities and allows it to remain acceptable over months of storage.
Formed cream substitute. U.S. patent 5,993,862, filed 11/6/1996, issued 11/30/1999 to F. Biller et al., assigned to CPC International. Describes a formed cream substitute for the addition to hot meals. The cream substitute—formed by working 20 to 60% cream powder and 10 to 50% fat powder in a 15 to 50% matrix of pure fat—has, on a weight basis, a higher effectiveness than liquid cream. It can be provided in a variety of forms, including lumps, cubes, or granulates, and can be stored well at room temperature.
---
Products & Literature
NATURAL MOLD INHIBITORS can be formulated into seasoning blends or sprayed directly onto the finished product surface, and are suitable ingredients for use in jerky, sausage products, sauces, marinades, and bakery products. These water-soluble compounds, produced by fermentation with food-grade microorganisms, can reduce or eliminate mold growth, depending on the product, usage level, and food system. After controlled fermentation, the products are concentrated, dried, and pasteurized. The natural mold inhibitors are mostly dairy based, and may be labeled as "cultured whey" or "cultured nonfat dry milk solids." For more information, contact Chr. Hansen Inc., 9015 W. Maple St., Milwaukee, WI 53214-4298 (phone 414-607-5700; fax 414-607-5704)—or circle 350.
--- PAGE BREAK ---
MEDIUM-CHAIN TRIGLYCERIDE, described as a "healthy fat," is said to add a significant performance boost to nutritional bar, powder, or ready-to-drink formulations. Called Neobee™, the ingredient is metabolized quickly by the body, which allows it to provide fast, accessible energy for sports nutrition or feeding formulas. It is available in liquid, solid, or powdered forms to work with virtually any formulation or production process. For more information, contact Stepan Co., Food Ingredients Div., 100 W. Hunter Ave., Maywood, NJ 07607 (phone 201-712-7642; fax 201-712-7648)—or circle 351.
NATURAL ORANGE FLAVOR may be used in a variety of beverages such as cold juice, soda, flavored water, and alcoholic beverages. The product, available in a liquid form, is said to impart the fresh, juicy notes of the natural food. For more information, including samples, contact Comax Flavors, 130 Baylis Rd., Melville, NY 11747 (phone 800-992-0629; fax 516-249-9255)—or circle 352.
HONEY is said to have the ability to improve the quality and shelf life of battered and marinated catfish fillets and seafood products. Researchers at the University of Georgia–Athens incorporated liquid honey into batter mix formulas at 0, 5, 10, 15, and 20%. Use of honey at 15% demonstrated improved color in the preparation of baked catfish fillets, as well as the potential to increase the quality and shelf life of the product. The research is described in The Honey Herald (Vol. 5, No.3, September 1999) available from the National Honey Board. For a copy, contact National Honey Board, 390 Lashley St., Longmont, CO 80501 (phone 800-356-5941; fax 303-776-1177)—or circle 353.
FACTS ABOUT EGGS AND SALMONELLA are provided by a 4-p fact sheet available from the American Egg Board and the Egg Nutrition Center. According to the information, the risk of salmonellosis from eggs is very low for healthy individuals, and proper storage and cooking can eliminate the risk of egg-related infection from Salmonella bacteria. Furthermore, up to 85% of salmonellosis cases in the U.S. are unrelated to eggs. For a copy of these materials, contact the Egg Nutrition Center, 1050 17th St., N.W., Suite 560, Washington, DC 20036 (phone 202-833-8850; fax 202-463-0102)—or circle 354.
GRANULATED HERBAL EXTRACTS are said to offer improved product consistency. Key benefits include superior flow characteristics for tablet and capsule production, decreased powder loss during production, and reduced excipient use that allows for smaller tablets. The line of standardized extracts in granulated form include echinacea, ginkgo biloba, green tea, St. John's wort, Siberian ginseng, and others. For more information, contact A.M. Todd Botanicals, 150 Domorah Dr., Montgomeryville, PA 18936 (phone 800-634-4418; fax 215-628-8651)—or circle 355.
LATEST DEVELOPMENTS REGARDING RICE are described in The Rice Approach, a newsletter available from the USA Rice Federation. Each issue features an in-depth lead article on one of the latest rice trends, as well as the newest products on the market that use rice. Other subjects regularly covered include rice and its properties for industrial applications, innovative ways processors are using rice in their products, rice consumption, and rice promotions. For a free subscription, contact USA Rice Federation, 6699 Rookin St., Houston, TX 77074 (phone 710-270-6699; fax 713-270-9021)—or circle 356.
LATIN DESSERT MIX, Fiesta! Tres Leches, may be used to create soaked cake desserts, Mexican flan dishes, and other desserts with an ethnic appeal. To use, simply poke holes in a sponge cake, pour the liquid dessert mix over cake, and then decorate. The mix is said to consist of milk, cream, and sweetened condensed milk. For more information, contact Elgin Dairy Foods, Inc., 3707 W. Harrison St., Chicago, IL 60624 (phone 800-786-9900)—or circle 357.
POWDERED HYDROLYZED PROTEINS have application in nutritional beverages, diet and health foods, processed meats and fish, and fermented applications. These ingredients provide functional benefits such as binding, emulsification, film forming, and water absorption. They have adhesive and hydroscopic properties, in addition to being pre-digested. For more information, contact American Casein Co., 109 Elbow Lane, Burlington, NJ 08016-4123 (phone 609-387-3130; fax 609-387-7204)—or circle 358.
ROTISSERIE ROAST BEEF was flavored with custom seasoning blends created by Heller Seasonings & Ingredients in cooperation with the National Cattlemen's Beef Association (NCBA). The preseasoned roast beef product—called Rotiss-A-Roast™ Beef was developed by NCBA and is prepared in-store as a fresh rotisserie product, providing convenience for in-home dining. Other similar concepts may be formulated with Heller's seasonings, including Fiesta Pepper, Savory, Spicy Cajun, Garlic Herb Italian, and Mediterranean. For more information, contact Heller Seasonings & Ingredients, Inc., 6363 W. 73rd St., Bedford Park, IL 60638 (phone 800-323-2726; fax 708-594-2342)—or circle 359.
VANILLA EXTRACT, Madagascar Bourbon, may be used in jams, jellies, and orange marmalade to heighten the depth and richness of fruit flavors. A vanilla blend, such as Madagascar Bourbon and Tahitian, is also suitable for enhancing flavor, and works particularly well with cherry applications. The seeds of vanilla beans, often referred to as "specks," can give preserves a rich home-made appearance. For more information, contact Nielsen-Massey Vanillas, 1550 Shields Dr., Waukegan, IL 60085-8307 (phone 847-578-1550; fax 847-578-1570)—or circle 360.
PROCESS CHEESE PRODUCT providing an aged sharp Cheddar flavor is suitable for use in prepared foods, soups, sauces, appetizers, and baked or microwaved entrees. Called Super Sharp Process Cheddar Cheese, the product can be diced or shredded. A super sharp American Cheese variety is also available. For more information, contact Land O'Lakes Food Ingredients Div., P.O. Box 64101, St. Paul, MN 55164-0101 (phone 651-481-2061; fax 651-481-2525)—or circle 361.
by DONALD E. PSZCZOLA
Associate Editor