Like a fine soufflé, the role of the industrial chef is rising. No longer locked in the stereotypical roles of high-strung, pot-stirring pariahs, chefs are finding their numbers increasing and roles expanding as food companies face mounting competitive pressure to accelerate and improve new product offerings.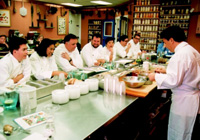 Manufacturers and ingredient companies such as L.J. Minor, Griffith Laboratories, FIS, McCormick & Co., and Kraft Food Ingredients have either built new or expanded existing culinary centers over the past few years to provide greater culinary horsepower. The phenomenon is mirrored on the retail side of the business, too, where supermarkets are beefing up culinary activities to compete better against foodservice. Even in restaurants, the traditional bastion of chef-centered culinary activity, the role of the chef is expanding to embrace new tools and technologies to improve consistency, product quality, and speed to market.
Much of the activity in the manufacturing segment is concentrated on improving ingredient taste profiles and performance characteristics for use in retail products. The motivation comes from a marketplace in which consumers eat more than half their meals away from home. Americans purchase an average of 135 restaurant meals annually, according to the Food Marketing Institute. This translates into more than $336 billion in foodservice sales, according to the National Restaurant Association. A brisk economy, strong consumer confidence, and an unprecedented spectrum of culinary choices have raised the bar for food processors.
New Role Is Market Driven
An increasingly mobile lifestyle and a growing appetite for new food experiences and taste sensations fuel this trend. Chefs, because of their foodservice roots and close relationship to the consuming public, represent a necessary and critical part of the product development process.
Chef Lucien Vendôme (shown at right in photo above), Kraft Food Ingredients' Executive Chef, traces the trend back to the early 1990s, when consumers were bombarded by cable-TV cooking programs, celebrity chefs on talk shows, an explosion of innovative new ethnic restaurants, and a rash of new magazines relating to cooking and eating.
"When the consumer would go to the store to find these flavors, many of the ingredients they were looking for simply were not available," he said. "That reflected poorly on the industry. The big food industry players realized they couldn't go out and hire hundreds of chefs to cook the specialized foods consumers were demanding, but they could make their technologists think more like chefs."
FIS, a major flavor supplier, sponsors sessions in which food scientists and research personnel from major companies learn culinary skills. The culinary training sessions address recipe research and development, flavor development, food preparation, and ways to refine basic ingredients for more product differentiation, and are led by FIS Corporate Chef David Jennings. The firm publishes a quarterly publication called Techno-Culinary News, and has a Web site (www.fisflavors.com) which includes information about ethnic flavor trends, applications, and recipes.
--- PAGE BREAK ---
McCormick & Co. has maintained a large culinary center for a few years, and its chefs specialize in ethnic flavors and their uses, and the adaptation of these special flavors and ingredients into food products.
Thus, for many companies, an expanded culinary role has emerged, plugging chefs into the entire product development process from beginning through full-scale manufacturing as a means to ensure that concepts are executed as designed. The trend also is reflected by new culinary organizations such as the Research Chefs Association, which offers a full certification program leading to designation as a Certified Research Chef (CRC).
A Balance of Art and Science
The key to success in the new alignment is close synergy between the art of the chef and the science of the food technologist, with both sides working closely together without losing their respective identities.
"We bring in chefs not to start doing product development, but to train the product development scientists to start thinking more like chefs," Vendôme explained. "In the old way of doing it, the chef would create a product and present it to marketing. Then it would pass to product development, and then they would pass it to manufacturing. Every time you pass the concept along, you lose about 25% of what you started with." Each group would adapt the concept to its own criteria, making what it considered to be acceptable modifications to textures and ingredient specifications to meet cost or production requirements. In the end, many of these products bore little resemblance to the original chef creation that excited the marketers.
At Kraft Food Ingredients, Vendóme and his team are involved in every phase of development up to and including manufacturing, in a synergistic relationship that includes clients. The goal is to develop solutions to the challenge of scaling a kitchen concept up to a packaged food, cost effectively.
Generally, these challenges fall into two categories: cooking flavors and cuisines, according to Vendóme. Cooking flavors include grilling, roasting, and sautéing. Cuisines include Asian, Latin, Caribbean, and the new fusion concepts.
"The big trend emerging in America is Asian—just look inside a Williams-Sonoma store," he said. "Most Americans, including people in science and food product development, don't have a clear idea of what Asian is. If we as chefs can define Asian clearly, then we can help them develop a complete flavor, packaged and balanced."
Creating the Flavor of Cooking
Among cooking flavors, sautéing is one of the most difficult to replicate. "Typically in professional cooking, you might sauté the shallots, let them get a little dehydrated, then add a little white wine and recover them, then add a bit of veal stock and reduce it again, and then add butter and reduce it again. That's what makes it unique," Vendôme said.
The challenge in an industrial setting is replicating the end flavor in an ingredient that can be added to 500 gallons of water for the same effect. "When you're tasting great food, your brain asks your mouth a lot of questions," he said. "I'm tasting a little shallots, a little smoke, lemon juice on the side, salt, pepper. That's what makes good food great, because it's complex. Our job is to help the food scientist convert the cooking technique of sautéing into an ingredient that you just add to water or a marinade so the resulting food tastes like it was sautéed. That's an example of what the chef has brought to the industry."
Most companies find that these kinds of results demand a closer working relationship among culinary, marketing, science, and manufacturing.
--- PAGE BREAK ---
Tim Straus of the consulting firm Turover-Straus Group, based in Northbrook, Ill., is a strong proponent of the total integration of culinary and food product development. His firm has numerous chefs on staff with extensive fine-dining experience.
"When we talk about the role of chefs," he said, "you're talking religion in our case, because we firmly believe that's the best way to develop a successful product. Success comes from food that tastes good, looks good, and performs well within the consumer's home. The best way to guarantee that is to always have the oversight of someone who is the champion of those attributes. That's the chef."
Novel just a few years ago, this approach is gaining wider acceptance as a necessary means to achieve greater success, particularly in higher-value-added food products.
"The chef creates the product gold standard, which we refer back to throughout the entire formulation and commercialization process," Straus explained. Chefs maintain a single focus on overall product integrity and work closely with food scientists to find appropriate ingredients and processing techniques during the scaling-up process.
"In the mid-1980s, when the frozen entrée section was growing by leaps and bounds, those products were seen as convenience foods, not really a replacement for a restaurant meal. The standard we had to hit was not as high. Today the head-to-head competition is significant, and the role of a chef is essential to assure that the product performs well in terms of taste, texture, and eye appeal."
A Shot in the Arm for Food Companies
With most major food companies stuck in the financial doldrums, culinary's new role plays a critical part in revitalizing sluggish brands and improving sagging stock prices. A case in point is Campbell Soup Co. Its stock was flirting with $50 per share at the end of last year and has lost about 40% of its value since then. In March 2000, the company raided its retirement bench by bringing back David Johnson to succeed Dale Morrison as CEO. In May, Edward Walsh also was brought out of retirement to preside over cost-cutting efforts.
Among the key priorities for these Campbell veterans is a turnaround for core brands. Morrison outlined a measured growth plan that calls for raising marketing budgets, increasing sales staff, and introducing several products, including ready-to-serve soups packaged with flip-top lids.
Behind this product development effort is David MacNair, Campbell's Vice President and CTO. "There isn't any magic solution, and the pressures of time and ever shorter cycles sometimes mean that some of these activities get more compressed than we'd all like," he explained.
This industry-wide symptom can lead to shortcuts that ultimately hurt the overall effort; thus, the oversight role of chefs throughout the whole cycle becomes critically important. To make sure that product development velocity remains high, chefs are integrated into the process far more extensively than ever before.
--- PAGE BREAK ---
"I think there is a danger to dwell too much on technological innovation," MacNair stressed. "Technical people sometimes get drawn into the concept that innovation has to be a technological innovation rather than something perceived by the consumer as adding significant value. We're refocusing our energies in new products in ways that better use consumer insights and culinary skills to refresh our core business."
Balance makes it work. Culinary becomes a true formulating partner throughout the entire process. While Campbell has employed chefs throughout its long history, MacNair said, this concept is relatively new. "We've seen significant change in how we have used chefs over the past 15 years. In the past, we had a lot of chefs doing everyday product development, the job we use food science developers to do today. We were asking these creative food preparers to be conventional product developers, and we found that they simply did not possess the food science skills in such things as emulsions and new ingredients of a functional nature that allowed easy transition from the kitchen to mass production.
"We decided that it made more sense to have these people a lot more involved, working hand in glove with the product development group, but on the creative end to stimulate the use of new flavors, taste sensations, new combinations, and textures, and to use them at the early stage of development where we can explore a variety of prototypes. Today our chefs have a high degree of competence in understanding the whole commercialization process."
At Campbell, the culinary group is organized into two functional groups, foodservice and retail. Each has its own floor in the same building at the company headquarters in Camden, N.J. However, MacNair encourages a high degree of what he terms "crosspollination." Teams often share ideas and insights in both formal and informal meetings and discussion groups.
Embracing Global Tastes
The global reach of Campbell's business also creates opportunities to invite chefs from other parts of the globe to Camden, and vice versa, depending on the nature of the project.
"What we have is a blend of U.S.-based product developers and chefs who work closely with the country developers who need new products," MacNair said. "That's also a vehicle we use to literally expose them to quite different cuisines. We also run frequent focus groups in the countries themselves. We send our culinary people there. They can spend time in the kitchen working with a chef, say, in Hong Kong. It's easier to expose them to the ingredients, the unique aspects of cuisine that are not as easily translated if you just uproot the chef and bring him here [to Camden]."
Campbell also benefits from the culinary focus of its recent acquisition Stock Pot, a Pacific Northwest specialty frozen and refrigerated soup and sauce processor whose founders came from the foodservice sector. The purchase of this boutique firm two years ago had more to do with the culinary talent it represented than its bottom-line impact. The culture of the company and its synergy with Campbell's core business provide a culinary infusion designed to help its entire global business.
"The owners were from the restaurant field and incredibly in tune," MacNair said. "We've very much retained that atmosphere there. We use them as a way of reviewing our work, and we have our chefs meet with their folks to exchange ideas. We look at Stock Pot as an internal consultant, in a sense."
--- PAGE BREAK ---
Rivaling Foodservice Alternatives
Much of this consulting is focused on developing retail products that rival their foodservice counterparts. Although Campbell has a strong presence in foodservice, its retail business has suffered from fewer consumers spending less time in the kitchen. Competitors have recently taken direct aim at Campbell's traditional condensed soups in television ads that position them as slow and unappetizing.
"We try to generate a lot of cross-fertilization from foodservice chefs to our retail," MacNair said. "It gives us some opportunities on several levels, because foodservice chefs will work directly with culinary experts from our customers. This gives us a fusion of ideas."
The trend cuts both ways, sometimes creating concepts that feed back into the foodservice sector. According to Straus, his lead chef developed a means to create cream sauces using a rice emulsion. It supports butter sauces and Alfredos that are just as smooth as cream-based sauces, with the same flavor profile. In addition, they're 25% lower in fat and won't break down during freezing and thawing.
"Our chef has taken this commercial ingredient and has become evangelistic about it with his peers in fine dining," Straus said. "What's key is that they adjust their tools and not their taste."
This phenomenon underscores the sophistication of the new industrial chef who has not lost his passion but has gained a greater variety of ingredients and processes with which to work. "Just by nature, a chef tends to be more right-brain, creative oriented," Straus observed. "The food scientist is more detached and logistically oriented."
That's why food manufacturers and ingredients companies strive to keep their culinary staff fresh by encouraging them to get back to their roots through frequent travel to visit restaurants throughout the country, and the world. Kraft's Vendôme even brings leading chefs to Memphis for brainstorming and creative cooking sessions, to share ideas and critique the work of the Kraft Food Ingredients team in developing a new line of ingredients. He calls it the Culinary Innovation Council.
Vendôme also spends considerable time on the road recruiting talent at culinary schools, which, he says, are slowly getting the message that manufacturing is a viable career path for chefs. The future will only broaden these paths, as food companies continue to improve existing brands and introduce new ones to a hungry global market. "Chefs cannot look down at technology, and technology cannot look at the chef as someone exotic," Vendôme said. "Chefs have to start thinking more like scientists, and scientists have to start thinking more like chefs."
It's About Passion
Perhaps the greatest contribution of the new industrial chef is intangible. Vendôme has a theory about this: "People should ask themselves, 'What does a chef bring to the party—what do we do that a scientist cannot do?' The answer is passion. We bring passion to food."
This passion hopefully will lead to consumer passion—which food-company CEOs hope will eventually result in a passionate rekindling of earnings and share prices.
by PIERCE HOLLINGSWORTH,
CONTRIBUTING EDITOR
The author is President, The Hollingsworth Group, P.O. Box 300, Wheaton, IL 60189.
Daily NEWS
For the latest food industry news, analysis & trends, check out . . . www.ift.org/dailynews/index.html