Americans just can't seem to get enough cheese. In fact, per person consumption has never been higher, jumping 1.5 lb last year to 30.3 lb, while commercial volume leaped 6%, according to USDA 2000 statistics.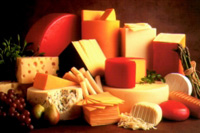 Cheese platters, samplers, and fondues are mainstreaming onto restaurant dessert and appetizer menus. Cheeseburgers—now the third-best-selling American restaurant menu item according to Restaurants & Institutions' Menu Census—outsell hamburgers (No. 4). Cheese humidors are replacing bread and meat displays at white-tablecloth restaurants. And bite-sized real cheese snacks and dipping stix—like Kraft's Snack Pack Cubes and Polly-O String Cheese—are enjoying skyrocketing sales.
Although 85% of consumers know that cheese is a good source of calcium, it is taste rather than good nutrition that is driving the market. In fact, in a recent Attitude and Usage Study conducted for Dairy Management Inc., Rosemont, Ill., 88% of the respondents said they simply like the taste of cheese, and 83% said cheese was just great by itself or on a cracker. With the dramatic increase in use of flavored cheeses as ingredients, it is not surprising that 81% believe cheese adds flavor to other foods. The proof? Cheeseburger sales were up 4%, Mexican foods 5%, and nacho sales 12% for the year ending August 1999, according to ACNeilsen's Super Scantrack. Conversely, while full-fat total retail sales (with an 81.3% share of the market) were up 8.1% during this time, the more flavorful health-driven segment, reduced-fat (16.0% share) was up only 1.5%, and non-fat sales (2.7% share) dropped 15.7%!
Eight in ten consumers also think cheese is convenient. Not surprisingly, in terms of form, the retail cheese market is dominated by slices and chunks/loafs, each accounting for roughly one-third of sales. Shredded/crumbled accounts for about 20%, spread/snack 7%, and grated 2.4%. While chunk cheese led the list in sales gains (13%), it was closely followed by shreds (7.8%), spreads (3.9%), slices (4.2%), cubes (1.1%), and grated (0.4%).
In terms of categories, the spread/snacks category posted the largest gains last year (12.5%), followed by chunk and loaf (8.6%). Slices showed a slight increase, and grated took a loss. Not surprisingly, natural cheeses enjoyed the largest gains (24.3%), although processed cheese (up 3.9%), cream cheese (up 2.6%), and imitation cheese (up 0.8%) also enjoyed smaller but positive sales for the year ending March 18, 2000, according to ACNeilsen.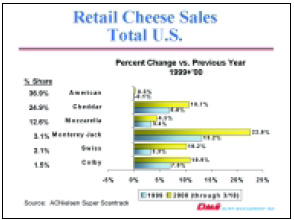 As Americans continue their quest for more fun and flavor from foods, its not surprising that cheeses reflective of today's ethnic food markets, such as Monterey Jack, are gaining in popularity (see figure). Although the specialty cheese segment is relatively small, asiago, feta, goat, blue, Muenster, Colby-Jack, and gorgonzola were among those posting the largest gains, according to ACNeilsen and the Dairy Foods Association. Watch as restaurateurs showcase a wide variety of exotic local and foreign artisan cheeses, such as Vacherin, Mount d'Or, Taleggio, Calbrales, fine Camembert, Brie, and more.
It's time to stop looking at cheese as a commodity. When will we start using different cheeses as a taste descriptor on menus or on retail products to add value and excitement? After all, we have pasta with garlic and sun-dried tomato, mayonnaise with lemon and dill. It's starting to be a differentiator for pizza, but what about cheeseburgers, Buffalo wings, fried appetizer dips, and more? And with the upcoming culinary emphasis on local and American regional foods, why not also feature unique domestic cheeses such as teleme, carmody, aged dry Jack, stravecchio Parmesan, and fromage blanc. Or regional cheese from California, now the second largest producer next to Wisconsin.
With ethnic foods—especially Mexican and Italian—showing strong and continued growth, and a new late-night snacking occasion (10:00 p.m. to midnight) and the traditional 8:00 p.m. to 10:00 p.m. segment just crying for savory (non-sweet) snacks, along with inadequate calcium intakes getting national attention, America's growing appetite for cheese will remain strong. In fact, sales are expected to jump another 5% in 2000 to bring the category to $21.7 billion and grow at a rate of 4.1% until 2008, according to the U.S. Cheese Market Report prepared by Business Trend Analysts, Commack, N.Y.)—awfully good for a traditional commodity.
Watch for new flavors and international cheese varieties to be the catalyst for a whole new generation of flavor descriptions and signature ingredients for both food product marketers and restaurateurs alike.
by A. ELIZABETH SLOAN
Contributing Editor