In a presentation delivered at the 2000 National Food Policy Conference in Washington, D.C., Secretary of Agriculture Dan Glickman noted, "One of the biggest Designing foods that don't kid kids health problems facing Americans in the twenty-first century is obesity, and it starts with our children, one in five of whom are obese . . . not just a few pounds over, but obese. It's truly epidemic."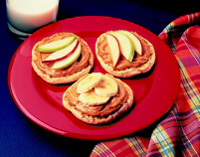 In addition to overeating, children may not always be getting sufficient levels of certain nutrients. For example, an independent, non-government panel of experts at a National Institutes of Health Conference on Osteoporosis Development, Diagnosis, and Therapy, held on March 31, 2000, found that while current government recommendations for children and teens ages 9–17 call for calcium intakes of 1,300 mg/day, only about 25% of boys and 10% of girls actually meet these recommendations. Furthermore, children are not eating enough fruits and vegetables.
Not exactly a happy way to start an Ingredients section. Fortunately, there is some good news, however. Over recent months, several things have happened which may help address these problems.
More and more, nutrition education is becoming a part of children's daily curriculum at school. USDA created a new Food Guide Pyramid for Young Children (ages 2–6) which may find publication on cereal boxes. School breakfast programs are being actively promoted. The Internet will make it increasingly possible for individuals to monitor changes in their diets over time. USDA is implementing initiatives which will bring researchers, the academic community, and the private sector together to explore food choices. And, of course, parents must continue to set the example for their children regarding how to eat healthfully. In many cases, that might mean adults have to reexamine their own eating habits.
While all this is going on, what can the food industry do to get children to eat more healthfully?
Difficult question, but I think the answer can be found in the line, "nutritious, fun food for the toughest critics around...your kids." (That line, by the way, appears on packages from Fran's Healthy Helpings, a series of healthy, frozen foods which are especially suitable for children between the ages of two and eight.) When developing foods for children, factors such as nutrition, taste, and fun should be taken into consideration. If a nutritious food doesn't taste good, children won't eat it. On the other hand, if a nutritious food tastes good and a child regards it as fun or interactive, there is a better chance that it will be eaten and consequently help the child to get valuable nutrients that he or she needs.
Designing foods with these qualities still remains a challenge, however. Children, after all, are tough critics. Unlike aging baby boomers who might try a food product with perceived health benefits, a child will probably reject such a product if it doesn't first meet their standards. And my guess is that if you try to kid a kid by giving him or her something that they don't want, no matter how nutritious it is, the product will not be successful.
A wide range of food products developed for children were highlighted at the Food Marketing Institute 2000 Supermarket Industry Convention, held May 7–9, in Chicago.
--- PAGE BREAK ---
Kraft Foods, Northfield, Ill., unveiled more than 30 new products at FMI, and not surprisingly, several of them were designed for kids. Here are some examples from the Kraft booth: (1) Blues Clues™ Macaroni & Cheese Dinner features pasta in eight different character shapes from the popular cartoon, including a fun blue-colored pawprint; (2) Oscar Mayer® Lunchables® Cinnamon Rolls, consisting of four soft cinnamon rolls with do-it-yourself icing and applesauce, creates a fun breakfast that kids can build and eat any way they want. Also, making its debut, Oscar Mayer Lunchables Mega Pack, available in such versions as deep dish pepperoni  pizza, deep dish cheese pizza, cheese and salsa nachos, and soft pizza stix, features larger varieties suitable for kids with growing appetites and active lifestyles; (3) Kool-Aid® Blast-Offs™ Soft Drink Mix is available in two new "cosmic" flavors—Solar Strawberry Starfruit™ and Blue Moon Berry; (4) Tang® ready-to-drink juice drinks, targeted for kids 9–14, is available in five new "extreme" flavors—Berry Panic®, Orange Uproar®, Fruit Frenzy, Cherry Craze, and Tropical Tremor™; and (5) Post® The Wild® Thornberrys, a sweetened, puffed-corn crunch cereal with animal-shaped marshmallow bits, is said to bring the excitement of a popular children's program to the breakfast table and the role that ingredients play in accomplishing this.
This article will provide an update on some of the more recent food products developed for children. These products include cereals, cookies, fruits, confections, peanut butter, yogurt, infant formula, pasta, frozen desserts, and beverages. Notice, in particular, the creative ways that are being used to get children to eat healthfully.
Cereals. Some people eat dry cereal straight out of the box as a snack. Kellogg Co., Battle Creek, Mich., has taken that idea, modified it somewhat, and developed a line of innovative snacks called Snack-Ums™, designed to respond to the fast-growing tween consumer segment (ages 8–12).
Product developers modified technology to create a different food type that is formed in mega bite-sized pieces, featuring a flavor-bursting taste, crunchy texture and 11 vitamins and minerals. Packaged in a convenient resealable canister, the product comes in three flavors: Big Boomin' Pops™ (super-popped corn bursts with a taste of caramel), Big Rollin' Froot Loops!™ (super-sized rings with natural fruit flavors), and Rice Krispies Treat Krunch™ (crispy rice and marshmallow bites).
The product is said to provide tweens with a snack that is low in fat, has a more nutritious profile than conventional snacks, and satisfies a craving for sweets. Available nationwide in March 2000, it comes in three sizes–4.2-oz canister, 16-oz jumbo canister, and 1-oz single-serve snack drum.
Remember Quaker Oats' Dinosaur Eggs Instant Oatmeal? (See Ingredients section of the March 1999 issue of Food Technology.) That is the product containing egg-shaped pieces which, upon the addition of hot water and stirring, hatches edible red or orange dinosaurs. Recently, the Quaker Oats Co, Chicago, Ill., added a new T-Rex shape.
--- PAGE BREAK ---
Also, following the same idea, Quaker Oats recently introduced an instant oatmeal, Sea Adventures, described as "an underwater adventure in every bowl." Upon addition of hot water, a berry blue sea appears along with fun shapes such as sharks, secret treasures, and scuba divers.
When milk is added to General Mills' Nestle' NesQuik cereal, the milk instantly becomes NesQuik chocolate milk, combining convenience, fun, and a "chocolicious" taste.
A baby cereal enriched with the essential nutrients of infant formula has been introduced by Mead Johnson Nutritionals, Evansville, Ind. Called Enfamil Enriched Cereal for Baby, the product makes it more convenient for parents who mix their baby's cereal with infant formula. The cereal is available in four varieties—Rice, Rice and Bananas, Rice with Apples, Bananas and Yogurt, and Mixed Grains.
Mead Johnson is also making available a new line of nutritional toddler foods called EnfaGrow, rich in essential nutrients such as calcium, iron, and zinc. The line includes Nutritional Oatmeal for Toddlers, available in Natural Maple Brown Sugar & Cinnamon Flavor and Strawberry Flavor. The oatmeal is microwavable and comes in single-serve packets which are sized for toddler stomachs. It is said to offer 18 vitamins and minerals, and 60% of the Daily Value of calcium when served with milk.
Recently, Kellogg Co. launched an Internet Loyalty Program which allows kids to earn points and redeem them for toys and sporting goods. To participate, consumers retrieve special 15-digit encrypted codes found inside more than 300 million Kellogg's cereal boxes and enter them into a special account. A point value is rewarded for each code entered, and prizes are later awarded for eating the cereal.
It occurred to me that such an approach raises some interesting health-promoting possibilities in that it can help keep track of what kids are eating and reward them for eating correctly. For example, if a child eats a calcium-fortified cereal, he or she can be rewarded with special prizes that underscore good health. In that way, the Internet can serve as a motivating tool for good nutrition.
Furthermore, we are seeing more and more cobranded relationships. If collaborations are formed between different sectors of the food industry—for example, cereal with fruit or confectionery—then monitoring what children eat and rewarding them can become a more widespread, cooperative activity, and not limited to a few specific products.
General Mills, Minneapolis, Minn., has developed and patented a technique that delivers cereal boxes with a visible toy in a window. Consequently, the kid can see the toy before the cereal is even purchased, eliminating getting the same toy twice. The technology will be used to showcase characters from Toy Story 2. Although this is actually a packaging technology, I am mentioning it in this article because it can help attract kids to the product, and like the use of the Internet, can possibly help get kids to eat more nutritionally.
--- PAGE BREAK ---
Cookies. An Oreo cookie which turns milk blue has been developed by Nabisco Biscuit Co., East Hanover, N.J. Called Oreo Magic Dunkers, the cookie is said to create swirls of blue milk when dunked. The more the cookie is dunked, the bluer the milk will turn. This effect does not change the flavor of the milk or the cookies, however. The blue food coloring that is used in the cookie is safe and easily washes off hands and fades from mouths. Designed especially for children, the cookie is promoted as being interactive, creating a sense of fun while eating. It is available in stores nationwide since April 24.
Keebler Foods Co., Elmhurst, Ill., reportedly the second largest cookie and cracker marketer and manufacturer in the U.S., has formed a long-term licensing agreement with the Children's Television Workshop to feature Sesame Street Muppet characters and educational games on a broad range of snack category products. The new product line, to be launched in the fall of 2000, will include Uncommonly Good Sesame Street cookies, crackers, and snacks appealing to children and their families. According to Keebler's president and CEO, "the Sesame Street characters have been an important part of families for generations. These well-recognized characters, coupled with Keebler's Elfin Magic and uncommon ability to create innovative products, will provide a strong platform to enter new snacking markets."
Also available from Keebler is Rainbow Vanilla Wafers—artificially flavored vanilla cookies that come in a variety of bright colors, including green, orange, red, and purple. These colored wafers may be used in a variety of innovative recipes for children, such as Rainbow Clown Cones (an upside down ice cream cone, where the cone is a hat, the scoop of ice cream is a face, and the cookies are buttons on a clown's outfit). Other recipes include Flying Saucers in Juice and Frozen Confetti Slices. 
A fortified bakery product, "The Nutrition Cookie," may serve as a children's nutritional supplement. The prototype, which will be highlighted by Watson Nutritional Ingredients Div., West Haven, Conn., at the 2000 IFT Food Expo, is described as a nutrient- and protein-dense cookie that supplies the nutrients critical to a child's health and development. According to the company, the cookies taste so good that children will use them as a meal supplement for breakfast on the go, as part of their lunch, or as an after-school snack. Fortified with custom nutritional premixes that have been microencapsulated, the cookie helps children get the nutrition they need by supplying it in a form they will enjoy.
At the 1999 IFT Food Expo, McCormick Flavors, Hunt Valley, Md., showcased a "Kidz Lab" where favorite flavors and taste sensations picked by children were presented. Among the items featured included "Molecule Cookies," made with ColorBits®, tiny color particles that made confetti-like cookies.
Mead Johnson Nutritionals offers Cookie Bar and Cracker Bites snacks, part of the EnfaGrow line of nutritional toddler foods. Each product contains a balance of 14 vitamins and minerals, including at least 20% of the Daily Value for calcium, iron, and zinc per serving.
--- PAGE BREAK ---
Fruits .According to a study published in the Journal of the American College of Nutrition (October 1999), children are not eating enough fruit and their fruit consumption is at its worst in winter when their bodies need it the most. To meet the USDA's minimum recommendations, children ages 4–6 need to eat 35% more fruit year round, but need 44% more in winter; and children ages 7–10 need to eat 73% more fruit year round but need 96% more in the winter.
The following are some recent products developed that may help get children more interested in eating fruit:
Bite-sized pieces of pineapple in fun, cut-out shapes have been introduced by Dole Food Co., Westlake Village, Calif. Called Fun Shapes, the product is designed to catch the eyes of children and get them to eat nutritious snacks and desserts. It is available in two varieties: Cosmic (stars, suns, and crescent moons) and Sea Creatures (fish, turtles, and shells). Both varieties are made with 100% pineapple in lightly sweetened pineapple juice and are packaged in 15.2-oz cans. The Sea Creatures variety offers an added tropical fruit flavor.
A line of blended applesauces in several flavors was launched by Mott's Inc., Stamford, Conn. Called Fruitsations, the product is promoted as a healthy snack—an alternative to yogurt and pudding. Packaged in single-serve packs, it is available in such flavors as pear, mixed berry, mango peach, strawberry, cherry, tropical blend, and strawberry and banana. Its smooth, puree formulation is designed to attract kids.
In addition, Motts has also introduced Rugrats applesauce in watermelon and fruit punch flavors, and a berry-flavored Blue's Clues applesauce.
A diced fruit snack in an easy-open 4-oz plastic cup is new from Del Monte Foods, San Francisco, Calif. Called Fruit To-Go!, it is available in the following varieties: Fruity Combo (mixed fruit in light syrup), Peachy Peaches (yellow cling diced peaches in natural peach flavored light syrup), Wild Berry Jumble (peaches and pears in natural berry flavored light syrup), and Banana Berry Peaches (yellow clink diced peaches in natural strawberry and banana flavored light syrup). The product is especially suitable for use in lunch boxes or on-the-go snacking.
The Produce for Better Health Foundation, Wilmington, Del., offers a variety of tips to encourage children to eat nutrient-dense fruits and vegetables at home, school, and play. "Try to involve your children in the planning process. Let them choose a variety of fruits and vegetables to include in lunches, snacks, and desserts. Also, encourage them to try something new," said the president of the Foundation. "Start teaching your children how to make nutritious food selections early in life, lead by example, and plan your meals around 5 A Day." The 5 A Day Program encourages people to eat 5 or more servings of fruits and vegetables daily for better health to reduce the risk of cancer, heart attack, stroke, diabetes, obesity, high blood pressure, osteoporosis, and other health risks.
Confections. Ring-shaped fruit snacks are the result of a collaboration between Brach's Confections, Inc., Chattanooga, Tenn., and the Kellogg Co., Battle Creek, Mich. The product, marketed under the name Froot Loops fruit snacks, features a mixture of individual ring shapes and Toucan Sam figures in each package. The fruit snacks, fortified with vitamins A, C, and E, are available in six flavors—strawberry, fruit punch, grape, lemon, orange, and cherry. According to a representative from Brach's, "The fruit snack shapes are very fun and actually offer play value. We saw in focus groups that kids put fruit pieces on every finger as rings." The product reached store shelves beginning April 2000.
--- PAGE BREAK ---
Fruitsations® Soft and Chewy Two-Fruit Candies have been introduced by Mott's Inc., manufacturer of Fruitsations fruit-blended apple sauce described earlier in this article. Sort of a spin-off of their fruit-flavored apple sauce, the candies are available in strawberry-banana and orange-pineapple flavors, with each piece extruded into respective combo fruit shapes. Made with Mott's Fruit Juice, they are fat-free and enriched with vitamin C.
General Mills is introducing a line of Disney-themed fruit snacks targeted for kids ages 5–12. One product, Disney Princess Rolls, is girl-targeted, celebrating popular princesses such as Cinderella, Snow White, Sleeping Beauty's Aurora, Aladdin's Jasmine, and Beauty and the Beast's Belle.
Fruit snacks containing formulas designed to support a healthy diet are available from Harmony Foods Corp., Santa Cruz, Calif. Marketed under the name Planet Harmony Plus, the pectin-based confectionery will be highlighted at the 2000 IFT Food Expo, held in Dallas. The fat-free product, in lemon, strawberry, orange, and grape flavors, includes four formulations: multivitamin, cold formula, antioxidant, and vitamin C. These fruit snacks are the newest members of the Planet Harmony family of gummy bears, gummy worms, fruit bears, and jelly beans. These confections were reformulated to include only 100% natural ingredients, including fruit juices, natural colors, organic sugars, and natural sweeteners.
Many of the confections highlighted at the Third Annual National Confectioners Association All Candy Expo, held on June 22–24, 1999, in Chicago, demonstrated intense flavors, particularly sour types. Also shown was a broad array of novelty items, such as liquid candy, interactive jawbreakers, and music-playing lollipops. This emphasis on fun and interactive relationships plays a major part in developing foods for children, and has potential value as a motivating tool for getting children to eat healthfully.
A dry color concentrate for hard panned confectionery items and jelly beans with brighter colors and reduced mottling has been developed by Colorcon, West Point, Pa. The self-opacifying nondusting dry coloring system is said to give confectioners the benefit of needing to use less color and still obtain brightly colored results. According to the manufacturer, approximately 50% less coloring product is required in the manufacture of hard panned confectionery goods using the dry color concentrate. Enhanced opacity and the evenness of coverage gives improved yield per batch of color.
Peanut butter. A visit to the store can find that there is a lot more peanut butter products today than there were 30 years ago when I was a kid. They come in different forms, flavors, textures, and even levels of convenience.
Here are just a few products:
--- PAGE BREAK ---
A squeezable peanut snack called Peanut Squeeze has been developed by Vitafort International Corp., Los Angeles, Calif. The product is said to offer lower calories and a fraction of the fat of peanut butter while being available in an innovative, convenient, and child-friendly form. Since peanut butter is a main ingredient of the product, it contains protein, potassium, magnesium, B vitamins, and vitamin E. It does not need to be refrigerated, and it comes in two flavors, Regular and Honey Nut. According to the manufacturer, the product is now available in 45 states through many leading retailers in the industry.
Another product emphasizing convenience is Smucker's Snackers Peanut Butter and Jelly, which offers peanut butter, jelly, and crackers all in one package. The product comes in two versions: one with a strawberry spread and the other with a grape spread.
Several products combining chocolate and peanut butter can be found on the store shelves. These include (1) Chocolate Silk, a peanut butter with chocolate flavored spread, that is part of the line of Jif Smooth Sensations; (2) Skippy Doubly Delicious! with Nestle' Crunch (bits of the candy bar mixed, into peanut butter); and (3) Skippy Doubly Delicious! with Nestle' Toll House Semi-Sweet Morsels (bits of the chocolate morsels mixed into peanut butter).
The Skippy Doubly Delicious! line was recently launched by Bestfoods, Englewood Cliffs, N.J., primarily as a fun snack especially aimed at teen-agers. Both spreads—peanut butter and chocolate and peanut butter and chocolate crunch—can be used on crackers, fruits, vegetables, bagels, muffins, ice cream, and a variety of other products. Furthermore, the nutritious spreads can be used to get children to eat more fruits and vegetables, and other healthy foods. A variety of innovative and healthy recipes are promoted using the peanut butter spreads. One example is Banana Rollups, where cut bananas are placed on slices of bread spread with the peanut butter and chocolate product and then rolled up.
Yogurt. A yogurt formulated especially for babies and toddlers has been developed by Stonyfield Farm, Londonderry, N.H. Called yo baby, the natural organic yogurt delivers the benefits of high amounts of calcium with six live active cultures to help enhance digestion as well as boost the immune system. One of these, Lactobacillus reuteri, inhibits the growth of harmful bacteria such as E. coli and Staphylococcus, and has a therapeutic and prophylactic effect on both viral and bacterial diarrhea, the leading cause of infant hospitalization. The yogurt product, made with whole milk, was introduced in response to the nutritional need that children under two have for whole milk, which plays an important role in child development by supplying essential calcium and fat.
Several yogurts for kids are available from General Mills, Golden Valley, Calif. These include the following:
Yoplait Go-Gurt, comes in a squeezable tube which allows children on-the-go to enjoy yogurt without a spoon. The product, which is said to have a smooth, creamy texture without fruit pieces, can be frozen and then put in lunchboxes to keep other foods cool until lunchtime. A good source of calcium and live, active cultures, it is available in a variety of flavors, including Red Raspberry, Paradise Punch, Strawberry Banana Burst, Watermelon Breakdown, Strawberry Kiwi Kick, Chill Out Cherry, Strawberry Splash, and Berry Blue Blast.
--- PAGE BREAK ---
Yoplait Yumsters is said to be a smooth, custard-style low-fat yogurt which comes in a variety of flavors including Strawberry, Strawberry Vanilla, Strawberry and Banana, Strawberry Banana, and Peaches and Cream. Each package has six 4-oz. serving cups.
Yopait Trix Yogurt is a fruity-flavored low-fat yogurt with two colors in every cup. Flavors include Cotton Candy/Strawberry Kiwi, Raspberry Rainbow/Strawberry Banana Bash, Triple Cherry/Wildberry Blue, and Watermelon Burst/Strawberry Punch.
Infant formula/baby food. Fractionated whey protein may be used to enhance the nutritional value of infant formula, making it more like human breast milk, according to researchers at the Wisconsin Center for Dairy Research, Madison, Wis.
Certain proteins in cow's milk are similar to those in mother's milk, only in different concentrations. By using a process called fractionation, these proteins can be separated from each other, and then blended to form more healthy compositions. Alpha-lactalbumin, a naturally derived whey protein, is very similar to human lactalbumin in its structure and its amino acid chain. By eliminating beta-lactoglobulin and retaining or adding alphalactalbumin, infant formula is made nutritionally closer to human milk.
A variety of Enfamil® formulas are available from Mead Johnson Nutritionals. These products are said to be similar to breast milk in three ways. They have (1) easily digestible types of protein, (2) a very similar fatty acid profile, and (3) added free nucleotides at the level found in breast milk. As discussed earlier, the company recently launched cereals and other products with the essential nutrients of these infant formulations.
U.S patent 6,051,235, assigned to the Beech-Nut Nutrition Corp., St. Louis, Mo., discloses a ginger-containing baby food preparation which can be used in reducing gastroesophageal reflux in infants. The majority of infants have minor degrees of reflux, and this is accepted by most caregivers as being a normal, although sometimes inconvenient feature of infancy. However, inexperienced or stressed caregivers may have difficulty coping with the problem (often referred to as "spitting up.") Furthermore, in some infants, significant reflux occurrences may be associated with complications such as esophagitis, aspiration, or failure to thrive. Ginger can be incorporated into an acceptable baby-food composition which can be used to improve the health of the infant or toddler, and, in particular, to diminish gastroesophageal reflux.
Pasta. When one thinks of pasta, images of a romantic, candlelit dinner probably come to mind. However, statistics indicate that children eat more pasta than any other age group. How then do you sell a pasta product designed with children in mind? Well, for starters, I don't think adults would be collecting Pokemon coins in the middle of dinner. Or eating pasta in the shape of whales or soccer balls. Furthermore, the smaller portion sizes might not be satisfying. And finally, unlike children, some adults might not understand how to use the Internet to find the links to fun cartoon sites promoted on the pasta package.
Keeping all that in mind, the following are some of the pasta products that I think are designed for children:
Pokemon Macaroni & Cheese, introduced by Kraft Foods, Glenview, Ill., features six popular characters in pasta shapes—Pikachu, Squirtle, Charmander, Polwhirl, Meowth, and Jigglypuff. The product comes in six different boxes, each featuring its own character on the front, as well as eight Pokemon collector coins on the back.
--- PAGE BREAK ---
Fran's Healthy Helpings, Burlingame, Calif., features Soccer-oni & Cheese—soccer ball- and shoe-shaped pasta with cheese sauce, served with mixed fruits and broccoli florets. Also, from the same line is Wacky Whales Pizza, consisting of a reduced-fat mozzarella cheese product in the shape of a whale; pasta shaped as boats, palm trees, and birds with seasoned butter sauce; petite tip carrots; and a packet of fun stickers (not to be eaten). At the FMI show, the company also highlighted its Lucky Ducky Chicken, a baked product consisting of duckling-shaped breaded chicken breast patties, with chicken-shaped pasta and broccoli florets.
Cheeseburger Macaroni Dinner and canned pasta are some of the organic products recently launched for children by the New Organics Co. at the worldwide Natural Products Expo, Braintree, Mass., in Anaheim, Calif., March 24–26, 2000. The line of certified organic foods for children is marketed under the brand name Richard Scarry, author of more than 300 children's books and whose characters can be found on the Nickelodeon cable network.
Other pasta meals for kids include ConAgra's Kid Cuisine (macaroni & cheese, corn, chocolate chip cookies, and applesauce); Hormel Kid Kitchens (Spaghetti Rings and Franks or Cheesy Mac 'n Franks); and a line of Chef Jr. Boyardee products.
Frozen desserts. A variety of innovative new water ice products marketed under the Popsicle® tradename were highlighted by Good Humor-Breyers Ice Cream, Green Bay, Wis., at the FMI show.
Here are just a few:
Scribblers® are crayon-shaped juice pops in different flavors and colors. According to statistics, 21% of ice pops are consumed by children under five years of age. The product's fun shape and size may help broaden the appeal to this younger age group. Also, the product is made with real juice for a healthier snack alternative.
Great White™ is a white pop that is available in orange and cherry flavors, as well as a mystery flavor (grape, watermelon, strawberry, or raspberry) which kids may find appealing. Because of the product's no-color feature, it will not stain—a novelty that mothers will appreciate.
La Fruta Loca Tropicals are ice pops that have a slushy fruit center. The 3.5 fl. oz. pops (larger than conventional water ice products) are available in Tropical Orange, Caribbean Blue, and Strawberry Kiwi flavors.
Nickelodeon™ Green Slime have sour lemon-lime flavored centers in blue raspberry, watermelon, and strawberry water ice shells.
Also introduced by the manufacturer were new ice cream products developed to expand ice cream consumption by kids. These include: Popsicle Sprinklers, which are chocolate-covered vanilla ice cream bars dipped in colored sprinkles, and Rainbow ChocPops, which are vanilla ice cream covered in rainbow-colored chocolate.
--- PAGE BREAK ---
Beverages. Several beverages today are finding novel ways to attract the attention of children. A new line of children's drinks were highlighted by In Zone Brands, Atlanta, Ga., at the FMI show. Called Belly Washers™, the flavored drinks contain 100% vitamin C packaged in interactive, refillable, collectable bottles. The bottles utilize such characters as Scooby-Doo and Power Rangers. According to the manufacturer, "the play value of the bottle does not diminish once the kids finish the drink. It is almost like a liquid Pez experience."
Since 1995, a beverage company, The Children's Beverage Group, Northbrook, Ill., has directed itself at the children's beverage market and is now focusing on children's snacks as well.
As discussed earlier in this article, traditional drinks such as Tang and Kool-Aid are being made with a wider range of flavors (and colors) that are more intense to attract the tastes of kids.
Mead Johnson Nutritionals introduces EnfaGrow Milk Flavorings—a fortified flavored mix designed to encourage young kids to drink their milk. All are enriched with key vitamins and minerals for growing bodies. Ross Products Div., of Abbott Laboratories launched Pediasure™, complete balanced liquid nutrition for children ages 1–10. P&G recently debuted NutriDelight™, a fortified orange powder drink for children that contains iron, vitamin A, and iodine for better growth and to boost mental alertness and performance.
PATENTS
Patents this month describe the use of a cereal by-product to strengthen flour and dough, and encapsulated additives for use in soup. The complete patents are available via the Internet at www.uspto.gov.
Milled cereal by-product which is an additive for flour and dough. U.S. patent 6,056,990, filed 5/15/1997, issued 5/2/2000 to R. Delrue et al., assigned to Cargill, Inc. Describes an additive composition made from cereal by-products which enhances the strength and stability of tortillas and related products. The additive composition consists of a cooked cereal by-product which includes gelatinized edible starch. When added to masa or other cereal grain flour or dough at a level of at least about 0.5%, the additive is effective for increasing the strength or the shelf life of tortillas made from the additive and flour.
Encapsulated additives. U.S. patent 6,056,992, filed 6/15/1993, issued 5/2/2000 to C. Lew, assigned to The Campbell Soup Co. Describes edible microcapsules and a process for recovering them. The microencapsules include a shell material that has a thermal gelation temperature with a range from about 90°F to about 160°F. The encapsulated material is a food additive which is protected from degradation and loss during the processing of food products at relatively high temperatures. The process is particularly useful for additives to liquid-based foods such as soups, stews, and sauces.
---
Products & Literature

HIGH-CALCIUM SWEETENER,
which is said to be identical in taste to a regular low-calorie sweetener, provides a sweetening effect with the added value of calcium. Consequently, the consumer obtains the added value of fortification with a bioavailable and healthy calcium source. The ingredient is available in bulk or in other packages such as sachets. The manufacturer, founded in 1998, focuses on providing innovative nutraceutical solutions to health problems resulting from mineral deficiencies, especially calcium. It successfully developed an instant soluble calcium product line, suitable for mineral fortification in a wide range of food and health food products. Developed using a patented instantization technology, the products are said to be highly bioavailable; instantly soluble in cold and hot water; tasteless, odorless, and colorless when dissolved; and granular and free-flowing, compared to other calcium salts that are very dusty and cause manufacturing problems. For more information, write to Nutragal, Kibbuts Maanit, MP Menasch, Israel (phone +972-6-637-5060; fax +972-6-637-6367)
—or circle 305.
--- PAGE BREAK ---
POTATO FLAVORS can add subtle but distinctive flavor character to a variety of products, such as soups, mashed potatoes, stews, and casseroles. The line of flavors include Baked Potato, Fresh-From-the-Oven-Baked Potato, Grill Baked Potato, Country Style (skin-on) Baked Potato; and Buttered Potato. For more information, write to Innova, a Griffith Laboratories Co., 2021 Swift Dr., Oak Brook, IL 60523 (phone 630-928-4800)—or circle 306.
PURE VANILLAS in protein drink formulations may be used to mask off-flavors caused by vitamins, soy proteins, and other such ingredients, as well as improve the overall taste profile of the beverage. According to the manufacturer, Madagascar Bourbon Pure Vanilla delivers a creamy, sweet, full flavor with velvet overtones; Indonesian Pure Vanilla has a less creamy, wood character and is somewhat harsher; and Mexican Pure Vanilla is creamy and spicy. Custom vanilla blends can be developed to compliment specific protein drink formulas. For more information, write to Nielsen-Massey Vanillas, 1550 Shields Dr., Waukegan, IL 60085 (phone 847-525-7873; fax 847-578-1570)—or circle 307.
BOTANICAL, Rhodiola rosea, is said to be a known adaptogen that increases the body's resistance to infection and promotes healing. Containing a broad range of the plant's active constituents, the standardized extract is available in liquid and powdered forms. Rhodiola rosea, found naturally in Siberia, has long been believed to provide strength and stamina, help the body adapt to stress, and shorten recovery time after prolonged workouts. It has been said to increase the level of enzymes, RNA, and proteins important to muscle recovery after exhaustive exercise, and is also believed to help increase the levels of beta-endorphin in blood plasma, which assists in preventing the hormonal changes associated with stress. In addition to being a single-herb preparation, the nutraceutical may be used in energy formulas found in sports bars and beverages. For more information, write to A.M. Todd Botanicals, 150 Domorah Dr., Montgomeryville, PA 18936 (phone 800-634-4418; fax 215-628-8651)—or circle 308.
MUSTARD FLAVOR is said to have a strong, spicy-sweet Dijon profile with some horseradish notes. Natural & Artificial Sweet Mustard Flavor #4533, available as a spray-dried powder, may be used in sauces (stove top or microwave), popcorn, crackers and biscuits, salad dressings, and analogs. Suggested usage levels range from 0.10 to 0.50%. For more information, write to The Edlong Corp., 225 Scott St., Elk Grove Village, IL 60007 (phone 847-439-9230; fax 847-439-0053)—or circle 309.
HEAT-STABLE NATURAL TOMATO FLAVOR may be used in crackers, baked goods, pizza and spaghetti sauces, canned tomato and vegetable juices, and bakable frozen entrees. The manufacturer developed a fermentation technology to deliver a Totally Derived from the Named Source tomato flavor that is bake and heat stable. The technology has augmented the flavor strength of tomato in-situ to produce a natural ingredient with improved flavor strength tailored for a variety of applications. The natural tomato flavor, available in both paste and powdered forms, is said to be more cost effective than commodity products. For more information, write to International Bioflavors, Inc., 1730 Executive Dr., Oconomowoc, WI 53055 (phone 414-569-6200; fax 414-569-6202)—or circle 310.
CUSTOM STRUCTURED LIPIDS offer the means to include virtually any fatty acid profile in formulations. Products such as nutritional supplements, ready-to-drink beverages, and beverage dry mixes can offer added health benefits with the inclusion of structured lipids containing specific fatty acid profiles. The manufacturer uses lipid technology to create and mass-produce customized molecules to provide the precise fatty acid distribution required. For more information, write to Stepan Co., Food Ingredients Div., 100 W. Hunter Ave., Maywood, NJ 07607 (phone 201-712-7642; fax 201-712-7648)—or circle 311.
--- PAGE BREAK ---
SPIRITED SEASONING SYSTEMS may be used in sauces for meat and poultry products. Bluegrass Bourbon Grill, a savory-sweet marinade, features Kentucky bourbon complemented by topnotes of brown sugar, pecan, and grilled flavors. Margarita Madness, a marinade and rub system suitable for chicken wings, has an exotic citrus flavor of a margarita balanced with notes of garlic, onion, and a hint of smoke. For more information, write to Newly Weds Foods, Inc., 2501 N. Keeler Ave., Chicago, IL 60639 (phone 773-489-7000; fax 773-292-3809)—or circle 312.
NATURAL ITALIAN OLIVE OIL TYPE (Flavor F61x64) can enhance salad dressings, pasta sauces, and marinades. The product is said to provide fragrant, fruity top notes, and its oily character is also effective for enhancing many reduced-fat products. For more information, write to Geneva Ingredients, Inc., 413 Moravian Valley Rd., Waunakee, WI 53597 (phone 608-849-9440; fax 608-849-9441)—or circle 313.
VANILLA CHAI FLAVOR may be used in hot or cold coffee beverages. The natural and artificial flavor is described as a sweet smooth vanilla blended with a touch of exotic spice. Recommended use level is 3% on coffee (whole bean or ground) or 0.1% in finished beverages. For more information, write to Flavor & Fragrance Specialties, 300 Corporate Dr., Mahwah, NJ 07430 (phone 201-828-9400; fax 201-828-9449)—or circle 314.
PISTACHIO SLIVERS can make ice cream bars and other dairy products even more indulgent. Rolling a chocolate product in the slivered pistachios can give an upscale appearance and a crunchy flavorful texture. A broad range of pistachio types, forms, and grades are available. For more information, write to Paramount Farms, 13646 Hwy. 33, Lost Hills, CA 93249 (phone 800-246-6887; fax 805-797-6542)—or circle 315.
by DONALD E. PSZCZOLA
Associate Editor
Associate Editor
What's New on IFT's Web site? Take a look . . . www.ift.org