Beef? You bet "It's what's for dinner!"—and breakfast, lunch, and snacks too! Today, there is more interest in meat—beef, pork, lamb, veal, and exotic varieties—than you can shake a skewer at.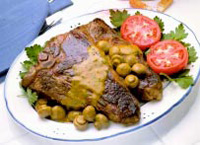 In fact, for the first time in 20 years, beef demand is on the upswing, up 3.5% last year over 1998. Traffic in casual steak houses has soared 73% since 1993, according to a 1999 report by NPD/Crest. The Restaurants & Institutions 1999 Menu Census confirms that cheeseburgers and hamburgers remain America's third and fourth best-selling restaurant items overall, right behind French fries and ranch dressing. Savory meat snacks passed $1 billion in sales last year, jumping 15% in supermarkets, reports IRI, while one-pound hamburgers, meat fondues and bacon—everywhere—enjoy unprecedented popularity.
Steak, hamburgers, and ham sandwiches remained on the NPD Group's "Top Ten List" of the most popular "at-home" lunch/dinner entrees in 1999. Filet mignon/tenderloin continues to top the list of leading restaurant sellers, with roast beef appearing most often on menus. R&I's Menu Census designated prime rib, T-bone/porterhouse, and lamb as "Rising Stars." Pork tenderloin, one of the most-likely-to-be-added menu items, and barbecued pork spareribs also received strong "good seller" ratings. Bacon remained the second best-selling breakfast restaurant item, but breakfast steaks (and scones) were the most likely breakfast items to be added.
Today, a little meat also goes a long way, and creative chefs are looking for ways to capitalize on red meat's intense flavors and widespread appeal while cushioning the cost of menus. Appetizers will be an explosive category for meat. Meatballs—now the only meat item in the "Top Ten Restaurant Appetizer List"—will be joined by riblets, marinated chunks, skewered anything, and rolled/stuffed meat concoctions. With ravioli (now the No. 4 appetizer), and dim sum, pot stickers, pyrosky, papusas, and stuffed breads/calzones moving center stage, what's inside will clearly be most important!
Watch for lamb and other cuts to gain in prominence as gyro sandwiches poise to compete with wraps—both most likely to be added to menus in the sandwich category. Chili—the third best-selling restaurant soup—and "Big Bowl" meals are fertile ground for experimentation. And shouldn't red meat give chicken Caesar a run for its No. 1 restaurant salad position?
With the fast-growing influence of Latin, Cuban, Caribbean, South American, and Middle Eastern cooking, look for less common cuts of pork and lamb to find their long-awaited place on American tables. For diversity, creative cooks are already substituting pork, lamb, or veal in popular Mexican, Italian, and American comfort food favorites. Smoked prime rib quesadillas/chili, rice noodles with marinated veal chunks, pork saltimbocca, or even lamb shank osso buco are already innovative restaurant options. Although stir-fry pork and beef teriyaki are among the "Top Ten Asian Restaurant Best Sellers"—with Asian noodles and noodle bowls exploding—flavor-intensive meat-based combinations will quickly get national attention. And with "Food as Theater" coming back big, few items offer the excitement of flaming shishkabobs, a personable tepanyaki chef sizzling beef, or a spit-roasted whole pig.
While restaurants served steak 364 million times last year, improved braising, poaching, and low-temperature roasting techniques are giving endearing flavor characteristics and mainstream attention back to less-expensive cuts. After years of trendy searing, grilling over intense flames, or roasting at high temperature, chefs have come full circle to offer a new generation of traditional favorites. Rack of pork, spiced veal roasts stuffed with mushrooms and grains, and slow-roasted shoulder shredded and served atop a potato-and vegetable-base are only some creative options. How will we translate the popularity of slow-roasted Cuban pork? Super-seasoned sausages? And where can I get those tasty, slow-baked Northern European meat and potato pies? After all, the Slow Food Movement, headquartered in Turin, Italy, is now active in 35 countries and boasts 60,000 members.
Despite concerns about health, some things never change. Meat seems to be an American right. I can remember my 15 years at Good Housekeeping and McCall's. What was the best-read food feature after Christmas and Thanksgiving? "The Beef Cookbook." What were readers most likely to make for an anniversary/birthday? Steak. For company? Roast/steak. What were they most likely to order when eating out? Steak.
We've come a long way, but whether slow-roasted, wok-seared, or wood fire–seasoned, meat will remain a strong, stable, and sensational staple for millennia to come. With dramatic improvements in the nutritional profile, more consumer-friendly in-store descriptive signage and labeling, pre-prepared fresh and value-added meats, and irradiation support now squarely in place, red meat will remain more popular than ever.
---
Top-selling meats in restaurants

1. Filet mignon/tenderloin
2. Prime rib
3. Roast beef
4. Strip steak
5. Chili
6. Ribeye steak
7. Meatloaf
8. Pork chops
9. Chicken fried steak
10. Meatballs
11. BBQ pork spareribs
12. Pork tenderloin
13. BBQ beef/ribs
14. Sirloin/top butt steak
15. Baked ham
From
Restaurant & Institutions
1999 Menu Census
by A. ELIZABETH SLOAN
Contributing Editor