Extruders are very versatile machines. They can be used to produce finished products, such as breakfast cereals and snacks, as well as intermediate products that can be used as ingredients in other finished products, such as pizza toppings. This month's Processing column will briefly describe some developments in the area of extrusion of ingredients.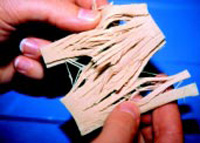 Triple F, Inc., Des Moines, Iowa, which manufactures extruders, has entered into a joint venture with Iowa Soy Specialties, Vinton, Iowa. The new company, Specialty Proteins, L.L.C., headquartered in Vinton, Iowa, uses the Triple F technology and equipment to manufacture textured soy protein ingredients that are non-GMO and organic. The company began operation in November 1999.
According to Triple F president Leroy Hanson (phone 515-254-1200), his company developed a dry extrusion process to produce textured soy protein from naturally expelled soy flour without the use of solvents. The new company is intended to reach a niche market of customers who want natural, organic, and non-GMO products. The process uses identity-preserved seeds, and the products are said to have a flavor profile superior to other TSP products. The products, available in different shapes, sizes, and flavors, including ham, bacon, and almond, are being marketed under the trade name Iowa Soy Products™.
Hanson said that Triple F has been using its technology, called the Express™ process, for about ten years for producing animal feed. About five years ago, the company adapted its technology to produce human food. Late last year, it entered into the joint venture with Iowa Soy Specialties to address the specialty market.
Homer Showman Jr. (319-472-4555), vice president of Specialty Proteins, said that the company specializes in soy products, using as the main ingredient lowfat extruded/expelled soy flours of different Protein Dispersibility Indexes. They are made from soybean varieties that have not been genetically modified, and the products are identity preserved from the field all the way through final product manufacture. The products include a whole series of textured products, colors, and flavors. An example is soy-and-rice nuggets for use in breakfast cereals, providing enough soy per serving to meet the requirements for making a health claim.
The biggest benefit in the market is the product's flavor profile, he said. The process eliminates the beany flavor caused by lipoxygenase and other enzymes and gives a sweet nutty flavor. The process puts the soy meal under high pressure and temperature, which destroys the enzymes, but the residence time in the extruder is so short that the protein is not denatured. The process also knocks out trypsin inhibitors (which prevent digestion) and antinutritional factors. The flour can be used in such products as pancakes, muffins, cookies, breads, bagels, noodles, pasta, soy milk products, cheeses, and snack foods.
Wilmot Wijeratne (515-254-1260), Triple F's Director of Research & Food Technology, described the process as follows: Clean food-grade soybeans are dehulled, then dry extruded in a relatively low-cost, single-screw (autogenous) system. All the heat for cooking is generated by internal friction, with no external heating such as by steam. It is faster than a standard single-screw extruder—within 30 sec, the soybeans, with normal 10–12% moisture content, are cooked to 150ºC, disrupting the soybean tissue and liberating the oil from the spherosomes. The soy meal resulting from this high-temperature/short-time process exits the extruder and is immediately passed through a continuous horizontal expeller press, which presses out, in a single pass, about 75% of the oil. The result is a lowfat soy flour containing 6% oil and 50% protein. The time–temperature relationship can be adjusted to obtain the desired functionality. The soy flour then undergoes a second process to transform it into textured soy protein as a meat alternative.
The textured product can be made in various particle sizes, flavors, and colors and used as a meat substitute to extend available meat supplies or as meat alternatives for those who don't want to eat meat.
The natural or naturally processed (virgin) oil contains only 0.2% phosphatide, compared to 1.5–1.8% in solvent-extracted oil, and 1,750 ppm of tocopherols. The oil is filtered and taken through a physical refining process that involves degumming with water, bleaching with activated silica, and deodorizing (removal of free fatty acids by steam stripping).
Both the textured products and the oil are being marketed as natural or naturally produced, non-GMO, organic, and kosher.
Clextral, Inc., Tampa, Fla., manufactures twin-screw extruders and has two relatively new applications: production of high-moisture textured protein products by extrusion cooking, and oil extraction. The company also recently introduced a new generation of machines called Evolum that feature high torque, high power, and high screw speeds.
According to Cyrille Guillot (813-854-4434), Food Scientist at Clextral, high-moisture extrusion cooking can produce meat and fish analogs with 70–80% moisture content, whereas most traditional extruded products (expanded products) contain 15–25% moisture. The high-moisture product, made from animal or vegetable protein, can be made in a variety of shapes, including fibers, and can be packaged as is for ready-to-eat meals or used as an ingredient in other food products.
Clextral worked with Protial, Angers, France, to develop the high-moisture fibration process for making textured protein fibers with real meat texture, taste, and mouthfeel. The products can be used as ready-to-eat entrees, sandwich fillings, and pizza and salad toppings. They are available in a wide range of forms, including sheets that are smooth, rough, shiny, matte, even, or marbled, ropes, cubes, flakes, or patties; colors, including light, like chicken, pork or tuna, or dark, like beef; textures, including consistent, firm, soft, or elastic; and flavors. The products contain 50–90% protein and can be made from vegetable protein from soy or wheat or animal protein such as chicken, rabbit, beef, pork, or fish.
The process, Guillot said, requires optimization of heat transfer between the product and the extruder or the die, as well as of the shearing level in the extruder. In the process, the raw materials are mixed and fed to a twin-screw extruder, where the ingredients are blended and melted by the thermomechanical action of the screws. The low velocity of the product through the die and the cooling of the product help create long strands of textured protein. The extruder performs three tasks: feeding and compression of the ingredient mass, plasticizing of the product, and feeding of the die, where the texturization, or fibration, occurs. Accurate control of the cooling within the die is essential, since the fiber texture is formed by the change in temperature between the product and the die. After exiting from the extruder, the product is cut and vacuum packaged, or cooled in a brine solution containing salt, coloring, flavoring, vitamins, and minerals, before packaging.
In Clextral's other application, twin-screw extruders are used to extract oil from a variety of grains, including rapeseed (canola), sunflower seeds, castor beans, and flaxseeds. The traditional extraction process involves transferring product batches from cooking to processing to pressing. Oil extraction by extrusion combines the separate steps of grinding, heating, and pressing into one continuous process within the extruder to produce a virgin oil. After chaff and shells are removed by a rotary cleaner, the product is fed into the extruder, where the dual-screw action grinds the seeds to reduce the particle size. Water and other additives are introduced through ports in the barrel, and the temperature is increased, cooking the particles to enhance release of the oil. After heating, the screw profile changes to apply pressure to the product mass, extracting 80–85% of the oil.
Dan Mielcarek (phone 201-825-6446), Business Unit Manager, Chemical Technology & Food Extrusion, Krupp Werner & Pfleiderer Corp., Ramsey, N.J., said that advances in his company's extruders relate to higher productivity through reduced residence time, higher screw speeds, and increased power. The company's most recent machine, the Mega Cooker, was introduced eight years ago, but several new sizes were added two years ago: 25-, 40-, and 50-mm-diameter machines. They operate at 1,200 rpm.
Work is being done, he said, to be able to do on-line analysis of final products and even close the loop to control extruder variables automatically. This involves defining the task and the physical properties desired in the final product. Once these can be measured on-line by infrared analyzers, rheometers, etc., the information can be fed back to increase or decrease the extruder speed to obtain the desired properties.
Larger diameters generally mean higher throughput. The smaller diameters can be used for small-volume requirements, such as research and development purposes. The 25-mm-diameter extruder, for example, can produce 150–200 lb/hr. It has AC motors, allowing the speed to be changed easily. For example, it can be run at 1,200 rpm for production purposes or at 100 rpm if only a small amount of ingredients is available or small product quantities are desired.
The extruders are being used for a variety of purposes, including starch gelatinization, protein texturizing, production of pet food, candy cooking and caramelizing, production of chewing gum, and others.
PATENTS
Some recent processing patents are briefly described below. The complete patents are available via the Internet at www.uspto.gov.
Method of preparing texturized protein food product. U.S. patent 6,017,576, filed 5/9/1997, issued 1/25/2000 to G.H. Klossner et al., assigned to Old Mexico Manufacturing, Inc. Describes a method for cooking an untexturized, paste-like, moisture-carrying protein product, such as mechanically deboned, comminuted poultry, by simultaneously heating it by steam injection and mixing it until it becomes texturized with the consistency of cooked ground beef or ground pork. The apparatus consists of a jacketed vessel with a lid, with blenders and steam injectors in the tub portion, a device for generating steam, a device for energizing the blenders, and a device for drawing a vacuum in the vessel. After the cooking step, the product is simultaneously cooled while sufficient vacuum is drawn to boil off at least some of the moisture.
Method of making frozen compositions. U.S. patent 6,017,574, filed 1/14/1997, issued 1/25/2000 to J.F. Clemmings et al., assigned to the Pillsbury Co. Describes a method for minimizing ice crystal size in a frozen composition, such as ice cream, sorbets, frozen coated bars, frozen yogurt, sherbets, water ices, and milk shakes, that has not been subjected to a hardening step prior to storage. The method includes combining dessert ingredients that include water to make a mix, and adding an anti-freeze protein. The mix is then pasteurized, homogenized, and frozen at a temperature greater than –20ºF. Suitable anti-freeze proteins may be derived from blood and muscle tissue of antarctic fish, arctic fish, worms, and insects. Synthetic anti-freeze proteins may be synthesized by genes that are cloned from these sources and inserted into other more ubiquitous types of organisms such as Escherichia coli or Saccharomyces species. These organisms are then used to produce the anti-freeze proteins on a commercial scale.
---
Products & Literature
LARGE-CAPACITY OVEN, the GCO 106 Gyrocompact, can cook more than 10,000 lb/hr, significantly reducing per-pound processing costs. The oven box is 30 ft long, not counting infeed and discharge conveyors. It features a self-stacking belt design that packs 1,000 ft of 40-inwide conveyor belt in a 30-ftlong footprint. It also features reversible air flow (top down or bottom up). The conveyor is scrubbed continuously during the cooking cycle to keep the area clean, and an automated clean-in-place system sanitizes the oven, after cooking, in 4 hr. For more information, contact Stein DSI, a business unit of FMC FoodTech, 1622 1st St., Sandusky, OH 44870 (phone 419-626-0304, fax 419-626-9560)—or circle 364.
SHORT KETTLES are designed to increase worker safety. The Short Series™ line of steam-jacketed kettles reduces total kettle height while maintaining standard capacities. They allow shorter workers to cook and clean the kettles without risk of burns and other injuries caused by having to stand on crates, reach over, or lean on the kettles. The stainless-steel kettles are available in 40-, 60-, and 80-gal capacities and in electric, gas, or direct steam versions. For more information, contact Cleveland Range, Inc., 1333 E. 179th St., Cleveland, OH 44110 (phone 216-481-4900, fax 216-481-3782, www.clevelandrange.com) —or circle 365.
METAL DETECTOR SOFTWARE for use with E-Z Tec® Metal Detectors enables one or more master computers to monitor an unlimited number of E-Z Tec Microprocessor Controlled (MPC) metal detectors. The master computers work through a network of modem-connected remote slave computers, each of which may control up to 99 metal detectors. The MPCTerm software features real-time diagnostic functions that enable the user to view an oscilloscopic trace of the signal being processed by any networked detector. For more information, contact Eriez Magnetics, P.O. Box 10608, Erie, PA 16514-0608 (phone 800-345-4946 or 814-835-6000, fax 814-833-3348)—or circle 366.
TEMPERATURE INSTRUMENTS for sensing and monitoring temperatures and controlling equipment are described in a 36-p catalog. Included are hand-held thermocouple thermometers, infrared probes, smart temperature controllers, RTDs, thermistors, and a hand-held unit that measures air velocity, temperature, and humidity. For a copy of the catalog, contact Barnant Co., 28W092 Commercial Ave., Barrington, IL 60010 (phone 800-637-3739, fax 847-381-7053, www.barnant.com) —or circle 367.
FILTRATION PRODUCTS for food and beverage processing are described on the Internet at www.pall.com/foodandbev. The Web site provides information about use of filtration products for microbial stabilization, waste stream management, particulate control, solids removal or concentration, gas filtration, and laboratory analysis. For more information, contact Pall Corp., 2200 Northern Blvd., East Hills, NY 11548 (phone 800-717-7255 or 516-484-5400, www.pall.com) —or circle 368.
HIGH-SHEAR BATCH MIXERS are available with capacities of 1–8,000 gal. The mixers offer flexible tank-top mounting with easily interchangeable rotor/stator workheads, allowing each machine to mix, homogenize, dissolve, disperse, disintegrate, or emulsify a wide variety of products. For more information, contact Silverson Machines, Inc., P.O. box 589, East Longmeadow, MA 01028 (phone 800-204-6400, fax 413-525-5804, www.silverson.com) —or circle 369.
by NEIL H. MERMELSTEIN
Senior Editor