In the 1960s, artist Andy Warhol elevated the red-and-white label of Campbell Soup's condensed soup cans into the realm of pop art. Now, Campbell Soup Co., Camden, N.J., is updating these labels to distinguish different soup categories: Classics, Fun Favorites, Special Selections, Great for Cooking, and 98% Fat Free. The new labels feature photos of the soup, a brighter red color, and a smaller gold medallion now positioned near the top of the can.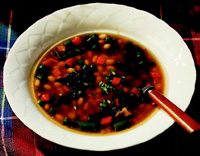 How would Warhol have felt about this label change? Well, of course, he's dead now, so it would be difficult to get a first-hand account from him. But one can still surmise. For starters, he probably wouldn't be upset that Campbell Soup donated the last can of its Condensed Tomato Soup with the old label to the Andy Warhol museum. After all, Warhol might argue, he had his 15 minutes of fame, and a lot more besides. Now it's time for something new!
Aside from the labeling design, however, the less-than-traditional Warhol would most likely have approved of today's soups and sauces in general because they are so innovative. Food formulators are finding a variety of ways to make these products less traditional, transforming them much in the way Warhol changed the way we viewed art during his time.
Although soup is still the ultimate comfort food—as every one knows who's ever been sick with a cold or flu—its image has been changing to include other perceptions. With its many different varieties making possible a wide assortment of global and culinary flavors, as well as a range of appetizing textures, soup can be considered an indulgence also. (A recent TV commercial of a woman planning an intimate weekend not with her husband but with a bowl of soup illustrates this idea.) Soup is also being perceived not as a first course or a side dish, but rather as an independent entree, meant to stand by itself. And let's not forget that while soup is nutritious, it may also be nutraceutical, designed to combat certain illnesses or health problems.
Several of the new soup and sauce products in today's marketplace reflect these changes.
For example, Campbell Soup introduced a ready-to-serve tomato soup in a resealable plastic container, and is currently test marketing a line of fortified soups. Furthermore, the company recently announced the formation of a new e-business team to capitalize on Campbell's growing business-to-business and brand-building opportunities on the Internet.
Progresso—a subsidiary of Minneapolis-based Pillsbury Co.—has expanded its ready-to-serve soup line with the addition of four "robust" new varieties: Vegetarian Vegetable with Barley, Creamy Cheddar Chicken, Southwestern-Style Corn Chowder, and Roasted Potato Garlic. The flavors reflect several important trends, including, respectively, a growing demand for vegetarian foods; the continued evolvement of rich and creamy soups and chowders; the popularity of potato soups coupled with garlic; and the desire for foods with a Southwestern flair.
Birds Eye, Green Bay, Wis., debuted four new varieties of vegetables with sauces that can be served as a meal or a side dish. These varieties include New England Style Vegetables & Pasta Shells (shell pasta mixed with green beans, yellow corn, red bell peppers, and broccoli in a herb butter sauce); Italian Style Vegetables & Bow-tie Pasta (broccoli and red bell peppers with bow-tie pasta in a garlic basil sauce); Roasted Potatoes & Broccoli (roasted gold potatoes with broccoli in a cheddar pasta sauce); and Roletti Pasta & Vegetables (pasta, broccoli, corn, and carrots in a seasoned garlic sauce with herbs).
This month's ingredients section will look at the number of ways that food formulators are making soups and sauces less traditional. And perhaps by doing so, the ingredient developments discussed here will do the spirit of Andy Warhol proud.
--- PAGE BREAK ---
Finding new variations on barbecue sauce. Barbecue is one of the most popular types of sauces in America. However, it should be noted that regional variations of traditional barbecue profiles are also steadily rising. This is because consumers want distinctive, regional flavors made with authentic ingredients of that locale.
For example, a line of new barbecue sauces is available from Newly Weds Foods, Inc., 2501 N. Keeler Ave., Chicago, IL 60639 (phone 773-489-7000; fax 773-292-3809). Chipotle BBQ is a tangy, semisweet sauce laced with smoky chipotle peppers, sauteed onions, and garlic, with brown sugar, molasses, and lemon. Key West BBQ combines sweet red tomatoes, tropical mangos, and lime with chili peppers, mesquite smoke, and tropical rum. Vidalia Dixie Que, imparting a taste of the Old South, is a blend of sweet Vidalia onions, zesty peppers, and hickory. Each sauce is available liquid or dry and can be customized to meet any food formulation need.
Pacific Rim Barbecue is a formulation that begins with traditional smoked barbecue flavor, but adds a flavorful Asian and tropical twist. The fusion-based flavor was highlighted by Kerry Ingredients, 100 E. Grand Ave., Beloit, WI 53511 (phone 608-363-1200; fax 608-363-1670), in a chicken breast application at Poultry Show 2000, held in Atlanta, Ga. According to the supplier, a whole-muscle chicken breast is vacuum tumbled in a light coconut marinade, then smothered in a topically applied rub that yields traditional smoke barbecue flavor fused with the flavors of Japanese mirin (sweet sake), peanut, and sesame. The distinctive, flavorful formulation is another example of a product resulting from the marriage of technology and culinary.
At the 1999 Worldwide Food Expo, held in Chicago, Griffith Laboratories, One Griffith Center, Alsip, IL 60803-3495 (phone 708-371-0900; fax 708-389-4055), also featured several variations of barbecue sauce. Its menu at the show included Korean BBQ Flavored Beef Ribeye, which combines sweet and savory characteristics of beef flavoring, soy sauce, sugar, and wine with added garlic, ginger, cracked red pepper, and parsley, and Sweet Chipotle BBQ Flavored Pork Loin, which serves up a traditional smoky-sweet barbecue flavor with a Southwestern flair (onion, garlic, and chipotle chilies). Recently, Innova, a Griffith Laboratories Co., 2021 Swift Dr., Oak Brook, IL 60523 (phone 630-928-4800) introduced Southwestern Mesquite Flavor, which can be added to sauces and soups for a tangy, smoky flavor with an authentic chili kick.
Cattlemen's Barbecue Sauces, available from French's Ingredients, 901 St. Louis St., Suite 1800, Springfield, MO 65806-2512 (phone 417-837-1813; fax 417-837-1801), offer several different types of BBQ flavor. These include Original (traditional, rich tomato taste with delicate sweetness and a balanced spice blend); Smoky (distinct, wood-smoked taste, balanced with a lightly sweet tomato taste and mild vinegar tang); Classic (a sweet, spicy sauce with distinct molasses flavor, natural smoke, and a special spice blend); Hot and Spicy (a blend of more than 30 natural ingredients with 15 spices, providing a balance of robust heat and flavor); and Gold (a sweet and tangy, rich, yellow-amber colored sauce with a spicy snap, creamy mouthfeel, and no aftertaste).
Kraft Food Ingredients Corp., 8000 Horizon Center Blvd., Memphis, TN 38133 (phone 800-323-1092; fax 901-381-6510) makes available three BBQ sauces—Kraft®, Bulls-Eye®, and Open Pit®—which are said to have distinctly different flavor profiles and different flavor varieties within each.
--- PAGE BREAK ---
Satisfying burning demands. "Hot, hot, and hotter" can best describe some of the sauces and soups that are being developed to meet consumers' desires for heat in their foods.
Remember, for example, French's original Frank's® RedHot® cayenne pepper sauce? Over the years, we have seen several new and additional forms, characterized by their heat level and their functionality in specific applications. On the 75th anniversary of its original cayenne pepper sauce, French introduced Hotter RedHot, which has the same flavor as the original but with twice the heat level. RedHot Buffalo Wing Sauce, combining the original with a rich, butter flavor, was created especially for use in preparing Buffalo-style chicken wings. DryHot was developed as a dry version of the original hot sauce for use in applications where liquid sauce cannot be used.
And let's not forget Tabasco® brand Pepper Sauce, produced by McIlhenny Co., Avery Island, LA 70513 (phone 318-365-8173; fax 318-367-8678). The company offers several Tabasco brand ingredients including Dry Flavoring, Pepper Pulp, Jalapeño Dry Flavoring, Processor's Blend, and Crushed Pepper. Its hottest sauce, however, is Habañero Pepper Sauce, a Jamaican-style pepper sauce said to be made with the world's hottest pepper. The sauce, which has a rating of more than 200,000 on the Scoville heat scale, is blended with mango, papaya, tamarind, banana, ginger, and ground black pepper.
Newly Weds Foods created a potent liquid Hot Sauce portfolio, including Chipotle Hot Sauce, made with smoky chipotle peppers, onion and garlic, brown sugar and molasses, and lemon, and Jalapeño Hot Sauce, a traditional Louisiana-style vinegar base with jalapeño flavor. These sauces may be used for dipping, topping, or grilling.
In addition to the "Heat Is On" trend, some formulators of sauces and soups may be simultaneously going after the indulgence trend, creating products that may "cream" traditional varieties. For example, liquid sauces combining heat with creaminess have been developed by Newly Weds Foods. Sauces, such as Creamy Cajun and Creamy Jalapeño are said to impart a rich, creamy consistency with a savory burst of flavor. Also available are milder items such as Creamy Northern Italian and Creamy Roasted Red Pepper. According to the manufacturer, by making them creamy, these hot and mild sauces can appeal to a consumer's desire for indulgence while satisfying an increasing demand for hot, spicy foods. The sauces, developed for foodservice and processed food producers, are suitable for dipping, topping, or cooking, or can be used as a condiment.
Southwestern Cream Sauce, a new addition to the line of Classic Instant Sauces, is available from Griffith Laboratories. The sauce is a blend of rich sour cream spiced with green and red peppers, onions, tomato, chili pepper, and other traditional Mexican spices. It is a suitable complement to fajitas, enchiladas, rice, vegetable medleys, or meat, pork, and poultry dishes. Requiring only water and whisking to blend, the sauce reconstitutes to serving consistency immediately.
Soups and sauces that combine creaminess and spiciness may also be reflective of another trend that is growing in the United States: an interest in Indian and Thai cuisines.
Using dairy ingredients to create new concepts. The functionality and nutritive value of dairy-based ingredients can help enhance the value of soups and sauces, as well as stimulate the development of future products. Some promising areas include frozen low-fat sauces, calcium-fortified soups, new varieties of dipping sauces, and salsa-and-cheese combinations.
--- PAGE BREAK ---
Detailed information on the use of whey, milkfat, cheese, and other dairy ingredients in soups and sauces can be gained from Dairy Management, Inc., 10255 W. Higgins Rd., Suite 900, Rosemont, IL 60018-5616 (phone 847-803-2000; fax 847-803-2077). This section will look at some of these ingredients, and the ways they may have particular impact on product development today.
The use of whey ingredients (e.g., whey protein, whey protein isolate, and dry whey) in soups and sauces may prove especially advantageous today. From a health standpoint, these ingredients are relatively high in calcium and consequently can be used to increase the food's calcium content. Functionally, the emulsification properties of whey ingredients aid in the dispersion of fat, and can help produce soups and sauces that are perceived to be creamier and more uniform. Whey ingredients can enhance water binding which is also very important in the formulating of reduced-fat sauces and soups. In frozen sauces, whey proteins can provide freeze-thaw stability as well as texture enhancement. And as formulators develop soups with different spices and herb flavors, they might consider the use of dry whey, which has a mild, slightly sweet taste that allows natural spice and herb flavors to come through.
A high-heat milk protein concentrate (Alapro 4421) and a high-calcium milk protein (Alaco 9040), available from NZMP (North America) Inc., 3637 Westwind Blvd., Santa Rosa, CA 95403 (phone 707-524-6630; fax 707-524-6666), are said to be new in the area of soups and sauces. The structure of the high-heat milk protein concentrate is denatured by high-temperature processing, ensuring functional and sensory properties. These include emulsification and stabilization properties, excellent flavor profile, very good dispersibility and solubility, and high opacity. Manufactured by ultrafiltration of skim milk, the spray-dried ingredient may be used also as an alternative to high-heat nonfat dry milk. The high-calcium milk protein, manufactured from casein, can increase calcium content to 15% while maintaining the inherent functional properties of a caseinate. It is designed for use in food systems where high calcium, opacity, low viscosity, and bland flavor are major requirements.
DMV International, P.O. Box 13, 5460 BA Veghel, The Netherlands (phone +31-4130-72222; fax +31-4130-62656) offers a variety of milk-based ingredients which contribute to a stable emulsion, desirable consistency, and flavor profile in soups and sauces. Milk proteins (EM series or Emser) provide emulsifying and stabilizing properties for the production of liquid soups and sauces. Based on milk powder or milk proteins, fat concentrates (DP series) are suitable for dehydrated soup and sauce mixes and make products rich and creamy. Lactose-type products (Esprion 070 and Esprion 074) are particularly suitable as a filler or free-flowing agent in dehydrated soup and sauce mixes and provide flavor-enhancing properties.
A technology separating milkfat into fractions with different physical or chemical properties can help product developers formulate soups and sauces. Fractionation, combined with custom blending and appropriate texturization, can create a range of milkfat ingredients that offer special functional properties especially suitable for these applications. In particular, they can enhance texture/mouthfeel, provide emulsification, improve body or viscosity, and add color. Also, flavor and flavor release depend on milkfat's functional properties.
In the development of new soups and sauces, cheese may play an increasingly important role for a number of reasons. Cheese—which provides a solid base in which a number of ingredients can be incorporated—can add texture and viscosity, act as a flavor carrier while releasing other flavors, contribute dairy notes, and enhance visual appeal. Blends of cheeses especially can contribute special flavors and textures in dipping sauces, toppings, and other applications. Cheese with crumbly or tougher textures may be used in formulating chunkier sauces. Salsa may be combined with various cheese combinations and used as a sauce for macaroni and cheese and other pasta dishes. Cottage cheese, for use in low-fat, cream-style sauces and soups, maintains a desirable cream-style texture, contributes dairy notes, and provides fewer calories.
Also, more widely used now are enzyme-modified cheeses (EMCs) which provide greater flavor intensity at lower costs. In tomato-based sauces, EMCs can reduce acidic tomato flavor and provide richness. They may find further use with flavors that have also been enzymatically modified to create different flavors and less traditional products.
--- PAGE BREAK ---
Gamay Flavor, 2770 S. 171st St., New Berlin, WI 53151 (phone 414-789-5104; fax 414-789-5149) introduced EMCs which are reportedly more concentrated than typical EMCs, allowing for lower utilization rates. Called Ultra, the ingredients are available in blue, cheddar, parmesan, swiss, romano, and other varieties. They are said to be well balanced and impart excellent flavor.
Taking culinary shortcuts. Over the past few years, we have seen more and more ingredient companies taking an approach combining culinary expertise with food technology knowledge. (See the September issue of Food Technology, p. 124.) Out of such an approach have come several novel ingredients for use in product development. These ingredients, which may be termed "shortcuts," can help reduce cost without compromising quality. Some duplicate traditional culinary techniques, some act as replacers or alternatives for other ingredients, some combine the functionalities of different ingredients into one, and some make possible the use of a particular ingredient in an application which would not have been possible previously. In any case, they are designed to make the formulator's job a little easier.
Let's look at a few of these ingredients for use in soups and sauces:
"Liquid coatings" have been developed by Amboy Specialty Foods, a subsidiary of Dean Foods, 820 Palmyra Ave., Dixon, IL 61021 (phone 800-892-0400). These coatings—available in Cheddar, Monterey Jack, Spicy Jack, Tart Lime, Country Gravy, and Sour Cream—are said to create line-extension opportunities for breaded and battered products, such as chicken breasts, nuggets, and fingers. The coatings can replace the need for consumers to add their own sauces or marinades to seafood, chicken, and beef, making meal preparation faster and easier. Formulated to provide quick-freeze adherence to substrates, liquid coatings are aseptically packed in 55-gal drums.
A hot sauce flavor which imparts wine-like fermented flavor without the heat has been introduced by Geneva Ingredients, 413 Moravian Valley Rd., Waunakee, WI 53597 (phone 608-849-9440; fax 608-849-9441). The no-heat sauce flavor is available as a dry powder and can be reconstituted in water at a 6% usage level to replace hot sauce. With this "hot sauce replacer," product developers can independently adjust the heat level of the food product.
New additions to its Culinary Advantage line has been introduced by Quest International Flavors and Food Ingredients Co., 5115 Sedge Blvd., Hoffman Estates, IL 60192 (phone 847-645-7163; fax 847-645-7056). These additions are designed to unlock the distinct flavors of the Mediterranean and Asia Pacific regions. Soffrito—a cornerstone for sauces, especially tomato, in Spain and Italy—enhances and adds complexity. Wok Blend focuses on duplicating the stir-fried flavors of Asian cuisine. Kaffir Lime Leaf, an essential ingredient of Thai cuisine, provides a fresh citrus note reportedly unlike any of the citrus flavors commonly used in the United States.
Chef's Cream, a refrigerated cream/butter alternative that has the appearance and consistency of sour cream and tastes like a traditional blend of natural dairy ingredients, is available from Eatem Foods Co., Vineland Industrial Park, 1829 Gallagher Dr., Vineland, NJ 08360 (phone 609-692-1663; fax 609-692-0847). The ingredient is said to prevent cream sauces from separating under rigorous conditions, such as high heat, addition of acidic ingredients, and long holding times; speed up processing; and provide more flexibility in food production processes with no loss of flavor, texture, or consistency. A variety of creatively flavored sauces, creamed soups, and original entrees can be formulated with the ingredient. Pasta cream sauces such as Alfredo, roasted pepper sauce, or garlic cream sauce; creamed bisques or chowders; and saucy seafood, poultry, and vegetable entrees are some examples. The ingredient consists of water, butter, whey protein concentrate, gelatin, xanthan gum, propylene glycol alginate, potassium sorbate, and citric acid.
Butter concentrate having a flavor strength 400 times that of regular butter has been developed by ButterBuds Food Ingredients, division of Cumberland Packing Corp., 2330 Chicory Rd., Racine, WI 53403 (phone 414-598-9900; fax 414-598-9999). Called Butter Base New Zealand (BBNZ), the ingredient provides a flavor profile that matches the butter flavor preferred throughout Asia. Reducing the manufacturing cost by replacing butter, it improves mouthfeel, masks off-flavors, and rounds off sharp flavor notes.
--- PAGE BREAK ---
Cuisines of the World is the name given to describe a line of ingredients that captures the flavors of Asian, French, Caribbean, and Italian Cooking. Developed by Kraft Food Ingredients, these flavors reflect global culinary standards while simulating cooking processes. These new flavors can serve as key components in the formulating of soups and sauces, particularly exotic varieties.
Baker's Coconut Concentrate, available from Kraft, is dehydrated coconut that has been refined to a very fine particle size, less than 20 microns, but retains its original flavor and functionality. Suitable as an ingredient in soup and sauce formulations, it contribute both flavor and texture, and is said to have quality and cost advantages over canned coconut or coconut milk products. Eastern and tropical cuisines use coconut as both a flavor and a fat base the same way that Western cuisines use butter, cream, or cheese. Such a product makes possible the increasing use of coconut as an ingredient in formulations such as soups and sauces. Coconut, Lime, and Chicken soup is one of the applications using the ingredient that Kraft has previously highlighted at food shows.
Getting to the meat. Meat and poultry ingredients play a major role in the formulation of soups and sauces. Today, advances in technology are making possible new and improved ingredients which deliver better functionality as well as desirable flavor profiles specifically suited for a particular application.
For example, improved dry chicken broths are available from International Dehydrated Foods, Inc. (IDF), P.O. Box 10347, Springfield, MO 65808 (phone 417-881-7820; fax 417-881-7274). Offering several advantages over frozen broths and traditional dry broths, these agglomerated, free-flowing products are less hygroscopic, disperse freely in water, and provide a savory umami taste. They can be used to add savory notes to soups, sauces, and gravies that do not contain or need to contain chicken.
In addition, over the past few months, IDF has introduced several other ingredients that find application in soups and sauces. These include frozen chicken broths having a concentration of 32% solids (compared to those concentrates typically having 16% solids), and a shelf-stable, high-quality, made-to-order rendered chicken fat which is processed as a primary food ingredient and has a low moisture content, ensuring microbiological and chemical stability.
A new line of turkey flavors for use in soups, sauces, and gravies has been recently introduced by Geneva Ingredients, Inc. The flavors include turkey broth, smoked turkey, white meat turkey, and roasted turkey pan drippings. The flavors are processed from turkey and other natural ingredients and are said to be economical to use. The manufacturer recommends a usage level of 1% in the final product as a starting point. At the 1999 Worldwide Food Expo, Geneva high-lighted an instant turkey gravy made with roast turkey pan drippings type flavor, which is available in a powdered form.
Also available from Geneva is a cream of chicken flavor for use in soups, gravies, sauces, and marinades. The natural flavor is said to combine a savory chicken note with background dairy notes to create a well-rounded flavor reminiscent of home cooking.
Meat stocks and broths are available in different varieties from Hormel Foods Corp., 1 Hormel Place, Austin, MN 55912-3680 (phone 800-956-0399; fax 507-437-5120). Great Beginnings®—100% natural meat stocks available in a dried or frozen form—include beef, meat, ham, pork, chicken, and turkey versions. Building Blocks® are meat pastes or powders which give a hint of extra flavor and are all- natural, shelf stable, water soluble, and high protein. Also offered is a complete line of specialty fats and meat toppings.
--- PAGE BREAK ---
Into the thick with starches. Use of modified food starches in soups and sauces can provide greater versatility for the food formulator. Let's look at a few examples:
Cold-water-swelling modified food starch derived from waxy maize has application in microwavable cheese sauces, savory gravies, instant cream-style soups, and other products where high viscosity, smooth, heavy texture, and creamy mouthfeel are desired. Called Ultra-Tex® 2000, the starch was introduced by National Starch and Chemical Co., 10 Finderne Ave., Bridgewater, NJ 08807-0500 (phone 800-797-4992; fax 609-409-5699).
The starch, said to be well suited for mild to moderate processing conditions, provides rapid, high viscosity development and imparts excellent cold temperature storage stability to refrigerated or frozen products. The flavor profile of the product is clean and nonmasking, which allows more flavor to come through in most applications.
Because of the thickening ability achieved with this starch, typical application use levels may need to be reduced. This reduction will vary depending on the acidity and processing conditions of the formulation.
Also available from National Starch is Ultra-Sperse 2000, a cold-water-swelling modified food starch derived from waxy maize which is especially suitable for food systems that are to be microwave reconstituted or kept on a steam table for long periods. Unlike traditional pregelatinized starches, this product disperses quickly and easily in hot or cold water without forming lumps. Recommended applications include instant cream-style soups, cheese sauces, and savory gravies.
The starch is said to yield a heavy body and short texture with excellent sheen. The product, suited for mild to moderate processing conditions, provides rapid viscosity, imparts a rich, creamy mouthfeel, and offers cold temperature storage stability to refrigerated or frozen foods.
A modified food starch that provides texturizing properties in tomato-based sauces, hot instant sauces, and spaghetti sauces was developed by Cerestar USA, Inc., 1100 Indianapolis Blvd., Hammond, IN 46320-1094 (phone 219-659-2000; fax 219-473-6600). Called C*PulpTex, the pregelatinized, crosslinked, maize starch offers several benefits, including very pulpy texture, excellent mouthfeel, good stability, and extended shelf life. It may be used to replace tomato- and potato-based ingredients. At the 1999 IFT Food Expo, Cerestar highlighted its use in salsa.
A modified potato starch provides a smooth, creamy, and slightly grainy texture that makes it suitable for "homestyle" sauces and gravies. Called PenPlus® 2100, the pregelatinized starch is available from Penford Food Ingredients, 11011 E. Peakview Ave.,, Englewood, CO 80111-6800 (phone 303-649-1900; fax 303-649-1700). The starch is said to have a very high viscosity and water-holding capacity, and its larger granule size imparts a desireable texture and appearance to sauce and gravy products. Because of its bland taste, there is no need to mask flavors and off-notes with seasonings.
A range of modified tapioca starches, marketed under the name Farinex, is available from Avebe America, Inc., 4 Independence Way, CN-5307, Princeton, NJ 08543-5307 (phone 609-520-1473; fax 609-520-1473). The starches may be used in the formulation of soups, sauces, and gravies, including cheese sauces, marinades, and dry soup mixes.
According to the manufacturer, the starches impart a smooth, creamy mouthfeel; have an excellent flavor release; and provide good freeze-thaw, heat, and shear stability. They can be easily added with other dry powders into product formulations.
--- PAGE BREAK ---
Adding cellulose to soups and sauces. Cellulose, an insoluble dietary fiber ingredient, offers specific advantages for use in formulating improved soups and sauces. A powdered cellulose called Solka-Floc® for use in these applications is marketed by Protein Technologies International, Inc., Fiber Sales & Development Corp., P.O. Box 88940, St. Louis, MO 63188 (phone 888-898-3480; fax 314-982-4980).
Cellulose has a strong tendency to hold water and oil. Depending on its fiber length, cellulose can hold about 3–10 times its weight in water or about 2–8 times its weight in oil. Because of its good binding properties, the functionality of cellulose in sauces was recently investigated. This study showed that the high water-holding capacity of cellulose is useful in sauce applications. In addition, the fibrous nature of cellulose is useful for improving the consistency of sauces.
Higher viscosity and consistency readings were obtained via the incorporation of cellulose in a red pasta sauce formulation. This is most probably due to the cellulose's water-holding ability and a synergy between the cellulose and the pectin from the tomato sauce. In addition, the fibrous nature of cellulose also improved the consistency of the sauce. This fibrous property provides the sauce with improved cling when it is poured onto pasta. An increased pulpiness, which was also observed, may also be a desirable characteristic of red pasta sauces.
By partially replacing tomato paste with a system of ingredients based on cellulose, the viscosity and consistency of red pasta sauces can be maintained with no flavor impact. In addition, all processing methods for the sauce remain unchanged. However, using this novel cellulose technology, a significant amount of savings can be realized by the partial replacement of tomato paste.
One of the challenges with developing reduced-fat cream soups is to maintain the opacity of these products. When fat content in a cream soup formulation is reduced, the number of emulsified fat globules is reduced as well. As a result, the opacity of these soups is not comparable to that of their full-fat counterparts.
Studies have been conducted with the addition of fine powdered cellulose ingredients to reduced-fat cream soup formulations. With the use of suitable stabilizer systems, cellulose particles can be dispersed and stabilized in these formulations. Because of the cellulose's white color and its fine particle size, reduced-fat cream soups were observed to have higher opacity. The fine cellulose particles can also stabilize the viscosity of the reduced-fat cream soup before and after retorting.
Another common problem with some reduced-fat cream soups is the lack of a rich mouthfeel traditionally provided by fat. It was observed that the addition of cellulose can also improve the mouthfeel of these products because of the dispersion of the fine cellulose particles within the soup system.
--- PAGE BREAK ---
Putting fruits and vegetables into the pot. Fruit and savory flavor combinations can help upscale traditional soups and sauces. For example, earlier in this article, I mentioned one of Kraft's formulations, Coconut, Lime, and Chicken Soup. Furthermore, as we continue to explore different global cuisines, many such combinations will be found and ingredient suppliers will try to meet this growing interest.
A full line of flavors in this area is offered by Geneva Ingredients. Savory and sweet combinations include Raspberry and Roast Garlic Marinade for chicken, Caribbean Marinade Beef, and Lime Garlic Top Note Shrimp. Fruit and pepper seasoning combinations, such as Orange Chipotle and Berry Chipotle, are available from Williams Foods, Inc., 13301 W. 99th St., Lenexa, KS (phone 913-888-4343; fax 913-888-0727), for use in creating meat glazes and marinades.
Of course, when one thinks of vegetables, "home-made" quickly comes to mind. Eatem Foods Co. recently introduced a line of caramelized vegetable bases which are designed to infuse products with an old-fashioned flavor of long-simmered flavor notes. Called Caramelized Vegetable Melange, the bases include garlic, mirepoix (garlic, onions, and celery), red bell pepper, carrot, and onion. They are suitable for use in soups, chowders, bisques, and stews for frozen, retortable, or chilled products, and for traditional gravies and sauces for pasta, meat, and vegetable dishes.
Using soy sauce in soups and sauces. While one may readily think of soy sauce as an ingredient to be added to Asian dishes, it can find a number of functional uses in soups and sauces, as well.
Kikkoman Dehydrated Soy Sauce SN-1, a golden, free-flowing powder which has a meaty, rich soy sauce flavor with a pronounced brewed bouquet, is available from Kikkoman International Inc., 50 California St., San Francisco, CA 94111 (phone 415-956-7750; fax 415-391-1842). The ingredient can be used in powdered mixes and concentrated bases for soups, bouillons, sauces, dips, and seasoning rubs. Because it is spray-dried, it maintains excellent flavor during heat processing and freezing.
Also available from Kikkoman is Clear Soy Sauce PK-58, a light, amber-colored soy sauce which offers rich flavor components and complex bouquet of the regular version. The ingredients may be used in soups, cream sauces, and salad dressings where its delicate coloring can enhance the appearance of the finished product.
Soy sauce, naturally brewed and aged, can bring out full, aged cheddar notes in cheese sauces and heightens the overall flavor of soups. Kosher-certified shoyu is available from Yamasa Corp. USA, 3480 Torrance Blvd., Suite 226, Torrance, CA 90503 (phone 310-523-4885; fax 310-532-4242).
A soy sauce powder with reduced salt content is offered by Nikken Foods Co. Ltd., 1374 Clarkson Clayton Center, St. Louis, MO 63011 (phone 314-532-1019; fax 314-256-8284). Other varieties include monosodium glutamate free and caramel color free. These varieties may be suitable in formulating specially designed soups and sauces.
Making soups and sauces healthier. Soups have always been viewed as nutritional, but soon they may be formulated with nutraceutical ingredients. In 1999, Campbell Soup Co. introduced into test markets Campbell's Plus, a line of soups fortified with calcium, vitamins, and minerals. Earlier in the year, the Hain Food Group introduced Kitchen Prescription soups, described as canned soup-style herbal supplements. According to the manufacturer, Chicken Broth & Noodles and Country Vegetable are both fortified with echinacea, while Creamy Split Pea and Chunky Tomato are both fortified with St. John's wort. The herbal extracts are said to be at very low levels, however.
--- PAGE BREAK ---
Besides fortification, formulators are looking for other ways to improve their health-positioned foods. For example, Healthy Choice®, manufactured by ConAgra, has reformulated 22 varieties of soup to deliver more robust flavor and heartier textures. As part of the reformulation, the company has used new sodium enhancement technology to give the soups fuller, more robust flavor. All of the improved varieties comply with the company's nutritional requirements of no more than 3 g of fat, 480 mg of sodium, and 60 mg of cholesterol per serving. In addition, each variety contains at least 10% of the recommended daily allowance of one or more key nutrients, such as vitamins A and C, iron, calcium, protein, and fiber.
This emphasis on health will create new opportunities for ingredients that are promoted for their nutraceutical properties. This article has already discussed how dairy ingredients can help provide calcium fortification in soups and sauces. However, a wide array of other ingredients can be mentioned. Refined fish oils containing omega-3 fatty acids, which may play a role in the prevention or treatment of cardiovascular disease and other health problems, may be used in soups or sauces. At the 1999 IFT Food Expo, Omega Protein, Inc., Reedville, Va., highlighted pasta sauces with fish oil added to them. Soy ingredients may find their way into soups and sauces. And, as already mentioned, botanicals may find increasing use in formulating these applications.
---
Today's soup may be a comfort food, an indulgence item, an independent meal, a culinary statement fusing different cultures, or even a nutraceutical product. And food formulators keep finding new ways to make soups and sauces less traditional.
---
Sauces having increasingly higher levels of heat are being developed to meet consumers' burning desires for hot and spicy foods.
---
Less-Traditional Soups and Sauces Would Meet Warhol's Approval
In the 1960s, artist Andy Warhol elevated the red-and-white label of Campbell Soup's condensed soup can into the realm of pop art. Now, Campbell Soup Co., Camden, N.J., is updating these labels to distinguish different soup categories. The new labels feature photos of the soup, a brighter red color, and a smaller gold medallion now positioned near the top of the can.
---
Meal preparation is made faster and easier by liquid coatings which can replace the need for consumers to add their own sauces or marinades to seafood, chicken, and beef products.
---
--- PAGE BREAK ---
New patents on ingredients for soups and sauces
Several recent patents may be related to the formulation of soups and sauces. These include jalapeños which provide functional benefits without heat; a method for improving the color and texture of thermally processed green vegetables; a therapeutic system for dietary management, a composition enhancing salt flavor, and a dry powdered cheese composition.
No-heat jalapeños. U.S. patent 5,959,186, filed 2/6/1997, issued 9/28/1999 to D. Arevalos et al., assigned to Campbell Soup Co. Describes new, distinct, and stable cultivars of no-heat jalapeño peppers. The plants produce a pepper fruit which is absent of capsaicinoids but has many other desirable jalapeño characteristics such as fruit shape, color, surface skin smoothness, flesh thickness, and size. These desirable qualities may especially find use in the formulating of soups and sauces.
High-concentration-short-time zinc blanch for color and texture improvement of thermally processed green vegetables. U.S. patent 6,004,601, filed 4/17/1998, issued 12/21/1999 to K. Donato et al., assigned to Campbell Soup Co. Describes a method for green color retention and texture improvement in vegetables by blanching raw or IQF green vegetables in an aqueous zinc blanch solution for three minutes or less, where the aqueous blanch solution has a zinc ion concentration of at least about 500 ppm. The vegetables may then be containerized and sterilized, frozen or dried. The zinc-blanched and frozen or dried vegetables may be sold as food ingredients in soups, sauces, or any other thermally processed product.
Therapeutic system for dietary health management. U.S. patent 5,994,295, filed 9/10/1997, issued 11/30/1999 to C. Khoo et al., assigned to Campbell Soup Co. Describes a dietary health management system for administration to a patient having hypertension, hyperlipidemia, cancer, diabetes, or combinations. The system consists of a plurality of prepacked meals which may provide dietary fiber in the range of 20–30 g; vitamins and minerals at about 100% of the U.S. RDA; less than 2,400 mg of sodium; at least 3,500 mg of potassium; and less than 96 g of simple sugars. About 20% of caloric intake is derived from protein, and 30% is derived from fat. Consumption of these individual meals supplies the patient with the desired total daily calorie intake, improved quality of life, and sufficient nutritional enhancement to facilitate the management of the diet-responsive condition.
Salt flavor-enhancing compositions, food products including such compositions, and methods for preparing such products. U.S. patent 5,871,803, filed 5/30/1997, issued 2/16/1999 to W. Bonorden et al., assigned to Campbell Soup Co. Describes a salt flavor-enhancing composition consisting of a combination of sodium chloride and potassium chloride and a combination of magnesium chloride and magnesium sulfate. The composition may also include sodium ions, chloride ions, potassium ions, magnesium ions, and sulfate ions. A chicken broth using this composition is described.
Dry powdered cheese compositions and process of making. U.S. patent 5,935,633, filed 6/13/1996, issued to R. Derian, assigned to Kraft Foods, Inc. Describes a dry powdered cheese composition which may be reconstituted with water to provide a cheese product which has the appearance, flavor, texture, meltability, mouthfeel, and bite of natural cheese. The product consists of one or more dehydrated cheese powders, a cold-water-swelling starch, a calcium-containing agent, one or more salts, one or more flavoring agents, and a vegetable oil. The composition has a moisture level which is less than 3.5%, remains microbiologically stable, has a shelf life of at least 7 mo, and requires no refrigeration prior to reconstitution with water.
--- PAGE BREAK ---
In the development of new soups and sauces, cheese may play an increasingly important role for a number of reasons. Cheese--which provides a solid base in which a number of ingredients can be incorporated--can be add texture and viscosity, act as a flavor carrier while releasing other flavors, contribute dairy notes, and enhance visual appeal. 
---
Products & Literature
MALIC ACID may be used to create well-balanced taste sensations in soups and sauces without a sharp acidic bite. Its prolonged smooth tart taste makes it suitable for the formulation of savory and sour, sweet and sour, and spicy and sour soups such as gazpacho, tomato, borscht, Chinese ginseng and Bird's nest, and instant Thai noodle. Malic acid is also suitable for such sauces as tangy and spicy barbecue, teriyaki, pasta, chili, lemon, mustard, yogurt, red chili pepper, piquant, soy, and savory fruit sauces. Its flavor-blending abilities brings out or enhances the taste of sweet soups (cantaloupe, mixed berries, blueberry, and watermelon) or sweet sauces (apricot/strawberry, peach, and citrus). For more information, write to Bartek Ingredients, Inc., 2490 Bloor St. W., Suite 401, Toronto, Ontario, Canada M6S 1R4 (phone 416-763-1100; fax 416-763-1155)—or circle 350.
CLAM SEASONING POWDER 1230 may be used as a total or partial replacement for freshly prepared or frozen clam broth. Providing clam aroma and taste similar to clam broth concentrate, the ingredient has application in soups, chowders, bisques, sauces, stews, dressings, dips, and many other prepared foods. It is described as an extract of cooked baby clam spray dried on a dextrin carrier with sugar and salt, and blended with natural flavor. For more information, write to Nikken Foods Co., Ltd., 1374 Clarkson Clayton Center, St. Louis, MO 63011 (phone 636-532-1019; fax 636-256-8284)—or circle 351.
YEAST EXTRACT—called Gb Select® YB Powder Aggl—is said to impart a meaty brothy taste for use in soups, sauces, seasonings, and other products. The autolyzed yeast extract, based on primary grown baker's yeast, enhances beef flavor, increases salt perception, and increases meat notes. The ingredient is available as a light brown agglomerated powder. The manufacturer recommends a use of 0.50–2.00% in soups and sauces. A formulation, Beef & Vegetable Soup Mix, using the powder is offered. For more information, write to DSM Food Specialties USA, Inc., 700 American Ave., King of Prussia, PA 19406 (phone 610-768-5886; fax 610-768-5163)—or circle 352.
NATURAL GREEN TEA FLAVOR may be used in the formulation of a 30-proof cordial called Green Tea Sharp Shooters. The cordial also contains such nutraceutical herbals as ginko biloba, chamomile, and St. John's wort. For more information, write to David Michael & Co., Inc., 10801 Decatur Rd., Philadelphia, PA 19154 (phone 215-632-3100; fax 215-637-3920)—or circle 353.
VANILLA BLENDS are said to enhance coffee beverages, such as ready-to-drink lattes, cappuccino-style drinks, and mochaccinos. A combination of sweet, creamy Madagascar Bourbon Pure Vanilla and the slightly anise-like Tahitian Pure Vanilla complements a faintly bitter coffee taste as well as the richness of the milk or cream base. For more information, write to Nielsen-Massey Vanillas, 1550 Shields Dr., Waukegan, IL 60085-8307 (phone 847-578-1550; fax 847-578-1570)—or circle 354.
ROASTED VEGETABLE FLAVORS are allergen free, containing no peanut- or sesame-derived ingredients. Roasted flavors include onion, red onion, garlic, red bell pepper, green chili, green bell pepper, mushroom, porcini mushroom, and sauteed porcini mushroom. They are suitable for use in culinary, bakery, and snack applications. For more information, write to Wild Flavors, Inc., 1261 Pacific Ave., Erlanger, KY 41018 (phone 606-342-3526; fax 606-342-3604)—or circle 355.
LOW-VISCOSITY GUAR GUM allows increased use of guar as a fiber source in applications requiring reduced viscosity, such as in beverages where a highly viscous product is unappealing to consumers. With lower viscosity, more gum can be added, which permits high-fiber labeling. Furthermore, the range of applications is even wider when this guar is blended with other gums. The versatile gum powder is available in two versions: medium-low viscosity and very low viscosity. The low-molecular-weight guar is produced using a low-cost process that does not use organic solvents or alcohol precipitation. For more information, write to TIC Gums, Inc., 4609 Richlynn Dr., Belcamp, MD 21017 (phone 410-273-7300; fax 410-273-6469)—or circle 356.
--- PAGE BREAK ---
NATURAL TOASTED MARSHMALLOW TYPE FLAVOR is suitable for use in cereal foods, toppings, syrups, and beverages. The product is said to have the profile of a sweet, vanilla marshmallow, enhanced with a caramel, toasted campfire note. Suggested usage level is 0.25% in the finished product. For more information, write to Ottens Flavors, 7800 Holstein Ave., Philadelphia, PA 19153 (phone 215-365-7800)—or circle 357.
POLYOL SWEETENER, marketed under the name C*Eridex, may be used to formulate low-calorie, tooth-friendly confections, processed foods, and beverages. Based on glucose and manufactured using a fermentation process, the ingredient has a near-zero calorie content and special functional properties. Its web site, www.eridex.com has detailed technical information describing it, as well as various application recipes. For more information, write to Cerestar USA, Inc., 1100 Indianapolis Blvd., Hammond, IN 46320-1094 (phone 219-659-2000; fax 219-473-6600)—or circle 358.
FIBER-RICH INGREDIENT—called Frutafit® inulin—may be used in kefir, a traditional European fermented milk drink. Probiotics, such as kefir, contain live bacteria cultures which improve gastrointestinal health. Prebiotics, such as inulin, nourish and sustain probiotics. Made from chicory root, the ingredient is a non-digestible carbohydrate containing fructooligosaccharides. A kefir drink, Organic Kerfir with FOS™, containing inulin is available from Helios Nutrition Ltd., North Mankato, Minn. For more information about the health properties of the ingredient, write to Imperial Sensus, 8016 Hwy. 90A, Sugar Land, TX 77487-0009 (phone 281-490-9522; fax 281-490-9802)—or circle 359.
NATURAL CHIPOTLE PEPPER POWDER is suitable for use in sauces, snacks, dips, and salad dressings. The powder is said to add a fiery, slightly smoky chile pepper flavor. Recommended starting usage levels range from 0.5 to 1.0%. For more information, write to Flavor & Fragrance Specialties, 300 Corporate Dr., Mahwah, NJ 07430 (phone 201-828-9400; fax 201-828-9449)—or circle 360.
MEAT AND POULTRY FLAVORS are designed to enhance the taste sensation of soups and sauces. Produced by reaction chemistry, the stable, "clean label" flavors include Brothy, Roasted, White Meat Chicken, Pan Drippings, Pot Roast, and Au Jus Beef. For more information, write to J. Manheimer, Inc., Flavor Div., 546 U.S. Rte. 46, Teterboro, NJ 07608 (phone 201-641-5599; fax 201-641-2689)—or circle 361.
DRY SOUPS AND SAUCES are available for a variety of applications. The dry sauces—including Garlic Pesto, Mesquite BBQ, and Curry—can be custom developed to complement any flavor system. The dry soup mixes include chicken noodle, cream of tomato, cream of onion, and cream of mushroom, and can also be custom formulated. Both types of products are instant and only require water. For more information, write to Georgia Spice Co., 3600 Atlanta Industrial Pkwy. N.W., Atlanta, GA 30331 (phone 404-696-6200; fax 404-696-4546)—or circle 362.
GRANULATED HERBAL EXTRACTS include echinacea, ginkgo biloba, green tea, St. John's wort, and Siberian ginseng. The extracts offer a variety of advantages including superior flow characteristics and decreased powder loss during production. Extracts in granulated form also maintain extract potency during wet granulation and subsequent drying. For more information, write to A.M. Todd Botanicals, 150 Domorah Dr., Montgomeryville, PA 18936 (phone 800-634-4418; fax 215-628-8651)—or circle 363.
---
NEXT MONTH
Pasta and sauces go together. Now that we've sampled one, let's look at the other. So, for all you paisans out there, the April's ingredients section will be focusing on new developments in pasta ingredients.
by DONALD E. PSZCZOLA
Associate Editor