Imagine a scenario where a patient visits a doctor. The patient has undergone a series of tests from which a genetic profile of that individual has been compiled. This genomic information is then used to provide the basis from which a personalized diet can be developed that will address health problems before they even occur.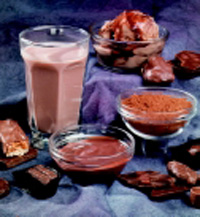 The above scenario uses an emerging discipline called Nutrigenomics which studies the interaction between genes and diet and how that interaction can influence the development of diseases. Although I am no expert in genetic science, the central idea behind that approach is not difficult to understand. I think we've all speculated at some time or other why certain individuals can adopt eating practices or lifestyle habits that are generally not considered healthy and yet live long, relatively healthy lives. The answer probably lies in the genes, and if we can unlock these individual genetic differences, then we can identify personal disease susceptibilities and enable individuals to adopt the habits most likely to reduce risk of those diseases.
Time, of course, will determine whether such a scenario will become a commonplace reality. However, if it does occur, then I believe that certain product or ingredient developments are happening today that can either play an influencing role on this new discipline or, at the very least, help get things ready for when that day will come.
Let's look at some of these developments.
In the October 1999 Ingredients section, I discussed a nutraceutical bar enriched with the amino acid L-arginine which has been developed for individuals diagnosed as having coronary artery or vascular disease. Called the HeartBar, the product is intended to be consumed under the supervision of a physician, for the specific dietary management of cardiovascular disease for which distinctive nutritional requirements have been established. The success of these kinds of pioneering products in the health field may help move us toward the discipline described above. After all, it seems like a logical step to go from developing a product for the treatment of a specific disease to developing a specific overall diet that is based on an individual's genetic code and which is preventive in nature.
During recent years, there have been an abundance of studies on the health benefits of a variety of ingredients, suggesting ways they may even be used as an alternative to drugs. Although one should always be cautious of preliminary studies, many of these studies, especially when looked at in relationship with each other, may be forming a solid groundwork for the future application of Nutrigenomics.
Briefly, I would like to look at few health concerns and summarize some of the dietary components that studies are showing may prove beneficial in these specific areas.
--- PAGE BREAK ---
Heart disease. Numerous studies over the years led to FDA's recent approval of a health claim that reads "25 grams of soy protein a day, as part of a diet low in saturated fat and cholesterol, may reduce the risk of heart disease." Such a claim today can help educate the consumer about the specific health benefits of soy and, of course, may attract those individuals who are concerned about their heart health. But I suspect that this claim—as well as other claims that will follow—will take on an all new meaning when Nutrigenomics becomes a reality. In fact, it is possible that such a discipline may even provide an impetus for other regulatory developments.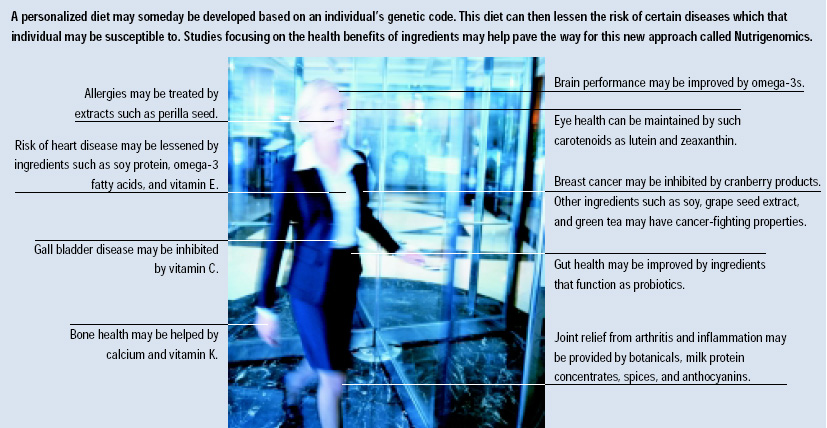 A new product in the marketplace, Aquacuisine's Tuna Burgers, are fortified with omega-3 polyunsaturated fatty acids available from Roche Vitamins, Inc., Parsippany, N.J. Research has shown that omega-3s may influence several factors that modify the risk or severity of coronary heart disease, including the blood clotting process, the levels of lipids in the blood, and blood pressure.
Recent evidence suggests that populations with higher plasma levels of folic acid and vitamin B-6 have lower risk of heart disease. According to the Journal of the American Medical Association, the relative risk for developing heart disease was reduced by one-half among women with high intakes of both folate and vitamin B-6.
Also, vitamin E appears to reduce the risk of cardiovascular disease in several ways. First, it prevents free radical damage to the low-density lipoprotein (LDL) form of cholesterol, blocking one of the earliest steps in the formation of fatty deposits on blood vessel walls. Second, it inhibits the proliferation of smooth muscle cells which would otherwise grow and reduce blood flow in vessels. Three, it reduces the tendency toward blood clots which can lead to a heart attack.
Cancer. A recent research report from the University of Western Ontario in Canada has documented that regular consumption of cranberry products may inhibit the development of breast cancer in animals. According to the lead researcher of the study, "Our research found that mice that received cranberry juice and cranberry products had a significantly lower number of breast cancer tumors compared with the control group, and the development of tumors was delayed. While the results are very preliminary, this study may suggest that cranberry products could have cancer-fighting properties in humans." In addition, incidence of the spread of tumors to the lungs and lymph nodes was markedly reduced in the cranberry-fed group. The study, funded by Ocean Spray Cranberries, Inc., Lakeville-Middleboro, Mass., was initially released in April 2000 at Experimental Biology, the annual meeting of life science researchers and reviewed at the 2000 IFT Annual Meeting.
Researchers at North Carolina's medical school in Chapel Hill have found that resveratrol, a natural component of grapes, may turn off a protein called NF-kappa B—a gene which, if not blocked, can enable cancer cells to survive chemotherapy. When that protein is blocked in mice, chemotherapy eradicated the cancer cells. Researchers then tested how cultured human and animal tumor cells reacted to reservatrol, learning that it effectively turned off the NF-kappa B cancer gene. This research may play an important role in potential therapies for cancer prevention and treatment.
Other recent studies have focused on the use of soy intake and prostate cancer, green tea and breast cancer, and conjugated linoleic acid and certain cancers. Since there are many different types of cancers, it would not be possible to cover thoroughly the wide range of studies. However, it should be noted that certain cancers such as skin may be on the increase because of changes in the environment and consequently new studies need to be done in these areas. For example, studies on ultraviolet protection by carotenoids offer a natural way to fend off damaging rays that can lead to skin aging and cancer. In Europe, adults consume mixed carotenoid supplements in addition to using sunscreen lotion for protection.
--- PAGE BREAK ---
Gut health. Two new studies on beneficial gut flora were recently announced by The Health & Nutrition Group of Eridania Beghin-Say. One study found that a short chain fructo-oligosaccharide manufactured from beet sugar, marketed under the name Actilight by the company, significantly increases beta-galactosidase activity in the gut. (Beta-galactosidase is a relevant bio-marker which indicates the presence of bifidobacteria.) Another clinical study showed a significant increase of bifidobacteria in stools after 8 days with 10 g of the ingredient ingested per day, confirming earlier data.
The Southeast Dairy Foods Research Center at North Carolina State University have studied dairy products as optimum delivery systems for introducing probiotics into the digestive system. (A probiotic is a product that contains bacterial cultures thought to colonize in the intestine and encourage the growth of positive-acting microflora.) One part of the research program is studying the elements in dairy that deliver or act as a carrier for probiotics while the other part looks at how dairy enhances probiotic benefits.
Eye care. Carotenoids such as lutein and zeaxanthin may particularly play an important role in maintaining eye health, possibly preventing, in some cases, problems such as macular degeneration, cataracts, or glaucoma. These carotenoids, which are present in the tissues of the eye, are found in fruits and leafy green vegetables. Use of supplements containing a mixture of beta carotene, lycopene, lutein, zeaxanthin, and other carotenoids can prove advantageous, especially for those individuals who do not consume enough of these foods. Technology is also making possible the extraction of zeaxanthin in larger quanities as opposed to trace amounts. Another carotenoid that is gaining attention is astaxanthin, which is found in many types of seafood and microalgae. Studies are showing that it is much more powerful than vitamin E and may offer antioxidant advantages over the other carotenoids.
Allergies. Perilla (Perilla frutescens)—a plant grown mainly in India, Japan, southern China, and Taiwan—may be used in the treatment of allergies. According to a Japanese study, patient symptoms improved dramatically on 100–150 mg of perilla seed extract per day over a 2-week period. Tested symptoms included sneezing, stuffy nose, skin and eye irritation, and runny nose. Laboratory tests have shown that the botanical works by inhibiting the production of allergic mediators, or histamines, which are chemicals released by the body. These chemicals are triggered by the allergen which can range from food to tree pollen. The product, available from P.L. Thomas & Co., Inc., Morristown, N.J., has application in beverages, health foods, candy, cookies, pudding, yogurt, jelly, and chocolate.
The use of Perilla in the treatment of allergy has been developed by Japanese, Chinese, and Finnish scientists.
Joint relief. A number of ingredients have been looked at for their potential in treating arthritis and inflammation of the joints. An anti-inflammatory plant extract for use in dietary supplements and functional foods was recently launched by Next Pharmaceuticals, Inc., Irvine, Calif. Derived from a plant in China, the product can be used alone or in combination with glucosamine products for early onset of pain relief and other complimentary benefits. In human assays, it showed 85% inhibition for Cyclooxygenase-2 (Cox-2), a major promoter of inflammation.
A milk protein concentrate was developed by Stolle Milk Biologics Inc., Cincinnati, Ohio which may relieve inflammation by complementing the body's naturally occurring anti-inflammatory substances. Omega-3 fatty acids found in salmon, anchovies, tuna, or mackerel may help reduce joint inflammation and are becoming more popular in food products. Even certain spices have been recognized for their antioxidant properties. For example, compounds derived from the spice turmeric may prevent the synthesis of enzymes that participate in the synthesis of inflammatory substances.
--- PAGE BREAK ---
Hypertension. A recent study unveiled at the 2000 IFT Annual Meeting has shown that hypertension in rats was reduced by a hydrolyzed whey protein isolate manufactured by Davisco Foods International, LeSeur, Minn. The enzymatic hydrolysis of the ingredient is said to produce antihypertensive peptides which suppress angiotensin-converting enzymes (ACE). Studies on humans are to begin shortly.
Taiyo Kagaku Co., Ltd. of Japan developed an enzymatically synthesized Ltheanine, the primary acid found in green tea, which has the ability to control blood pressure within normal healthy ranges. In hypertensive rats, the amino acid decreased blood pressure significantly.
Liver care. Researchers from Southern Illinois University-Carbondale have found that a diet high in protein can keep genetically obese rats from developing a fatty liver—a liver which is visibly larger than normal with a lot of fat in it. This condition is common in overweight humans. While fat build-up itself does not damage the liver, some diseases, such as cirrhosis, diabetes, and elevated triglyceride levels, accompany the condition. In the study, a diet high in soy protein and soy phytoestrogens reduced the size of the liver to almost what it is in a normal rat.
Other health concerns. Recent studies have looked at vitamin C and gall bladder disease, vitamin K and bone health, soy and menopause, beta carotene and asthma, alpha lipoic acid and diabetes, vitamin E and the immune function, omega-3s and brain development and function, and a variety of other health areas where ingredients may benefit.
As we move toward a time when Nutrigenomics becomes a reality, it is more important than ever that researchers focus on creating new technological developments that are recognized by the industry and food organizations throughout the world.
Technologies that make possible the creation of novel plant varieties containing increased levels of such phytochemicals as carotenoids, flavonoids, isoflavones, vitamins, and various other nutraceutical components; processes which separate more thoroughly proteins and minerals from whey which then can be used for their health-promoting properties; and improved nutrition delivery systems are only some examples of such developments. A feature article in this month's issue of Food Technology (see page 44) will discuss trends in healthy food research, addressing, in particular, the mechanisms by which food components perform and the development of product lines that are representative of mechanisms that lead to health.
Marketing people will also have to change their perception and their strategies. Healthy foods, as a general or singular category, will probably become an outdated concept. Rather, there will foods (and ingredients) promoted for their specific health benefits, tailored for individuals who, based on their genetic profiles, are trying to reduce the risk of specific problems. That means that the concept of "The Consumer" has to change as well.
The impact of Nutrigenomics will be truly revolutionary not only on the way we diagnose illness (or, if you will, health), but on all fields—medicine, food research, technology, product development, regulatory, and marketing.
Will it become a reality? When I was a little boy, I thought it would be cool to spend my retirement on a distant planet. By that time, so I thought, we would certainly have the technology to make that possible. Even feasible. Now, as I'm slowly nearing the middle part of my life, I think it would be just as cool and a lot more feasible if we could unlock these discoveries linking genes and diet for a better health tomorrow.
--- PAGE BREAK ---
Products & Literature
Spotlight: BASF and Takeda combine vitamin businesses
BASF Aktiengesellschaft, Ludwig-shafen, and Takeda Chemical Industries, Ltd., Osaka, Japan, have agreed to integrate their bulk vitamin businesses. The combined business will reportedly have a share of approximately 30% of the worldwide vitamins market.
In Japan, both companies will form a joint venture for the sales and distribution of a joint range of bulk vitamins (with BASF holding a 66% stake and Takeda, 34%). Also, Takeda will transfer the shares of Takeda Vitamin & Food USA, Inc., Wilmington, N.C., and its subsidiary Takeda Canada Vitamin and Food Inc., Toronto, Canada, as well as Takeda Europe GmbH, Hamburg, Germany, and Takeda Vitamin & Food Asia Pte. Ltd., Singapore. Outside Japan, BASF will assume sole responsibility for the worldwide marketing of the combined vitamin product range.
Also, under the agreement, Takeda Vitamin & Food Co.'s manufacturing technology and patents related to the vitamins B-1, B-2, B-6, C, and folic acid will be transferred. Takeda's Vitamin & Food Co. will continue to produce bulk vitamins at its Hikari plant, Yamaguchi, and will supply its entire output exclusively to BASF.
The food business of Takeda Vitamin & Food USA, Inc., and Takeda Vitamin & Food Asia Pte. Ltd. will continue to be operated by Takeda.
"We are fortunate to have Takeda as our partner in the bulk vitamin business," said Christian Dudeck, president of BASF's Fine Chemicals Div. "Our product lines and distribution channels complement each other well. We will leverage the synergies arising from the combination of Takeda's competency in water-soluble vitamins business and our strength in the fat-soluble business."
BASF is the world's second largest producer of vitamins with a strong focus on fat-soluble vitamins. Its Fine Chemicals Div. produces and markets products for the health, nutrition, and personal care industries and had sales in 1999 of about $1.4 billion. Vitamins for use in the pharma, food, and animal nutrition industries accounted for approximately $500 million.
Takeda produces and markets globally a range of water-soluble vitamins mainly for the pharma and food industries. With global sales of $240 million, Takeda is currently one of the world's leading producers of water-soluble vitamins.
The volume of the global vitamins market is estimated to be steadily growing at an annual rate of a minimum of 4%. The most important customer sectors are the animal nutrition industries, accounting for 60% of the market, while the area of human nutrition in the pharma and food industries represents the remaining 40%. Vitamins have grown into high-volume products over the past decade, requiring world-scale manufacturing plants and advanced technology.
SELENIUM YEAST are inactivated whole cell yeast products containing elevated levels of the essential trace element selenium in its natural food form, L(+)selenomethionine. They are produced by growing yeast in the presence of measured amounts of selenium. Live yeast cells absorb selenium and biochemically transform it into L(+) selenomethione. Selenomethione is naturally found in edible plant protein and is highly bioavailable. It is the most suitable form of selenium for nutritional supplementation. Selenium is a known antioxidant and is an essential component of glutathione peroxidase enzyme, which inactivates free radicals. Recent studies have shown that selenium yeast can reduce the incidence of some cancers, such as stomach lung, colorectal, and prostate. For more information, write to Institut Rosell-Lallemand Human Nutrition, 8480 Blvd. Saint-Laurent, Montreal, Quebec Canada H2P 2M6 (phone 514-381-5631; fax 514-383-4493)—or circle 300. 
--- PAGE BREAK ---
WHEAT GERM—called Biogerm® PB1—is said to promote growth and surviving of bifidobacteria. Containing natural wheat germ oligosaccharides, the ingredient is produced by cold pressing and lacto-fermentation, and is available in different granulations. Recent studies at the Swiss Federal Institute of Technology showed the ingredient's prebiotic activity. Wheat germ ingredients, manufactured by Multiforsa A.G., Switzerland, may be used in a variety of products, including pizza bread, batters and breadings, cereal bars, liquid applications, fruit preparations, and a variety of other products. Advantages include nutty taste, excellent aroma, nutritional profile, and convenience. At the 2000 IFT Annual Meeting, Schouten USA, Inc., manufacturer of soy isoflavones, introduced the ingredient to the United States. For more information about the benefits of this ingredient, write to Schouten USA, Inc., 3300 Edinborough Way, Minneapolis, MN 55435 (phone 952-920-7700; fax 952-920-7704)—or circle 301.
GRAPE SEED EXTRACT—called Activin™—is said to be a more powerful antioxidant than vitamins C, E, and beta carotene. According to the manufacturer, studies have shown the ingredient's ability to fight free radicals–highly reactive molecules that can break down cells and have been linked to more than 60 chronic diseases. Extracted from grape seeds, the ingredient may be used in a variety of dietary supplements as well as nutritional foods and beverages. For more information, write to InterHealth Nutraceutcals Inc., 5451 Industrial Way, Benicia, CA 94510 (phone 707-751-2800; fax 707-751-2801)—or circle 302.
COCOA FLAVORING EXTRACT, Cocoa #2, is said to require less flavor augmentation because it combines a number of the desired flavor characteristics in a single extract. Available as a solid, spray-dried and powdered, and glycolic or fluid extract, it may be used in baked goods, snacks, confections, beverages, and a variety of other products. The company manufactures an extensive range of botanical extracts which may be used in nutraceutical foods. For more information, write to A.M. Todd Botanicals, 150 Domorah Dr., Montgomeryville, PA 18936 (phone 800-634-4418; fax 215-628-8651)—or circle 303.
FOOD ENZYME SYSTEMS are offered, including Aminogen, which is said to act as an amino acid potentiator, enabling the body to increase its production of all types of free-form amino acids; Carbogen, which when taken with meals help maintain energy levels and promote recovery; and Legumase, which helps to alleviate gastrointestinal stress. The patented systems, as well as a wide range of individual enzymes, are all products from a new division, Interactive Enzymes, recently introduced by the manufacturer. For more information, write to Triarco Industries, Inc., 400 Hamburg Turnpike, Wayne, NJ 07470 (phone 973-942-5100)—or circle 304. 
QUERCETIN is a natural bioflavonoid which is shown to have excellent antioxidant, anti-inflammatory, and antimicrobial properties. The first issue of EM Bioflavonoids, a customer newsletter available from EM Industries, describes quercetin, its properties, benefits, specifications, and answers to frequently asked questions. It also provides an overview of recent research studies. For a copy, write to EM Industries, Inc., an affiliate of Merck KgaA, Daramstadt, Germany, 7 Skyline Dr., Hawthorne, NY 10532 (phone 800-364-4535)—or circle 305.
MILK PROTEIN HYDROLYSATE—called Prodiet F200—contains a bioactive peptide with anxiolytic properties. According to the manufacturer, psychometric tests and measuring of specific hormonal markers have confirmed the anti-stress effect of the ingredient. It may be used in milk, ultra fresh produce, cheese, ice cream, and other products. For more information, write to Ingredia Dairy Ingredients, 51-53 Ave. F Lobbedez, B.P. 946 - 62033 ARRAS Cedex - France (phone 33(0)3 21 23 80 00; fax 33(0)3 21 23 80 01)—or circle 306.
by DONALD E. PSZCZOLA
Associate Editor