Mycotoxins are produced by molds that contaminate agricultural commodities either before harvest or during storage. Mycotoxins are active secondary metabolites that may cause toxic reactions. Although there are many species of toxigenic molds, only a few mycotoxins, particularly those affecting cereals such as maize, wheat, barley, oats, and rice are considered to be significant for humans. The effects of some food-borne mycotoxins are acute, symptoms of severe illness appearing very quickly. Seven mycotoxins actually contaminate human food with any frequency and pose food safety hazards. Aflatoxin, ochratoxin, deoxynivalenol (DON) or vomitoxin, zearalenone, and fumonisin are some of the most common and widely distributed mycotoxins in feedstuffs and foods.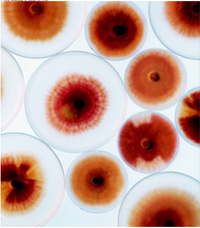 The most wellknown mycotoxin, the potent human hepato-carcinogen aflatoxin, is produced by Aspergillus flavus and A. parasiticus. One of the most important accounts of aflatoxicosis in humans occurred in more than 150 villages in adjacent districts of two neighboring states in northwest India in the fall of 1974. According to a report of this outbreak, 397 persons were affected and 108 persons died.
There are 24 toxigenic species of Fusarium which are increasingly viewed as having an important effect on human and animal health. Fusarium graminearum, which causes head blight and ear rot, produces a variety of potent mycotoxins including deoxynivalenol, zearalenone, and fusarin.
Chemically known as deoxynivalenol (DON), vomitoxin is produced most commonly by the pink mold F. graminearum. According to the Food and Drug Administration (FDA), evidence indicates a link from vomitoxin to outbreaks of acute gastrointestinal illness in humans. Fumonisins were discovered as recently as 1988 so there is little information on their toxicology. Recent research at by the USDA's Agriculture Research Service, indicates that there are at least eight genetically distinct scab pathogens, all of which are being called F. graminearum. Six of the eight species are known to infect corn. The ARS scientists developed a DNA-based diagnostic procedure that can be used to rapidly and accurately distinguish the eight species within the F. graminearum complex. For more information on the new procedure see the ARS Web site at www.ars.usda.gov/is/AR/archive/aug00/dna0800.htm.
Animal feeds with ingredients such as oilseed cakes, peanut, cottonseed and coconut cake or corn grits often contain mycotoxins. When animals ingest the contaminated feeds, some toxins can be metabolized and remain in milk, meat and eggs. The levels of toxins such as aflatoxin and ochratoxins present in these secondary sources are much lower than those in agricultural commodities. However, their levels in these products, in particular milk, is strictly regulated in most developed countries. The effects of this source of toxins on human health may be modest in developed countries because of feed safety regulations and pooling of milk at dairies.
Many agricultural commodities in international trade run a high risk of mycotoxin contamination. Regulations on mycotoxins have been set and are strictly enforced by most importing countries. For some developing countries, where agricultural commodities account for as much as 50% of the total national exports, the economic importance of mycotoxins is considerable.
--- PAGE BREAK ---
Several countries have set regulatory limits on mycotoxins. Most of this legislation pertains to aflatoxins, ergot alkaloids, deoxynivalenol, and ochratoxins. Although various legislative measures have yet to be harmonized among countries, the Codex Alimentarius Commission is making efforts to establish international guideline levels for mycotoxins, and aflatoxins in particular.
The FDA has set a maximum allowable level of total aflatoxins at 20 parts per billion (ppb). Commodities used for human and animal consumption must be tested to ensure that aflatoxin levels are below this number. The foreign markets regularly inspect loads and reject shipments of commodities with levels higher than 4 to 15 ppb. The FDA has set advisory levels for vomitoxin or deoxynivalenol in food and feed.
There are two main types of assay which have been developed for detection or determination of mycotoxins, either biological and chemical. Bioassay techniques, are only qualitative or semi-quantitative and are often non-specific. They are useful for indicating the presence of unknown toxins. Chemical assays are usually quicker, cheaper, more specific, more reproducible, and more sensitive than the corresponding bioassay. Chemical assays are suitable for routine analyses, as required for quality control and survey work. Immunoassays, are a combination of a chemical and a biological assay. They are very sensitive and can be specific, making them suitable for screening materials for traces of toxin.
Since the aflatoxins and many of the other important mycotoxins are fluorescent under ultraviolet light, this property may be used to detect them at very low levels (parts per billion). Qualitative assay is usually by thin-layer chromatography and requires the use of a qualitative standard. Fully quantitative determinations, which require the use of a standard of known concentration, can be carried out by a variety of techniques including: high performance liquid chromatography, high performance thin layer chromatography, and the fluorotoxinmeter.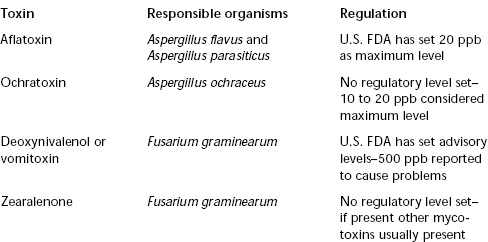 ---
Products & Literature
MYCOTOXIN TEST KITS, AgriScreen® and Veratox®, are qualitative and quantitative ELISA-based tests for aflatoxin, vomitoxin, fumonisin, zearalenone, ochratoxin and T-2 toxin. For more information, contact Neogen Corp., 620 Lesher Place, Lansing, MI 48912 (phone 517-372-9200; www.neogen.com) —or circle 307.
--- PAGE BREAK ---
PORTABLE MYCOTOXIN equipment, the MF-2000™ Mini Fluorometer, can provide a quantitative anaylsis. A rapid diagnostic or screening test kit can yield a quick yes or no answer about mycotoxin contamination in the field or at the receiving pit. But to know whether a mycotoxin is present in hazardous or "actionable"concentrations, requires quantitative analysis. This portable, battery-operated system may be used in such situations. The mini fluorometer includes an illuminated display that employs a set of overlays which correspond to tests for specific mycotoxins. During measurement of a sample for aflatoxin, for example, LED lights beneath the aflatoxin overlay illuminate the scale in the overlay. The number of lights showing through the scale correspond to a parts-per-billion (ppb) reading of aflatoxin concentration. A different overlay—with its scale reading parts-per-billion or parts-per-million (ppm) as appropriate—is used for each mycotoxin. For more information, Vicam, LP, 313 Pleasant St., Watertown, MA 02472 (phone 800-338-4381 or 617-926-7045; fax 617-923-8055; www.vicam.com) —or circle 308.
NIR SYSTEM, the InfraAlyzer 2000, may be used to measure up to 15 different properties in food products. The system is said to be ideal for production monitoring and quality control of raw materials and finished goods. An integrated PC and software enable analyses, calculations, and archiving to all be done by one system To use, operators place the sample above the measurement window and press a key to start the measuring cycle. Results are revealed on the built-in display and may be documented in a written report. All measurements are internally stored. For more information, contact Bran+Luebbe, Inc., 1025 Busch Pkwy., Buffalo Grove, IL 60089 (phone 847-520-0700; www.branluebbe.com) —or circle 309.
RESEARCHERS creating high-value natural extracts for the nutraceutical, cosmetic, and food industries can explore a wider range of active ingredients for their products by using a variety of new equipment available at the POS Pilot Plant in Saskatoon, Canada. The Heinkel Inverting Basket Centrifuge is a semi-continuous filter for separating solids from solvents. In comparison to other separation equipment, it is said to accommodate a wider range of starting materials to be extracted, and it can decrease the number of processing steps required. The final result is said to be greater overall process efficiency. The Heinkel operates by combining centrifugal force and filtration in one unit operation to effectively remove solvent from solids. Its ability to handle starting materials that range from fine powders to coarse leafy materials, derives from the wider range of filter cloths that can be used. A computer-controlled data capture system provides efficient recording of online processing data for research and development and scale-up purposes. For more information, contact POS Pilot Plant Corp., 118 Veterinary Rd., Saskatoon, SK, Canada (phone 306-978-2855) —or circle 310.
WATER PURIFICATION SYSTEMS, called Elix, may be used to produce pure analytical-grade water directly from tap water and provide high-quality feed water for HPLC systems. These water systems combine reverse osmosis and a patented electrodeionization technology. Unlike traditional deionization where the resin is chemically regenerated outside the system, the ion-exchange resin in this new system is continuously regenerated via electric current within the module itself. There is no regeneration with harsh chemicals or interruption in service for tank exchanges. The systems are said to eliminate the labor-intensive cleaning required by stills to maintain water purity levels. For more information, contact Millipore Corp., 80 Ashby Rd., Bedford, MA 01730-9125 (phone 781-533-5440; www.millipore.com/H2O) —or circle 311.
BODY COMPOSITION ANALYZERS, the Futrex 6100/XL® and the Futrex 5000®, may be used to measure body fat, lean mass, normalized body water and Body Mass Index (BMI) with a single site, non-invasive test utilizing near infrared light. Readings can be printed out on the instrument's self-contained printer or on four color forms when connected to an external printer. The four-color report provides more than numerical data. The analyzers benefit the fitness industry by base-lining new members' body fat percentage, which aids personal trainers in developing individualized exercise programs for their clients. For more information, contact Zelcore, Inc., 130 Western Maryland Pkwy., Hagerstown, MD 21740 (phone 301-791-9220) —or circle 312.
--- PAGE BREAK ---
RAPID KJELDAHL SYSTEMS, the Vapodest line, is said to offer fast and reliable systems for steam distillation for feed, brewing, water, and environmental analysis. The touch-sensitive screen on the instruments displays the recommended functions and provides the lab technician with an interactive and guided communication process. The chemically resistant user interface displays all available functions at a glance. There are 20 main programs for Kjeldahl determinations. Up to 1,000 calibration data and up to 10,000 sample results can be stored and recalled while statistics and data can be recalled and printed. A printer is provided. The steam power can set variably from 40 to 100% and the stand-by functions helps to save energy and cool water. The top model of the line works with a built-in auto-titration system. The model has a very sensitive, ceramic micro-dosing pump. For more information, contact ViscoAlpha Corp., P.O. Box 2227, Middletown, NY 10940 (phone 914-692-8889) —or circle 313.
PARTICLE SIZE ANALYZER, the Cilas 1180, may be used to measure a range of powder materials in the food industry. The unit incorporates both laser diffraction and CCD camera techniques. An automated sampler may be incorporated for performing large numbers of routine measurements. An alcohol recirculator is used to decrease both analysis and waste removal costs when analyzing hydrophilic particles or water-reactive samples. A decrease in solvent handling also results in a safer working environment. For more information, contact Cilas U.S., Inc., 4104 NW 29 th St., Miami, FL 33142-0561 (phone 305-702-4975) —or circle 314.
LIQUID CHROMATOGRAPHY SYSTEM has been designed for laboratories with the need for basic HPLC-derived information but have limited financial and technical resource. This system consists of a binary or isocratic pump, automated or manual injector, UV or refractive index detector, and software. The system is covered under a standard one-year warranty. Extended service plans are also available. For more information, contact Waters Corp., 34 Maple St., Milford, MA 01757 (phone 800-252-4752; fax 508-872-1990; www.waters.com) —or circle 315.
GRAZING ANGLE OBJECTIVE is said to provide a clearer viewing image when analyzing monomolecular layers. This unit uses proprietary optical coatings which is said to achieve higher sensitivity grazing angle microspectroscopy results. Two modes of operation—viewing and grazing—allow the area of interest to be observed before data collection. Grazing incidence is from 65°to 85°. Infrared polarizers and a flatness package option for manual and motorized stages are also available. For more information, contact Spectra-Tech Inc., 2 Research Drive, Shelton, CT 06484-0869 (phone 203-926-8998; fax 203-926-8909; www.spectra-tech.com) —or circle 316.
MERCURY ANALYZER, the AMA254, uses a single-purpose absorption spectrophotometer which is said to give accurate determination of trace mercury in liquid and solid samples in five min. Because there is no sample pretreatment, the analyzer gives matrix independent results with no interferences or contamination of Hg. This unit can analyze trace levels of mercury in drinking water, fish, and other foodstuffs, while the automated thermal processing allows mercury levels determination in samples such as waste waters, agriculture products, coal, and natural organics and minerals. An optional 45-position autoloader is available. For more information, contact Leco Corp., 3000 Lakeview Avenue, St. Joseph, MI 49085-2396 (phone 800-292-6141; fax 616-982-8977; www.leco.com) —or circle 317.
VESSEL SYSTEM, the MultiMax™, is an automated, multiple vessel system designed for parallel organic synthesis. The system can be used by chemists and chemical engineers for reaction screening and optimization studies. The system has a modular reactor block system that is equipped with four 50 mL glass reaction vessels that are precisely temperature-controlled between –50°C and 180°C. A Windows® NT-based software package controls the system, which enables each reaction vessel to be programmed with individual parameters for heating/cooling, stirring, and dosing. Up to 16 reactors can be controlled simultaneously. For more information, contact ASI Applied Systems, 8223 Cloverleaf Drive, Suite 120, Millersville, MD21108 (phone 410-987-3222; fax 410987-2626) —or circle 318.
QUALITY ASSURANCE SYSTEM, the TQA CO2, is a total quality assurance system for carbon dioxide. The system enables turn-key analysis of all CO2 impurities such as: total sulfur, total and aromatic hydrocarbons, total bound nitrogen, moisture, and oxygen. The unit employs patented, matrix-independent UV fluorescent detection and provides sulfur sensitivity from 10 ppb to percent levels, operating range of two orders of magnitude, and a cycle time of 30-45 sec. The system is designed for the harsh environments of industrial and process applications. Customizable sample preparation, sample introduction, data output, and data handling are available. For a color brochure, contact Antek Industrial Instruments, Inc., 700 Gateway Parkway, Marble Falls, TX 78654 (phone 888-478-5387; fax 830-798-8208; email [email protected]; www.antekhou.com) —or circle 319.
by JAMES GIESE
Associate Editor