Throwing rice at weddings was once a very popular custom, symbolizing good luck for the bride and groom. Even though that custom has fallen somewhat out of favor in recent years, the rice industry probably isn't too worried about its disappearance. That's because Americans have doubled their consumption of rice in more than a decade, eating more than 21 pounds per person. (People in Asia are said to eat as much as 300 pounds per person.)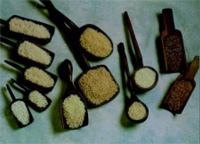 According to the California Rice Commission, rice consumption in the U.S. has been increasing about 4% annually and rice authorities expect this trend to continue (with consumption in California climbing even faster because of the growing number of Asian and Latino newcomers.) An interest in healthy diets is also contributing to this rising consumer trend.
Not too surprising, the uses of rice as a food ingredient keep expanding, with its functional and health benefits being actively promoted.
In December 2000, M&M/Mars, Hackettstown, N.J., introduced Snickers Cruncher™, an extension of the company's top candy bar. The new product, which is a crispier, less chewy version, consists of crisped rice, peanuts, caramel, and milk chocolate. It joins the company of another rice-containing extension, M&M's Crispy, which was launched in 1999.
Dinner mixes containing rice, seasonings, and sauce have been developed for chicken by Lipton Inc., Englewood Cliffs, N.J. Called Lipton Sizzle & Stir, the new products are currently being test marketed in the Midwest. Consumers "sizzle" chicken with the seasonings, then "stir" in the other components. Varieties include Teriyaki Stir-Fry Chicken & Rice, Spanish Chicken & Rice, and Lemon Garlic Chicken & Rice.
Kellogg, Battle Creek, Mich., added new varieties to its ready-to-eat snack treat line, Rice Krispies Treats. These include Chocolate Scotcheroos, a chocolate-and-butterscotch flavored variety, and Peanut Butter Chocolate containing peanut butter flavor and chocolate chips.
Although we may see a wide range of rice-containing products appearing in the marketplace, I think this is still only the beginning of rice's potential. This article will take a closer look at some of the new rice developments that may have impact in the creating of novel food and beverage products.
Reducing fat content
Rice-based ingredients can help reduce the oil content of such foods as deep-fried doughnuts and battered-fried chicken.
In preliminary trials conducted by scientists at USDA Agricultural Research Service's Southern Regional Research Center in New Orleans, doughnuts made from dough containing small amounts of modified rice starch, rice flour, and other ingredients reportedly absorbed as much as 70% less oil during frying than traditional, all-wheat doughnuts. (Compared to plain,100-gram, all-wheat doughnuts, which had 24–26 grams of oil, the wheat-rice flour doughnuts had as little as 8 grams.)
--- PAGE BREAK ---
The researchers are currently exploring the patent potential of the approach which involves a procedure to physically modify rice flour. Used commercially, the approach could expand market outlets for rice and ease some consumer concern associated with eating doughnuts, which generate $4 to $5 billion in annual sales.
Previously, the researchers developed a rice flour batter for fried chicken which was said to absorb 60% less oil than standard commercial batters made from wheat. The batter uses flour derived from regular long-grain rice, but other types such as short-and medium-grain varieties, are being looked at as well.
In experiments, skinless chicken breast nuggets coated with various rice batter formulations were fried. Although the normal rice batter cooked well and absorbed substantially less oil than wheat-based batters, there were some functional problems. However, these problems were overcome by modifying the rice flour with enzymatic and other treatments, producing a better batter with cooking properties similar to those of wheat.
Rice strain developed with high levels of beta-carotene
A genetically modified rice has been developed which contains in its seeds enhanced levels of beta-carotene, the nutrient that serves as the building block for vitamin A. The product is called Golden Rice because its seeds are pale yellow in color due to high beta-carotene content, a trait transferred from a daffodil.
The genetically engineered strain, created by professors Ingo Potrykus (Swiss Federal Institute of Technology in Zurich) and Peter Breyer (University of Freiburg), has the potential to counter Vitamin A deficiency-related diseases, including irreversible blindness, especially in developing countries.
According to the World Health Organization, more than 120 million children do not get adequate amounts of vitamin A which is essential for healthy vision and resistance to disease. Most of the children live in areas of the world where rice is the main staple and sometimes during the year the only food available.
The value-added product has been licensed to Zeneca Agrochemicals, which recently merged with the agricultural divisions of Novartis to form a new company called Syngenta. This company plans to market the rice in developed countries as an enriched crop containing antioxidants.
Under an agreement, the inventors have the right to work with agencies throughout the world to enable the delivery of this rice free-of-charge for humanitarian purposes in the developing world. For example, the rice will be given to international research institutes that are working on creating new varieties of rice in places such as India and the Philippines. The genetically engineered rice will be crossed with local varieties using traditional breeding methods, with health and safety tests being conducted.
It is anticipated that the product will not be available for local planting and consumption until 2003 at the earliest. Future development and commercialization may also be complicated by activists who are against biotechnology.
--- PAGE BREAK ---
Rice bran's cancer-fighting potential studied
The effect that processing rice bran may have on reducing colon cancer incidence in rats is the subject of a new study being conducted by scientists in a collaborative effort by the USDA Agricultural Research Service's Western Regional Research Center, Albany, Calif., The Rice Foundation, Houston, Tex., and University of California Medical Center, Sacramento, Calif.
The researchers will investigate various food-processing techniques to determine whether specific technologies convert key compounds of bran into forms that are easier for the body to absorb and use. The study, in particular, will look at two different kinds of rice bran fiber and at antioxidant compounds already known to prevent formation of free radicals.
Previously, in preliminary experiments with wheat, the researchers showed that different techniques for processing wheat bran into cereals made a significant difference in reducing the incidence of a colon cancer indicator in laboratory rats.
Capitalizing on crispy creations
A crisp rice that stays crisp, even under high-shear processing conditions, is available from Riviana Foods, Houston, Tex. Made using only the whole grain as a basic ingredient, the product is said to have a clean flavor and crisp texture, and is suitable for confectionery products, granola, and ice cream toppings. It is available in a variety of sizes.
Other applications such as cookies and nutrient bars are also taking advantage of the ingredient. Furthermore, because crisp rice may be fortified with nutrients, it may be used to create healthier, low-calorie products.
Crisp rice can also be made using rice flour and extrusion. Rice flour's compatibility with a variety of other ingredients makes possible the creation of products offering different textures, tastes, and even nutrients.
Infusion of flavor into rice
A rice cereal which has selected flavors infused directly into the grains is the subject of U.S. patent 6,143,336, filed December 7, 1998, issued November 7, 2000 to R. Capodieci, assigned to Mars Inc.
The patent discloses an apparatus and method for infusing flavors into rice or other cereal grains and agglomerating the grains into predetermined shapes, preferably shapes permitting accurate portion control.
The patent relates to prepared and packaged food products, and, in particular, to economical, high-speed methods for producing such products. This novel product offers a number of advantages, including convenience, high quality, nutritional value, and flavor and ingredient variety.
--- PAGE BREAK ---
Healthy beverage developed from rice bran
The development of a natural rice bran beverage earned Ribus, Inc., St. Louis, Mo., a government grant from the Missouri Department of Agriculture's annual Value-Added Grant Program. The program promotes the development of agricultural goods and small businesses by creating value-added products.
The beverage base is said to provide a variety of health benefits associated with rice bran. For example, it supplies components which occur naturally in rice bran, such as potassium, inositol, choline, protein, rice bran oil, B vitamins, vitamin E, and tocotrienols. The naturally occurring proteins in rice bran are bioavailable and the beverage is hypoallergenic.
Pilot plant testing of the new product is imminent, and the rice bran beverage is expected to be ready for manufacturers by spring 2001.
Ribus, Inc., is a manufacturer of two new ingredients derived from rice bran. Available as stable, spray-dried powders, they are labeled "rice extracts" and are produced using a process that retains the functional and nutritional components of rice bran while inactivating a lipase enzyme that causes rancidity. Nu-Rice™ is an emulsifier used as a processing aid in products such as pasta and snacks. Nu-Bake™, described as a dough conditioner and shelf life enhancer, is designed for use in frozen bread doughs, thaw-and-serve bakery items, laminated dough systems, and fresh bakery items. It provides improved machinability of dough systems; increased oil and water emulsification which creates added moisture perception; increased product strength and texture while maintaining tenderness; and extended shelf life.
Shelf-stable rice product does not require cooking
A full-moisture, shelf-stable rice product is disclosed in U.S. patent 6,139,898, filed March 26, 1999, issued October 31, 2000, to P. Meyer et al., assigned to Nestec S.A. The whole-grain rice product does not require full cooking by the consumer, but rather is intended to be eaten after unpacking and simple heating or short cooking.
According to the patent, the product has a pH range of about 3.5–4.5, and consists of a cooked or precooked whole grain rice having a dry matter content of 30–55% by weight. It also contains an acid in an amount effective to obtain the desired pH, and an oil sufficient to coat the surface of the rice. The manufacturing process includes water soaking whole grain rice, portioning, blanching, water cooling, dipping into acidified water, oiling, packaging, and in-pack pasteurizing.
The rice used may be of any variety. Some rices especially suitable for the process include short-grain rice such as Italian Camolino, a parboiled white long-grain rice, a Thai long-grain fragrant rice, or a Basmati rice.
--- PAGE BREAK ---
Newly defined business units focusing on rice
Recently, AC Humko, a supplier of functional oil-based products, changed its name to ACH Food Companies, Inc., and defined its five separate businesses.
One of its businesses, ACH Rice Specialities, operates several rice processing and packaging plants, with an emphasis on specialty rice products. A complete line of precooked and instant rices, including brown and white varieties, are offered, as well as a growing line of plain and seasoned individually quick frozen rice products. Rice flour for ready-to-eat cereal and confectionery applications is also available.
A second unit, ACH Food and Nutrition Group, is developing, manufacturing, and marketing ingredient products, such as specialty grain-based products, spray-dried powders, confectionery fats, and nutritional ingredients. Adding further depth to this business is ACH's recent acquisition of Pacific Grain Products, Inc., a manufacturer of rice-based ingredients.
As a result of this acquisition, several novel ingredients can be made available from ACH. For example, an ingredient made from rice flour and bran may be used in processed meat products to increase juiciness and water-holding capacity, improve tenderness, and enhance flavor and color. Applications for the ingredient include tumbled or injected whole muscle meats, stews, and chicken breasts and thighs.
Other rice-based ingredients include a pregelatinized rice flour specially processed from milled rice which swells readily and develops instant viscosity in cold water; a dough strengthener for baked goods; and a fat replacer and shelf-life extender designed specifically for use in flour tortillas.
Tip of the ricecap
Although there are more than 40,000 different varieties of rice worldwide, white rice probably first comes to mind. However, as we become more exposed to a variety of international dishes—and as more aromatic varieties are grown in the U.S.—we'll likely see more products using other rice varieties.
For example, brown rice—the least processed form of rice—may be gaining in popularity for several reasons. Because this variety retains the bran layers, it is slightly more nutritious than white rice, providing more protein, calcium, phosphorus, potassium, niacin, fiber, and vitamin E. As such, it may be positioned as a more healthful alternative. Furthermore, with its intact bran layer, brown rice has a characteristic tan color and nut-like flavor, as well as a chewy texture when cooked. (It should be noted, however, that brown rice has a shorter shelf life than white rice because the oil in the bran layer can become rancid. Refrigerator or freezer storage is recommended for longer shelf life.)
Although brown rice requires a longer cooking time than regular-milled rice (45–50 min), a precooked, equally nutritious version is available which requires less cooking time (15 minutes).
Brown rice has application in a variety of products, including stuffings, salads, and vegetarian entrees. The USA Rice Federation, Houston, Tex., offers several recipes using brown rice, such as Brown Rice Black Bean Burrito, Spicy Thai Pizza, and Savory Rice-Nut Loaf.
--- PAGE BREAK ---
Aromatic rices, including jasmine and basmati, may see increasing usage as consumers become more familiar with their names, and, of course, their taste. According to the USA Rice Federation, aromatic rices have a flavor and aroma similar to that of roasted nuts or popcorn. The natural compound that gives aromatic rice the characteristic aroma and flavor, acetylpyrroline, is present in all rice, but is present in the aromatic varieties, in much higher concentrations. The most popular domestically grown aromatic rices include della, which cooks dry, separate, and fluffy; jasmine, which cooks more moist and tends to cling together; and basmati, which cooks into very long, slender grains which are dry, separate, and fluffy.
Della rice, first developed in the U.S. 20 years ago, is a cross between long grain and basmati. Similar U.S. varieties include delmont and delrose. These varieties have aromatic qualities similar to basmati and, as already noted, cook dry and separate. However, cooked kernels are not as long and slender as basmati because the grains, when cooked, swell both length-and widthwise. The fragrant rice is packaged in both white and brown forms.
Like basmati, della rice is suitable for pilafs, curries, salads, fried rice, puddings, or by itself. It is often substituted for recipes calling for basmati rice. This rice typically is not labeled by variety; however, commercially available brands include Texmati, Della Gourmet, Cajun Country Popcorn Rice, Louisiana Popcorn Rice, Wild Pecan, and Delta Rose.
A recipe available from USA Rice Federation, Macadamia Rice, illustrates the unique flavors that can be created with this rice and other ingredients. It consists of chopped Macadamia nuts, crushed hot red pepper flakes, della or basmati rice, Parmesan cheese, and parsley.
Arborio rice, once grown in Italy, is now also grown in the U.S. and is classified here as a medium-grain rice. When handled carefully, this rice develops a creamy texture around a chewy center and has the ability to absorb flavors. It is especially suitable for dishes requiring slow, gentle cooking, including risotto, pudding, and paella. The rice variety can be fused with a variety of cuisines such as Asian, Cajun, or Southwestern, or with seasonal recipes.
Koshihikari, a short-grain rice native to Japan, is now successfully grown in Arkansas and California and has a subtle, sweet flavor. This variety was first grown commercially in the U.S. in 1992, and first marketed to Japan in 1994. When cooked, it is soft, yet firm. It has particular application for sushi and other Japanese dishes, as well as silky rice puddings. Its ability to absorb flavors also makes this rice suitable for risotto, rice cakes, rice salads, or by itself.
A "rice-ceutical?"
A nutraceutical product extracted from rice bran has been developed by researchers at Tsuno Foods & Rice Co. Ltd., Wakayama, Japan. Called Riceo, the water-soluble powder is mainly composed of protein, polysaccharide, and dietary fiber, and also retains a high proportion of minerals including calcium and magnesium.
According to the manufacturer, the product reportedly contains several components which may offer health advantages. For example, it is a rich source of myo-inositol (recognized as a part of the vitamin B complex group) and its phosphate-derivative inositol hexaphosphate (IP6 or phytic acid).
In addition to promoting cell growth, inositol can ameliorate fatty liver, arteriosclerosis, and hypercholesterolemia and can accelerate the absorption of calcium. In Japan, it may be used as an ingredient for energy drinks and infant formula.
--- PAGE BREAK ---
IP6 has been been used as a food antioxidant, mineral chelator, and iron binder. Among its benefits, it may prevent urinary calculi, improve the immune system, and provide anti-cancer action. Studies are also looking at its ability to lower high levels of cholesterol and triglycerides in the blood and protect against cardiovascular disease.
Tsuno Foods & Rice Co. Ltd., which describes itself as a world leader in "rice therapy," extracts a vast array of antioxidants from rice bran, including rice oil, gamma oryzanol, ferulic acid (promoted as a food supplement and skin protector because of its ultraviolet-absorbing and antioxidant properties), inositol, and phytic acid. Since 1947, the company has been developing and improving ways of using rice bran for industrial manufacture based on rice oil extraction and refinery and promoting the exchange of information and ideas about important developments that have bearing on disease prevention by rice components.
Oils derived from rice
Soybeans are currently a primary source of plant sterols. However, according to researchers at Tsuno Foods & Rice Co., Ltd., the cholesterol-lowering effect of rice oil is at least in part mediated through these components. Because rice is such a rich source of sterols, studies are being conducted to examine their uniqueness.
Because rice oil reduces LDL-cholesterol without affecting HDL-cholesterol, rice bran oil is also gaining attention. Oil derived from rice bran is rich in oleic and linoleic acid. It also contains various trace components which have been linked to lowered cholesterol. These include a ferulic acid ester gamma-oryzanol, stanols, and antioxidants tocopherols and tocotrienols. Rice bran oil is mild in taste and flavor, and has an excellent heat stability as a cooking oil.
Rice will continue to play an important role in future product development for a number of reasons.
As I pointed out in the November Ingredients section, rice may be used in holiday foods, often as an alternative to other ingredients. The fact that rice is so compatible with ingredients such as chocolate or dairy desserts gives this ingredient an indulgence quality suitable not only for the holidays, but for the rest of the year as well.
Because it is a staple in so many different kinds of ethnic cuisines, rice will be used in developing products that fuse different cultures. Furthermore, ingredients derived from rice can provide several physical or functional benefits, such as moisture retention, shelf-life extension, and texture enhancement. And as new studies are demonstrating, rice offers a variety of health benefits which make the ingredient especially suitable for use in developing products with "clean" labels, low-fat foods, and even nutraceutical products designed to maintain health.
Rice indeed has become associated with a wide range of foods. It ability to wear so many different hats, especially in recent years, helps explains the secret of this ingredient in product development.
And, by the way, it shows once again that this ingredient is not just for throwing at weddings.
--- PAGE BREAK ---
The "Gold" Inside the Rice
DEFATTED RICE BRAN EXTRACT has low fat content, making it less prone to rancidity and allowing a longer storage stability. It is non-gummy, blends easily with other ingredients, and is directly compressible. It is said to be a highly nutritious product—an excellent source of protein, fiber, and natural B vitamins. Its flavor is bland and slightly nutty. Produced by extraction with a food-grade solvent of rice bran, the ingredient is available as pale tan, off-white granules to powder. For more information, write to Freeman Industries, L.L.C., 100 Marbledale Rd., Tuckahoe, NY 10707-0415 (phone 914-961-2100; fax 914-961-5793)—or circle 300.
AROMATIC AND EXOTIC RICE BLENDS offer nutritional value, visual appeal, and hearty taste. These colorful blends of whole grain rices include Wehani®, Wild Blend®, Countrywild®, Jubilee®, and Black Japonica®. An innovator in varietal rice development, the manufacturer handles each aspect of the rice operation—farming, drying, milling, packaging, storage, and shipment. For more information, write to Lundberg Family Farms, P.O. Box 369, Richvale, CA 95974-0369 (phone 530-882-4551; fax 530-882-4500)—or circle 301.
RICE STARCHES are special because of their small particle size, clean flavor release, creamy texture, temperature stability, and hypoallergenic qualities. Obtained from both waxy and nonwaxy rice varieties, they are available in modified and pregelatinized forms. One new product, a native rice starch called Remyline XS, reportedly has excellent process stability and strong starch granule rigidity which allows it to have improved resistance to process stress. For more information, write to A&B Ingredients, Inc., 24 Spielman Rd., Fairfield, NJ 07004 (phone 973-227-1390; fax 973-227-1390)—or circle 302.
RICE-BASED INGREDIENTS include rice flour, frozen rice, instant rice, and specialty varieties of rice (Mochi or waxy/sweet, arborio, and organic grown in the U.S.). These products produced for use in processed foods are available from Sage V Foods, L.L.C., which was formed in 1992 to create innovative new applications for rice and develop new rice products to meet those needs. The company's original name was Comet Rice Ingredients (a subsidiary of American Rice/Comet Rice), but was renamed in 1998. For more information, write to Sage V Foods, L.L.C., 12100 Wilshire Blvd., Suite 605, Los Angeles, CA 90025 (phone 310-820-4496; fax 310-820-2559)—or circle 303.
RICE KIT for industrial applications provide information on rice varieties, functionality, texture, taste, nutrition, and availability. For a copy of the newest version of this kit, write to The USA Rice Federation, P.O. Box 740121, Houston, TX 77274 (phone 713-270-6699; fax 713-270-9021)—or circle 304.
RICE DISHES can benefit from a line of vegetarian meat flavors called Robust Choice®. The flavors are said to be nonmeat based, yet can add all the savory flavor profiles of a meat product. According to the manufacturer, they can add the nuances of specialized cooking methods such as roasted, baking, or broiling, as well as flavor characteristics such as white meat, dark meat, braised, or brothy. The flavorings are available in natural, natural-artificial, or natural WONF formulations in either liquid or dry forms. For more information, write to Innova, A Griffith Laboratories Co., 2021 Swift Dr., Oak Brook, IL 60523 (phone 630-928-4800)—or circle 305.
RICE FLOURS are described in a 4-p brochure available from Rivland. Products include RL-100, a white rice flour produced from long-grain varieties of rice; RM-100, a white rice flour derived from medium-grain varieties; RP-100, a specially prepared rice flour made from parboiled long grain rice; Natural Brown Rice Flour produced from whole-grain brown rice or parboiled brown rice; and L-100, a pregelatinized rice flour made from precooked long grain white rice. For more information about these products and their applications, shelf life, and packaging, write to Rivland Partnership, P.O. Box 2636, Houston, TX 77252 (phone 713-529-3251; fax 713-529-1661)—or circle 306.
RICE SYRUPS are made enzymatically from white rice, brown rice, or certified organic rice. Traditional or clarified syrups in dextrose equivalence (D.E.) ranging from 26 to 70 are available. Choice of ingredient depends upon application. For example, rice dextrin syrup (D.E. 26) provides such properties as high viscosity, slight sweetness, binding, and elevation of freezing point for use in extruded fiber/granola bars and frozen desserts. High maltose rice syrup (D.E. 42–50) provides high maltose content and smooth sweetness in hard candies, extruded bars, and confections. Medium conversion rice syrups (D.E. 42–60) may be used as a balanced sweetener and humectant in soy-based beverages, confections, cereals, and baked goods. High glucose rice syrups (D.E. 70) are the sweetest rice syrup option, providing low viscosity and depressed freezing point in cereals, sauces, condiments, granola, and soy-based products. For more information, write to California Natural Products, P.O. Box 1219, Lathrop, CA 95330 (phone 209-858-2525; fax 209-858-4076)—or circle 307.
by DONALD E. PSZCZOLA
Associate Editor