On December 27, 2000, the U.S. Food and Drug Administration (FDA) sent a letter to corn millers and food manufacturers urging them to screen yellow corn for possible StarLink genetically modified corn contamination. FDA said it sent the December 27 letter to the corn industry because it may have missed some StarLink corn in the government buy-back program established in late September. FDA recommends these sampling procedures be phased in by January 25, 2001.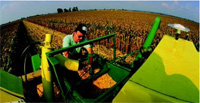 StarLink corn has been genetically modified to contain a protein, Cry9C, which makes the corn more resistant to certain types of insects than traditional varieties of corn. In some cases, the Cry9C protein has also been detected in corn seeds of a non-StarLink variety or in corn from such seeds. Unlike other varieties of genetically modified corn, the Environmental Protection Agency authorized the use of StarLink corn only for animal feed use, not for human food use. However, some Cry9C-containing corn was mistakenly mixed with yellow corn intended for human food use. StarLink's developer, Aventis S.A., in cooperation with the U.S. Dept. of Agriculture (USDA), has been buying back harvested StarLink corn from the year 2000 crop to prevent its introduction into the human food supply.
Because corn containing the Cry9C pesticide is adulterated if intended for human food use, manufacturers who detect Cry9C-containing corn in any lot should divert the lot to animal feed or industrial use.
FDA's recommendations for testing for Cry9C-containing corn include four elements: (1) the appropriate test, (2) representative sampling, (3) appropriate analytical procedures, and (4) appropriate personnel training.
There are several methods currently available for detecting Cry9C-containing corn in bulk yellow corn (or milled yellow corn). FDA has been using the most sensitive method (PCR) to test retail food products for the presence of the Cry9C DNA, but this method is not practical for screening corn shipments in the field. For screening, FDA recommends that manufacturers use an immunoassay test that has been validated by USDA's Grain Inspection, Packers, and Stockyards.
The tests validated to date are the TraitCheck Bt9 Lateral Flow Test Kit (Strategic Diagnostics, Inc., Newark, Del.; www.sdix.com) and the Cry9C QuickStix™ Test Kit (EnviroLogix, Inc., Portland, Maine, www.envirologix.com). FDA does not normally recommend tests by specific manufacturers. However, FDA is listing the GIPSA-validated tests that detect the Cry9C protein because the agency wants to encourage corn dry-milling and masa operations to begin testing corn as quickly as possible.
--- PAGE BREAK ---
Processors should collect a representative sample of at least 2,400 kernels from each vehicle or carrier (e.g., each rail car, barge, truck, etc.) in each incoming shipment by using the sampling protocols recommended by GIPSA. (For more information, see the Grain Inspection Handbook, Book I, Grain Sampling, www.usda.gov/gipsa/reference-library/handbooks/grain-insp/grbook1/gihbk1.htm. See also GIPSA publication Inspecting Grain: Practical Procedures for Grain Handlers (October 1999), available at www.usda.gov/agency/gipsa/pubs/primer.pdf.). The 2,400 kernels should be divided into subsamples for analysis, with the number of subsamples depending on the detection level for which the test has been validated.
FDA also recommends that the person performing the analysis be adequately trained in the use of the test kit and be properly supervised. FDA states that analytical staff may find GIPSA Directive 9181 Testing for StarLink Corn useful.
FDA says that these recommendations are intended to minimize the production of yellow corn products with corn containing the Cry9C protein, not as a guide for compliance monitoring. The recommendations may differ from the procedures outlined in FDA field assignments written for the agency's compliance monitoring activity.
In addition, the recommendations are not intended to apply to corn intended for animal feed use. Cry9C protein and the Cry9C DNA are lawful in animal feed due to an EPA-established exemption from tolerance since the introduction of StarLink corn in 1998.
GIPSA has conducted studies to validate the test kits using yellow corn. Data obtained indicate that the test kits are capable of successfully detecting the presence of the Cry9C protein in contaminated corn.
Manufacturers who wish to use different tests that are developed in the future should consult with GIPSA (202-720-0252, www.usda.gov/gipsa) about the validity of the tests. GIPSA has conducted studies to validate the TraitCheck Bt9 Lateral Flow Test and the Cry9C.
GIPSA verified the test kits are capable of detecting the presence of the Cry9C protein at the minimum detectable level of 1 StarLink kernel in 400 corn kernels (0.25%) for the TraitCheck Bt9 and 1 StarLink kernel in 500 corn kernels (0.2%) for the Cry9C QuickStix™, as claimed by the manufacturers. Other testing methods are commercially available providing a wide range of detection capability. Caution must be taken to ensure that the sample size analyzed is consistent with the detection capability of the methodology used.
Although StarLink was grown on less than 1% of all U.S. corn fields, it was commingled with large quantities of corn. Aventis said in November that all of the 2000 StarLink crop except about 75,000 bushels had been recovered.
--- PAGE BREAK ---
Central-Hanse changes name to GeneScan USA, Inc.
Central-Hanse Analytical Laboratory, LLC, Belle Chasse, La., announced that is has changed its name to GeneScan USA, Inc. as of December, 2000. The change was said to reflect the connection of the laboratory to the parent company, GeneScan, AG in Germany. The GeneScan group of companies are involved in applied molecular biology, including analytical services, microarray production, PCR kits, and information services. GeneScan USA provides specialized testing for genetically modified food and agricultural products as well as food chemistry and microbiological testing. It operates a laboratory facility in Belle Chasse, La. For more information, contact GeneScan, USA, Inc., 101 Woodland Highway, Belle Chasse, LA 70037 (phone 504-398-0940; fax 504-398-0945; www.gmotesting.com) —or circle 308.
SHORTENING MONITOR is a simple method of determining when to discard the liquid shortening to ensure the quality of fried food. The shortening monitor is a non-toxic paper test strip. It is dipped into a fryer's liquid shortening at it normal operating temperature. When the shortening monitor strip is removed from the sample, a color change in the bands indicates the degree of liquid shortening breakdown. This simple process ensures that the operator is not using degraded liquid shortening or changing the shortening prematurely. The color of the oil isn't always an accurate indicator of the shortening's quality. This monitor helps to determine the quality by measuring the concentration of free fatty acids, a major by-product of shortening breakdown. It is said to be effective in animal, vegetable, and blend shortenings. For more information, contact 3M Food Service, 3M Center, Bldg. 223-4N-15, St. Paul, MN 55144-1000 (phone 800-698-4595, www.3M.com/foodservice) —or circle 309.
LOW MOISTURE SAMPLES may be analyzed with the Smart Therma-Dri System™. Utilizing a combination of microwave and thermal contact heating, the system is capable of determining moisture in samples that previously could not be dried with microwave energy alone. New technologies are said to ensure accurate reproducible results for low-moisture samples containing free and bound water, such as spray-dried dairy products, cereal, snack foods, instant drink powders, and others. The system contains a proprietary material which absorbs microwave energy resulting in rapid moisture analysis. For more information, contact CEM Corp., P.O. Box 200, Matthews, NC 28106 (phone 800-726-3331; fax 704-821-8710) —or circle 310.
MASS SPECTROMETRIC DETECTOR may be coupled with Dionex HPLC and high-performance IC systems to provide IC/MS capabilities. The unit is switchable with dual atmospheric pressure ionization sources. It is controlled using supplied chromatography management software. Electrospray ionization and atmospheric chemical ionization are available for LC and IC applications. The source inlet is self cleaning. The system includes a benchtop quadrupole mass spectrometer with a mass range of up to 1,600 mz with unit mass resolution. For more information, contact Dionex Corp., 1228 Titan Way, Sunnyvale, CA 94088-3603 (phone 408-737-0700; www.dionex.com) —or circle 311.
CHLORINE ANALYZER, the CSS 140, is said to offer minimal maintenance requirements and no reagent consumption. By compensating with a pH sensor, the chlorine analyzer achieves a faster response time than systems using reagents to condition a sample. The analyzer uses a flow cell instead of sampling tubes. In the water market, the sensor aids in meeting EPA requirements regarding chlorination limits for water well disinfection. In wastewater applications, the device helps to monitor discard limits at treatment plants. Industrial operations benefit by using the chlorine analyzer to prevent biological growth in a variety of applications. For more information, contact Endress+Hauser, Inc., 2350 Endress Place, Greenwood, IN 46143 (phone 317-535-7138; fax 317-535-8498; www.usendress.com) —or circle 312.
--- PAGE BREAK ---
GAS ANALYZERS, the Xentra 4100 and 4200, may be used to identify unwanted CO2. Indication of even a few parts per million of CO2 provides advance warning allowing maintenance before higher levels can cause serious problems in cryogenic plants and facilities where natural gas is being converted to a liquid. If left unchecked, CO2 buildup will result in the formation of dry ice causing severe compressor damage as well as pressure buildup resulting in ruptured tanks and pipes. Plant operators can measure CO2 down to a few ppm and thus assure the safe operation of their facilities. The Xentra 4100 is used in non-flammable gas streams with typical applications at air separation plants. The Xentra 4200 is suitable when CO2 is measured in a flammable gas. For more information, contact Servomax Co., Inc., 90 Kerry Place, Norwood, MA 02062 (phone 781-769-7710; fax 781-769-2834) —or circle 313.
DATA TRANSFER UNIT, the DTU-3xe, is based on the Palm Pilot IIIxe. The unit allows users a convenient method of gathering data from the field. It employs the Palm Pilot as the product platform. The data transfer unit is designed to allow fast, reliable, on-site data retrieval from Telog recorders. A RS-232 connector collects information for end-of-day synchronization to a personal computer for analysis. For more information, contact Telog Instruments, Inc., 830 Canning Pkwy., Victor, NY 14564-8940 (phone 716-742-3000; fax 716-742-3006; www.telog.com) —or circle 314.
LOW-LEVEL SULFUR ANALYZER, the Model 9000LLS, is said to enable ultra-fine sensitivity through their patented Pyro-fluorescence technology. The instrument can be used to measure ppb levels of sulfur and is said to be more stable than coulometric methods, more sensitive than x-ray, and cleaner than lead acetate. For more information, contact Antek Instruments, 300 Bammel Westfield Rd., Houston, TX 77090-3533 (phone 800-365-2143; 281-580-0339; fax 281-580-0719; www.antekhou.com; e-mail [email protected]) —or circle 315.
COLD TRAPS, called CentriVap Ultra-Low, may be used with gel dryers and vacuum pumps to protect them from low freezing point solvents. They trap moisture, vapors, and corrosive fumes as they evaporate samples in the concentrator. The traps collect up to 4 L of liquid before defrosting is necessary. The traps have an epoxy-coated steel housing and control panel, acrylic lid with two quick-disconnect fittings and a stainless steel drain port with nylon valve. A ready indicator illuminates when the collector coils reach operating temperature. For more information, contact Labconco Corp., 8811 Prospect Ave., Kansas City, MO 64132-2696 (phone 816-333-8811) —or circle 316.
HAND-HELD METAL DETECTOR, the Model HH-10, may be used to locate the exact position of small pieces of small pieces of unwanted tramp metal. The detector can activate audio and visual alarms whenever metal is detected. The detector senses ferrous contamination as small as one millimeter, and slightly larger nonferrous metals. Its plug-in and go design is said to ensure consistent voltages. For more information, contact Eriez Magnetics, 2200 Asbury Rd., Erie, PA 16514-0608 (phone 814-835-6000; www.eriez.com) —or circle 317.
---
Need information about international food news, IFT Annual Meeting and Expo information, IFT-related news and events? Check out the following Websites.
IFT Web Services
www.ift.org 
www.worldfoodscience.org
www.am-fe.ift.org
www.worldfoodnet.com
by JAMES GIESE
Associate Editor