Everyone's discovering women. Quaker Oats for Women, General Mills' Harmony and Kellogg's Special K-Plus help women get off to a healthy start. Kraft/Balance Bar's Luna Bar, the Cliff Bar for Women and Leiner's Rhapsody bar offer women healthy graband- go solutions. Mead Johnson's Viactiv™ calcium chews and energy-enhancing foods for women are cutting into supplement sales while Jenny Craig's diet bar soars mainstream and dozens of marketers target beverages, bars, breads, and cereals to America's 47 million menopausal and peri-menopausal women. This may be the major healthy food and nutrition trend of all time (See Food Technology, 54:4, p.44-46).
Men's and women's physiological and nutritional needs are different. There are distinct biological differences in organ systems and at the cellular level. Women metabolize aspirin differently. Women's hearts are two-thirds smaller, and beat faster, and women have higher immunoglobulin levels enabling them to resist viruses. Women are more likely to suffer from arthritis, autoimmune conditions, osteoporosis, high cholesterol, diabetes, and depression, according to a report titled "Partnership for Women's Health" from Columbia University, New York.
Women dominate the ranks of the nation's 55 million self-care grocery shoppers, supplement, and alternative medicine users, health food, organic and natural product purchasers, and fortified food buyers. According to the Hartman Group, America's 93 million women supplement users spent $14.1 billion in 1999. Multivitamins, calcium, vitamin E, vitamin C, B-complex, garlic, zinc, ginkgo, and glucosamine topped their "most used" list. Across all channels, isoflavones posted the largest supplement sales gains— +159%— followed by multi-minerals with112% increase, particularly among those products claiming enhanced calcium absorption. Other supplements with increases include black cohosh with a 93% increase, flax with a 74% increase; vitamin D, which grew by 56%; and folic acid with an increase of 31%. According to ACNeilsen/SPINS, soy sales grew by $28 million, a whopping 3430% boost in mass channel supplement sales, 1999 vs.1998. In the Whole Foods 8th Annual Supplement Survey, soy ranked eighth on the top ten list of health food/natural retailer "hot" sales picks for next year (South Plainfield, NJ). According to Beta Research's Confidential Women's Health Study (Syosset, NY), 92% of women are aware of calcium, followed by aloe vera (89%), antioxidants (85%), garlic (85%), ginseng (79%), ginkgo biloba (75%), green tea (73%) and echinacea (54%).
Across all ages, heart disease, breast cancer, stress/energy, osteoporosis, high cholesterol, and overweight rank as women's health concerns. The Hartman Group's "Consumer Wellness Study" indicates thatr both top of mind concerns and true physical health needs differ dramatically by women's age. For example, energy, skin/hair, stress, weight, and PMS are top of mind concerns for women age 18-24. Ranking for true health needs: obesity, immunity against colds and flu, cognitive function, and fertility occupy the minds of women aged 24-40. For women between the ages of 50-64, energy, skin hair, sex drive, fear of hysterectomy, and gingivitis were top of mind, but weight management, menopause, bone integrity, and muscle mass/tone were specific to the younger half of this segment and post menopause and hair loss to the older half. Physiologically, breast cancer, immune disorders, cognitive function/dementia, heart disease, macular degeneration, cholesterol, arthritis, diabetes, and urinary tract infections were key for the 50+ age segment.
Most women see themselves as healthy and their health status as generally good. Therefore, marketing positive products to women to enhance performance or protect their health (prevention) longer term has great appeal. But the trend towards treating problems and managing disease through food is growing. In FMI/Prevention's "Shopping for Health 2000" survey, 72% of grocery shoppers— nearly all women— were trying to "reduce the risk" of a condition and 58% were trying to "manage or treat a condition" through food. Reducing cholesterol is the big ticket with 72% of shoppers actively involved, but issues of fat consumption, energy/stress, weight control, avoidance of "artificial" ingredients and recently, food intolerance issues, are major purchase influencers. The number of shoppers interested in slowing down the aging process via food selection more than doubled from 22 % in 1998 to 48 % in 2000. Whether one new trend is classified as narcissistic or as spiritual, lifestyle and performance concerns including avoidance of reading glasses and a move to inner beauty as a means to improving personal appearance have gotten women's attention.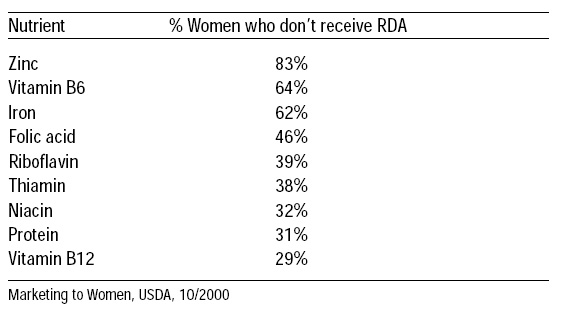 Already 51 million women are overweight, 53 million have cholesterol levels over 200 mg/dL and 26 million have been diagnosed with arthritis. USDA reports that nutrient deficiencies still exist among American women. As sedentary young females age, they become sedentary older women with preexisting high cholesterol levels, high blood pressure, weight problems, and inadequate intakes of fruits, vegetables, calcium, and fiber.
In 1998, the U.S. Surgeon General predicted that gender will be the most important factor affecting people's health in the 21st century. The National Institutes of Health created the Office of Research on Women's Health and adopted a policy that requires the inclusion of women in all relevant government funded clinical trials. As science unravels new health-gender links, including metabolic and risk factor differences for women, science will fuel a growing market for products.
by A. ELIZABETH SLOAN
Contributing Editor