The term "hot and spicy" could easily describe Suppliers' Night 2000, held by the IFT Chicago Section on November 8 in Rosemont, Ill. Among the ingredients highlighted at the annual event were a variety of spices and seasonings, especially the hotter types.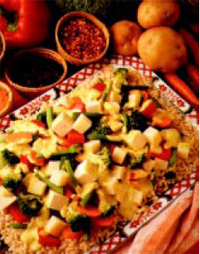 Let's look at a few of these, after which we'll discuss some of the emerging trends they may represent.
• Indian Seasonings and Spices. Providing authentic Indian flavor profiles while offering an alternative to traditional preparation methods, these seasonings and spices are available in extract form from Kalsec, P.O. Box 50511, Kalamazoo, MI 49005-0511 (phone 616-349-9711; fax 616-382-3060).
Masalas ("mixture of spices"), made by blending and sometimes roasting dried and ground herbs and spices, are said to be the building blocks which provide distinctive character to dishes from various regions of India. Aquaresin® Garam Masala (997158) is based on extracts of coriander, cumin, fennel, cinnamon, clove, cardamom, bay, black pepper, ginger, and mace. Aquaresin Curry Masala (997159) uses additional extracts of chili, garlic, and turmeric. Aquaresin Tandoori Masala (997265) is designed for use in the traditional Tandoori style where spices are mixed with a yogurt coating or marinade for meat, poultry, and fish.
Tikka, a mildly spiced meat dish with low pungency, is very popular in India. Tikka seasoning is mixed with yogurt and used as both a marinade for meat or poultry and as an accompanying sauce. Aquaresin Tikka Spice (967500) is said to produce an authentic Tikka spice profile. The application can also be customized by using extracts of cumin, coriander, fenugreek, mustard, and red pepper. 
According to the manufacturer, the Indian seasonings and spices available have a balanced and consistent pungency which can be adjusted using capsicum extracts.
• Chili Dip Seasoning. Reportedly inspired by Latin American flavors, the chili dip seasoning—called Fiesta 859-0234—was developed by Griffith Laboratories, 1 Griffith Center, Alsip, IL 69803-3495 (phone 708-239-2402; fax 708-389-4055). Its "Nuevo Latino" flavor profile is designed to heat up the senses and deliver distinctive aromas. The product, which can complement snacks and a variety of other foods, consists of ancho chiles, red and green bell peppers, onion, vinegar, and smoke flavor.
Also highlighted was a recently introduced seasoning, Smoked Chili Rub, for "south of the border" barbecue. The rub—a combination of chipotle, hacienda, ancho, and jalapeño peppers, with a hint of tomato and brown sugar—can be used on meat or fish, followed by grilling, baking, or broiling. The spice mixture forms a flavorful crust, seals in juices, and provides a warm sensation.
--- PAGE BREAK ---
• Flavor Trends Report. An authoritative report, "Flavor Trends 2000," highlighting the most popular spices of the year and the trends they represent has been released by McCormick & Co., Inc., 226 Schilling Circle, Hunt Valley, MD 21031 (phone 410-771-7504; fax 410-527-8061).
According to the report, compiled by McCormick flavor experts and premier American chefs, the current top spices are basil, cinnamon, cumin, dill, fennel, ginger red pepper, rosemary, and thyme. While brown spices (such as cinnamon, allspice, and nutmeg) which have been typically used by Americans in desserts are moving to the main course, savory herbs are finding their way into desserts. Chefs also say that diners often prefer to sample a variety of small dishes, rather than the traditional appetizer-and-entree combination.
Furthermore, by pairing the top flavors with an expanded variety of ingredients now available, each region has developed its own unique cuisine. For instance, the Pacific Northwest uses Thai, Cuban, and Japanese elements, and caters to vegetarian enthusiasts as well. In Florida, Hispanic and Caribbean influences have created a new cuisine called "Floribbean." Also, a new type of Hawaiian fusion is making its way to the mainland with Asian and Pacific Rim influences. For example, "Maui-Mex" is a style of cooking that combines sweet citrus flavor and pineapple with red pepper.
In other news, McCormick recently completed the purchase of Ducros, Europe's leading spice supplier. The company acquired the spice, herb, and dessert aid business from Eridania Beghin-Say. According to the President and CEO of McCormick, "the combination of these two companies clearly establishes us as the market leader in the European spice and herb category and provides a solid platform for future growth."
Also, McCormick has developed a line of dessert mixes called Produce Partners. These mixes, located in the grocer's produce section, combine McCormick spices with popular produce items to create simple-to-prepare treats. The mixes include Cinnamon Apple Crisp, Banana Bread, and Carrot Cake.
• Spice-Flavored Shortenings. These shortenings, available in flaked form from Golden Foods, P.O. Box 398, Louisville, KY 40101 (phone 502-636-3712; fax 502-636-3904), may be used in a variety of foods, including baked goods, pizza, sauces, and applications calling for extra spice or herb flavor.
According to the manufacturer, enrobing the flavors in fat provides a number of benefits, including reduction of production costs. The flaked shortenings are offered in a variety of new flavors, including cinnamon, garlic, garlic butter, tomato basil, and Italian Seasoning. Cinnamon LP424, for example, may be used in cinnamon rolls. Enrobing the cinnamon protects the yeast, and the spice flavor is released during the baking process. The flavored shortenings may also be customized to meet individual needs.
--- PAGE BREAK ---
• Snack Seasoning. Called Vaquero DB264-14, the seasoning developed by Williams Seasonings, Inc., 13301 W. 99th St., Lenexa, KS 66215 (phone 913-888-4343) is said to have a lively Southwestern flavor. Consisting of tomatoes, green chilies, chicken stock, and a touch of cilantro, the snack seasoning has been applied to popcorn and can be modified for soup and rice applications. The manufacturer recommends a usage of 20% on a slightly salted snack base.
• Spice Web Site. A Web site providing detailed information on all aspects related to the business of spices has been established by the American Spice Trade Association (ASTA), P.O. Box 1267, Englewood Cliffs, NJ 07632 (phone 201-568-2163; fax 201-568-7318).
The Web site (www.astaspice.com) includes a spice library which describes a number of different spices, their history and folklore, usage, sourcing, properties, shelf life, possible medical benefits, and storage and handling. Also included are a wide range of recipes, glossary definitions, spice equivalencies, and suggested readings on spices.
Among its benefits, ASTA has established standard contracts that automatically give domestic and overseas buyers and sellers a common language. To back these contracts, it has developed quality standards and test methods which have become a quality benchmark worldwide.
• Quality Capsicums. A variety of capsicums, including chili pepper, chili powder, red pepper, and paprika, are offered by Rio Valley Chili Inc., P.O. Box 131, Rincon, NM 87940 (phone 505-267-4636; fax 505-267-4636). The capsicum processor is located in New Mexico's Mesilla Valley, where the highest quality chili pepper and paprika are reportedly found. Extracted color values, surface color numeric scale measurements, and pungency values are given for each product listed in a 4-p brochure available from the company.
• Chipotle Peppers. These peppers, produced by Newly Weds Foods, Inc., 2501 N. Keeler Ave., Chicago, IL 60639 (phone 773-489-7000; fax 773-292-3809), are described as freshly picked jalapeños that are mesquite smoked until they acquire a rich, chestnut-brown color. This process imparts special smoky-sweet flavor notes that provide a counterpoint to the pepper's inherently fiery personality.
Chipotle peppers are becoming increasingly popular in restaurants, according to FlavorTrak™, Newly Wed's proprietary menu trend tracking system. They may be used in a wide variety of food products, including breading systems, batters, rubs, sauces, and marinades.
In addition, the company offers a comprehensive selection of dehydrated capsicum varietals including ground chipotle, ground green jalapeño, and ground ancho peppers. These varietals are said to offer superior functionality as well as consistent color, moisture, granulation, and pungency.
--- PAGE BREAK ---
• Spicy Hot Flavors. Formulated with a proprietary emulsion technology to heighten heat stability, these flavors called Ed-Ferno™ have been developed by The Edlong Corp., 225 Scott St., Elk Grove Village, IL 60007 (phone 847-439-0053; fax 847-439-0053)
The flavors, available in liquid, emulsion, and spray-dried forms, may be used in a variety of applications including stove top and microwave sauces, crackers, salad dressings, dips, analogs, and popcorn. Products include Natural Pepper Flavor  (Chipotle Type), Natural Chipotle Cheese Flavor, Natural Jalapeño Flavor, Natural Red Hot Pepper and Cheese Flavor, and Natural Buffalo Wing Flavor.
Newest addition to the line is Natural Jalapeño Cheese Flavor, which offers a balance of green, meaty, pepper, and cheesy notes.
• Sauce Seasoning. Honey Chili Cilantro Sauce Seasoning (N1350-2), reportedly spicy with a hint of lime and tequila, is formulated by SpiceTec, Ltd., 195 Alexandra Way, Carol Stream, IL 60188-2080 (phone 800-872-9236; fax 630-462-9953). The seasoning is orange with green flecks and has a chili, lime, and tequila aroma.
• Custom Blended Seasonings. Literature was available profiling the custom-blending services of Creative Seasonings & Spices, Inc., 1751 Enterprise Dr., Sturtevant, WI 53177 (phone 262-884-0300). Seasonings are created for a variety of applications, such as meat, poultry, seafood, snacks, bakery, dairy, frozen, ethnic, condiments, and others.
Ethnic seasonings, for example, include Adobo, Chili Ancho, Chinese Five Spice, Garam Masala, Malaysian or Original Curry, and Tandoori. Other examples of products listed in the literature include Apple Pie Spices, Soluble Black Pepper, Garlic Butter, Cheese & Salsa, Vinegar & Dill, and Soluble Cilantro.
• Fire-Roasted Flavors. Providing a spicy fresh-grilled taste to dressings and sauce applications, as well as snack foods, vegetable medleys, soups, pizza, dehydrated potato mixes, meat substitute items, and other products, these "fire-roasted" flavors are available from David Michael & Co., Inc., 10801 Decatur Rd., Philadelphia, PA 19154 (phone 215-632-3100; fax 215-637-3920). Vegetable flavors include tomato, red bell pepper, celery, carrot, mushroom, and onion/garlic blend. A non-specific fire-roasted flavor is also offered which may be used to enhance any taste.
• Chipotle Pepper Seasoning Powder. The seasoning powder, formulated by International Bioflavors Inc., P.O. Box 1021, Oconomowoc, WI 53066 (phone 262-569-6200; fax 262-569-6202), is said to have a smoky pepper flavor. Available as a reddish-brown powder, the natural product can be described as seasoning concentrate. It consists of maltodextrin, chipotle pepper, tomato, hydrolyzed vegetable protein, salt, citric acid, sugar, oregano, garlic, parsley, and other ingredients.
--- PAGE BREAK ---
The fact that spices, defined by the American Spice Trade Assn. as "any dried plant product used primarily for seasoning purposes," played such a major part at the show should not be too surprising. In this month's Food Technology, a feature article entitled "2001: A Spice Odyssey" (page 36) provides an update on several popular spices, looking at their functionality, health benefits, sourcing, consumer preferences, preparation, and applications. These developments, coupled with ingredients highlighted at the Suppliers' Night, provide a clear illustration of several recent trends related to spices.
As foods from Latin America, India, Middle East, North Africa, and the Pacific Rim are emerging into the mainstream, spices and spice combinations are finding new opportunities for rediscovery.
In these dishes—which themselves may fuse with those of other cultures or regions—new combinations of spices are being used to create products with bolder or more novel flavors. For example, red and black peppers may be used with warmer flavors such as cumin, ginger, or thyme. Or hot spices may be used with sweet ingredients such as brown sugar, maple syrup, vanilla, and fruit. Furthermore, these spices may be used in nontraditional applications, such as cinnamon to accent a meat product or thyme on a piece of fruit.
The use of spices is also changing the way some foods are prepared. Spices can help bring out the flavors of the other ingredients rather than masking them. They may be used in marinades and rubs and can be combined with such cooking techniques as smoking, roasting, and toasting to infuse bolder flavors and create novel textures.
And finally, it is my suspicion that foods are continuing to get hotter and hotter. The other day I bought a bag of roasted peanuts in the shell—one of my favorite snacks. Added to the shell were red pepper, black pepper, onion, garlic, and oregano. It was quite an experience, although I would not recommend eating the shell (which also happens to be one of my favorite parts when eating this particular snack).
NEW PATENTS ON SPICES
Spices inherently have several special functions, including appetite-promoting effect; the imparting of pleasant odors; providing a range of tastes, especially hot or hot-sweet ones; masking disagreeable smells; and adding color. Furthermore, in addition to aromas and tastes, spices can have preservative, physiological, or pharmacological effects. 
Several new patent developments on spices will be discussed here. (The term "spice" is used to broadly refer to both herbs and spices.) These will include water-soluble antioxidant agents derived from spices; use of rosemary extract to prevent off-flavor in irradiated meats; seasoning incorporating plant sterols to reduce cholesterol; a vitamin-and-spice–containing swine feed leading to a better quality pork product; antibacterial protein extracts derived from marigold and parika; improved solvent extraction of spices and herbs; a ginger-containing baby food with health benefits; and the development of no-heat jalapeños.
--- PAGE BREAK ---
 Water-soluble anti-oxidation agents. U.S. patent 6,123,945, filed 8/26/1998, issued 9/26/2000 to T. Nakatsu et al., assigned to Takasago International Corp.
Anti-oxidation agents which are currently in widespread use are principally oil-soluble substances. Although many substances derived from herbs are known to modulate oxidation of fats, oils, and lipids, these, too, are usually water-insoluble aromatic compounds.
This patent describes a method for obtaining water-soluble anti-oxidation agents from herbs commonly used as food seasonings. Fat-removal processing of herbs is conducted by using carbon dioxide liquid and/or an organic solvent, or carbon dioxide at subcritical or supercritical conditions. Hydrated alcohol is added to the residual oil-insoluble portion. Activated carbon is added to the resulting hydrated alcohol-containing extraction solution. After stirring, the activated carbon is removed. From the resulting solution, water and alcohol are removed, and a water-soluble anti-oxidation agent is obtained.
Method for preventing off-flavor development and preserving seasoning flavor in irradiated meat and meat products. U.S. patent 6,099,879, filed 11/12/1998, issued 8/8/2000 to P. Todd, assigned to Kalamazoo Holdings, Inc.
A method for reducing the development of radiation-induced off-flavors and aromas, delaying the onset of oxidative rancidity during storage, retarding development of meat flavor deterioration or warmed-over flavor upon cooking and reheating, and preserving the flavors of seasonings present in irradiated meat or meat products is described. The method incorporates the use of a stabilizing amount of rosemary extract or rosemary extract in combination with tocopherols, ascorbic acid, citric acid, or sodium tripolyphosphate, prior to exposing the meat to ionizing radiation, to enhance the flavor and shelf life of the product.
Food seasoning, food ingredients, and food item compositions and methods for their preparation. U.S. patent 6,136,349, filed 6/29/1998, issued 10/24/2000 to H. Karppanen et al., assigned to Pharmaconsult Oy.
This patent discloses a method of treating a food seasoning food ingredient, or food composition such that upon ingestion it results in a decrease in serum cholesterol and blood pressure. The method incorporates plant sterols and/or stanols or their derivatives together with a raised level of one or more of the minerals magnesium, calcium, and potassium.
Swine feed containing vitamin E and spice. U.S. patent 6,972,391, filed 6/11/1997, issued 10/26/1999 to H. Suzuki et al., assigned to Nisshin Flour Milling Co., Ltd.
A swine feed containing spice and 50–500 ppm of vitamin E is discussed which can produce pork with improved quality. According to the patent, when swine are raised with feed, it is possible to produce pork which gives less smell, maintains freshness and quality for prolonged periods, generates less drip, and exhibits good moisture retainability. Moreover, the growth rate of the swine is excellent.
Preferred examples of spices which may be used include nutmeg, oregano, cinnamon, ginger, and sage. The amount of spices to be incorporated into the feed varies depending on species and form of spices. When natural spices are used, they are preferably incorporated in amounts of 0.1–5% by weight of feed on a dry basis, whereas when essential oils are used, they are used in amounts of 0.001–1%.
--- PAGE BREAK ---
Anti-bacterial protein extracts from seeds of marigold and paprika. U.S. patent 6,086,885, filed 4/9/1998, issued 7/11/ 2000 to S. Ziegenfuss et al., assigned to Kemin Industries, Inc.
Described are protein extracts from marigold or paprika having antibacterial activity against the Gram-negative bacteria Salmonella sp. and Escherichia coli. This patent  iscloses the method of extraction and the effect of a protein extract from the seed tissue of Tagetes sp. or Capsicum sp. on the survival of these bacteria. Furthermore, the proteins and the genes that code for them could be sequenced and manipulated via genetic engineering for expression in production microorganisms via fermention.
High temperature countercurrent solvent extraction of herb or spice solids. U.S. patent 6,013,304, filed 12/12/1997, issued 1/11/2000 to G. Todd, assigned to Kalamazoo Holdings, Inc.
Principal components of spice and herb plant solids are simultaneously extracted and concentrated with an edible solvent in a series of steps using a countercurrent extraction  procedure. A solution having several times the concentration of pigments and flavor, aroma, and antioxidant components of the raw material is obtained. The tissue of the residual spice or herb plant solid is ruptured in the process so as to provide  quick release of the components when utilized in a food or beverage. The degree of caramelization of the residual press solids is controlled, and the resistance to oxidative deterioration of both the extract and the residual solid is improved by control of the temperature employed.
Ginger-containing baby-food preparations and methods therefor. U.S. patent 6,051,235, filed 7/16/1998, issued 4/18/ 2000 to R. Theuer, assigned to Beech-Nut Nutrition Corp.
Disclosed are baby-food compositions containing ginger which can be used in reducing gastroesophageal reflux in infants. The compositions can contain a ginger puree and one or more fruits or vegetables.
No-heat jalapeños and products comprising no-heat jalapeños. U.S. patent 6,143,349, filed 5/21/1999, issued 11/7/2000l to D. Arevalos et al., assigned to Campbell Soup Co.
No-heat jalapeño pepper cultivars are disclosed in which substantially all the pepper fruit produced consist of no capsaicin. The no-heat characteristic has been bred into three different cultivars. The no-heat characteristic has been combined with many desirable jalapeño traits, including a lack of pungency, a dark green immature color, and a rounded base shape.
by DONALD E. PSZCZOLA
Associate Editor