More than 1,100 food safety and quality assurance personnel attended IFT's first International Food Safety & Quality Conference and Expo held at the Orange County Convention Center in Orlando, Fla. Orlando Fla., November 15-17. Unlike IFT's Annual Meeting and Food Expo, this conference focused exclusively on food safety issues such as GMOs and biotechnology-derived foods, food safety research and HACCP training, fruit and vegetable safety, fish and shellfish issues, safe packaging technology, rapid testing methodologies, and testing of extended shelf-life foods. Nearly 100 exhibiting companies offered products and services ranging from microbiological test kits and supplies, electronic pasteurization systems and packaging technologies to food safety consulting services, and software.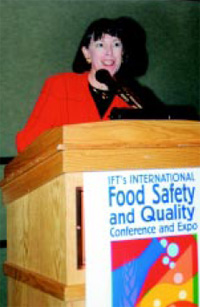 Demands are building to find new ways to detect and identify food-borne pathogens and eliminate food-related illnesses. In 1997, President Clinton called for a national Food Safety Initiative, and the industry is responding. This first International Food Safety and Quality Conference and Expo, bringing the world's leading food experts from industry, academia, and government together to address the mounting challenges facing the food industry. The Technical Program Advisory Committee of IFT's Food Safety and Quality Conference designed the conference and expo to focus on critical food safety issues.
The conference started on Wednesday morning, November 15, when Catherine Woteki, U.S. Dept. of Agriculture (USDA), Washington, D.C. delivered the keynote address. Woteki filled in for USDA Deputy Secretary Rominger who was unable to attend. Woteki talk was entitled, "The Prospects for Continued Food Safety Progress." She stated that food safety had been a major priority for the current USDA. At the time of her address there was still uncertainty over what the new Administration would be, so Woteki addressed opportunities that have occurred during her years as Under Secretary for Food Safety. The 1994 USDA reorganization created a new Office of Food Safety. As a result, the public health focus of the USDA has been improved. A good example is the cadre of risk assessors USDA has been able to establish within the Food Safety and Inspection Service (FSIS), and the closer working relationship they now have with other public health agencies such as the Centers for Disease Control and Prevention (CDC). In 1997, President Clinton announced a major Food Safety Initiative that has provided new funds for needed improvements and research. Then in 1998, the President created his Food Safety Council, which he charged with developing a comprehensive strategic plan for federal food safety activities and ensuring that federal agencies develop coordinated food safety budgets each year. These presidential initiatives have been significant for several reasons. They elevated food safety issues to a new level of public discourse. They also set the stage for improved collaboration among government agencies with food safety responsibilities. An example is the FoodNet surveillance network, which is the product of coordination among CDC, FDA, FSIS, and state public health departments.
Another major food safety improvement in recent years has been the implementation of HACCP for meat and poultry plants. According to Woteki, this has resulted in significant reductions in Salmonella prevalence for all size plants and reductions in foodborne illness that CDC has partially attributed to HACCP. Industry compliance is another measure of success. At each phase of implementation, it has run well above 90%. Another success has been USDA's science-based approach to regulatory decisions.
--- PAGE BREAK ---
Addressing the future challenges, Woteki said there are legal challenges to specific initiatives such as the one declaring E. coli O157:H7 as an adulterant in ground beef. A second challenge relates to the ability of public health regulatory agencies at the federal, state and local levels to respond to food safety problems as USDA continues to improve the scientific basis for their programs. A third challenge relates to the international arena. As trade in agricultural commodities increases, USDA must continue to aspire to a unified food safety. The fourth challenge is maintaining consumer confidence in the face of new technological advances. This challenge has been quite clearly demonstrated with the recent Starlink corn situation and by continued opposition by some groups to irradiated foods.
Consumers need to have confidence in the procedures used by regulatory agencies to determine the safety of new technologies in relation to the food supply. Woteki is concerned that the difficulties we have had with bioengineered corn will pale when compared to the public concerns that could arise when animals that have been genetically altered are introduced into the food supply. How USDA deals with the Starlink situation and how the public perceives the steps they take will be important as they deal with even more controversial issues. The fifth challenge is food safety education.
In closing, Woteki stated that the prospects for maintaining food safety gains and achieving further progress are good because the public will demand it, regardless of politics. Despite USDA's progress in making food safer, data from the CDC estimate 325,000 serious illnesses, 76 million gastrointestinal illnesses, and 5,000 deaths each year from foodborne illness. And there is a growing recognition that foodborne pathogens can cause chronic, as well as acute, illnesses.
Bruce R. Stillings, FACS Inc., Falmouth, Maine, headed up a session that gave an overview of IFT's recent Expert Panel Report on biotechnology derived foods (A copy of the report can be found on IFT's Web site at http://www.ift.org/resource/policy/biotechreport.shtml.) The report was used by IFT to reach additional stakeholders, including senior policy makers and the news media.
Merle D. Pierson, Dept. of Food Science and Technology, Virginia Polytechnic Institute & State University, Blacksburg, headed a session, on Food Safety Research and HACCP Training, Problems, and Needs. Speakers in this session presented opportunities for food safety research, new innovative training partnerships, and strategies for addressing food safety issues.
--- PAGE BREAK ---
Nancy E. Nagle, Nagle Resources, Pleasanton, Calif., chaired a session that identified concerns about the safety of fresh fruit and vegetable products produced both domestically and in Latin America.
Juan L. Silva, Mississippi State University, Mississippi State chaired a session entitled, "Safety Issues in the U.S. and Latin America: Fish and Shellfish." Speakers from the U.S. and Latin America discussed food safety and regulatory issues that affect the commerce and influence the safety of seafood products in the region.
On Thursday, November 16, there were several concurrent sessions. Jeffrey Rhodehamel, Poultry Packaging and Cook-In Foods, Cryovac Div., Sealed Air Corp., Duncan, S.C., and colleagues, looked at "Food Quality and Safety Packaging Issues." The session discussed packaging options and the unique quality and safety concerns associated with packaging fresh-cut produce, seafood, meat, and poultry products.
William H. Sperber, Cargill, Inc., Wayzata, Minn., chaired a session on, "Red Meat and Poultry Safety." The session discussed the Food Safety Initiative, including enhanced CDC surveillance activities, such as PulseNet, FoodNet, and the National Antimicrobial Resistance Monitoring System (NARMS). It also looked at HACCP's accomplishments and shortcomings, as well as the controversy over mandatory pathogen testing and the government's ability to set pathogen performance standards.
John T. Calvert, Cryovac Div., Sealed Air Corporation, Duncan, S.C., and others discussed "Quality and Safety Issues Associated with Packaging Meat and Poultry." The session focussed on the safe packaging of case-ready meats and poultry.
Richard V. Lechowich, Cibarius Corp., Gainesville, Fla. chaired a session that provided an overview of the International Food Information Service (IFIS) as a Source of Food Safety Information.
Herbert Weinstein, Principal, Weinstein Consulting International, Arlington, Va., chaired a session that looked at how the U.S. Food Safety Initiative has forced Latin American food producers to improve their quality control/quality assurance procedures. To do this, they require technical assistance in both the training and implementation phase of these plans and projects.
On Thursday afternoon, Mary Lou Tortorello, Food and Drug Administration, National Center for Food Safety & Technology, Summit-Argo, Ill.,chaired "Rapid Testing Methodologies: Microbiological/GMO Testing." The session pointed out that rapid methods are becoming the new standards in microbiological testing. New molecular methods have been incorporated as powerful new tools for detection and typing, and their use in production, surveillance, and traceback is increasing.
Jon DeVries, Medallion Labs., Division of General Mills, Minneapolis, Minn., chaired a session on, " Rapid Testing Methodologies: Chemical/Pesticide Testing." The session looked at recent developments in the area of rapid testing methods for pesticides.
--- PAGE BREAK ---
Stephen L. Taylor, Dept. of Food Science & Technology, Univ. of Nebraska, Lincoln and others discussed rapid testing for food allergens. The session looked at the development and use of ELISAs for allergen detection.
On Friday, November 17, Charles E. Sizer, National Center for Food Safety and Technology, Summit-Argo, Ill., chaired a session on "New Technologies/Procedures to Extend the Safe Shelf Life of Foods." The session discussed new technologies introduced to improve the safety of foods. These same technologies help to add quality and shelf life to products. Irradiation, microfiltration, highpressure processing, modified atmosphere packaging and other minimal processing techniques are examples of these new technologies.
Expo
The exhibit hall was open from 11:00 a.m. to 5:00 p.m. on Wednesday and Thursday. The following are short descriptions of some of the products and services that were exhibited:
ABC Research Corp., Gainesville, Fla., is a full-service laboratory providing analytical and consulting services in areas of microbiological and chemical quality, safety, and preservation of foods. Using a multidisciplinary approach, ABC Research is said to provide rapid and practical solutions of processing problems and consumer complaints.
Applied Statistics, Inc., St. Paul, Minn., featured software for statistical analysis. Applied Stats™ is software that provides real-time data collection and statistical process control analysis. The software connects to an array of devices including hand gages, sensors, probes, and process control equipment. It provides a range of control charts and data analysis tools.
Bavaria Corp. International, Apopka, Fla., is a supplier of various anti-microbial ingredients. They exhibited the Origanox line of antioxidants.
bioMerieux, Inc., Hazelwood, Mo., provides fully-automated and manual test systems for the QA/QC microbiology laboratory. bioMerieux featured a new 24-hr automated immuno-concentration test for Salmonella and selective isolation of E. coli O157.
BioSterile Technology, Inc, Fort Wayne, Ind., introduced a new in-line electron-beam irradiation system. The Nutribeam™5000 system is a 5 MeV, 2 or 4 kW in-line electron-beam food irradiation system that is said to offer food processors the ability to perform irradiation of food products within their own facilities. The system eliminates the need for food processors to ship their products to a private contract irradiation facility. The units are available in energy ranges of 200 keV, 500 keV, and up to 5 MeV.
Biotest Diagnostics Corp., Denville, N.J., offered a line of environmental monitoring products. Their Zygiene 100 Rapid Hygiene System is said to detect the ATP bioluminescence signature of somatic and bacterial cells in less than one min.
Careersinfood.com, Rogersville, Mo., is an industry-specific employment Web site geared towards food and beverage manufacturing professionals. Job seekers can post their resumes and view job postings free of charge. Careersinfood.com featured a searchable database of more than 4000 professionals.
--- PAGE BREAK ---
CHEMetrics, Inc., Calverton, Va., offered an extensive line of water-testing kits. Test kits are available for more than 50 analytes. Applications include testing for impurities in process and product water; verifying sterilization and testing for residual disinfectants in aseptic packaging; and monitoring the efficacy of sterilization solutions.
Chlorinators, Inc., Stuart, Fla., exhibited the Regal line of gas chlorinators. These may be used in disinfecting water and wastewater or chill water for fruit and vegetable processing.
CropVerifeye.com LLC, Wichita, Kans., is an Internet-based company that offers ISO9002 equivalent services to crop and food production businesses. The company specializes in verification, validation, and traceability of genetic integrity and quality of crops and resulting products from harvest to finished product.
Cyrano Sciences, Inc., Pasadena, Calif., exhibited a portable, lightweight, hand-held electronic nose that combines a 32-sensor array with powerful algorithms. The result provides an accurate odor measurement.
Diversified Technologies, Inc., Bedford, Mass., offers a pulsed electric field processing system. Pulsed electric field processing uses a high-energy pulsed electric field to inactivate microorganisms and enzymes that cause spoilage in liquid foods.
Elgin-Butler Brick Co., Houston, Tex., exhibited sanitary and load-bearing masonry units for food processing plants.
EM Science, Gibbstown, N.J., manufactures and distributes more than 14,000 different products in six business areas: reagent chemicals, chromatography, environmental analysis, original equipment manufacture, and diagnostics and microbiology. EM exhibited a sampling of products at the show, including the MAS 100 product line featuring lightweight, mobile air sampling instruments.
Foss North America, Eden Prairie, Minn., offered online, at-line, and benchtop food analysis instruments.
Hardy Diagnostics, Santa Maria, Calif., manufactures more than 1000 prepared and powdered culture media products and provides a complete selection of over 9000 microbiology supply items. The company also produces numerous rapid test kits in a ready-to-use format. In addition, Hardy is an authorized distributor for over 75 other diagnostic manufacturers.
--- PAGE BREAK ---
HyPure, Norton, Ohio, exhibited a screening product line. The system allows detection of diversity within a sample lot using electrophoresis. It allows detection of GMOs, raw material screening, and varietal verification.
S&S Biopath, Inc., West Palm Beach, Fla., exhibited the Swabcheck® line of surface microbial testing systems.
Texo Corporation, Cincinnati, Ohio, specializes in cleaners and sanitizers for dairy plants, beverage plants, breweries, food processing plants, and meat and poultry plants. The company also supplies dispensing and control equipment.
Thermo Epsilon, Austin, Tex., exhibited a Guided Microwave spectrometer (GMS) which provides multi-composition analysis, in-line, realtime. Applications included, but are not limited to, analysis of salt, moisture, and fat in various food processes.
Warren Analytical Laboratory, Greeley, Ohio, provides testing services for the food industry and is USDA Accredited to perform food chemistry and pesticide analyses. The laboratory has acquired PCR-based genetic screening systems for detection of Listeria, Salmonella, and E. coli O157:H7.
Loma International, Inc., Carol Stream, Ill., featured a metal detection and rejection system for food products.
Remel, Inc., Lenexa, Kans., offered a comprehensive line of rapid microbial identification kits.
TMI-USA, Chantilly, Va., offered an extensive line of data loggers for harsh environments. The "Vacq" line records temperature, pressure, humidity, and air flow with most models measuring several parameters on a single, miniature logger.
For additional information on the exhibitors, see www.iftfoodsafety.com.
JAMES GIESE
Associate Editor