The development and introduction of margarines that actually reduce serum cholesterol by significant amounts is a boon to those who really want to reduce blood cholesterol levels. Cost and positioning of these new products are double challenges.
Margarine: The Over-the-Top Functional Food
The sales pitch is deliciously simple—spread it on your bagel twice a day and cut your cholesterol by up to 14%. Backed by recent Food and Drug Administration approval for heart-health claims, a high-cholesterol population in excess of 50 million in the United States, and a food industry hungry for new product successes, stanol and sterol ester-based foods would seem to have an extraordinarily bright future.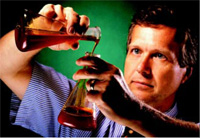 However, sales have been slow to materialize, leaving the two largest players, Unilever PLC's Lipton subsidiary and Johnson & Johnson's McNeil Consumer Healthcare unit, scratching their heads and trying to avoid a protracted market share battle by trying to enlarge the pie. Of course, other competitors are set to enter this market, so the pie will have to grow more. Still, the sales of these products are substantial, and both companies appear to be gearing up for the long haul. Both Raisio OY (from which Benecol™ is licensed by McNeil) and Unilever (codevelopers of Take Control™ and its European counterpart) are active in this market in Europe.
Lipton's Take Control spread, based on Unilever and Lipton patents, and McNeil's Benecol spread, produced under a licensing agreement with Finnish food group Raisio OY,were introduced to the U.S. market in spring 1999 with high expectations. Sales projections were based primarily on the striking effectiveness of the products in reducing LDL cholesterol in virtually anyone who suffers from elevated levels, while not affecting persons with normal levels. These esters, by blocking the absorption of LDL cholesterol in the blood stream, have proven both safe enough for a GRAS status and highly effective in relatively small doses. Two servings a day, providing a total of about 1.3 g of sterol or stanol esters, are sufficient to reduce LDL cholesterol by about 10%. When used in conjunction with a heart-healthy diet, the reductions can be larger.
"We thought everyone who needs to lower their cholesterol, which is about half the population, would pounce on this kind of a product," stated Gilbert A. Leveille, Worldwide Vice President for Scientific and Regulatory Affairs, McNeil Consumer Healthcare, Fort Washington, Pa., in an interview with Food Technology. "Well, that didn't happen. The build is much slower than we had originally anticipated."
Marketing "healthy foods" isn't always as easy as anticipated. But while more than one company has hit the wall with healthy food lines, others have done very well. The consuming public is jaded, and there does appear to be resistance to consuming "treating" foods by "normal" consumers. Bombarded by food health claims, many of which have little quantifiable effect, and a revolving door of new, "heart-healthy" brands that are here today and gone tomorrow, consumers are slow to embrace new concepts. Among the most ambitious efforts at marketing heart-healthy lines were Campbell Soup Co.'s Intelligent Quisine™, a menu of home-delivered frozen foods and more recently Kellogg Co.'s ambitious retail line of psyllium and oat bran–based foods called Ensemble. Neither achieved sustainable sales volume, and they were shelved without much fanfare.
--- PAGE BREAK ---
Marketing experts pointed to taste, price, lack of adequate advertising dollars, and consumer reluctance to build a diet around these new brands. But perhaps the biggest stumbling block was a rock-solid, consistent, promotable link between consumption of these products and better health. That's the advantage that stanol and sterol esters provide, and that should translate to pure gold. "Benecol can be used for two weeks, and consumers can see a 10% reduction in their cholesterol levels," Leveille said. "This is dramatically different from eating oat fiber, which if you're very religious can give you a 5% reduction after several weeks. There's a marked difference in derived benefits," he stressed.
The efforts of both Campbell and Kellogg can retrospectively be viewed as pioneering. Much was learned about consumer expectations, the New World of marketing food health claims, and branding heart-healthy products. "Unless the consumer is able to see a difference, unless there is some objective measure, unless they feel better, unless some negative symptom disappears, they're not likely to stay with the product—the Kellogg products didn't offer any immediate perceived or measurable benefit to the consumer," Leveille concluded.
Benecol and Take Control have such a measurable benefit, but the effect is usually measured by the doctor, and that usually takes several weeks before there is feedback to the user, so consumers don't perceive a difference immediately. Unless the consumer is recovering from a heart attack, and under short-term monitoring, the improvement is transparent for a time. Thus, the challenge is in marketing it to the millions who can benefit most but don't get the feedback of improvement that will be possible when home testing kits hit the market in quantity and at low cost per test.
FDA's approval last fall of heart-health claims for stanol and sterol esters helps. According to William Franke, Vice President of Scientific and Regulatory Affairs for Lipton/Unilever, "The approval of our health claim gives us legitimacy. We can communicate pretty freely with consumers in a truthful and aggressive fashion." The message is compelling. "It's pretty universal in the way it works. It's independent of the starting cholesterol levels and fat content of the diet. It works well across the board," Franke told Food Technology.
Making the message stick in the marketplace is the tough part. Last September, Lipton lost no time after FDA health claim approvals were handed down. It ran a full-page ad in the Washington Post declaring, "Big news from the FDA on reducing your risk of heart disease. (Oh, we're talking huge)." Pictured in the ad was a tub of Take Control margarine with new packaging emblazoned with a red heart emblem, the words "Heart Healthy!" and a banner statement stating: "Helps lower cholesterol levels" and "May reduce the risk of heart disease." In its ruling, FDA stated, "Risk factors for CHD include high total cholesterol levels and high levels of low density lipoprotein (LDL) cholesterol," concluding that "Plant sterol esters and plant stanol esters may reduce the risk of CHD by lowering blood cholesterol levels."
--- PAGE BREAK ---
Both companies hope this will give them a needed boost in the marketplace. Benecol sales in the U.S. for the 52 weeks ending last August totaled just $27.6 million, representing 2.2% of the retail margarine/spreads/butter blends category, according to Information Resources, a Chicago-based retail data tracking firm. Take Control sales hit a nearly identical $27 million, and Take Control Light racked up $5.2 million.
"It's a very difficult market with room for many products, but the problem is how to stand out," cautioned Sinikka Arola, an analyst with European financial firm Finnish Leonia. "If Unilever doesn't make it, it will wreck the credibility [of the whole market]."
Early on, brand managers for both Take Control and Benecol viewed product diversification as the key to consumer acceptance. Both added salad dressings, and Benecol introduced a health bar containing the same heart-healthy stanol and sterol esters found in the spreads. Both the dressings and the bars failed to gain much support and were scrubbed within a year. 
In the meantime, a third player entered the market last fall with ambitious plans to sell its phytosterol-based cholesterol-lowering ingredient to licensed food processors. Vancouver-based Forbes Medi-Tech has an agreement in place with Oregon soy specialist Pacific Foods through its exclusive U.S. licensee, Novartis Consumer Health, Inc. Pacific Foods will develop and market a Heart Healthy line of products using Forbes' Reducol™ (also known as Phytrol™). The line will include up to 10 different products and is expected to attain sales of $10–12 million in fiscal 2001, according to Forbes CEO Tazdin Esmail.
While Reducol is chemically similar to the cholesterol-lowering esters in both Take Control and Benecol, and falls under FDA's heart health claim and GRAS approvals, the company claims to have a key competitive advantage. Reducol is based on a proprietary crystallization technique that results in a tasteless, odorless powder that can be used in drink mixes and cookies.
In the wings are initiatives with Quaker, which formed Altus Food with Novartis in early 2000 to develop and market a branded line of functional foods, featuring some products based on Reducol. The pending acquisition of Quaker by PepsiCo, however, may alter these plans.
Both competition and the proliferation of products may actually help leaders Take Control and Benecol by legitimizing the market and expanding awareness of the whole category. In addition, competition will begin to work at overcoming the other big obstacle to market penetration—pricing.
Existing stanol and sterol ester–based products cost up to three times more than their conventional counterparts, and this may be enough to give many consumers an excuse to avoid trial, particularly if their choice is based on cholesterol lowering that is desirable but not ordered by the doctor.
--- PAGE BREAK ---
"Our products are testing for the first time the consumer's willingness to pay a premium for a product that delivers a clearly demonstrated health benefit," Leveille explained. He noted that most other fortified foods, such as Tropicana juices with calcium and extra vitamin C, as well as soy and oat bran products, generally cost the same as their counterparts. But he stressed that none of them demonstrate such a quantifiable result.
Currently, Unilever is pricing Take Control spread lower than Benecol, which analysts say is helping it gain share. But lower prices are just one facet of an overall marketing strategy that must be mapped to the uniqueness—and newness—of these products. Take Control is marketed as a further development of Lipton's margarines—roughly healthy, healthier, and healthiest. While there is a difference in price, there is also a difference in the price of the waxier stick margarine and the delicately flavored tub versions.
Unilever and Lipton are main-line consumer products companies, and their marketing efforts are based on creating a strong retail presence. "We're committed to Take Control, at least in the spreads. That's for sure. And then we'll see," Lipton's Franke said. "We will learn more about how the consumer feels about these products, but we're happy with the success so far."
McNeil and its parent Johnson & Johnson also are consumer products companies, but their strength is in the relationship between health-care and pharmaceutical products, especially products that treat illnesses, such as mega-brand Tylenol. This gives Benecol tremendous leverage among McNeil's network of doctor and dietitian relationships. "We market through the medical professionals, as well as directly to the consumer," Leveille said. "Up until now, doctors really haven't had much in their armamentaria to fight cholesterol. Benecol gives them a means to provide patients with very specific directions."
And while these margarines are more expensive than conventional ones, comparing them with medication generally makes the cost less important as a budget item. When used in conjunction with cholesterol-fighting drugs, Benecol can help reduce levels by an additional 17%. "For the physician, this is more than they can achieve with more drugs, and they see it as a safer way to go," Leveille stressed. Doctors and dieticians are provided with kits that include coupons, informational brochures, and other material for distribution to patients. The strategy counts on patients' following doctor's orders and using Benecol on a permanent basis.
While the target market is the over-50 population, all of these products are viable and safe for the whole family. Research shows that persons with normal cholesterol levels are unaffected. Moreover, McNeil has run numerous studies on the effect of Benecol on children, with positive results. "Benecol is dramatically effective with children who are genetically predisposed to have high levels of cholesterol," Leveille said.
As the market matures, heart-healthy spreads may give way to entirely new food delivery systems. Although first-generation salad dressings and health bars initially failed, they may yet return in a more mature market. In addition, these stanol and sterol esters may find their way into beverages, snacks, and other entirely new product categories. But each move ventures into uncharted territory—perhaps no other food product has more clearly defined the essence of "functional" food.
--- PAGE BREAK ---
"Potentially half the population should lower their cholesterol levels," Leveille pointed out. "That makes it a very big market, over half a billion dollars. It will be a while before that number is attained by the whole category." But the goal has been set.
His prediction: "The expectations were set high initially, so results have been disappointing in comparison to that benchmark. But on the other hand, it's evolving as a successful market, and it's providing a lot of learning in this whole category of functional foods. We're going to see a lot more activity over the next decade." The consumer will be the ultimate judge.
---
Developing Margarines with Sterol Esters
The fact that sterols reduce serum cholesterol is well known, and cholesterolfighting medications based on phytosterols and stanols have been used for more than a decade. But without developing these ingredients in ways they could be used in familiar products by customers, sterols and stanols would remain components of medications or nutraceuticals.
The technical difficulties of formulating a margarine or spread with sterols or stanols is complicated by the insolubility of these compounds. Esterifying the compounds made them more soluble, and made including enough of the compounds to meet needs for reducing cholesterol in an edible spread possible. When esterified, the compounds can be readily solubilized in vegetable oil, and provide enough sterol or stanol to provide a claim, without causing problems with fat-soluble vitamins.
U.S. patent 6,117,475, assigned to Lipton by von Amerongen et al., describes the process of esterifying sterols, as does U.S. patent 5,958,913 assigned to Raisio Benecol Ltd. by Miettenen et al. The optimized fat blend, in the case of the Lipton product, was developed by the Unilever group in Rotterdam, and developing suitable flavor systems was the contribution of the U.S. research group at Lipton. The flavor system was developed to produce a margarine that would be recognizably part of the Promise group of products.
It's too early to tell, but other products may be in the wings, as evidenced by recent sterol patents issued to Cargill and Monsanto. These patents appear to be geared toward production of the esters, reducing the use of vegetable oil to make the esters (current estimate by Lipton is 2,500 tons of soy oil to make a ton of sterol ester), and lowering the cost per unit of sterol esters. Another approach is to increase the sterol level in the soy oil, possibly reducing cost.
Additional research into more economical ways of producing sterol and/or stanol esters is almost inevitable, and may increase the availability of products at prices that consumers are comfortable with. Other phytosterols and stanols may be in the pipeline as well, supported by current patents issued to the W.K. Kellogg Institute's John Kepplinger et al., for use of shea nut extract, disclosed as a fat substitute in U.S. patent 6,149,961 and patents issued to a variety of universities and companies.
DEVELOPINGFOODS.COM is a new quarterly section covering the interaction of Research & Development and Marketing in the development of food products. This special report is also available on the Internet at www.developingfoods.com.
by Pierce Hollingsworth
Contributing Editor
The author is President, The
Hollingsworth Group, P.O.
Box 300, Wheaton, IL
60189.