Packaging of dairy products has leapt far forward from the goatskins and amphorae of Biblical and slightly later times. That was one theme of a presentation I made in May 2001 at an International Dairy Products Association (IDPA) cultured dairy products conference, which, incidentally, also discussed nondairy products derived from soy protein. It's amazing what can be wrested from cow, goat, buffalo, and yak milk and their analogs: cottage, farmer's, and ricotta cheeses; yogurt; sour cream, including the oddly named fat-free version; buttermilk; acidophilus; kefir; and others.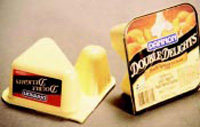 The fresh dairy products category, including their natural and organic variations (IDPA only touches on the vast array of cured cheeses, dips, and flavored milks), is currently packaged largely in plastic, mostly polypropylene. But, surprisingly, ancient package materials such as wood boxes (poplar strips for those who are interested) and glass jars continue to be used for specialty cheeses, clotted cream, yogurt, and the like—even in the United States. And that old standby, paperboard, mostly coated with polyethylene, still contains yogurt in cup form and a host of drinkables in gable-top, brick, and now prismatic shapes (sometimes decorated in reflective metallics).
Packaging in the category is dominated by injection-molded, thermoformed, and spin-welded plastic in tapered and inverted- taper cup, tub, and tray shapes, or in flexible pouches and tubes. The semi-rigid plastic, whether venerable impact polystyrene or new polypropylene, is now offered in both single- and multi-cavity to afford consumers enhancements for the basic fresh dairy products. What would yogurt be today without nuts, crunch, or sprinkles (also called "jimmies")? Flan without caramel, or cottage cheese with-out fruit, would be as dreadful as Abbott without Costello. Multiple products in adjacent package components present challenges to dairymen (and women), since each has a different consistency and shelf life, one of which must be compromised to deliver the easy-to-mix foods.
And how could the dairy folks delight the younger set if they could not offer their flavored yogurts in colorful cups, animal-shaped bottles, pouches, con-toured standup flexible pouches, or squeezable flexible tubes? From a marketing perspective, dairy products' packaging graphics have evolved out of the staid single-color line copy into rainbows of swirls and rain forests and grinning figures—some printed on film to shrink around the hourglass, bulbous, or other shapes.
Dairy products packaging led the stampede into reclosable packages and are now heading up the charge into slide reclosures on flexible pouches. Readers who believe that zippers are merely strips heat-sealed to a base polyethylene film are directed to slides on the interiors of packages hermetically sealed under reduced-oxygen conditions.
There have been several recent giant strides in dairy products packaging:
• Carbon Dioxide/Modified Atmosphere Packaging. For several decades, carbon dioxide flushing has been standard for cured cheese packaging. Applying research results from Cornell University's Joe Hotchkiss and his predecessors, carbon dioxide is now being applied to the dressings of cottage cheese and the liquid of sour cream to multiply the microbiological shelf life in refrigerated distribution. Although the packaging is almost always highly gas-permeable polystyrene or polypropylene, sufficient carbon dioxide remains to retain quality for up to six weeks—even though this country's commercial refrigerated distribution infrastructure is seriously deficient. Imagine the quality benefits that could accrue to dairy products prolonged under optimum atmosphere and temperatures!
• Extended-Shelf-Life (ESL) Packaging. Another of the dramatic shifts has been the concomitant application of minimal processing, aseptic technologies, and clean-room operations to achieve extended shelf lives. Minimal processing translates into optimizing whatever thermal energy is required to reduce the product microbiological load.
The application of aseptic technologies does not mean sterilization to achieve ambient- temperature shelf stability. Rather, aseptic concepts are applied to significantly reduce the microbiological loads on package materials and structures, thus permitting prolongation of refrigerated shelf life. Aseptic technologies in this context encompass off-line ionizing radiation treatment or in-line chemical treatment of the package structures/materials to effect a 4- to 6D reduction in an already-low surface microbiological count. The treatment and subsequent filling and closing are accomplished under clean conditions.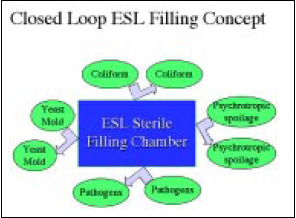 Currently, the favored chemical sterilant is a dilute mixture of peracetic acid and hydrogen peroxide (although some prominent researchers question the efficacy of peracetic acid treatments in this context). Package structures are rinsed with sterile water to remove residual peracetic acid, a compound with a pungent odor.
 All operations take place in an enclosure that has been presterilized and whose microbiological condition is maintained "clean" usually by the laminar introduction of air treated through high-efficiency filters to reduce the particulate content, i.e., microorganisms, to a Class 500 level.
Easy enough to describe in words but much more difficult to implement. Nevertheless, a host of fluid and semi-solid dairy products—and fruit beverages— are being processed and packaged for extended refrigerated shelf life—40–90 days in plastic-coated paperboard and all-plastic package structures.
In the not-too-distant future, dairy products processing will be integrated with extended-shelf-life and modified-atmosphere packaging, and with gas-barrier package structures to offer the potential for retention of initial product quality.
And so, as we turn away from the ancient donkey caravans in which dairy products packaging was born, we envision a tomorrow in which dairy products are wedded to their natural complements—in packaging systems that integrate disparate elements holistically to deliver the quality intended by the chefs, formulators, and technologists.
PRODUCTS & LITERATURE
Heat-Set, 24-oz PET Bottle has been introduced for Reebok Fitness Water, an enhanced water beverage bottled and marketed by Clearly Canadian Beverage Corp. under license from Reebok. The launch represents the first commercial application of the new ErGo-Grip™ hot-fill design. Four horizontal rib panels in the grip area have replaced traditional vacuum panels. This helps absorb some of the vacuum and enhances gripping and squeezability. The design also features a rounded shoulder for label placement and two vertical pillars, which provide stability and showcase the embossed Reebok brand on opposite sides of the bottle. For more information, contact Schmalbach–Lubeca, Plastic Containers USA, 10521 S. Hwy. M-52, Manchester, MI 48158 (phone 734-428-9741) —or circle 330.
Stock Mustard Closure, the 38-400, is manufactured in P/P material for best fatigue resistance. It has a smooth-sided skirt, providing a glossy appearance, yet the spout is ribbed for better grip ability. This version of the closure can be lined for tamper-evidence because it does not have a vinegar trap. For more information, contact TricorBraun, 460 N. Lindberg Blvd., St. Louis, MO 63141-7808 (phone 314-569-3633, www.tricorbraun.com) —or circle 331.
Decaser, Model 156, allows packagers who buy bottles or containers in reshipper cases to achieve high speeds and quick changeovers to unload a full range of glass or plastic containers, round or non-round. The three-in-one machine functions as a flap opener/positioner, unpacker, and bottle single-filer. In continuous, high-speed motion, the unit opens the case flaps, unloads and single files containers, and uprights the empty cases for conveying to case packing at speeds of 50 cases/min. Full flap control is also available for packagers who wish to eliminate the need for a flap positioner before the case packer. For more information, contact A-B-C Packaging Machine Corp., 811 Live Oak St., Tarpon Springs, FL 34689 (phone 800-237-5975, fax 727-938-1239, www.abcpackaging.com) —or circle 332.
High-Speed Burrito Wrapper, the Fuji-Formost Model FW-3700 form-fill-seal machine, wraps burritos in tight, film-saving packages with accurate film registration mark control to reduce waste. The cantilevered frame and quick lift-out discharge conveyor simplifies cleaning and sanitation. For more information, contact Formost Packaging Machines, 19211 144th Ave. N.E., Woodinville, WA 98072 (phone 425-483-9090, fax 425-486-5656, e-mail [email protected]) —or circle 333.
Intermittent Vertical Form/Fill/Seal Machines can produce block bottom/gable top clear poly bags which increase product and brand awareness while delivering up to 40% higher production rates. Potato packagers are beginning to change over to this new style package, which delivers material cost savings compared to other potato packaging alternatives and provides greater pack flexibility. The machine can fill up to 45 bags/min, depending on bag size and the quantity of the product being packaged. For information, contact Sandiacre Packaging Machinery, 1175 Manheim Pike, Suite 200, Lancaster, PA 17601 (phone 717-239-5081, fax 717-239-5084, e-mail [email protected], or www.sandiacre.com) —or circle 334.
55-Gal Plastic Drum is designed specifically for the processed tomato industry to protect its perishable products, reduce storage space, and lower total packaging costs. The company uses a multi-layer, co-extruded plastic technology to produce drums that can withstand a wide range of temperatures and weather conditions common in tomato-growing regions. The drum features an inflatable dunnage system that completely fills the headspace between the lid and tomato products packed in an aseptic bag. This unique airbag replaces corrugated or foam disks and more effectively protects aseptic bags during transit from flex cracking, which can permit oxygen penetration and product spoilage. For information, contact Greif Bros. Corp. at 770-423-2512 or www.greif.com —or circle 335.
by AARON L. BRODY
Contributing Editor