To determine what's new in the area of manufacturing pasta for industrial (i.e., ingredient) use, I spoke with representatives of several pasta companies exhibiting at IFT's Food Expo in New Orleans, La., last month.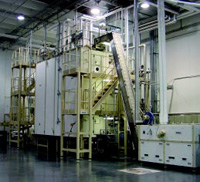 Dave Potter (phone 816-584-5240), Executive Vice President of American Italian Pasta Co., Kansas City, Mo., said that pasta manufacturers have typically used small lines retired from production for sample making and research and development. This often resulted in questionable scalability to full production conditions. To avoid this, AIPC, the largest pasta producer in the United States, built an exact replica of its large commercial line on a small scale, so that it could provide reliable samples scalable from benchtop to commercial production.
The new pilot R&D facility, located in Excelsior Springs, Mo., opened in March and produces 200 lb/hr, compared to 16,000 lb/hr in the company's newest production facility, which opened in Kenosha, Wis., in March 1999 and is said to be the only facility in the world dedicated exclusively to production of pasta for industrial use. 
Food companies can use the R&D facility to experiment with shapes, raw materials, and additives to quickly determine the final pasta product. Potter said. They can use stock dies or order special dies. A set of full-production dies costs more than $20,000 and takes 8–10 weeks. In contrast, for R&D it costs $300 and takes 3–5 weeks. 
Potter said that applications for pasta include microwave pasta, frozen pasta meals, and skillet dinners. For microwave pasta, the pasta is made thinner so it cooks faster. Low-moisture (about 7%) pasta is also being made so it can be packed next to dry seasonings or sauces without moisture migration.
Freezing of pasta typically involves blanching and very abusive mixing and pumping, he said, so the pasta has to be stronger. This can be accomplished by using a thicker wall and adding protein enhancers, such as egg whites and/or wheat gluten.
He said that work is being done on developing quick-cooking pastas, and pastas with additives and colors. There is an ongoing concern about allergens, so the company adheres to strict allergen cleanout procedures and even offers an allergen-free line in the Kenosha plant. There is also more activity in adding "good-for-us" ingredients such as calcium and beta-carotene into pasta and still have it perform well and taste good.
Mark Vermylen (201-797-1400), Vice President of A. Zerega's Sons, Inc., Fair Lawn, N.J., said that there have been few major recent technological developments in the pasta industry, except that most major manufacturers of dry pasta now use ultra-high-temperature equipment, with temperatures above 200ºF, compared to the 120–140ºF used in the past. The high-temperature equipment is generally thought to make a stronger pasta, all other factors being kept equal, he said. The equipment used by the major pasta manufacturers is specially made by a handful of companies in the U.S., Italy, and Switzerland.
Vermylen said that retorting (canning) of pasta has always been a challenge and continues to be a focus of product development. The product has to maintain its shape and firmness after retorting, so a thicker-walled pasta (usually 0.040–0.060" thick) is used, and egg white is added for added firmness.
As foodservice continues to grow, there will be more prepared foods containing pasta, he added. A soup or entree containing pasta could sit on a steam table for up to four hours, so egg white may be added to maintain firmness.
There are several new pasta products in the retail market, he said, including frozen bowl pasta products, such as Uncle Ben's Noodle Bowls, which are generally cooked in a microwave oven. Pasta for the frozen bowl products is similar to that which has long been used in frozen dinners. It is generally sturdier than retail pasta to withstand processing, freezing, and reheating.
There are also new dry products for microwaving. The consumer adds a precise amount of water to the product in a bowl and microwaves it on high for about 5 minutes. The pasta absorbs all the water. It's not the traditional way of cooking pasta (boiling it in water, then draining), Vermylen said, but it does work. The pasta for cooking right in the microwave is thin-walled (usually 0.020–0.030 in thick), compared to a standard thickness of 0.045 in. The standard-thickness pasta after 5 minutes in the microwave would be way too firm to eat.
The company produces more than 175 pasta shapes, including a dozen that are thin-walled and designed to cook in the microwave. All product samples are made on regular production lines, allowing customers to use actual commercial product in their testing. The production lines range in capacity from 1,500 to 6,000 lb/hr. If no special dies are needed, the company can produce samples in several days, using standard dies. Specially designed dies, to produce such pasta shapes as animals, logos, or letters, can be obtained in 4–6 weeks.
Bob Stahl (717-526-2463), Director of R&D at New World Pasta, Harrisburg, Pa., said that the industrial pasta industry has become more sophisticated. It uses higher temperatures, which makes firmer products. Low-moisture pasta can be made for packing with dry mixes, so moisture doesn't migrate to the mix and cause lumping. Products can also be made to produce the same texture, regardless of whether the product is retorted, frozen, or dry.
Pasta is a great carrier, he said, for vitamins and other nutrients, such as omega-3 fatty acids. However, adding additives reduces the amount of starch and protein, so the challenge is to add the appropriate amount but still maintain the quality and character of pasta.
The company has a pilot plant in which customers can test production and processing variables, using small production runs of 100 lb/hr, compared to 2,000–10,000 lb/hr on commercial lines. Scaleup, he said, is good, since they can control the temperatures in the pilot line to match those at the extrusion head and barrel of the production equipment. Programmable monitors such as DataTrace are used to monitor temperatures throughout production, so they can match the temperatures on the pilot unit to those that will be used in the actual production equipment.
Eddy Pettaccia (450-651-4150), Vice-President of Grisspasta Products Ltd., Longueuil, QC, Canada, said that the industry over the past 20 years has become technologically more advanced and automated, with much higher production output. Twenty years ago, he said, typical production in the industry was 5,000 lb/hr. Now it's about 17,000 lb/hr. Drying time used to be 17 hr. Now it's 4–6 hr. The equipment has become bigger, faster, and more computerized. The quality of the pasta has increased with higher production temperatures, and the equipment is more sanitary and easier to clean.
Radwan Ibrahim (763-531-9194), Vice President–Quality at Dakota Growers Pasta Co., New Hope, Minn., said that one of the challenges is to keep the pasta firm in such products as home meal replacements. Since most of these meals are frozen, the pasta can absorb moisture during thawing and become mushy. To prevent this, the company adds egg white and wheat gluten to make the pasta stay firm. The company is also working on adding another moisture barrier to prevent moisture migration.
by NEIL H. MERMELSTEIN
Editor