As we know all too well, the world is moving at an incredible pace. The signs of change are all around us. Life in many ways is more complex, as we must deal with the constant influx of data and information that is thrust upon us. Life in the fast lane is no longer a reference to a way of life—it is life. The day-to-day demands of successful product development must coexist in this environment. For that to happen, we all need to employ new strategies.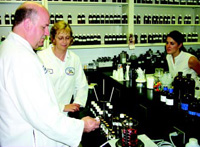 As much as we think that dealing with change is a new phenomenon, one only needs to consider the following quotation:
"Is anyone afraid of change? Why? What can be done without change? What is more pleasing or more subtle to the universal nature? Can anything useful be accomplished without change? Do you not then see that for yourself change is the same and equally necessary for the universal nature?"
It is obvious by the vernacular that this is not a quotation from today's Wall Street Journal. However, you might be surprised that this quote is attributed to Marcus Aurelius in 161 A.D. I wonder what he would say about today's world!
In this article, I will approach the subject of needing to deploy new R&D strategies from the perspective of a creator and manufacturer of value-added flavors for the global food and beverage industry.
Food & Flavor Industry Overview
It is valuable to understand the scope of the marketplace in which the flavor industry operates. The global food ingredients market is valued at approximately $20 billion and has grown at the rate of 2–3% per year. Within this arena, approximately 2,000 suppliers compete for market share. Not surprisingly, the more developed regions of the United States, Europe, and Japan represent the largest segments for processed food and beverages and, accordingly, their ingredients. Asia and Latin America are also important regions that are showing excellent growth.
This ingredients market is made up of such products as colorants, acidulants, flavor enhancers, vitamins and minerals, cultures, etc. However, flavors are clearly the most significant portion, accounting for more than an estimated $5 billion annually. The global flavors market has had a growth rate of 5.7% over the past 20 years. The U.S., Europe, and Japan represent approximately 75% of the market for flavor usage. It is interesting to note that the current forecast for flavor growth is now 4.4% per year. My observation is that this reduction in growth is primarily attributable to the changing dynamics of the business relationship between flavor companies and food companies.
The categories of flavors used globally differ dramatically based on a country or region's labeling laws. In spite of the strong penchant in the U.S. for natural flavors, both synthetic and nature-identical flavors are the most widely utilized in the world. It is important to understand that nature-identical flavors (often utilized in the European Union) would be considered synthetic or artificial for U.S. labeling purposes. The term nature-identical is a reference to something that, while it occurs in nature, has been synthesized as a flavor ingredient. For instance, vanillin occurs naturally as one of 250 components that have been identified in the vanilla bean. However, this same vanillin is synthesized and could be referred to as nature-identical in marketplaces that recognize that category of food labeling.
The largest end-use for flavors is beverages, accounting for about 30% of usage. Dairy, cereal, and ready meals and snacks are the next largest segments.
--- PAGE BREAK ---
While there are approximately 400 flavor companies globally, many of them are either small regional suppliers or suppliers of specialty flavors (such as savory, sweet, or citrus). The flavor industry has undergone tremendous consolidation over the past ten years, as has the more visible food and beverage industry. Based on currently available public information, the top flavor companies would be (in decreasing order) International Flavors & Fragrances (thanks to its recent acquisition of Bush, Boake & Allen), Givaudan, Quest, Firmenich, Takasago, Haarman & Reimer, Hasagawa, Sensient (a recent name change from Universal), and Dragoco. My company, David Michael & Co., would likely be in the top 25 flavor companies worldwide.
The flavor industry clearly has been and will continue to be a changing landscape. Most of these companies, being public, are strongly driven to increase shareholder value. To do so, they must continue to grow. Based on 1999 publicly available information, Takasago, Firmenich, Hasagawa, Dragoco, and IFF have all continued to grow at greater than the industry average growth rate of 5.7% over the past 20 years. David Michael's growth over the past five years has averaged 8.8%.
Consumer Trends
For the food, beverage, and flavor industries to stay ahead of the curve, they need to understand consumer trends. While the following is not directly related to a food trend, I find it rather intriguing that 70% of teenagers reportedly would rather give up their TVs than their computers or Internet access. Actually, this phenomenon may have more of an impact on where the food and beverage industry positions its advertising to teenagers in the future.
The primary drivers of consumer behavior, which translates into the current megatrends, are health, convenience, quality, taste, value, and brand. In putting these trends into perspective, we must factor in a significant demographic shift that is upon us: the aging Baby Boomers and their rising interest in health consciousness. In 1987, 31% of America's population was older than 45 years. Presently, that population group is at 35%, and by 2006 it will be 38%—almost 110 million people. The flavor industry, which continues to become more intimately involved in the product development cycle, has an opportunity to support and further the innovation of new products that successfully target and leverage the Baby Boomer market.
If we were to look at the evolution of food products, we would see that the bottom rung of the pyramid is concerned with food simply for survival's sake. As markets develop, we move up from satisfying hunger to indulgence with sweet, salty, or higher fat content food products. More recently, we have been concerned with lower-fat, low-salt, and sugar-free products as we deal with our "food conscience." We are moving from today's main focus on taste and safety to tomorrow's focus on taste, safety, health, and well-being as we look more toward development of foods that provide positive nutrition and a promise of prevention.
The Shrinking R&D Budget
At the same time that the food industry endeavors to create new products that address the emerging trends, it must also deal with the realities of the shrinking research and development budget—being asked to do more with less. Some of this is a result of food consolidations and the personnel reductions required to help pay for the debt incurred in making the acquisition. Some is a result of the continued emphasis on creating shareholder value. One of the strategies for accomplishing this is to "outsource" some of the traditional functions to the supply side.
According to an industry study published in Food Processing in August 1998, 56% of major food companies budgeted less than 0.5% of total food sales for R&D in 1997. The same study indicated that this number would increase to almost 66% during 1998. I think it is safe to assume that this trend has continued since then. The same study asked whether food companies were requiring their ingredient suppliers to provide more assistance to R&D, and 57% of the respondents said yes.
--- PAGE BREAK ---
In contrast, the flavor industry has been devoting a significant portion of its revenues to R&D. The actual percentages are sometimes difficult to sort out because many flavor companies are part of a larger corporation and are consolidated into their balance sheet. There are a few, such as IFF, McCormick, Sensient, and Crompton & Knowles, where a review of recent annual reports showed that spending on R&D ranged from about 1% to more than 6%. David Michael's current spending is in excess of 7%.
The amount of money spent is not always the answer. I find the comment of Michael E. Porter in his book Competitive Strategies (Porter, 1998) to be thought provoking: "Too often competitors are judged in terms of resources rather than resourcefulness." The takeaway here is to focus R&D spending on those efforts where we are more likely to see a return on our investment.
Historically, the flavor industry has put a high value on basic long-term research. However, it's been my observation that, because of the increased focus from clients on work that will benefit them today, the shift has been to applied research. Not that the food industry isn't still interested in its suppliers who are doing basic research, it is just that they no longer want to pay for it. I fear that, with the focus being so much on the applied side, there will be an "innovation price" to pay in the future. According to the report, "The New Challenge to America's Prosperity: Findings from the Innovation Index" (Porter and Stern, 1999), there is evidence that the U.S. is losing its edge globally. The Innovation Index measures the innovation capacity of nations. The aspects of the index are total R&D personnel, total R&D investment, percentage of R&D funded by private industry, percentage of R&D performed by academia, spending on higher education, strength of intellectual property protection, openness to international competition, and per capita gross national product. According to this index, the U.S. held a clear leadership position in 1995 but slipped to number three behind Japan and Switzerland in 1999 and is projected to fall behind Japan, Finland, Switzerland, Denmark, and Sweden by 2005.
We Don't Sell Flavors Anymore
Earlier, I discussed the speed and degree to which the world is changing. It seems to me that, just when you think you understand the situation, you find out that you don't understand because the situation has just changed again.
Years ago, I thought my company was in the business of selling flavors. Well, the reality is that we don't sell flavors any more. We need to appreciate what has occurred in the dealings between our customers (the food companies) and the retailer. These dynamics have dramatically changed the business relationships between our customers and ourselves. We have evolved from a seller-driven model to a buyer-driven model. The flavor industry only sells solutions. Our flavor sales are simply the result of successfully delivering that solution to our customers.
Let's take a closer look at what this buyer-driven model looks like and how we got there. I think it is safe to say that Wal-Mart revolutionized the way business is carried out. Many of its supply-chain management philosophies became ingrained in our food clients. Having learned these methods, the food industry started to work with its supply chain in the same way. There are many terms used today to identify these relationships—select suppliers, core lists, partnerships, alliances, etc. Some of the key goals of these programs are to reduce and leverage the supply base. Companies are looking for immediate bottom-line impact. They are also looking to develop an ongoing system for controlling and reducing future costs, and to outsource R&D support that they have traditionally carried out themselves. These initiatives started with commodities such as fats, oils, sugar, packaging, etc. While the first signs of the movement to flavors can be traced to the mid-1980s, this type of business model has become more commonplace in the past ten years.
--- PAGE BREAK ---
Typically, companies develop an internal sourcing team to structure their program; they create a request for proposals to screen proposals; and they have a method of interviewing finalists—all of which leads to selecting a handful of flavor companies to do business with. Generally, there is a prohibition on allowing those not making the final cut regular access to the R&D process, but often there is a mechanism that allows for evaluation of a novel technology from those not on the list. However, in reality, novel technologies are more likely to be directed to a flavor company's clients that they have access to.
There is a major economic component to these programs. Existing prices of products sold by the remaining suppliers are often heavily negotiated. The payback to the flavor companies comes from the promise of new development work and a better chance of success than they may have previously had in a more competitive environment. There is also the possibility that all flavors bought from non–core suppliers will be allowed to be replicated, providing additional incentive for the remaining companies at the expense of many suppliers who have likely served the customer well for many years.
It is normal and appropriate that clients want to make sure they are receiving fair value. However, in pursuit of establishing value, some of these programs often put a strain on the flavor industry's intellectual property rights by raising or forcing the issue of formula disclosure. Giving up one's intellectual property—formulas, patents, trademarks, logos, software code, etc.—is understandably a "deal breaker" for much of the flavor industry, as it could be for a food company wanting to protect its intellectual property.
A few years ago, the Standard & Poor 500 had a market value of $4.6 trillion. However, a review of their balance sheets indicated tangible assets of only $1.2 trillion. Obviously, 74% of the S&P 500 market value is composed of less-tangible assets. Intellectual property represents a large portion part of that 74%. If you think the present stock market has been volatile, consider what would happen if everyone surrendered their intellectual property! Can you imagine Bill Gates turning over the source code to his software? Or the Coca-Cola Co. publishing its formula for Coca-Cola? 
The surrender of intellectual property rights is a somewhat vicious circle. While it may help a company achieve a short-term economic objective, it could have devastating long-term impact. What incentive do companies have to make continued and costly investments in flavor R&D? What incentive is there to develop the people (flavor chemists, for example) who fuel new flavor innovation? Could the flavor industry turn out to be a "job shop," cranking out production of outdated flavors with little differentiation because we stopped being able to afford to support flavor creation and research?
This new buyer-driven model often creates a different way of dealing with R&D, even when you are on the core list. I was struck by a recent European multinational whose way of working on technical development projects ("briefs") is first to have their core suppliers submit prices to Purchasing before R&D ever sees the flavors. In fact, a negotiation process starts with one core supplier bidding against another with Purchasing, before R&D ever determines whether a flavor sample meets the organoleptic objectives of the brief. Somewhere, at least in this example, we seem to have lost a sense of reality. Here, the reality is only the balance sheet.
Food companies not only are outsourcing their R&D, but also have dismantled or diminished the role of the in-house flavor groups that many of them have built over the years. These groups often work competitively with the traditional flavor industry to assure the delivery of both innovation and value.
--- PAGE BREAK ---
The outsourcing to the flavor industry continues to expand with its need for finished product development, not simply flavor samples. There are fewer people with less time at the client to do the trial and error of applying flavors.
 Much of the regulatory compliance burden has been shifted to the flavor companies—they are doing the compliance work regarding nutritionals, allergens, GMO's, kosher, halal, etc. This area continues to grow in complexity as government and industry try to meet the present and anticipated needs of the global consumer.
I see marketing research as the next area likely to be outsourced more to the flavor industry. Flavor companies will be expected to participate in more of the basic marketing research that has been traditionally carried out by the food industry, such as focus groups, mall intercepts, trend analysis, and so on.
Dealing with the Challenges
The continued reliance on the flavor industry as part of the R&D development process in an environment with continued margin pressure poses some rather interesting challenges, to say the least. Here are some thoughts on what a flavor company can do to better position itself to play in this new environment.
• Develop a basic understanding of the area of supply chain management and what the objectives of your clients are likely to be. This will require a different mindset to fully appreciate the client's perspective. That perspective can best be comprehended by seeking help from food industry consultants. Today's marketplace is full of well-qualified retired executives who can bring expertise in R&D, operations, procurement, and many other areas. Most of these people have "taken the package" as a result of food industry consolidation and downsizing (or "dumb-sizing" as a food industry friend of mine calls it).
• Sort out where you want to play and where you don't. Not all select supplier programs are created equal. They usually require a substantial commitment of resources to perform well, once on a list. Don't be afraid to say "no" if you don't see a good fit for your company.
• Reinvent your operating functions, if necessary, to stay ahead of the curve and compete effectively. Commercial activities need to be well focused to define and strengthen core competencies. We cannot be all things to all people, and our clients are the first to recognize this as they sell off non-core business units.
• Retrain your sales force. Yesterday's "good old boy " network is (as it should be) long gone in the flavor industry. Our client's time is too valuable to spend much time outside the work at hand. Accordingly, added emphasis on the fundamentals of food science with a special focus on the interactions of flavors with fats, proteins, new sweetener systems, etc., is needed. A familiarity with food processes such as retorting, extrusion, ultra-high-temperature processing, etc., can be a big help in anticipating how flavors will react and withstand these stressful processes. And we can't stop there—a basic knowledge of sensory science and how to utilize it will help clients accomplish their objectives.
--- PAGE BREAK ---
• Align the R&D team with the business strategies of the company and the aims of the customers. There was a day where the creative flavor chemist or basic researcher could work tirelessly in the lab without much (if any) client interaction. While we all may know a few individuals who still prefer to work that way, that is not what we should be looking for in our development people. While most flavor companies have a few technical people with a true commercial understanding, this is an area that needs to be cultivated. In fact, it likely needs some formal instruction with regard to commercial practices.
• Create as much critical mass as possible without necessarily building expensive overhead functions. Working with aligned food industry suppliers of ingredients that interact with flavors, such as proteins, specialty sweeteners, seasonings, etc., is a good path. I don't think that an alliance needs to be permanent or global. It can be put together for a specific marketplace or client project and then dismantled. Alliances tend to get complicated by too much structure, and you need to have equal success for both parties or they will break apart.
 • Provide quick turnaround. One thing that you can be sure of is that all of your activities need to be aligned with the reality that the clients want our products and services faster, better, and more economically. Consider a marketing survey we did last year with 1,100 clients and prospects to help ensure that we were delivering against their needs. Our assumptions prior to the survey were that they were looking for everything to be faster, better, and cheaper. They key message from the survey was that customers want faster turnaround in every aspect of the relationship, whether it be samples, pricing, technical data, or information. Furthermore, they told us that they expect the flavor industry to hit their target the first time. While this is certainly an understandable goal, we have not seen such a firm mandate in this area from clients before. What I think the customers are telling us now is that they no longer have time for iteration after iteration ("tweaking") in their product development cycles. If you have any doubts about this, try asking your own clients!
Based on a paper presented during the Roundtable Discussion, "New R&D Strategies for the 21st Century," at the 11th World Congress of Food Science and Technology, Seoul, Korea, April 22–27, 2001.
by Skip Rosskam
The author is President and Chief Operating Officer, David Michael & Co., Inc., 10801 Decatur Rd., Philadelphia, PA 19154.
Edited by Neil H. Mermelstein,
Editor