Mars, the Moon, and Mom's kitchen. One day, each may have a miniature extruder installed on its surface, pumping out fresh, healthy, third-generation snacks for hungry astronauts, colonists, and kids.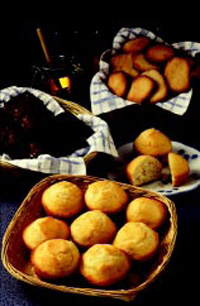 The little extruder is just one of many concepts under development as part of a five-year program funded by the National Aeronautics and Space Administration (NASA) and run by Rutgers University's Center for Advanced Food Technology (CAFT), New Brunswick, N.J.
NASA's Space-Age Projects
As this article will show, NASA is not the only government organization whose research and development activities will eventually reach the consumer, whether on Earth or in space. While the concept of miniature extruders in space and in Earthbound kitchens sounds funky, it's actually a serious effort to create food processing systems that are practical for long-term use in space. The proposed manned Mars mission and a possible Moon outpost seem farfetched, but work is well underway to create food systems to sustain each. They must be small, lightweight, durable, and capable of producing and processing foods that embody the familiar tastes of home while containing healthy attributes.
"We've been talking to extruder manufacturers who are interested in partnering with us to create miniature extruders for NASA that would ultimately be carried to Mars for the food technology system," explained Josef Kokini, head of the project called "Development of Extrusion Processes and Food Products to Be Used in a Bioregenerative Life Support System." He said that he's also talking to food companies about the development of healthy pre-mixes for these new extruders that would contain high nutraceutical content such as soy isoflavones. Each will be low-fat, low-cholesterol, and high in familiar flavors.
Also under development are new strains of vegetables and fruits that can be grown in interplanetary hothouses, advanced meat analogs created from gluten that better replicate processed meat than conventional products, and ultra-long-shelf-life foods and packaging that can withstand the rigors of extended space travel. "It becomes very expensive to take all the food with you," Kokini said.
Some of the most viable products include an all-vegetable sausage pizza and puffed snacks made from partially processed pellets, known as third-generation snacks. Each has been consumer tested with surprisingly positive results, according to Kokini. Neither concept is new. Vegetarian pizzas have been around for years, and third-generation snacks—extruded pellets that are fried or steamed in hot air—are popular in Europe. But the NASA effort is pushing the concepts further, with marketplace implications, such as home mini-extruders and extrusion premixes, that may bear fruit even if the Mars expedition never leaves the launch pad.
"These are ideas that I believe are easily translatable to the consumer, and I believe they will be," Kokini said. "Who would have thought 20 years ago that you'd have individual bread makers in the home? Or food processors that make pasta? We think that these miniature extruders will be used to make fresh breakfast cereals, potato chip textures, and all sorts of fresh snacks. It's an automated fast cooker for the home that produces a number of different textures."
--- PAGE BREAK ---
Kokini has already worked with General Electric in the development of its new Advantium hybrid microwave oven. The oven combines microwave and radiant energy into one appliance that GE calls Speedcook technology. It uses halogen light to bake, broil, brown, roast, and even grill oven-quality food, in an average of one-fourth the time it takes in a conventional oven—and with no preheating, according to the company.
"We are trying to make the oven more intelligent through Internet connections and by including product scanners and control systems to educate the oven about how to optimally cook," Kokini stresses. "The third-generation snack idea came from looking at how these snacks behaved in the microwave under different energy conditions."
Behind these space-age concepts is an ambitious partnership that comprises government, university, and commercial resources—and brains. "We believe in the value of multidisciplinary research and the synergy that comes from various scientists working together," Kokini explained.
The Mars project includes scientists at Rutgers and NASA, as well as Cornell University, Iowa State University, and the University of Utah. The work ranges from equipment technology, including miniaturization, to development of wheat, rice, soybeans, peanuts, potatoes, and sweet potatoes that can be grown under the constraining conditions of a far-off biosphere. Extrusion technology is considered the most effective way to process these raw ingredients into the comfort foods that will give space pioneers a psychological link to Mom's kitchen.
In the meantime, both appliance manufacturers and food companies, particularly smaller firms, are actively investigating commercial applications and possible licensing agreements. For its part, NASA encourages such cooperation through its Space Product Development Program and its Commercial Space Centers. Rutgers, for instance, was designated a NASA Specialized Center for Research and Training in food science and waste management. According to NASA's Office of Biological and Physical Research (OBPR), "The commercial development of the space frontier is one of the greatest opportunities facing America. It is a growth business, which will bring the benefits of space down to Earth and enrich the everyday lives of all Americans."
The Government's Approach
Such government-sponsored enrichment is not unique to NASA. Food research takes place throughout the vast maze of federal agencies. Frozen orange juice, improved dehydration techniques, pourable condensed milk, and a number of other examples all can be traced to government food labs over the past century. Clarence Birdseye, the progenitor of frozen foods, even worked with the U.S. Dept. of Agriculture to perfect freezing processes that led to the modern frozen food industry.
--- PAGE BREAK ---
Despite these successes, the federal government has never established a formal mandate to develop foods, nor has it coordinated federal food product development programs across all agencies. The Food and Drug Administration essentially targets regulatory issues, the National Institutes of Health focuses on diseases and disease prevention, USDA primarily deals with agricultural production, and the U.S. Dept. of Defense is concerned with feeding military personnel. Food product development—when it occurs—is usually a by-product of these activities, and commercialization is left to the private sector.
Since the 1980 passage of the Bayh-Dole Act encouraging government-industry cooperation, several additional pieces of legislation have created a more inviting, profitable relationship for commercial interests by permitting licensed technology transfer. "Prior to that, any research done with federal money had to be in the public domain, so no company would touch it or pick it up," stated David R. Lineback, Director of the Joint Institute for Food Safety and Applied Nutrition, a cooperative program of the University of Maryland and FDA. "I don't think there are many outstanding examples in which the federal government has done very much of the commercialization. The development labs of industry are really geared toward taking the prototypes up to the market."
In 1986 and 1989, legislation enacted as a part of the Stevenson-Wydler Technology Innovation Act enabled federal laboratories to enter Cooperative Research and Development Agreements (CRDAs or CRADAs) with private businesses or other entities. These provide the means for leveraging R&D efforts. CRADAs allow companies to work with one or more federal laboratories to pool resources and share the risks of technology development. One key attribute is that federal labs can protect commercially valuable information from public access for up to five years. In addition, companies can secure exclusive licenses for patented technology. Ironically, the government has no mechanism to track the more than 1,000 agreements now in effect. "There is no central government repository for CRADAs," states the U.S. Geological Survey's Technology Transfer Information Web site.
Across all scientific and industrial disciplines, approximately $25 billion of federally funded research and development takes place at more than 700 federal laboratories and centers each year. These involve more than 100,000 scientists and engineers. Much of this research is aimed at human nutrition, including food, but little is allocated to the development of new foods and ingredients. "They've been a spectacular failure at that," Lineback said.
Exceptions, however, can be found. USDA's Agricultural Research Service (ARS) has centers throughout the country working on solutions to agricultural challenges, ranging from mad cow disease prevention to pest control. It also has programs aimed at improving crop yields through new processes and applications. In this context, one of its most striking commercial successes occurred with the development of oatrim, the oat-based fat replacer patented in 1991. "The objective and the mission of what we do isn't primarily to develop products for industry, it's to solve the problems of people," stated oatrim's creator, George E. Inglett, a biopolymer research chemist at the USDA/ARS National Center for Agricultural Utilization Research (NCAUR), in Peoria, Ill.
More recently, Inglett developed a soluble hydrocolloid oat beta-glucan fiber called NuTrim. He undertook the effort in response to FDA's announcement that it would permit a health claim for food products containing oat beta-glucan soluble fiber. NuTrim is marketed by FutureCeuticals, a subsidiary of Van-Drunen Farms.
"I went to work to see what I could do to come up with a process that would be allowed for a health claim. NuTrim was the result, and it had unusual types of properties and was a patentable entity," Inglett says. While he holds the patent, federal technology transfer regulations allowed VanDrunen Farms to license and introduce it into the marketplace.
Federal agencies have little in their budgets for the marketing of commercial applications. Publication in scientific journals, the Federal Register, and, when appropriate, the U.S. Patent Office, often is the only exposure these development programs receive. So despite a climate of cooperation, it's usually up to a proactive private sector to troll for concepts, projects or relationships.
--- PAGE BREAK ---
Working with Government
Quite often, the priorities of the private sector and federal researchers don't quite align. "We visit with them, and they always tell us that they would prefer us to do more fundamental, basic research and then give them the technology to mold into food products," explained John Cherry, Director of USDA/ARS Eastern Regional Research Center (ERRC), in Philadelphia, Pa. "They're looking for an edge, and that edge may only be six months to a year."
Sometimes, development activity is in response to a supply imbalance or new government regulation. When this coincides with marketplace demand, the partnership works. Without that demand, innovative concepts developed within ARS can languish.
A surplus of butterfat in the early 1990s prompted ERRC to investigate new uses. It developed an encapsulated product that is now widely used in bakery foods. On the other hand, the lab has a number of protein products that have failed to generate significant interest, Cherry said. "We've got a really exciting technology that extracts phytosterols from corn bran. And like rice bran, these phytosterols have very good cholesterol-lowering properties. It's all patented and ready to go. Monsanto was going to make a big to do about it, and Procter & Gamble expressed a lot of interest. Yet the technology just hasn't moved along. It's a lot of talk and a lot of discussions but nothing has come of it," said Cherry.
Part of the problem stems from the level of communication that often takes place between companies and government labs. "The real issue is market pull. Usually we develop a product and then try to shove it into the market. If the industry would just collaborate with us and let us get to meet the marketing side of their programs it would work that much better," Cherry stressed.
Larger companies, especially, look to their own internal research capabilities to initiate and execute food product development activities. "Their researchers go out and visit with us and get any unique work that fits their needs," Cherry said. "They focus strictly on what the marketing people have told them to do." Even with federal assurances that trade secrets and jointly developed technology will remain proprietary, larger companies don't always trust the relationship. In addition, they have far more resources to throw at development projects.
One exception is the study of taro root by both USDA and Natick Labs, the U.S. Army's Soldier Systems Center, in Natick, Mass. The taro root, also known as dasheen, eddo, and kalo, is cultivated in many areas of the world, including West Africa, Asia, Central America, South America, and the Caribbean and Polynesian islands. It has an exceptionally fine flour. With the sugar and pineapple industries near extinction on the Hawaiian Islands, taro may become a substitute crop. Gerber Products Co. has shown interest in the flour for its infant and baby food formulations. "The starch has very small particulate size and evidently does very well as a functional food," Cherry noted.
This type of government project creates many opportunities for scrappy, entrepreneurial companies that have neither the time nor the budget for intensive and innovative research.
One such company, Devine Foods, Pittsburgh, Pa., sought out ERRC to work on low-fat ice creams and mixes. Cherry and his research team have been working with the company to create products that are more acceptable and healthier than earlier generations of low-fat, low-cholesterol frozen dairy foods. "They put a scientist in our lab here, and our scientists collaborate with them," he said. The project is being tested at the Penn State Creamery.
Devine Foods is the result of founder Denise Devine's inspiration to build a company dedicated to healthier foods for kids. It also produces a juice-like beverage called Fruice, which contains fruit concentrate, organic brown rice syrup, organic barley flour, soy fiber, oat flour, and chicory root extract.
--- PAGE BREAK ---
Small businesses like Devine's also qualify for funding from USDA's Small Business Innovation Research Program. Grants are limited to $70,000, and the money is not for startups.
Occasionally, USDA will trademark one of its projects. One such example is Fantesk, a mixture of starch, water, and oil that was developed at NCAUR (see Food Technology, February 2001, p. 36). Commercial CRADAs include an agreement with Azure Waves Seafood, Inc., Cincinnati, Ohio, to develop seafoods seasoned with herbs and spices in a Fantesk breading.
Many ARS centers include pilot plants designed to ramp up to commercial scale applications. NCAUR has four new two-story chemical and biological processing bays designed to multitask a variety of projects. The improvements are designed to test economic viability on a larger processing scale.
Renovations have expanded pilotplant capabilities at ERRC, as well. "The renovations will help us expand research on pasteurization of solid foods such as fruits and vegetables and thermally sensitive fluids such as eggs," Cherry notes.
The USDA/ARS Western Regional Research Center (WRRC) in Albany, Calif., will expand its pilot plant by 20,000 sq ft, expanding projects that include development of rice bran derivatives and edible coatings to keep produce fresh.
Increased Cooperation Ahead
These activities point to a future of increased cooperation between federal agencies and commercial food companies. For all the imperfections of the system, it remains fruitful for those companies that invest the time, talent, and dollars to dig into the potential offered by government labs. They don't have the funds to market their work, but they do have the resources to participate in innovative, meaningful food science advancements.
Rumor has it that McDonald's is angling for a piece of the Mars mission.
---
Contacts for Additional Information
Agricultural Research Service, U.S. Dept. of Agriculture

Washington, D.C.
www.ars.usda.gov
Center for Advanced Food Technology
Rutgers University, New Brunswick, N.J.
foodsci.rutgers.edu/caft/
Joint Institute for Food Safety and Applied Nutrition
Food and Drug Administration and University of Maryland, College Park, Md.
www.jifsan.umd.edu/
National Aeronautics and Space Administration
New Jersey Specialized Center of Research and Training for Bioregenerative Life Support, Rutgers University, New Brunswick, N.J.
nj-nscort.rutgers.edu/
National Institutes of Health
U.S. Dept. of Health and Human Services, Washington, D.C.
www.nih.gov
Office of Technology Transfer, USDA/ARS
Washington, D.C.
(Projects available for commercial development)
ott.ars.usda.gov
Soldier Systems Center
U.S. Army Soldier and Biological Chemical Command, Natick, Mass.
www.natick.army.mil/natick/
U.S. Geological Survey
(Information about Cooperative Research and Development Agreements)
www.usgs.gov/tech-transfer/what-crada.html
by Pierce Hollingsworth, Contributing Editor
The author is President, The Hollingsworth Group, P.O. Box 300, Wheaton, IL 60189.