Depending on how light interacts, food products can be classified as translucent, transparent, or opaque. The instruments used to measure color put foods into these categories.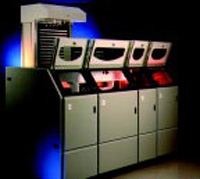 There are several instruments of devices developed to measure color. Spectrophotometers measure a ratio of the light reflected or transmitted from a food to a known reference standard. Tristimulus colorimeters are designed to reproduce the "physical" sensation of the human eye's view of color. Colorimeters are often used as a rapid QA technique to monitor product quality during processing. Spectrophotomers used for color measurement generally have integrators to convert readings to tristimulus values. Both of these instruments attempt to provide objective measurements of color.
However, foods rarely meet the objective ideal conditions that allows them to be placed into convenient categories. There are several problems encountered when measuring color in foods. Such problems can be especially acute when measuring products such as natural colors for use as food ingredients.
According to Yosuf Chaudhry, Food Scientist, Exberry Labs, a producer of natural colors, there is a lack of both standards and methods in the measurement of natural colors. The color of these materials is dependent on pH and the dilution factor, neither of which has a standard across the industry. Batch-to-batch, processors should specify these factors to obtain consistent products.
Batch-to-batch color consistency is an important indicator of quality for many transparent liquids. According to HunterLab, a manufacturer of color measurement instruments, transparent liquids require special handling when being evaluated either visually or instrumentally. The color of a transparent sample changes when the path length is changed, so the path length must be fixed. Transparent liquids should be measured in a transmittance mode on a bench-top sphere instrument in order to assess the color of the liquids when light shines through them.
Transparent liquids have several nonuniform characteristics that require compensating preparation and presentation techniques in order to ensure a repeatable sample measurement. Liquids must be contained in and measured through a clear sample cell in order to be effectively made solid. They are transparent—not opaque—and will be sensitive to path length changes, so a constant path length should be used. Liquids may contain bubbles or suspended material that can alter the color measurement, requiring the averaging of several readings.
Lot-to-lot color consistency is an important indicator of quality for many translucent liquids, such as citrus juice products. Translucent samples require special handling when being evaluated either visually or instrumentally. The color of a translucent sample changes when the path length is changed, so that path length must be fixed. Since some of the incident light will travel through the sample, its background must also be constant and, ideally, white. Ambient light may also affect the sample's appearance and should be minimized. Liquids must be measured through the bottom of a clear glass sample cup in order to be effectively made a solid.
HunterLab has announced the release of its new Universal Software, version 4.0. This software may be used to collect, store, display, and analyze color data from HunterLab spectrophotometers. The software can display simultaneously color data for up to three illuminants and permits the user to setup their own format for printing of data and plots. For more information, contact HunterLab, 11491 Sunset Hills Rd., Reston, VA 20190-5280 (phone 703-471-6870).
--- PAGE BREAK ---
Companies to Produce New DNA Detection Tools
GeneScan Europe AG, Freiburg, Germany, and Clinical Micro Sensors, Pasadena, Calif., a business unit of Motorola, Inc., announced the formation of a technical collaboration to develop and deliver new DNA detection tools for genetically modified crops utilizing Motorola's eSensor™ DNA detection system. The detection technology is said to represent a landmark advance in bioelectronic DNA analysis opening the door to eventual "on site" analyses using a hand-held device.
The detection platform relies on bioelectronics, a revolution in DNA analysis that will broaden the use of DNA tests. It uses organic molecules to form electronic circuits that can detect and quantify many different DNA targets at once. The technology has already been shown effective in studies detecting panels of bacterial or viral targets and SNPs (single nucleotide polymorphisms), the most common form of genetic mutation in humans, plants, and animals. 
GeneScan's experience in the analysis of GMOs and the monitoring of food safety provides critical access to this area of increasing analytical demand. GeneScan has developed specific DNA probes and quantification systems for the detection of genetically modified crop varieties, and provides associated products and services. For more information, contact GeneScan Europe AG (www.genescan-europe.com), or Clinical Micro Sensors (www.microsensor.com). 
Toxic Algae Test Developed
Researchers at the Oceanological Observatory at Banyuls-sur-mer, located in southwestern France, have developed a method to test within a few hours for the presence of pathogenic amoebae in aquatic environments. Created in partnership with Chemunex, EDF, and Indicia Diagnostic, this method will soon be applied for monitoring toxic algae in seawater. It should soon replace slower traditional diagnostic methods that reply on culturing the microorganisms detected. 
The rapid and sensitive detection of toxic algae is a major issue in the public health field in view of the food-poisoning outbreaks in recent years following consumption of contaminated shellfish. Currently, at least two to three days are required to test for the presence of pathogenic microorganisms (bacteria, amoebae, toxic algae) in water. Direct observation methods such as epifluorescence microscopy and flow cytometry eliminate the culturing stage, but their quantitative sensitivity is too low, and none of these methods can detect a few cells in a large volume of water. 
Research carried out on the pathogenic amoeba Naegleria fowleri has led to the development of a hybridization protocol using immunofluorescence which makes it possible to detect this organism in river water. The protocol was applied throughout the summer on water for the cooling circuits of the nuclear power station at Civaux, located in the Vienne region of France, and made it possible to diagnose in less than 4 hr the absence of the amoeba with a sensitivity of one amoeba in 10 mL of water. The presence of particles in suspension in the water does not affect the detection of amoebae, but it does limit the possibilities for filtering the water. An improvement in this sensitivity using magnetic separation is currently being investigated (detection in 1 L of water). For more information on the test, contact Philippe LeBaron, CNRS-University Paris 6, (email [email protected]). 
--- PAGE BREAK ---
New Portable Chemical Sensor Introduced
AppliedSensor, Parsippany, N.J., a manufacturer of intelligent sensor systems, has announced the newest addition to its product line of chemical sensors. The handheld, battery operated sensor system, allows for on-site detection, analysis, and verification of volatile compounds, providing quality assurance for a variety of materials including food products. 
Weighing under a pound, the handheld sensor system offers a rapid response within ten seconds. The system is said to be easy to use and to configure, and allows fast duplication of information, which can be transferred from one device to another or directly to a PC. The system is powered by a rechargeable battery that provides 70 hr of standby time and up to 1,000 measurement cycles. Its backlit display and construction allow for use in many different environments. 
The unit uses four quartz micro-balance (QMB) sensors. Since the unit has the ability to discriminate and to detect solvents in drums or tanks and to identify volatiles and off-odors, it may be used in a variety of applications. For more information, contact AppliedSensor, Inc., 400 Lanidex Place, Parsippany, N.J., 07054 (phone 973-887-6900; fax 973-887-5900; www.appliedsensor.com).
PRODUCTS AND LITERATURE
High Density Transfer Station may be used with the Zymark Allegro™ to handle sample liquid handling and microplate manipulation capabilities. The workstation adapts to a wide variety of applications, including automatic exchanges of pipetting arrays from disposable tips or cannulas, high-speed reformatting from 96 to 384 up to 1,536, as well as high-density homogeneous assays. The large storage capacity is said to permit unattended operation, and its vertical tray arrangement allows a smaller footprint. For more information, contact Zymark Corp., Zymark Center, Hopkinton, MA 01748 (phone 508-435-9500; fax 508-435-3439; www.zymark.com) —or circle 300.
Texture Analysis System, the 5500 Series, may be used to analyze a variety of food textures. Applications include snack foods, dairy products, meats, baked goods, and other foods. Available in a range of sizes and capabilities, the system is said to provide accurate measurements for food tests ranging from shear and tension tests on meats to staling and deformation of bakery products. A several accessories are available for the unit such as a drip pan and interchangeable grips. The drip pan, designed to minimize splash, can be fitted with all test fixtures. Use of the interchangeable grips allows the system to test mechanical properties of food packaging in addition to food textures. Integrated software allow the user to create customized tests without forcing the user to create or modify software macros. For more information, contact Instron Corp., 100 Royall St., Canton, MA 02021 (phone 800-564-8378 ext. 5210) —or circle 301.
Viscometer/Rheometer catalog contains detailed information on the complete line of Brookfield laboratory and process viscosity measurement instruments. A two-page pull-out chart helps guide individuals in the selection of a viscometer for their applications. Features and benefits of each instrument as well as cross-references for compatible software and accessories are included. For a copy of the 2001 Brookfield Catalog, contact Brookfield Engineering Laboratories, Inc., 11 Commerce Blvd., Middleboro, MA 02346-1031 (phone 800-628-8139 or 508-946-6200; fax 508-946-6262; www.brookfieldengineering.com) —or circle 302.
Stomacher Lab Blenders are designed to blend and homogenize laboratory samples quickly and reliably. Samples are contained in sterile disposable bags, eliminating any instrument sterilization procedures between samples. They are considered to be the industry standard for sample processing in food microbiology. For more information, contact Brinkmann Instruments, Inc., One Cantiague Rd., P.O. Box 1019, Westbury, NY 11590-0207 (phone 516-334-7500) —or circle 303.
--- PAGE BREAK ---
Rheometers, the RS1 and RS300, may be used to provide enhanced flexibility and control over rheological tests. They offer flow curve measurements with defined shear rate or shear stress as well as dynamic measurements (oscillation) for the determination of elasticity. Yield points can be determined with creep/recovery tests or with stress-controlled ramps. Reactions can be followed by time curves or temperature curves at constant shear rate, shear stress, or frequency. The RS300 unit provides a wider torque range, increasing sensitivity to low viscosity fluids and delicate structures. The unit permits interchangeable temperature control capability, like high temperature and Peltier systems. For more information, contact Thermohaake, 53 West Century Rd., Paramus, N.J., 07652 (phone 800-631-1369 or 201-265-7865; fax 201-265-1977) —or circle 304.
Vacuum Concentrator, the Infrared Alpha RVC, may be used to prepare samples for HPLC/GC, electrophoresis, and other testing methods. It is suitable for use in combinatorial chemistry and high throughput screening in the discovery of new drugs and isolation and synthesis of natural compounds. The basic principle of the unit is based on precise vacuum control. A vacuum measurement sensor in combination with a chemical resistant pump allows accurate regulation of the vacuum, essential for the rapid extraction of high-boiling-point solvents. For more information, contact BioPro International, Inc., 265 Conklin St., Farmingdale, NY 11735 (phone 516-249-0099; fax 516-249-0494) —or circle 305.
Hygrometer/Thermometer, the D850, is a traceable radio/signal remote unit that allows monitoring of temperature and humidity from up to three remote wireless sensors. It features a large digital display with current, minimum, and maximum temperature and humidity readings. It also features an audible alarm that tells the user with critical conditions have occurred. The unit is said to be ideal for monitoring multiple, wireless locations. The remote sensors may be placed in chambers, clean-rooms, ducts, storerooms, or even outdoors, up to 75 ft away. For more information, contact Dickson Co., 930 S. Westwood Ave., Addison, IL 60101-4997 (phone 800-323-2448 or 630-543-3747; fax 800-676-0498) —or circle 306.
Laboratory Equipment, supplies, instrumentation, plasticware, glassware, and other items are described in the Winter/Spring 2001 "Labware Direct" catalog. For a copy of the catalog, contact Lab Safety Supply, P.O. Box 1368, Janesville, WI 53547-1368 (phone 800-356-0783; fax 800-543-9910)—or circle 307.
Penetrometer, the HPT 737, may be used to determine the consistency of highly viscous and solid materials including foods. Said to be ideal for high-volume testing applications, the unit features a microprocessor-based controller that automates plunger release and penetration time, measuring and displaying penetration depth with 0.1 mm resolution. It retains measured values for up to 10 determinations in memory, enabling operators to display sample number, average, and standard deviation for quality control charting. A drive screw elevation mechanism allows fast sample exchange and accurate plunger devices. The instrument accepts any plunging accessory with a 3.2 mm shaft. Users may select from a wide range of accessories including various plunging cones and needles, verification kits, centering devices, and sample containers, and grease applicators. For more information, Petroleum Analyzer Co., L.P., 3234 East Pasadena Fwy., Pasadena, TX 77503 (phone 713-590-7260; fax 713-590-7266) —or circle 308. 
Information Management Software, the Nautilus 2000 Release 2, is described in an updated 8-p brochure. The laboratory management software has a user interface that is familiar to all users of Explorer on the latest versions of Microsoft® Windows. The system is controlled using all the same mouse controls, maximizing efficiency and dramatically reducing the learning curve for all new users. The software allows the definition of the laboratory business model describing all of the items required to manage the analysis and processing of samples, from the introduction of the sample into the laboratory through to successful completion of the analyses and reporting of the results. Compliance with Good Laboratory Practice (GLP), Good Automated Laboratory Practice (GALP), Good Manufacturing Practice (GMP), Good Automated Manufacturing Practice (GAMP), and ISO-9001 is facilitated, not only by the security model of the software, but also by the extensive validation collateral prepared by company. In addition, the implications of the FDA's ruling 21 CFR Part 11 on electronic records and signatures have been considered in the design of software. The choice of the industry standard, Oracle RDBMS enables optimized, high performance for multi-user operation and provides the mission critical database functionality essential to LIMS. The software uses the full database functionality to enforce data security including the use of both check and referential integrity constraints. Support for Windows Terminal Server means that Nautilus can be deployed to client workstations using an ultra thin client. This can significantly reduce system management and administration overheads leading to a reduced cost of ownership for customers. In addition to this 3-tier architecture, the software is also available as a rented service under the Application Service Provider (ASP) model. For more information, contact Thermo LabSystems Inc., 100 Cummings Center, Suite 407J, Beverly MA 01915 (phone 978-524-1400; fax 978-524-1100; www.labsystems.com) —or circle 309.
by JAMES GIESE
Associate Editor