With Italian, Mexican, and Cantonese food such a part of our everyday lives, it's hard to say what's ethnic anymore. But, whatever it is, consumer interest is accelerating.
Last year, Oriental and Mexican entrees led frozen dinner category sales—each up17%—and refrigerated Mexican foods made the "Top 20" list of overall supermarket food sales gainers. Promar International, marketing and business consulting company based in Wheaton, Ill., predicts that ethnic food sales will reach $75 billion by 2008.
According to the National Restaurant Association, several cuisines show significant growth in popularity compared to 1994: Italian, Mexican, Japanese (sushi), Thai, Caribbean, and Middle Eastern. "Old World Traditional"—German, Greek, Scandinavian, and soul food—as well as "Traditional Fine Dining" cuisines, including upscale Italian and French, have declined dramatically. In fact, NRA has cautioned operators not to depend too heavily on the latter categories, as they attract an older clientele long since bored with their special flair. The most-involved ethnic segments tend to be younger, working and living predominantly in major metropolitan areas, cities, and suburbs. 
In contrast, NRA reports that the appeal dimensions that show the most potential for restaurant ethnic cuisines are Festive (festive Mexican, Cajun/Creole, and Caribbean), Innovative & Trendy (Spanish), Adventurous & Spicy (Thai and Korean), and Value & Convenience (Chinese: Cantonese, Hunan, Mandarin, and Szechuan). Fusion cuisines—such as Mediterranean, Latin-American and Pan-Asian—are also showing strong acceptance. Since 1994, the importance of authenticity has also lessened, with the exception of Korean, Indian, Thai, and Japanese cuisines. 
NRA also found that one of the most appealing things an operator can do is describe the ingredients and preparation of ethnic dishes, having learned that simply providing a foreign or exotic name on the menu without a description of the dish frustrates customers. Reading how something is made is part of the pleasure of the restaurant experience, and prepared food marketers should take note.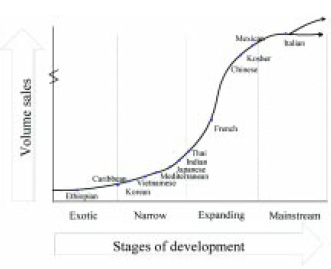 The U.S. market for ethnic foods is becoming increasingly complex (see figure). Clearly, all of the cuisines in Promar International's model will not reach mainstream status. Moreover, the split paths indicate that a cuisine's development can either taper off or be renewed through further segmentation. The "regionalization" of Chinese cuisines, including Szechuan, Cantonese, and Mandarin varieties, is one example of cuisine renewal through segmentation. Promar predicts that Mexican, Chinese, kosher, Italian, and Thai will represent the largest value/volume growth in the next decade, and Mexican, Chinese, Caribbean, and Thai will have the fastest cuisine development.
The key drivers of the Mexican food sector over the next decade will be demographics and restaurant operator interest. Its content will be heavily influenced by continued immigration and by generations from decades past. Mexican food also has strong appeal to Hispanics, estimated to be 15% of the population by 2015. 
The Chinese market will also be heavily influenced by operator interest. Although operators require primarily meal components today, foodservice value-added products will be in great demand as the segment grows. Opportunities also exist for part- and pre-prepared and home-meal-replacement Chinese food offerings at retail, but they must be perceived to be truly outstanding in quality and value because of the significant consumer perception of convenience, low cost, and taste quality associated with local independent and family-owned Chinese food operations. 
Conversely, growth in Thai food will be driven by a gourmet attitude. Across all age groups, consumers perceive Thai food as more sophisticated and upscale compared to other Asian cuisines. Thai foodservice operators and processors are one of the few segments able to tap latent demand among consumers who are "experimenters." Growth in the affluent population of the U.S. will also contribute to the demand for Thai food. 
And, then there is the $35-billion—and growing—kosher market. This market is unique, in that, religious beliefs aside, kosher products are being perceived by consumers as healthier and safer than their nonkosher counterparts. In recent years, the penetration of kosher food has grown by 15% annually. 
Last but not least, tracking ethnic ingredients on menus is also an excellent way to gauge the growth of ethnic cuisines. For example, according to the Chain Account Menu Survey, the number of times that the following Asian ingredients were mentioned as ingredients on the Top 200 restaurant chain menus increased from the first half of 1999 to the first half of 2001 as follows: crispy noodles, 21 to 28 (up 33%); ginger, 25 to 49 (up 96%); Asian salad dressings, 27 to 42 (up 56%), and Mexican/Asian cilantro, 107 to 122 (up 14%). 
I will review other key trends and directions for dishes and ingredients in these up-and-coming cuisines next month.
by A. ELIZABETH SLOAN
Contributing Editor
President, Sloan Trends & Solutions, Inc.
Escondido, Calif.