Active packaging has been investigated for more than 40 years, or ever since passive packaging embracing oxygen and water vapor barriers became important to the protection of food and beverage products during distribution, that trek from the end of the production line to the consumer's tummy.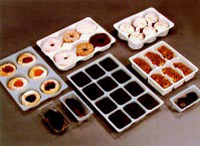 How important is active packaging today to the world food packaging community? Folks in the proprietary conference business have been organizing events on the subject for this year and next, and one book, Active Packaging for Food Applications, by Aaron L. Brody, Lauri L. Kline, and Gene Strupinsky, was published during the time of the IFT Annual Meeting. The subject certainly is receiving an inordinate amount of publicity. But isn't this always the situation when a food packaging technology emerges from the shadows and appears to offer some "magic" to preserve food contents for some unbelievable period?
Perhaps the best overview of the topic was Labuza and Breene's great 1989 paper, which may have been among the last of the peer-review articles on active packaging. And then came Michael Rooney's 1995 Active Packaging book. Despite fine university research by John Floros and Jung Han at Purdue University, Jim Smith at McGill University, and Joe Hotchkiss at Cornell University over the past ten or so years, the overwhelming proportion of the work on oxygen scavenging, internal moisture control, odor removal, antimicrobial packaging, odor addition, etc., was performed by industry technologists, with results and cautions largely unseen, if they exist at all, by those really needing the information— the food and beverage packagers of the world.
During the Institute of Food Technologists' 2001 IFT Annual Meeting in June, the IFT Food Packaging Division (FPD) provided the most powerful lineup of experts delivering the very latest with objectivity on active packaging. With one symposium dedicated solely to the subject, and another that overlapped, plus some posters and submitted papers, IFT members and visitors received a comprehensive picture of what is active in active packaging today. Here's what was covered:
• Oxygen Scavengers. This column has addressed areas of active packaging such as oxygen scavengers for plastic beer bottles, the 1999–2001 packages that sparked the renewed packager and public interest. In fact, oxygen scavengers incorporated into polyester to elevate the plastic to levels at which it could protect beer and now juices and even ketchup against entry of air have been the subject of three proprietary conferences and two, soon to be three, 2001 multi-client reports. Yet a definitive objective review of the complexities—such as adverse flavors, the very remote possibility of toxicity, temperature resistance, triggering, and cost—has not appeared anywhere. Unfortunately this year's IFT FPD events also did not deeply probe oxygen scavengers, which implies action for the division next year, or sooner, if possible.
• Antimicrobial Packaging Systems. Demonstrating the effectiveness of FPD as a venue for food packaging technology debate were the somewhat dramatic announcements that chlorine dioxide had received Food and Drug Administration acceptance as a package material antimicrobial agent (coincidentally the day before the opening of the IFT Annual Meeting) and that silver ions on material surfaces as an antimicrobial was being displayed on the IFT Food Expo floor. Both of these announcements were made just moments before program chair Leslie Cook spoke on Cryovac Sealed Air's research results on both chemicals on package surfaces to aid in product content shelf-life extension and to reduce pathogens.
An ideal antimicrobial packaging material would have broad-spectrum activity, be active at low concentrations, demonstrate no adverse sensory effects, and, of course, be low in cost and FDA compliant. Delivery systems include incorporation into polymers, surface coating, and surface attachment. The extensive list of potential package material antimicrobials includes organic acids, bacteriocins, isothiocyanates, metal ions, and gas emitters. Among the agents studied as antifungals are parabens, benzoates, sorbates, and imazalil on packages for containment of cheese, fresh produce, and bread. Among the challenges found have been thermal stability, efficacy under refrigerated distribution conditions, and regulatory concerns.
Silver Ions. Inorganic silver on zeolite carriers is antimicrobial on contact and technically feasible to fabricate, but the requisite migration from polymers is minimal. Silver ion is being incorporated on material surfaces and into purge-absorbent pads for fresh meat and produce, but these developments are still too new to evaluate. And silver ion's antimicrobial effects are weakened by sulfur-containing amino acids in many food products.
Bacteriocins. These compounds are both bacteriostatic and bactericidal, especially at low pH, but are microbially specific, with relatively low activity for fresh meats.
Allylisothiocyanate. An extract from horseradish (wasabi), allylisothiocyanate has been studied by both Japanese and United States researchers at the Natick Soldier Center. The compound is both bacteriostatic and bactericidal, but, even at very low levels, it displays intense flavor. In her presentation, Cook suggested that allylisothiocyanate might be acceptable in foods that are compatible with wasabi, such as sushi. and others.
Chlorine Dioxide. Recently approved, chlorine dioxide is an antimicrobial gas released from a basic chlorine-containing chemical upon exposure to moisture. Major advantages are that it functions at a distance and it is one of the few packaging antimicrobials not requiring direct contact with food and package surface. Although testing results indicate efficacy in retarding mold on berries, results with fresh red meat, however microbiologically effective, are overshadowed by serious adverse color changes.
Research results on antimicrobial packaging have largely been conducted with edible or cast films, with activity determined by zones of inhibition, not with real food systems. One- to two-log reductions in food and recovery of initial reduction are typical, reflecting extension of lag phase. In most instances, polymer extrusion can destroy the antimicrobial properties of the agent. Surface coating is achievable but limits the quantity of agent available for action. And the food can dilute the agent's effectiveness as it migrates inward.
No antimicrobial packaging material to eliminate pathogens is commercial today. In her disturbing presentation, Cook asked, Might not the more logical route be to incorporate antimicrobials into the food itself rather than struggle with the active packaging technology?
• Moisture Absorbents. Probably not surprising to many industry practitioners is that the purge dripping down from fresh meat, poultry, seafood, and produce is an often more potent source of product deterioration than the product itself. Cellulose pulp–based pads (or diapers, as they are more unaffectionately described by users) absorb the purge but also act as sources for more moisture and as microbiological growth media. Maxwell-Chase's Tom Gautreaux described carboxymethyl cellulose polymer-based absorbents incorporated directly into trays. The absorbents form irreversible gels with the purge emanating from contained product and thus control the moisture level within the food. With this elimination of excess moisture in the product's package environment, sliced and diced tomatoes, melons, watermelon, strawberries, and chicken can be significantly better and longer preserved than with traditional absorbent pads in the bottoms of trays. Furthermore, by incorporating antimicrobials into the gel-forming pads, microbiological shelf life is also extended. It seems that the purge in the bottom of packages is a not-insignificant source of microbiological activity that "flows" into the contents above.
• Controlled-Gas-Permeation Films. Landec's Ray Clarke continued his organization's advances in controlling the gas permeation of polymer package structures. The earlier materials offered the ability to "switch" gas permeability with temperature increases and thus permit air into fresh-produce packages to avoid respiratory anaerobiosis. More recent developments include using porous membrane patches coated with Landec materials and adhered over large openings in the base package structures. Oxygen permeation rates of 28,000 cm3/100 in2/day and carbon dioxide permeation rates of 120,000 cm3/100 in2/day are achievable—and effective at various controllable ratios for high-respiration-rate fresh produce such as broccoli, mushrooms, asparagus, and strawberries. Newer work with green bananas packaged in Landec materials demonstrate significantly extended shelf life after ripening—a commercial progress.
• High-Oxygen-Produce Packaging. Campden and Chorleywood Food Research Association's Brian Day recited a host of European developments in active packaging, among them antimicrobials for bakery product packaging, carbon dioxide scavenging, moisture absorbents, high-oxygen-atmosphere packaging, and oxygen emitters. Carbon dioxide scavengers reduced the level of the respiratory gas by 50% and thus extended the refrigerated shelf life of packaged strawberries from six to nine days. Moisture absorbents such as those from Maxwell-Chase described above extended shelf life of cut melons from three to five days. Eighty percent oxygen and 20% carbon dioxide in the package was demonstrated to inhibit both aerobic and anaerobic microorganisms and oxidative enzymatic activity more effectively than 80% carbon dioxide and 20% oxygen for high-respiration-rate produce such as mushrooms and some lettuces.
The audience skepticism regarding these reports had hardly subsided when Day, a highly respected researcher and pioneer in active packaging, mentioned a new package structure from France's Atco that emitted oxygen. Fabricated into packages for bean sprouts, the structure was claimed to offer extended shelf life for the contents under high oxygen levels—a potential benefit for chow mein lovers around the world.
Were it not for the fact that every speaker in the symposium is a responsible professional, some of the results such as the benefits of high-oxygen packaging would not be believed. Conversely, some of the disclosures such as the blocks to antimicrobial packaging were surprising. This information in this context—removed from the restrictions of either peer review or industry hyperbole—strongly supports my thesis that IFT and the Food Packaging Division have matured as a sound means to communicate accurate, complete, and timely technical information to food packaging technologists—a reason to continue and enhance dialogue among the interested participants in a practical environment.
PRODUCTS & LITERATURE
Bakery Packaging Systems consist of plastic trays in a variety of sizes and styles, lidding film, and lidding machines. Three types of lidding film are available: cold-seal pressure-sensitive for fragile foods, heat-seal film for hot and cold items, and heat-seal perforated film that lets moisture evacuate so foods stay crisper. Lidding machines include manual, semi-automatic, and fully automatic models that can seal up to 6,000 trays/hr. For more information on the Kiss/Seal systems, contact Form Plastics Co., 3825 Stern Ave., St. Charles, IL 60174 (phone 630-443-1400, fax 630-443-1492) —or circle 318.
Oxygen Absorbers remove the oxygen from any packaged environment to maintain product freshness and help eliminate the need for additives, gas flushing, or vacuum packaging. Oxygen absorbers in the OBuster line come in sizes ranging from 20 cm3 to 1,000 cm3. A free requirement chart helps food manufacturers determine the correct oxygen absorber for their packaging applications. For more information or a copy of the chart, contact Desiccare, Inc., 10600 Shoemaker Ave., Bldg. C, Santa Fe Springs, CA 90670-4026 (phone 800-446-6650 or 562-903-2265, fax 562-903-2272, www.desiccare.com) —or circle 319.
Metallized Pouch for spiral-cut hams and whole hams combines three processing steps into one. Other pouches require vacuum sealing the ham, then wrapping it in a pouch and labeling the pouch. With the Metallic Pouch, the ham is simply inserted into the preprinted pouch and vacuum sealed. The pouch material—a lamination of polyester with a coextrusion of metallized polyester and polyethylene—has a shiny metallic appearance and is said to have excellent barrier properties. For more information, contact Green-Tek, Inc., 407 N. Main St., Edgerton, WI 53534 (phone 800-747-6440 or 608-884-9454, fax 608-884-9459) —or circle 320.
Protective Milk Package, the FlavorTight™ bottle, is being used for Land O'Lakes milk distributed in the Upper Midwest by Dean Foods Co. The opaque bottle protects milk from exposure to ultraviolet and fluorescent light, helping it retain fresh flavor and essential vitamins such as vitamins A, B-2, and C. It only takes 4 hr of fluorescent light exposure for milk to start oxidizing, only 4 min in direct sunlight. The bottles, in ½- and 1-gal sizes, are recyclable. For more information, contact Dean Foods North Central, Inc., 3433 Broadway St., N.E., Suite 430, Minneapolis, MN 55413 (phone 612-378-7120) —or circle 321.
Vertical Form/Fill/Seal Machine, the WD-18, packages dry particulate products such as snack foods, candy, pasta, and other products at up to 700 pouches/min. It is said to be the first dry-pouch vertical/form/fill/seal machine capable of running multiple lanes of packages, with an 8-across pattern as the most common for packages with fill weights of 5–14 g. The machine can use a variety of films, ranging from single-layer polyethylene to multi-layer laminates, and can form pouches 2–4.5 in wide and 2-3/8–9 in long. For more information, contact Winpak, Inc., 998 S. Sierra Way, San Bernardino, CA 92408 (phone 800-804-4224 or 909-885-0715, fax 909-381-1934, www.winpak.com) —or circle 322.
Tamper-Evident Closure fits any container with a standard CSD finish, such as beverage packages for water, juice, and milk. The 28-mm Flat Cap closure features a flexible bead, tamper-evident system that minimizes application torque while providing increased "gripping" to break the tamper-evident webs. The folding-bead linerless seal does not require an extra liner to remain securely closed. For more information, contact Rexam Closures & Containers, 3245 Kansas Rd., Evansville, IN 47725-9611 (phone 812-867-6671, fax 812-867-7802) —or circle 323.
Stick-Pack Machinery produces tube-like packages for yogurt and other products. The form/fill/seal equipment is available in three models for liquid and viscous products, with three different sealing possibilities: a tape seal, which eliminates sealing multiple film layers in the cross seal and provides superior liquid seal integrity; a fin seal, centered on the package, which provides better shape and mouthfeel; and an overlap seal for dry flowable products. For more information, contact Hassia USA, 1210 Campus Dr. W., Morganville, NJ 07751 (phone 732-536-8770, fax 732-536-8850, www.hassiausa.com) —or circle 324.
---
Some Recommended Reading
Anonymous. 1999. Oxygen absorbers 2000 and beyond. George O. Schroeder Associates, Inc., Appleton, Wis.
Anonymous. 2000. Oxygen absorbers 2001 and beyond. George O. Schroeder Associates, Inc., Appleton, Wis.
Brody, A.L., Kline, L., and Strupinsky, G. 2001. "Active Packaging for Food Applications." CRC Press, Boca Raton, Fla.
Day, B. 2001. Fresh prepared produce: GMP for high oxygen MAP and non-sulfite dipping. Campden and Chorleywood Food Res. Assn., Chipping Campden, Gloucestershire, U.K.
Labuza, T.P. and Breene, W.M. 1989. Applications of active packaging for improvement of shelf-life and nutritional quality of fresh and extended shelf-life foods. J. Food Proc. Preserv. 13: 1-69.
Rooney, M. 1995. "Active Food Packaging." Blackie Academic & Professional, Glasgow, U.K.
by AARON L. BRODY
Contributing Editor