What are the benefits of custom (contract) processing and packaging, and how should food companies go about selecting a custom processor/packager? To answer these questions, I spoke with representatives of several custom processing companies.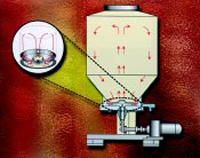 Jim Kelleher (800-369-1022), Director of Sales & Marketing, Maple Island, North St. Paul, Minn., said that the benefits to a food company of using a custom processor are not having a plant or the overhead that goes with it, personnel issues in staffing plants, and capital required to have a plant. Also, the company can control the production costs more easily because it doesn't have to be as responsive to economic ups and downturns as it would otherwise. In today's economic environment, with downsizing and reorganizing, custom processors and packagers are very positive right now, he said.
Another reason to use a custom processor, even if the food company has its own processing capabilities, is that the food company doesn't have to break into its own production schedule. It can make test market quantities, for example, without interrupting its own production.
With regard to selecting a custom processor, he said that the customer should look at the processor's track record, evaluate the physical property itself, look at the processor's quality procedures, GMPs, and HACCP plans, and ask who inspects it (FDA or USDA) and what certifications it might have (such as kosher, etc.). He added that the customer should have its own people or hire a consultant to go in and evaluate the processor's testing procedures for incoming product, in-process product, and finished goods. A good custom processor will not only allow that but will encourage it, he said.
How can a customer find a custom processor to evaluate? Kelleher said that one way is to check with their trade association. For example, a dairy company might check with the American Dairy Products Institute. Every group has its own trade association. Trade publications are another source. The Institute of Food Technologists is another resource, he said. "IFT's Food Expo is a big source of potential customers for us." Word of mouth, he added, is actually one of the most important methods. You get someone's opinion, recommending—or not—a custom processor without regard to the processor's advertising dollars.
With regard to proprietary information, nondisclosure agreements are used to protect each other, he said, although most are designed to protect the customer. Typically, there is a sharing of total information. But if a customer has a secret ingredient, it has to be evaluated on its own merits. If the customer sends a premix and the processor doesn't know what it is, the processor should request a certificate of analysis that indicates that the product is safe to use in his manufacturing environment.
Maple Island, founded in the mid-1930s, specializes in agglomeration and canning of powders. Kelleher said that the company can instantize any food powders on a continuous system, ensuring uniformity of particle size. The canning line can package food powders in metal or composite canisters with a nitrogen flush system, which increases shelf life and product integrity. The line is qualified to run infant formula, one of the most challenging products to package because of federal regulations. Powders can also be packaged in pouches, bags, and supersacks (packages larger than 200 lb).
Rolf Rogers (800-997-4437), Vice President of IFP Custom Processing Group of Primera Foods, Inc., Faribault, Minn., said that a company whose core competencies are other than manufacturing—it may be a good product development and marketing firm but not have the manufacturing capability—may need to outsource to get the product manufactured. Even companies that are manufacturers may have a limited range of technical capabilities and need to outsource for special projects. Those would be the main reasons why a company would go out to find another company to make the product for them, he said.
Custom processors and packagers, such as IFP, offer a variety of services, ranging from product development and pilot-scale production, all the way through to full-scale production, packaging, and distribution, Rogers said. Others specialize in one or more of such services. Some can even act as purchasing agents for raw materials for a customer. It's a shopping basket approach, he said, allowing customers to mix and match what they need. A major benefit is that the customer doesn't have to buy and install the equipment it needs. This limits a customer's capital expenditures for equipment, cuts down on risk, and gets a product to market faster, he added.
With regard to selecting a custom processor, he said that a customer is not going to consider a particular custom processor unless that processor has the core capabilities the customer needs. But the customer should look at more subtle things, such as the level of quality, the level of service, and the range of capabilities the processor offers. The more a custom processor offers, the more valuable it is to prospective customers.
With regard to a processor's quality, all prospects will say that they provide high-quality services, Rogers said, but a prospective customer should ask what that means, ask what evidence is there, such as awards and certifications, that show that it provides high-quality service. The customer should dig deep and look at what's behind the corporate slogan.
IFP, founded in 1982, offers services ranging from product and process development to full-scale manufacturing and packaging. Processing and packaging capabilities include agglomeration/instantizing/particle coating, encapsulation, blending, spray drying, and finished-product packaging in flexible and rigid containers.
PRODUCTS & LITERATURE
X-Ray Inspection System is designed to maximize detection of dense contaminants, missing items, and malformed pieces in a variety of packaged and unpackaged products. It will detect, in addition to metals, all dense food contaminants such as calcified bone, glass, dense plastic, and stone. It can also detect metal contaminants that are otherwise hidden by metal foil or film packaging. New software enables the equipment to also detect missing or broken items and incorrectly filled packages. For a 6-p brochure describing the Advanced X-Ray Inspection System (AXIS), contact Loma Systems, Inc., 283 E. Lies Rd., Carol Stream, IL 60188 (phone 630-681-2050, fax 630-588-1394, www.loma.com) —or circle 311.
Sterilization using the SteriPulse-XL 3000 pulsed light system is the subject of a technical paper that includes a table with the ultraviolet energy values required to destroy 99.9% of various microorganisms (bacteria, viruses, yeasts, mold spores, and protozoa). The paper compared UV pulsed light technology with standard continuous UV lamp exposure and shows how only a few pulses are suffient to completely eradicate microorganisms. For a copy of the paper, "Photochemical Sterilization by Pulsed Light," visit www.xenoncorp.com or contact Xenon Corp., 20 Commerce Way, Woburn, MA 01801-9711 (phone 800-936-6695 or 781-993-3594, fax 781-933-8804) —or circle 312.
Nitrogen-Generating Equipment, the NitroGenie, is a self-contained, compact system that delivers 99.5% pure nitrogen that is oil-free, i.e., food-grade nitrogen. It features its own motor, air compressors, air cleanup system, membrane separation, high-pressure boosters, and storage receivers. Food industry applications include controlled-atmosphere storage, food packaging, wine, fruit juice, and beer dispensing, deinfestation, and purging and pressure transfer. For more information, contact Pacific Consolidated Industries, 3430 W. Carriage Dr., Santa Ana, CA 92704 (phone 714-979-9200, www.nitrogenie.com) —or circle 313.
Low-Shear Mixing System features bottom-to-top circulation to easily handle both Newtonian and non-Newtonian fluids, as well as suspended solids. A reciprocating diaphragm causes flow to move in and out of it at the bottom of the vessel. A diode plate above the diaphragm causes preferential flow, depending on the direction, causing liquid in the vessel to move smoothly upward at the center and back down at the wall. For more information about the NIMIX Mixing System, contact Chemineer, Inc., P.O. Box 1123, Dayton, OH 45401-1123 (phone 937-454-3200, fax 937-454-3379) —or circle 314.
Electron-Beam Irradiator can be installed directly into an existing production line for cold pasteurization of food products. The irradiator is programmed for different types of treatment, and the program can be changed by pressing a single button. The compact system (3.8 m x 2.7 m x 2.7 m) simultaneously irradiates each product from multiple directions, giving a more exact dosage to the product. The external walls are lead-shielded, and internal irradiation ceases when the machine is switched off. For more information on the Betaline system, contact Scanditronix Medical AB, Stålgatan 14, SE-754 50, Uppsala, Sweden (phone +46 18-180700, fax +46 18-127552) —or circle 315.
Remote Monitoring System, the Sensaphone® 2000, can be used to monitor critical environmental and operational settings for conditions critical to food quality. It can report on up to eight remote analog or digital conditions, including room temperature, outside temperature, humidity, tank level, tank temperature, pressure, flow rate, flooding, and HVAC controllers, as well as power failure. When environmental conditions change, the unit issues up to 32 alarm notifications, alerting managers to potential problems and allowing time to take preventive actions. For more information, contact Phonetics, Inc., 901 Tryens Rd., Aston, PA 19014 (phone 610-558-2700, fax 610-558-0222, www.sensaphone.com) —or circle 316.
Membrane Filtration is the subject of a 12-p brochure that presents an introduction to reverse osmosis, nanofiltration, ultrafiltration, and microfiltration and describes applications in such industries as dairy, food, beverage, starch and sweetener, sugar, pharmaceutical/biotechnology, and environmental/chemical. For a copy of "Membrane Filtration," contact GEA Filtration, Niro, Inc., 1600 O'Keefe Rd., Hudson, WI 54016 (phone 715-386-9371, fax 715-386-9376, www.geafiltration.com) —or circle 317.
by NEIL H. MERMELSTEIN
Editor