Will biotech foods become the next target for trial lawyers? Not likely, but proposed legislation announced by a North Dakota state senator could open the door a crack. If passed, the law would give wheat farmers there the ability to sue nearby biotech grain producers for contamination.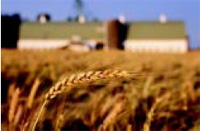 Sen. Bill Bowman said he plans to introduce the legislation next year to protect farmers from potential dangers from emerging transgenic wheat technology. "There is no question that this is going to cross-pollinate with our varieties of spring wheat," he said. "The company that makes the money off this should have some liability."
The action applies only to biotech wheat, a grain that is not yet commercially established in a state where genetically modified (GM) corn, canola, and soybeans are widely grown and processed. More than half the corn and soybean crops in North Dakota have transgenic traits, according to state seed commissioner Ken Bertsch in recent testimony to the state legislature.
Monsanto Co., the leading producer of experimental GM wheat in North Dakota, naturally opposes the actions, and stated that such legislation could keep biotech companies out of the state and its farmers out of an important emerging technology
The looming debate in North Dakota isn't more than a blip for the biotech bandwagon, but it does represent a prototype for future opposition on a more massive scale. If the pro-litigation and moratorium initiatives are successful in North Dakota, they could provide a model for legislation aimed at other crops in other states where GM agriculture is gaining traction.
The stakes are high. Three-quarters of soybeans and more than a third of the corn crop in the United States this year will be grown with bioengineered seeds, according to the U.S. Dept. of Agriculture, compared to 54% of soybeans and 25% of corn two years ago. This rapid growth is buttressed by considerable research affirming the safety of GM corn and soybeans and by lower seed costs resulting from higher production volumes. Any serious challenge or disruption to the production of GM grains would have a major economic impact.
Consumer acceptance is a major factor. A key barometer of public sentiment took place during the November elections in Oregon. By a margin of nearly three to one, voters rejected an initiative that would have required mandatory labeling for all foods and ingredients resulting from biotechnology, superseding federal regulations. The Food and Drug Administration considers such foods safe and requires no special labeling. The Grocery Manufacturers of America actively opposed the measure and cited its defeat as a major consumer endorsement of current regulations.
Public sentiment is considerably different in the rest of the world. Food exports are critical to farmers and processors, and essential to many countries that rely on food and feed from the U.S. However, public policy and consumer perception continue to resist U.S. efforts to expand exports. The European Union is considering even tighter regulations not only to label foods that have even traces of biotech ingredients, but also to expand trade restrictions to keep them out. The rules would tighten requirements for tracing the genetic origin of all food ingredients and placing this information on the label. Trade representatives for the U.S. equate these restrictions to trade barriers, citing international studies substantiating the safety of such foods.
European consumers are actively opposed to foods with biotech ingredients. Similar sentiment is growing in Asia, Australia, and Africa. In October, Zambia refused a shipment of food aid despite the fact that many of its people are on the verge of starvation. Zambia's rejection was based, in part, on political pressure from the EU, which indicated that it would reject exports from Zambia if GM grains were allowed into the country.
New domestic concerns have also emerged. A growing organic foods industry, in which GM foods have no place, is now armed with new federal regulations establishing standards of identity and is attracting the interest of major food companies. And a looming battle is shaping up between drug companies that use bioengineered crops to produce pharmaceuticals and the food industry, which is leery of these products' entering the food supply through inadvertent commingling or cross-pollination.
GM foods may be here to stay, but their role in the global diet is still handwritten on the menu.
by PIERCE HOLLINGSWORTH
Contributing Editor
President, The Hollingsworth Group, Inc.
Wheaton, Ill.