I remembered reading—a few years ago—about the health properties of garlic. Garlic may have been one of the first ingredients whose nutraceutical or bioactive components received major attention in the media—both trade and consumer.Words such as "alliin," "allicin," and "allinase" quickly come to mind, as well as numerous studies which reported on their potential value in areas such as the maintenance of heart health.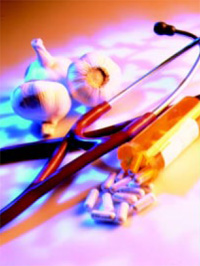 Today, a range of garlic products are prepared with proprietary processes that capture the highest allicin and allinase potential. For example, FutureCeuticals, a manufacturer and supplier of ingredients to the health and cosmetic industries, 300 W. 6th St., Momence, IL 60954-0009 (phone 888-472-3545), has introduced a variety of standardized garlic powders for use in health supplements. According to the company, Hi Actives air-dried granules and powders are available in a wide range of activities while Hi Actives Low Odor garlic products retain the functionality of regular garlic, with significantly reduced odor levels.
Since garlic first received its major exposure, many other ingredients have joined the ranks of products that are promoted for their health-promoting properties. More and more, we're seeing specific components of ingredients identified, extracted, concentrated, and used in the formulation of dietary supplements and foods that have potential nutraceutical value. These components can be derived from such ingredients as soy, flaxseed, fruits and vegetables, dairy products, fenugreek, tea products, and many others. And, as I hope to suggest in this article, these components frequently work in synergy, providing together the necessary functions or relationships to advance the development of foods that are designed to treat or reduce the risk of certain health problems.
This month's Ingredients section will be looking at some of these components or—what I sometimes call them—ingredients of ingredients.
In providing some of the most recent ingredient d developments in this area, this article will also consider some of the ways that these ingredients have progressed or evolved over the years—from ingredients that provided functionality in applications to ingredients that were promoted for their overall nutritional value to their most recent phase, concentrated bioactive components which ongoing studies are showing as having specific health benefits.
And, of course, as ingredients continue to evolve, ingredient suppliers have reshaped or redefined themselves to meet the needs of their customers.
This month's topic is also especially timely because in the December issue we're introducing Food Technology's first annual Nutraceutical & Functional Food Buyer's Guide (see page 73.) Furthermore, last January, we initiated a monthly Nutraceutical & Functional Foods section which discusses new developments and ongoing studies.
The following is an update of some of these ingredients and their health-promoting components. Afterward, we'll provide a brief discussion of some of the trends they reflect, focusing, in particular, on a prototype product, an antioxidant bar formulated with flax and blueberries (see photo below.)
--- PAGE BREAK ---
Flax. In the development of nutraceutical foods, flaxseed may play an increasingly important role for a number of reasons.
In addition to its flavor and functionality properties, flaxseed provides a source of essential nutrients such as fatty acids, dietary fiber, and vitamins and minerals—components which can make flax an especially desirable ingredient in a health-conscious diet.
Flaxseed may be used to enrich animal feeds. Over the past decade, eggs high in omega-3 fatty acids have been marketed which were produced by chickens consuming feed fortified with the ingredient. Recently, researchers at Kansas State University are providing evidence that adding flaxseed to cattle diets dramatically improves carcass value, strengthens the calf 's natural immunities, and may enhance the fatty acid profile of beef.
As an ingredient derived from a plant, flaxseed may serve as a more attractive alternative to other ingredients that are high in omega-3 fatty acids but whose use in foods has traditionally been limited by such factors as a cultural bias, environmental considerations, or practicality.
Recent research is also demonstrating that flaxseed has other components of health interest. It is particularly rich in lignans, providing up to 800 times more than any other plant. Lignans are described as a type of phytoestrogen—a compound which may protect against certain types of cancer by interfering with the effects of estrogen. They can act as antioxidants and are capable of balancing natural hormone levels.
Medical and nutritional studies have suggested that these substances may confer health benefits in a number of areas. These may include reducing the risk of coronary heart disease; protecting against cancers, such as colon, breast, and prostate; alleviating rheumatoid arthritis, psoriasis, lupus erythematosus, and other disorders characterized by activated lymphocytes and hyper-stimulated immune response; improving bone health; and easing menopausal symptoms.
Information on many of these studies may be obtained from Flax Council of Canada, 465-167 Lombard Ave., Winnipeg, Manitoba Canada R3B 0T6 (phone 204-982-2115; fax 204-942-1841; www.flaxcouncil.ca.)
Because of these potential health benefits, researchers are investigating ways to utilize flax as an ingredient in nutraceutical foods. For example, North Dakota State University studied the feasibility of using flax in pasta products and dairy foods such as ice creams and yogurts. Furthermore, efforts were made by the researchers to develop processes to concentrate bioactive compounds within the flax, creating ingredients that were advantageous in health-promoting foods.
Several ingredients based on the healthy components derived from flax have recently been introduced. Here are some examples:
• A standardized lignan extract from flax was developed by Acatris Inc. USA, 3300 Edinborough Way, Minneapolis, MN 55435 (phone 952-920-7700; fax 952-920-7704; www.acatris.com). Called LinumLife™, the shelf-stable powdered ingredient reportedly provides a highly concentrated source of flax lignans, delivering up to 100 times more lignans than whole flax seed or other flax ingredients.
The product is available in food and supplement grades. LinumLife Complex is a natural concentrate of flax lignans surrounded by a matrix of other flax nutrients for use in natural foods and with existing flax products. LinumLife Extra is a highly concentrated lignan extract specifically designed to meet the needs of dietary supplement manufacturers. Manufacturers can use the product as a single ingredient or in complex formulations in such applications as capsules and tablets, soft gels, flax oil, cereals, bars, snacks, and other products.
--- PAGE BREAK ---
• Concentrated flaxseed ingredients offering potential nutraceutical benefits are the latest additions to a line of flax products available from Pizzey's Milling, Box 132, Angusville, Manitoba, ROJ OAO Canada (phone 204-773-2575; fax 204-773-2317; www.pizzeys.com).
According to the manufacturer, the fine-milled, 30-mesh ingredients were developed using a technology to enable food and supplement manufacturers to take full advantage of flax's nutritional qualities. They are highly stable and provide easy use, overcoming processing and handling limitations associated with products having a high omega-3 oil content.
A high-lignan concentrate from flaxseed, marketed under the name NutriGrad™, has been specifically developed for bakery, cereals, snack foods, nutritional products, and supplement applications. The ingredient is said to be especially rich in lignans (5% minimum by weight).
A nutraceutical beverage ingredient called BevGrad™ is rich in omega-3 fatty acids (24%), soluble dietary fiber (10%), and lignan phytoestrogens and other phytochemicals. The ingredient, designed for nutritional and energy beverage applications, contributes a smooth texture and enhanced microbiological stability. Its light tan color and mild toasty flavor are said to blend smoothly into nutritional beverages prior to pasteurization or hot fill processing, and it can be added to vegetable and fruit drinks, smoothies, teas, and soy milks to boost energy and nutritional value.
Soy. Traditional soyfoods have included soymilk, tofu, soynuts, miso, soy sauces, and other products. But, in recent years, a variety of foods enriched with soy, such as juices, snacks, cheeses and other dairy products, pasta, and meat products are beginning to emerge, creating new possibilities for the use of healthy components derived from soy. These opportunities are further fueled by technological developments which have improved the organoleptic properties of soybeans and culinary expertise which creates soy applications that have a desirable appearance, texture, and taste. And let's not forget, of course, that in 1999, the Food and Drug Administration approved a health claim on soy proteins's role in reducing the risk of coronary heart disease. Food products that meet the FDA guidelines can now be labeled with this claim.
Over the years, Food Technology has written about a wide range of soy ingredients, such as fiber, hydrolyzed vegetable proteins, lecithin, concentrates and isolates, textured soy flour and textured soy protein concentrates, soybean oil, grits, and others. In addition to their health associations, these ingredients frequently played an important role in imparting functionality to the foods. They may have been used as flavor enhancers, emulsifiers, texturizers, substitutes for other ingredients, and processing aids.
Several new ingredient developments based on healthy components derived from soy have been recently introduced. Take lecithin, for example. Extracted from soybean oil, lecithin is used in food manufacturing as an emulsifier in products high in fats and oils. It also promotes stabilization, antioxidation, crystallization, and spattering control.
Soy lecithin fractions that are rich in choline, an essential nutrient which can maintain the function and health of the liver, lower blood cholesterol levels, and improve brain development and cognitive function, have been introduced by Central Soya Co., Inc., 1946 W. Cook Rd., Fort Wayne, IN 46818 (phone 260-425-5620; fax 219-425-6470). Available in powdered and liquid forms, these fractions allow food processors to easily fortify their foods with a highly bioavailable source of choline, and can be incorporated into beverages, snacks, baked goods, and other products without altering the flavor or texture of the application.
--- PAGE BREAK ---
Isoflavones are another example of a component derived from soy that offers potential health benefits. Preliminary evidence from molecular and cellular biology experiments, animal studies, and human clinical trials suggest that soy isoflavones may relieve some menopausal symptoms, help promote prostate health, provide heart and immune support, and help maintain bone health.
Furthermore, soy and kidney health was the focus of a 6-p newsletter, Health & Nutrition Update (Vol. 4, No. 3, 2002), available from ADM Natural Health and Nutrition, 4666 Faries Pkwy., Decatur, IL 62526 (phone 217-451-4112; fax 217-451-4510; www.admworld.com). According to the newsletter, which reviews several studies, isoflavones may help to halt the progression of kidney disease by inhibiting the rapid proliferation of cells in the kidney that often occurs in many chronic kidney disorders. However, the newsletter also notes that while the data are encouraging, the effects of isoflavones on kidney function are quite speculative.
Several new ingredient developments based on soy isoflavones have been recently introduced. Here are a few making their debut:
• A high concentration of naturally occurring soy isoflavones called AdvantaSoy Clear has been introduced by Cargill Health & Food Technologies, P.O. Box 5625, Minneapolis, MN 55440 (phone 952-742-6000; fax 952-742-7393; www.cargill.com). The ingredient, available in varied concentrations of isoflavones up to 50%, is said to have a superior solubility, a white appearance, and a reduction of undesirable taste and odor compared to other isoflavone products.
The product is targeted to expand soy isoflavone applications into foods, beverages, and nutraceuticals. For example, prototype chocolates made with it were highlighted at the American Dietetic Association Food & Nutrition Conference & Exhibition 2002, held on October 19–22.
• Also available from the company is AdvantaSoy Complete™, a natural combination of soy protein and soy isoflavones produced using a solvent-free manufacturing process. It is said to contain 2.25% concentration of isoflavones and can impart potential benefits in such applications as beverages, breads, cereals, and meal replacement products. The ingredient has been used in Organic Men's Bread™, the latest addition to a functional bread line manufactured by Minnesota-based French Meadow Bakery. Specially developed for the health needs of men of all ages, the bread contains soy isoflavones, is high in protein and fiber, is made without yeast and sweeteners, and is formulated with other healthy ingredients such as flaxseed (see the previous pages), pumpkin seed, sprouted fava beans, saw palmetto, and ginseng. The isoflavone product is also being used in Organic Woman's Bread, an alternative bread designed for the needs of women.
• And most recently, an isoflavone product has been introduced specifically for dietary supplement use by Cargill. Called AdvantaSoy Compress™, the ingredient can generate isoflavone concentrations up to 50%.
• A controlled release soy isoflavone product called Solgen SR has been developed by Israel-based Solbar Plant Extracts and Bio Dar. The product, which guarantees a minimum 30% isoflavones, has been designed to release the isoflavones within 12 hours, allowing formulations that avoid momentary high serum concentrations and quick elimination by the body. The slow delivery system gives sustained availability throughout the day. The product is distributed by P.L. Thomas & Co., Inc., 119 Headquarters Plaza, Morristown, NJ 07960 (phone 973-984-0900; fax 973-984-5666; www.plthomas.com).
A concentrated source of soy nutrients called SoyLife Focus is available from Acatris Inc. USA, 3300 Edinborough Way, Minneapolis, MN 55435 (phone 952-920-7700; fax 952-920-7704; www.acatris.com). Derived from the germ of the soybean, the ingredient provides adequate levels of isoflavones, along with more than 40 other active components, such as omega-3 fatty acids, vitamin E, folic acid, and soy protein. According to the manufacturer, research has shown that the effects of soy on overall health and well being are supported by the natural interaction or synergy between all soy nutrients. Because the ingredient is concentrated, it requires only 1–2 g in a serving.
--- PAGE BREAK ---
Fruits and Vegetables. Researchers continue to focus on the positive role of fruit and vegetable consumption in the prevention of chronic diseases. Cornell University, for example, recently studied the synergistic effects of phytochemicals in the regulation of gene expression and their potential application in nutraceutical foods. The results of such studies not only encourages consumers to change their dietary behaviors to obtain antioxidants from fruits and vegetables for health improvement and disease prevention, but also may have a positive impact on the development of future ingredients based on the healthy components of fruits and vegetables.
As you may recall, one of the hottest ingredients at the 2002 IFT Annual Meeting & Food Expo® was lutein. A component found especially in dark green, leafy vegetables such as spinach and kale, lutein promotes long-term eye health, reducing the risk of age-related eye disease such as macular degeneration and cataracts. Highlighted at the show were several branded consumer beverage products formulated with the component available from Kemin Foods LC, 600 E. Court Ave., Ste. A, Des Moines, IA 50309 (phone 866-536-4666; fax 515-248-4050; www.keminfoods.com).
In a related story, research at the Schepens Eye Research Institute and Harvard Medical School have recently demonstrated that the antioxidant zeaxanthin protects the retina against light damage. These findings are especially noteworthy because they provide significant support to the growing body of science that shows that macular pigment, whose major component is zeaxanthin, plays an essential role in protecting vision. If so, these findings have important implications for treatment of age-related macular degeneration, the leading cause of blindness in people over the age of 55.
Another component that has been spotlighted by the media is lycopene, a carotenoid found in tomatoes that has potent antioxidant capabilities. It has been associated with a reduced risk of certain cancers and can promote a healthy prostate, lungs, and cardiovascular and stomach functions.
Studies continue to look at the health value of lycopene. For example, the first randomized clinical trial studying the effects of a tomato lycopene complex and those of soy isoflavones on prostate health is being conducted at the H. Lee Moffitt Cancer Center and Research Institute in Tampa, Fla. Furthermore, new research conducted at the Ben-Gurion University and Soroka Medical Center in Israel has determined that the therapeutic benefits of the tomato comes from a complex synergy of tomato phytonutrients and not from any one phyto nutrient in isolation. This natural combination of tomato lycopene, phytoene, and phytofluene is found in the standardized tomato extract, Lyc-O-Mato®, available from Israel-based LycoRed Natural Products Ltd.
According to Healthy Origins, a Pittsburgh-based manufacturer of specialty supplements to the health food industry, one of its products, a lycopene softgel supplement, is offered in combination with pure olive oil, which, in addition to its own health benefits, is synergistic with lycopene's oleoresin.
The health benefits of polyphenols in grape-derived extracts has also received increasing attention. For example, products derived from California grapes, grape seed extract (MegaNatural Gold) and grape skin extract (MegaNatural GSKE), are manufactured by Polyphenolics, 12677 Rd. 24, Madera, CA 93639 (phone 574-243-9825; fax 574-243-9826; www.polyphenolics.com). The extracts are said to have superior antioxidant values, are synergistic with vitamins C and E, and support cardiovascular health by lowering LDL levels and inhibiting platelet aggregation.
--- PAGE BREAK ---
Also, a line of polyphenol products derived from French grapes is distributed under the name Grap' Activ by CPB International, Inc., 21 Union Valley Rd., Newfoundland, NJ 07435 (phone 973-208-6288; fax 973-208-6290). The line offers a guaranteed level of polyphenols and immediate solubility for use in the food and nutraceutical industries.
And not surprisingly, other components derived from fruits and vegetables are being investigated. In fact, Roche Vitamins, in cooperation with AnalytiCon Discovery GmbH, a leading biotech company, is researching active substances based on natural compounds. Fruits and vegetables, known to contain numerous compounds with a preventive potential regarding a number of human diseases, will be especially looked at. Edible plants and other foodstuffs such as spices and mushrooms will be systematically screened for their potential as sources of nutraceuticals.
A variety of ingredient developments based on components derived from fruits and vegetables have been recently introduced. Let's briefly look at some of these.
• Fruit and vegetable extracts providing standardized levels of phytochemicals are available from GNT USA, Inc., 660 White Plains Rd., Tarrytown, NY 10591 (phone 914-524-0600; fax 914-524-0681). Called Nutrifood®, the liquid concentrates are said to contain a wide spectrum of carotenoids, anthocyanins, and polyphenols, as they are found in fresh fruits and vegetables. Potential applications for these extracts include beverages, candies, fruit-based fillings, ice cream and other dairy products, breads and other baked goods, snacks, pasta, and nutraceutical products.
•Active ingredients derived from sugar beets, betaine and uridine may offer therapeutic benefits. The amino acid derivative betaine (trimethylglycine) may be used alone or in combination with other substances for the treatment of metal disorders. Betain may also delay the progress of Alzheimer's disease because of its ability to lower homocysteine levels and increase S-adenosyl methionine levels. Uridine, a nucleoside compound, may be useful in the treatment of rheumatoid arthritis and in the area of neurodegenerative disorders. These beet-derived components are available from Amino GmbH, An der Zucker-Raffinerie 10, Frellstedt Germany (phone 49-0-53-55/ 6 99-0; fax 49-0-53-55/69 92 22; www.aminoactives.com).
• A patent-pending apple extract has been introduced by France-based Diana Vegetal, a partner of RFI Ingredients, 300 Corporate Dr., Ste. 14, Blauvelt, NY 10913 (phone 845-358-8600; fax 845-358-9003). Called Phytonutriance, the apple extract is standardized, offering high levels of phloridzin, a phenolic compound that has a number of health benefits, including blood sugar balance, a cardioprotective effect, and free radical scavenging ability.Applications include functional foods and dietary supplements.
• Boron, a component found in apricots, raisins, almonds, hazelnuts, and avocados, can help maintain healthy bones and joints, and reduce the pain and inflammation associated with osteoarthritis. Boron also optimizes calcium, magnesium, and phosphorus metabolism, and has been shown to improve mental functions such as eye-hand coordination, attention, perception, and short- and long-term memory. A boron-based nutritional supplement called FruiteX-B (Calcium Bis-Fructo-Borate) is offered by FutureCeuticals, 300 W. 6th St., Momence, IL 60954-0009 (phone 888-472-3545). It can be used as a stand-alone product or in combination with other osteoarthritic support supplements.
• A dietary fiber derived from the pulp of the carob fruit, a member of the legume family, has been developed by Nutrinova, Inc., 285 Davidson Ave., Ste. 102, Somerset, NJ 08873 (phone 800-786-3883; fax 732-271-7235; www.nutrinova.com). Called Caromax, the fiber is characterized by its high content of lignin and wide variety of antioxidative polyphenols. A clinical study conducted by Germany-based University of Potsdam indicated that a diet enriched with carob fiber can have a positive impact on cholesterol levels in humans—in particular, reducing LDL cholesterol levels as well as the LDL/HDL ratio. Potential application for the ingredient included baked goods, dairy products, and snacks.
--- PAGE BREAK ---
• Water-soluble citrus bioflavonoids for addition to beverages, candies, and chewing gum are distributed by PL Thomas & Co., Inc., 119 Headquarters Plaza, Morristown, NJ 07960 (phone 973-984-0900; fax 973-984-5666; www.plthomas.com). Bioflavonoids have antioxidant effects and are widely used to enhance vascular system health. The bulk of these components are lost when citrus fruit is made into juice.
Ingredients derived from fruits and vegetables will be the focus of next month's Ingredients section and one can expect to find more health-promoting products discussed there.
Dairy Products. Beta-lactoglobulins, immunoglobulins, alpha-lactalbumin, lactoferrins, lysozymes, sphingolipids, and conjugated linoleic acid are only some of the bioactive compounds that can be found in dairy products, particularly whey. Continuing research is studying the multiple biological functions and health-promoting properties of these components, including antihypertension activity, antimicrobial and antiviral infection properties, immune stimulation, and anticancer activity.
Over the past few years, researchers have been successful in developing cost-effective, large-scale techniques for concentrating and purifying useful components from dairy products which can benefit the food and nutraceutical industries. For example, researchers at the California Dairy Foods Research Center have developed strategies for separating beta-lactoglobulin, alpha-lactalbumin, and immunoglobulin from whey.
As a result of these studies and new processing methods, ingredients based on these healthy components are being developed for their use in foods and beverages having health-promoting potential.
For example, a dairy ingredient developed using a membrane filtration process to enrich whey components linked to intestinal health and immune stimulation is available from Glanbia, 523 6th St., Monroe, WI 53566 (phone 800-336-2183; fax 608-329-2828; www.glanbiaingredients.com). Called Salibra 700, the ingredient is said to contain more than 20% bioactive components derived from whey, including glycomacropeptide (13%), immunoglobulins (5%), lactoferrin (1%), and phospholipids (2%). Other bioactive components that have been detected at a lower concentration include conjugated linoleic acid and growth factors (IGF-1, TGF-beta 1, and TGF-beta 2).
Also available from the company is a lactoferrin called Bioferrin which is biologically active for immune stimulation, iron supplementation, probiotic activity, and antibacterial applications. The health-promoting protein can be consumed directly or included in formulated foods or dietary supplement products.
A hydrolyzed whey protein isolate that has been shown to significantly reduce blood pressure in hypertensive rats is manufactured by Davisco Foods International, Inc., 11000 West 78th St., Ste. 210, Eden Prairie, MN 55344 (phone 952-914-0400; fax 952-914-0887). Called BioZate 1, the clean-flavored ingredient is suitable for nutritional applications, and was highlighted by the company in a Mocha Protein Beverage Mix at the IFT Chicago Section Suppliers' Night 2002.
New or untapped application areas may also positively influence the development of future dairy ingredients with health-promoting components. The newsletter Dairy Dimensions (2002 Vol. 5, Issue 1) discussed the potential development of high-protein cookies which utilize concentrated protein sources such as whey protein concentrate 80% to boost protein levels. For more information, write to Dairy Management, Inc., 10255 W. Higgins Rd., Ste. 900, Rosemont, IL 60018-5616 (phone 847-803-2000; fax 847-803-2077; www.dairyinfo.com).
--- PAGE BREAK ---
Tea Products. A Vanilla Chai drink, recently being promoted at Dunkin' Donuts, has been keeping me warm lately. The appearance of the drink is especially timely when considering the number of recent ingredient developments derived from tea that may be used in food and beverage applications that offer health-promoting benefits.
Here are some of these tea developments:
• Researchers from the University of Scranton in Pennsylvania have found that white tea solids contain record high levels of polyphenols—almost twice as high as that of the average black tea. The product was provided by a leading manufacturer of tea products for the beverage industry, Templar Food Products, 571 Central Ave., New Providence, NJ 07974 (phone 800-883-6752; fax 908-665-9122; www.icedtea.com).
According to the university researchers, the white tea had the highest concentration of polyphenols tested by the laboratory, including domestic brands as well as imports. Tea polyphenols may play an important role as antioxidants in health.
White tea, which is known for its pale color and distinctive flavor, comes from the same plant, Camellia sinensis, as black, green, and oolong tea. The product is available in water-soluble form for food and beverage applications.
• Caffeine-free green tea catechins, marketed under the name Sunphenon® DCF, may reduce and delay muscle wasting associated with muscular dystrophy. Researchers at the Switzerland-based University of Lausanne found that the ingredient, obtained from the leaf of green tea, may improve muscle health by reducing or delaying necrosis in mice by an antioxidant mechanism. Diets supplemented with the product (0.01% or 0.05%) for four weeks significantly and dose-dependently reduced cell death in the fast-twitch long-leg muscle. Free radical stress was also concentration-dependently decreased.
The ingredient, the recipient of IFT's 2000 Food Technology Industrial Achievement Award, is manufactured by Taiyo International, Inc., 4700 W. 77th St., Ste. 175, Edina, MN 55435 (phone 952-832-5273; fax 952-832-9897; www.taiyoint.com). It is made of highly purified polyphenols rich in natural green tea catechins which studies have shown to have numerous biochemical and physiological benefits, including antioxidant, antimicrobial, antiviral, and deodorant activities.
• A system of antioxidative ingredients, including extracts derived from green tea and herbals has been developed for use in foods and beverages by Plantextrakt GmbH & Co., Dutendorfer Str. 5-7, 91487 Vestenbergsgreuth, Germany (phone 49-9163-88-450; fax 49-9163-88-455; www.plantextrakt.com).
According to the manufacturer, the system of ingredients is said to protect the body against free radicals that can form in the body, bringing the radicals back into balance and offering a natural protection of the cells.
At Health Ingredients Europe, the company unveiled OxBloxx, a new generation of teas and soft drinks formulated with the antioxidative ingredients. Formulas are also available from the company that may be used in confections, dairy products, baked goods, and many other foods with potential nutraceutical properties.
• Various grades of water-soluble green tea extract in regular and decaffeinated form are offered by P.L.Thomas & Co., Inc., 119 Headquarters Plaza, Morristown, NJ 07960 (phone 973-984-0900; fax 973-984-5666; www.plthomas.com). Studies have shown that these extracts may promote antioxidant activity and the extracts have been used in weight-loss programs.
--- PAGE BREAK ---
Marine Ingredients. Extraction of marine biomasses such as krill may result in components that offer potential benefits in several areas of health. For example, Neptune Krill Oil, extracted from Antarctic krill (Euphausia superba) by Canada-based Neptune Technologies & Bioresources, Inc., is said to be rich in omega-3 polyunsaturated fatty acids, phospholipids, and potent antioxidants such as vitamin A, vitamin E, astaxanthin, and a flavonoid.
Ongoing clinical trials are suggesting that the product may help reduce cholesterol and minimize the symptoms of premenstrual syndrome. Most recent by, an interim report submitted by a medical research company has evaluated the photoprotective properties of the oil against UVB-induced skin cancer. Copies of these studies and more information about products derived from marine biomasses are available from the distributor, CPB International, Inc., 21 Union Valley Rd., Newfoundland, NJ 07435 (phone 973-208-6288; fax 973-208-6290).
Marine-based omega-3 fatty acids may be delivered by a line of products marketed under the name Marinol by Loders Croklaan, Lipids Nutrition, 24708 W. Durkee Rd., Channahon, IL 60410 (phone 815-730-5200; fax 815-730-5202; www.lipidnutrition.com). The products, available in liquid, powdered, and flaked forms, contain high concentrations of eicosapentaenoic acid (EPA) and docosahexaenoic acid (DHA), the omega-3 fatty acids that are known to be responsible for providing health benefits such as brain health and cardiovascular promotion, but do not interfere with the taste profile of the end formulation.
According to the manufacturer, the products are made by a process which concentrates the omega-3 fatty acids and provides a cleaner taste and aroma even suitable for delicately flavored systems. Potential applications include sauces, soups, salad dressings, milk and other dairy products, fruit beverages, baked goods, cereals, and other products. Recently, a self-affirmed GRAS status was confirmed by FDA.
Fenugreek. The fenugreek seed is ground and used as a spice in a variety of Eastern and Mediterranean cuisines. However, studies are showing that a new fenugreek derivative may play a role in managing diabetes and obesity.
Called Fenupure, the natural product is a concentrated and deodorized fenugreek gum which has a galactomannan content exceeding 75%. It is manufactured by NatuR&D, a division of Israel-based Adumim Food Ingredients and is distributed by P.L. Thomas & Co., Inc., 119 Headquarters Plaza, Morristown, NJ 07960 (phone 973-984-0900; fax 973-984-5666; www.plthomas.com).
According to the manufacturer, the special fiber source has been shown effective in regulating glucose levels in the human body. Results obtained with the fenugreek-deodorized gum taken by diabetic patients were said to be far superior to other fenugreek products or extracts. Several studies showed that 5 g of the product is as effective as 100 g of fenugreek seeds.
In addition, the ingredient has shown strong potential in weight loss applications. The mechanism for weight loss has been described as emulsification and encapsulation of sugars and fats, as well as the delay of food absorption. This process limits sugar and fat absorption into the blood stream and also delays absorption of sugars and fats.
The product is available as a free-flowing powder to ensure effective particle distribution in aqueous systems. Potential applications include tablets, capsules, beverages, breads and other baked goods, yogurt, cereals, and nutritional bars.
--- PAGE BREAK ---
Rosmarinic Acid. A high-potency dietary supplement derived from rosmarinic acid is manufactured under the name Origanox™ by Barrington Nutritionals, 500 Mamaroneck Ave., Harrison, NY 10528 (phone 914-381-3500; fax 914-381-2232; www.barrington.com). The water-soluble plant extract exhibits high antioxidant properties in a wide range of food applications and may help lower the risk of some chronic diseases associated with aging.
The plant extract has recently been used in an energy bar (Alternativa Natural's Pro-Energy Bar) which has been designed to help improve the body's immune system. In addition to the plant extract, the bar contains an antioxidant blend of green tea and coenzyme Q10. These components, through their antioxidant effects, work together to help boost the body's ability to fight off infections, as well as reduce the severity of symptoms associated with colds or flus.
Microorganisms. An omega-3 fatty acid, docosahexaenoic acid (DHA), produced by microorganisms called protists, has been launched by Nutrinova, Inc., 285 Davidson Ave., Ste. 102, Somerset, NJ 08873 (phone 800-786-3883; fax 732-271-7235; www.nutrinova.com).
Marketed under the name DHActive, the product is said to contain a higher percentage of DHA and has a pleasant taste, compared to ingredients extracted from marine sources. Studies have shown that an adequate supply of DHA promotes the brain and eyesight development of infants, and can be a contributing protective factor in cardiovascular disease.
The product can be taken as a dietary supplement or used as an ingredient in foods such as baked goods, cereals, dairy products, fruit juices, or snacks.
At the recent IFT Chicago Section Supplier's Night 2002, I came across a prototype application, Flaxseed & Blueberry Antioxidant Bar (see photo on page 52), highlighted by exhibitors Pizzey's Milling and U.S. Highbush Blueberry Council, c/o Thomas J. Payne Market Development, 865 Woodside Way, San Mateo, CA 94401 (phone 650-548-2130). For a number of reasons, this application struck me as a perfect way to wrap up our discussion of nutraceutical components.
I realize that this prototype is another illustration of the increasing potential value of co-branding opportunities. But of greater interest here, it also typifies the synergy of two ingredients, flaxseed and blueberries, and all their health-promoting components discussed in this article. Take the antioxidant properties of flaxseed, take the antioxidant properties of blueberries, combine them together, and you have a food that offers per 43-g serving specific nutraceutical benefits, including dietary fiber (0.6 g), omega-3 fatty acid or alpha-linolenic acid (510 mg), flaxseed lignan (23 mg), and an antioxidant value of 946 TE (trolox equivalents).
The word "synergy" is key here, and its implications can be found throughout this article. As we discussed, research has shown that the effects of soy on overall health and well-being are supported by the natural interaction or synergy between all soy nutrients. Research has determined that the therapeutic benefits of the tomato comes from a complex synergy of tomato phytonutrients and not from any one phytonutrient in isolation. A lycopene softgel supplement is offered in combination with pure olive oil, which in addition to its own health benefits, is synergistic with lycopene's oleoresin. A system of antioxidant ingredients for use in foods and beverages includes green tea extracts and herbal extracts. An energy bar said to boost the body's ability to fight off flu and other infections contains an antioxidant blend of green tea, coenzyme Q10, and a derivative of rosmarinic acid. Liquid concentrates exhibit a wide spectrum of carotenoids, anthocyanins, and polyphenols as they are found in fresh fruits and vegetables.
--- PAGE BREAK ---
The emphasis on synergy in the data provided by suppliers is very important for at least two reasons. First, in the evolution of ingredient development, it reflects a growing sophistication on the part of the ingredient supplier. Twenty years ago, a food reporter would probably be talking about grape flavors and not polyphenols. Furthermore, in the area of dietary supplements or fortification, the emphasis would probably be on a single component such as calcium or iron and not necessarily on their interaction with other components in the formulation.
Such a sophistication is also reflected by the prototype I earlier mentioned. Both Pizzey's Milling and U.S. Highbush Blueberry Council highlighted a Flaxseed & Blueberry Antioxidant Bar at their exhibits located in different areas of the hall. Of course, each supplier emphasized what they brought to the formulation development. But think of the possibilities if more suppliers at future meetings coordinated their efforts in this fashion, and especially the impact such an approach would have in the area of nutraceutical foods. Again, not only would it give the attendee different perspectives on a specific prototype, but also the efforts of the suppliers involved would provide a stimulating synergy—ideas interacting with other ideas—as well as a recognition of challenges that are faced in product development and-yes-possible solutions.
Which now brings us to the second reason I think synergy is of focal interest here. The components we discussed in this article and their interaction with other components is providing the tools or materials that the product developer needs in creating future foods with nutraceutical properties—making the category more and more of a reality.
Of course, there is still some confusion or debate as to what nutraceuticals are or how they should be defined. (I have to admit that after nearly a decade, when I first came across and struggled with the word "designer" foods, I am still confused at times.) However, I do believe that a focus on the health-promoting components of ingredients and their synergies might give us a clearer picture of what these foods can be and their potential value.
In the highest sense, a nutraceutical food is one that has been developed to treat a specific health problem or reduce the risk of that problem occurring. Research has been carefully considered and the views of medical professionals sought in their development. Furthermore, the concept of nutragenomics (diet and genes) can play an important role in providing an impetus for these foods.
The incorporation of health-promoting components such as lutein for eye health or omega-3s for heart health make these products possible on the horizon—and in some cases even closer than that, as a visit to the supermarket will show.
---
Next month's Ingredients section will highlight ingredients from fruits and vegetables, focusing on some of the new ways that they can add value to the end formulation.
by DONALD E. PSZCZOLA
Associate Editor