Food packaging tests are designed to simulate, in a laboratory environment, the conditions and forces that exist in the real world. Foods, ranging from crumbling cookies to fresh seafood, may be the most difficult of all items to package. Besides dealing with factors such as fragility and freshness, food packages must ensure safety, project the brand image, and meet federal labeling requirements.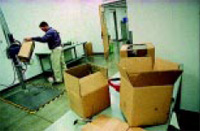 Several considerations should be addressed when choosing the correct package for the product, the process, and distribution cycle. The cost of evaluating packaging options before making a final decision is a fraction of the cost of recovering from packaging failure.
What package is suitable for high-humidity and elevated-temperature storage conditions? How will oxygen exposure affect the product? What is the effectiveness of oxygen scavengers and other technologies to extend shelf life? Seal failure is often a more-frequent cause of product deterioration than the package itself. Is the package sealing properly? What is the relationship between the package, its seals and closures, and their combined ability to protect the product under storage and transport conditions? What is the importance of seal/closure on the overall barrier properties of the package? Are analytical data being supplemented with qualitative sensory evaluations (appearance, smell, taste) for a more accurate assessment of shelf life? What is the range of thermal processing parameters that the package must withstand to ensure food safety and quality?
Beyond traditional handling and shock testing, food packaging testing also involves specialized testing for migration of food contact substances and package and seal integrity.
• Migration testing for food contact substances and the preparation of Food and Drug Administration premarket notifications require determination of the migration of potential contaminants into food by the packaging inks and solvents. This type of special testing is often handled by an outside testing laboratory.
• Package integrity testing involves measuring seal/closure performance; leak inspection; drop testing; and puncture resistance testing.
An effective way of detecting a leak nondestructively thoughout the whole distribution chain from manufacturer to the consumer is to use a leak indicator attached to the package. VTT Biotechnology, Espoo, Finland, has developed a visual leak indicator for modified-atmosphere packages and a novel leak test method based on the use of small amounts of hydrogen as a tracer gas. The very sensitive tracer gas method can be applied to in-line testing.
The use of flexible packages for food products has increased dramatically as the result of improvement in materials, processing equipment, and design techniques. However, unlike rigid containers, such as cans, flexible packages present more-formidable challenges for package integrity testing. Of the techniques available, pressure and vacuum decay testing are direct and quantifiable; however, such tests may be difficult to perform on flexible packaging designs.
Packaging Technologies and Inspection, LLC, Tuckahoe, N.Y., offers several instruments to inspect food in sealed flexible pouches. Leaks may be detected with the company's off- or online Micro Leak Test Systems using testing chambers. Seal defects, inclusions of food or product in the heat seal, voids, and a wide variety of other defects may be detected with the company's Non-Contact Airborne Ultrasonic Inspection System. The system characterizes, evaluates, and inspects heat-sealed layers in pouches and packages, Tyvek trays, materials, and products off-line or online. This technology is able to detect common defects such as defects in heat-sealed joints and layers; seal integrity in Tyvek heat seals; voids in heat-sealed layers; foreign materials and inclusions in heat seals; lack of heat seal across the seal width; misplaced lidding/top web layers; faults along the heat seal width such as channel voids; and contamination in the heat seal.
TNO Voeding, Zeist, The Netherlands, has developed a new optical sensor technique to measure oxygen. The method is based on the quenching of a fluorescent substance. Because of its optical nature, oxygen can be measured remotely by applying the immobilized fluorescent tracer at the location where oxygen should be measured. With this technique, no oxygen is used. The sensor can be used to measure oxygen ingress into clear food packages.
--- PAGE BREAK ---
USDA issues directive to reduce Listeria monocytogenes
On November 18, 2002, the U.S. Dept. of Agriculture released an administrative directive outlining additional steps to be taken by USDA inspectors to ensure that establishments producing ready-to-eat meat and poultry products are taking the necessary steps to prevent contamination with Listeria monocytogenes.
The directive is a result of USDA announcements in October 2002 calling for a strengthening of current Listeria protocols and testing programs. These announcements followed the largest-ever recall of 27.4 million lb of ready-to-eat meat products from a processing facility in Pennsylvania. Elsa Murano, USDA's Under Secretary for Food Safety, outlined the directive during a scientific summit held in Washington, D.C.
Under this directive, plants producing high- and medium-risk ready-to-eat products (deli meats and hot dogs) that do not have an evaluated environmental testing regime designed to find and take necessary actions to eliminate L. monocytogenes will be placed under an intensified testing program by USDA's Food Safety and Inspection Service. This intensified testing program will consist of increased testing of the final product and testing of food contact surfaces and plant environment.
Plants that have an environmental testing program but do not choose to share these testing data with FSIS on an ongoing basis will also fall under the intensified testing program. As a means of verification, those plants that share complete data from their environmental testing program with FSIS will be subject to a targeted testing program, which consists of final product testing.
In addition to this directive, FSIS is in the process of completing an extensive, scientific risk assessment on L. monocytogenes to determine how the pathogen may contaminate meat products during production and packaging processes. The risk assessment, in conjunction with a risk ranking on products from retail establishments, will provide important additional data for USDA to finalize its rulemaking process in the coming months on an effective regulatory approach to reducing L.monocytogenes in processing plants producing ready-to-eat products.
The directive is available on FSIS's Web site at www.fsis.usda.gov. After reviewing and incorporating comments, FSIS will implement the directive beginning December 9, 2002.
PRODUCTS & LITERATURE
Cold Traps, called CentriVap Ultra-Low, may be used with gel dryers and vacuum pumps to protect them from low-freezing-point solvents. They trap moisture, vapors, and corrosive fumes as they evaporate. The traps collect up to 4 L of liquid before defrosting is necessary. The traps have an epoxy-coated steel housing and control panel, acrylic lid with two quick-disconnect fittings, and a stainless steel drain port with nylon valve. A ready indicator illuminates when the collector coils reach operating temperature. For more information, contact Labconco Corp., 8811 Prospect Ave., Kansas City, MO 64132-2696 (phone 816-333-8811).
Mass Spectrometric Detector may be coupled with Dionex HPLC and high-performance IC systems to provide IC/MS capabilities. The unit is switchable with dual atmospheric pressure ionization sources. It is controlled using supplied chromatography management software. Electrospray ionization and atmospheric chemical ionization are available for LC and IC applications. The source inlet is self cleaning. The system includes a benchtop quadrupole mass spectrometer with a mass range of up to 1,600 mz with unit mass resolution. For more information, contact Dionex Corp., 1228 Titan Way, Sunnyvale, CA 94088-3603 (phone 408-737-0700; www.dionex.com).
--- PAGE BREAK ---
Sterile Sampling Bags, called Labplas Twirl'em bags, are said to be ideal containers for collecting, transporting, testing, and storing a wide range of liquid, solid, or semi-solid food materials. Confirmed sterility documentation is available on request. Each bag has a double-sealed bottom for leakproof protection. For more information, contact Remel, Inc., 12076 Santa Fe Dr., Lenexa, KS 66215-3594 (phone 913-888-0939).
Capillary Columns, called ValcoBond®, may be used in the analysis of pesticides, herbicides, aromatics, flavors, fragrances, and organic acids. The columns are said to be individually tested, have high-temperature limits, and produce low bleed characteristics. For more information, contact VICI Gig Harbor Group, P.O. Box 2657, Gig Harbor, WA 98335 (phone 888-217-7199; fax 253-853-3135; www.valcobond.com).
Lab Blender, the Seward/Brinkmann Stomacher®, is designed to blend and homogenize laboratory samples contained within sterile disposable bags. Additional applications include the removal of viruses and bacteria from tissues and organs; sterility testing of creams, ointments or dry powder; the removal of organisms from swabs, filters, tissue biopsies, and fecal samples. Numerous versions are available to meet specific lab requirements, and to accommodate different sample sizes. For more information, contact Brinkmann Instruments, Inc., One Cantiague Road, P.O. Box 1019, Westbury, NY 11590-0207 (phone 516-334-7500; fax 516-334-7506).
Barrier Testing for high or low permeability in sensitive product packages has been simiplifed with the introduction of the Lyssy L80-5000 Water Vapor Permeability Tester. The tester has been designed for use by researchers, packaging engineers, package designers, and line operators who require fast and accurate water vapor transmission rates (WVTR) The tester analyzes packages for meats, cheeses, salad, snack foods, and soft drinks. It can measure a wide range of barrier packaging materials, including films, foil, metallized foils, and non-woven materials. A test sample is placed into the test chamber and measured intact by a sensor with a linear dynamic range. The tester measures WVTR ranges from 0.001 to 10,000 g/m2/day. For more information, contact PBI-Dansensor America, Inc., 139 Harristown Rd., Glen Rock, NJ 07452 (phone 201-251-6490).
Deep-Fry Oil Quality Measurement may be performed with the use of the ebro® FOM 200. The instrument allows operators of deep fryers and food inspectors to dip into hot oil and collect reliable measurements directly from the deep fryer to determine the quality and temperature of the oil. The device reports the quality of hot deep-frying oil in only 10 sec and can store several types of oils in memory. The design consists of a 316Ti SS probe and a sensor made of gold and ceramics that measures the polar parts in oil in a range of 0% for fresh oil to 35% for used oil. This allows food handlers to perfect their frying practices and eliminate waste. Food inspectors can now make evaluations faster than ever. The ebro FOM 200 has a resolution of 1% and a typical accuracy of ± 5%. The oil measuring range is 68–428°F, and the oil temperature range is 284–392°F, typically used for deep-frying. The product comes in a convenient hand-held case of food-grade ABS material. For more information, contact Dresser Instruments, 250 E. Main St., Stratford, CT 06614-5145 (phone 203-378-8281; 800-328-8258; www.ebro.com).
Phase Transition Analyzer is designed to measure the controlling glass transition (Tg) and melt transition (Tm) temperatures of raw materials as well as finished products. Through a combination of pressure, temperature, time, and moisture, the analyzer can identify these transition temperatures, which can then be correlated to important product characteristics. The company also offers custom testing with its analyzer at its facility. For more information, contact J.Herbster, Inc., 14500 Parallel, Suite B, Basehor, KS 66007 (phone 913-724-5200; [email protected]; www.jherbster.com).
by JAMES GIESE
Internet Editor