Fermentation can be defined "as a gradual change brought about by the enzymes of some bacteria, molds, and yeasts." Some examples of these chemical changes include the acidulation of milk, the decomposition of starches and sugars to alcohol and carbon dioxide, and the oxidation of nitrogenous organic compounds.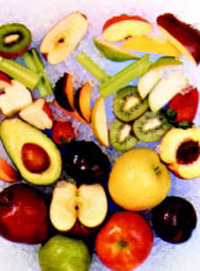 Several factors—the medium, temperature, salt, acidity, the culture container, and, of course, time—play an important part in the fermentation process. In fact, the making of fermented foods simply cannot be hurried, as their flavor, texture, aroma, and other characteristics depend on the passing of a certain amount of time.
A variety of foods and beverages, such as breads, beers, ciders, wines, cheeses, and yogurt are made via the fermentation process. In addition to these products, some of which can be used in the manufacture of other foods, an expanding range of food ingredients can be produced using traditional as well as new or novel fermentation techniques.
Some of these ingredients readers of Food Technology are probably quite familiar with. For example, xanthan gum is a high-molecular-weight polysaccharide produced by a fermentation process using the bacterium Xanthomonas campestris with sugars as the substrates. Gellan gum is a water-soluble polysaccharide produced by fermentation of a pure culture of Sphingomonas elodea. Both of these multi-functional hydrocolloids won the IFT Food Technology Industrial Achievement Award over the years, and formulators may use them for such applications as thickening, stabilizing, and texturizing.
More recent, soy isoflavones for use in foods, beverages, and pharmaceuticals have been in the spotlight. Studies have shown that soy isoflavones such as genistein, daidzein, and glycitein have a variety of potential health benefits, and proprietary fermentation processes can deliver soy products that are even more potent in these components, offering enhanced value in health and functionality.
Over the past several months, the Ingredients section of Food Technology has covered different areas related to fermentation. The broadening use of enzymes (November 2001), new cheese developments (December 2001), and bakery products such as breads (January 2002) are some examples. If there was just one message suggested by these sections, it would be that novel fermentation processes are making possible applications that once could only be imagined. And as such, these applications are ever broadening into newer territories.
Using the previous Ingredient sections as a springboard, I thought this month we would look at 12 fermented ingredients and review some of their recent developments. Some of these developments can be perceived as timely not only because they use the fermentation process where time can be critical, but also in light of certain trends today, especially those related to health, convenience, and flavor. (Following this article is an update on new ingredient developments featured at 2001 SupplySide West. Not surprisingly, some of these developments may have to do with fermentation, as well.)
--- PAGE BREAK ---
Soy Sauce. A brown liquid used as a flavor ingredient or as a flavor enhancer, soy sauce is made by slowly fermenting soybeans. Because it is naturally brewed, it contains the complex salty and sweet brewed notes typical of the slow fermentation process.
In its manufacture of a wide range of liquid and dehydrated soy sauce products, Kikkoman International, Inc., Industrial Dept., P.O. Box 420784, San Francisco, CA 94142-0784 (phone 415-956-7750; fax 415-391-1842; www.kikkoman-usa.com), uses a natural brewing process which involves three distinct steps.
First, soybeans and wheat are blended and a proprietary culture starter or seed mold (Kikkoman Aspergillus) is introduced and the mixture is allowed to mature for three days in large perforated vats. Second, the resulting culture—or koji—is then transferred to fermentation tanks, where it is mixed with a brine solution to produce a mash called moroni. This mash is fermented in tanks for up to six months. Third, the matured mash is pressed to extract the raw soy sauce, which is then refined, treated with heat, and packaged.
Soy sauce's components (salt, amino acids, sugar, acids, aromatic esters, and other compounds developed by the heating) contribute to create its characteristic flavor and aroma and provide its natural flavor-enhancing properties. The naturally brewed soy sauce provides a number of advantages, including richness, the rounding out or enhancing of other flavors, and the addition of color, without overpowering or masking the other ingredients.
While soy sauce was traditionally used in ethnic dishes, it has in recent years expanded its application to include many mainstream American foods. For example, it is suitable for use in the manufacture of fresh or frozen pizza. In pizza crusts, dehydrated soy sauce can enhance both flavor and browning. Liquid or dry soy sauce—as well as teriyaki sauce—can complement or replace traditional marinara sauce. Soy and teriyaki sauces can also add flavor and browning of popular toppings such as meats and vegetables.
Kikkoman has also taken advantage of celebrated chefs to use soy sauce in their preparing of such dishes as Country Lamb Stew, Soy Spice Slow Roasted Short Ribs, Beef Stew with Feta, Mint, and Tomatoes, Roasted Red Pepper Soup with Spinach Puree, and even in desserts such as Apple Crisp, Crunchy Bananas Foster, Caramel Candy Sauce, and Kiwi-Pineapple Dessert Salsa.
To help meet a particular need, the company offers manufacturers an extensive range of soy sauce products in innovative forms such as dehydrated, granulated, or clear, and flavored versions. The following are newer examples, just to name a few:
Ponzu, a citrus-seasoned soy sauce and dressing, is the latest Japanese flavor to reach the American supermarket. The product, which uses Kikkoman Soy Sauce and lemon juice, as well as natural lemon and orange flavors, is said to impart a balance of saltiness, tanginess, and sweetness to a variety of foods including seafoods, grilled meats, chicken, and sauteed vegetables. It may also be used as a flavorful ingredient in soups, salads, or dipping sauces.
--- PAGE BREAK ---
Clear Soy Sauce PK-58, a light amber-colored soy sauce, is appropriate for food applications requiring a lighter color. Its delicate coloring can reportedly enhance the appearance of soups, cream sauces, salad dressing, and poultry or fish dishes. Although it has a lighter color, it still offers the rich flavor components and complex bouquet of soy sauce in the regular version.
Soy sauces are available which offer reduced sodium profiles to meet FDA nutritional and lower-salt requirements. Lite Soy Sauce reportedly has 40% less sodium, with 3,300 mg/100 g. It has no sodium benzoate and some added alcohol and vinegar for preservative effect. Less Salt Soy Sauce is particularly appropriate for products intended for Japan and Korea. Both soy sauces are made from naturally brewed regular Kikkoman Soy Sauce and provide a less salty flavor with typical brewed notes from fermentation.
Dehydrated Teriyaki Sauce is a golden tan powder made from naturally brewed soy sauce and includes maltodextrin as a carrier and silicon dioxide as an anticaking agent. The powder is said to offer a well-balanced, authentic teriyaki flavor and may be used in dry mixes for marinades and rubs, jerky and other meat products, and snack coatings. It reconstitutes easily in a ratio of 1 part teriyaki to 1½ parts water, for use in any application calling for teriyaki sauce.
Natural Flavor Enhancer NFE-S is described as a new generation of natural flavor enhancers made by enzymatic hydrolysis of vegetable proteins. Among many seasonings in this category, this product reportedly has the highest level of L-glutamic acid content. It can be used for enhancing flavor or as an alternative to chemically hydrolyzed vegetable and/or animal proteins, yeast extracts, and monosodium glutamate. It has application in a wide variety of foods such as soups, sauces, and marinades.
For more information on its products, Kikkoman offers a Soy Sauce Handbook, which serves as a resource guide for food technologists. The comprehensive resource contains information on soy sauce functionality, including a useful comparison of brewed and nonbrewed soy sauces; an extensive listing of the flavor components in brewed soy sauce; notes on salt, amino acids, sugar, color, acids, aromatic esters, and post-fermentation development; usage tips; and application ideas.
The company also has a Web site which provides the latest news on flavor enhancement and food trends, product formulation ideas, information on the Soy Sauce Handbook, a complete guide to its industrial products, and useful tips on cooking with soy sauce.
--- PAGE BREAK ---
L-Cysteine. A fermentation technology for producing the amino acid L-cysteine has been developed by Wacker Biochem Corp., 330 Sutton Rd., Adrian, MI 49221 (phone 517-264-8793; fax 517-264-8110; www.wacker-biochem.com) at its central research and development facility in Munich, Germany. The process is reportedly based on a bacterial strain which has been "metabolically designed" to synthesize L-cysteine from dextrose.
Previously, cysteine was extracted from raw materials of animal and human origin. (Most of the world's cysteine is produced in China and India, as well as in France.) In developing a strain of bacteria with which cysteine can be produced by fermenting renewable raw materials, the company has successfully pursued an alternative approach—one that uses starting materials which include sugar, salt, and trace elements, all of which are of vegetable or inorganic origin.
The technology, protected by four basic patents, is said to override the natural mechanism which regulates cysteine synthesis. Instead of producing just enough cysteine to cover its own needs, the optimized bacterium strain releases large quantities into the nutrient medium, where it oxidizes in the presence of atmospheric oxygen to cystine, which crystallizes out.
Recently starting up commercial production of L-cysteine by fermentation, the company expects that the ingredient—because of its improved quality over products extracted from other sources—will capture a major portion of the cysteine world market. This market is said to be several thousand tons and grows at a yearly rate of 2–4%.
Cysteine has application in pharmaceuticals, food and flavors, pet foods, and cosmetics. The ingredient offers a number of valuable properties: for example, it can soften gluten, a component of flour; it can combine with sugars to form meat flavors; and it can function as an antioxidant.
Furthermore, according to a representative from Wacker Biochem, the process may be regarded as a platform technology targeting new fermentation processes for nutraceuticals and special amino acids. The ingredient's properties as a free-radical scavenger, antioxidant, and glutathione precursor permit its use in nutraceuticals as a liver-protecting substance and as an anti-aging agent. The stereo-selective synthesis of this Lamino acid, combined with its amino, carboxyl, and sulfhydryl functional groups, make it a building block for further syntheses.
An 8-p brochure, "Wacker Cysteines: Fermenation-Based Synthesis," describes the advantages, properties, and potential applications that this amino acid offers.
To market and sell the fermentation-derived amino acid in the United States, the company has formed an alliance with Kyowa Hakko USA, 599 Lexington Ave. #4103, New York, NY 10022 (phone 212-319-5353; fax 212-421-1283), a leading manufacturer and marketer of amino acids.
This is the second time that Wacker Biochem has successfully developed a fermentation process for an amino acid. In the early 1990s, the company created a fermentation process for L-tryptophan.
A subsidiary of Germany-based Wacker-Chemie, Wacker Biochem Corp. is a manufacturer of cyclodextrins and cyclodextrin derivatives and complexes which are used in the food, nutraceutical, and cosmetic industries. Recently, the company and Omega Protein, Houston, Tex., signed an agreement to market and sell stabilized GRAS menhaden fish oil powder (OmegaDry) in the U.S.
--- PAGE BREAK ---
Fermentation products from corn sugar. A variety of ingredients and processing aids produced through the fermentation of corn sugar are available from PMP Fermentation Products, Inc., 500 Park Blvd., Suite 450, Itasca, IL 60143(phone 630-250-7033; fax 630-250-7094).
Glucona delta lactone (GDL) functions as a curing and pickling agent, leavening agent, pH control agent, and sequestrant. Applications for this acidulant include bakery products, fish and fish products, meat products, fruits and vegetables, pasta and rice, cheese and tofu, and salad dressings and sauces. In cheese-making, for example, its addition can reportedly speed the process, making it easier to control and produce a more uniform end product with a higher yield.
Sodium erythorbate (Eribate®), a water-soluble antioxidant, may be used to preserve freshness in fruit and vegetables. It does this by preventing discoloration and development of off flavors. It serves as an inhibitor of enzymatic browning (which may occur when fruits and vegetables are cut or sliced and exposed to air) by scavenging oxygen and by reducing quinones back to polyphenol compounds before they can undergo the reactions to produce brown pigments. The addition of sodium erythorbate can improve the appearance of deli salads utilizing seafood as an ingredient by effectively delaying the oxidation of the pigment in seafood, preventing discoloration. It may also be used as an antioxidant in meats, fish, beverages, and other food systems.
Calcium gluconate (GCA) and potassium gluconate (GK) can be used for the fortification of nutritional supplements, sports beverages, and drinks. The bland taste of these ingredients blends easily with fruit flavors, eliminating the need for flavor-masking ingredients. GCA is recommended by the manufacturer for use in puddings to achieve a desired texture and firmness. It functions as an anticaking agent in dry food and beverage mixes, and many other applications where a calcium supplement is desired. While some potassium ingredients may contribute a bitter taste to lightly flavored beverages, GK reportedly leaves no bitter aftertaste due to special processing. GK is very soluble and can be used in clear beverages without any precipitation. In addition to beverages, it may be used to fortify soups, puddings, nutritional supplements, and other products.
DHA-rich oil. A fermentation technology to produce a vegetarian source of the omega-3 fatty acid docosahexaenoic acid (DHA) has been developed by OmegaTech, Inc., 4909 Nautilus Court North Ste. 208, Boulder, CO 80301 (phone 303-381-8100; fax 303-381-8181; www.omegadha.com.), a leading producer of natural bioactive compounds for use in foods, nutritional products, and pharmaceuticals.
--- PAGE BREAK ---
The technology relies on a strain of microalgae (Schizochytrium sp.) which reportedly contains 50–85% lipid and more than 20% DHA on a dry weight basis. The algae is grown in large stainless-steel fermenting tanks in a manner similar to the way baker's yeast is grown. The resulting marine algae and the oil that is derived from it is completely vegetarian, and contains twice the DHA found in fish oil.
The dried microalgae (DHA Gold) can be added directly to animal feed to restore DHA to such products as eggs, milk, and meat. Or a yellow- to light-orange-colored oil (DHA Gold) can be derived from the algae using extraction and refining techniques similar to those used to produce vegetable oils. The antioxidant-stabilized ingredient may be used as an oil or in an emulsified or microencapsulated form to fortify a variety of foods such as dairy products (milk, yogurt, cheese, and ice cream), nutrition bars, functional beverages, infant nutritional products, and dietary supplements.
Studies have shown that DHA can provide a broad range of health benefits. For example, a study conducted in New Orleans by Auburn University determined that lactating women who ate DHA-enriched eggs (Gold Circle Farms) increased the level of DHA in their milk to the level recommended by a panel of experts for infant formula fortification. Also, a Colorado State research team recently announced the commencement of a new study that will research how a mother's diet can prevent infant birth, a problem that affects more than 300,000 families in the U.S. annually. The four-year study, to be carried out at Denver Health Medical Center, will focus on the dietary effect of DHA in 1,200 pregnant women.
Based on the findings of these and other studies, the company is focusing on developing products for four areas: risk reduction of cardiovascular disease, improvement of maternal health, immune system health, and healthy infant neural development.
In March 2000, an independent panel of experts determined that DHA Gold oil is generally recognized as safe (GRAS) as a food ingredient. This determination allows the company to market this ingredient in the U.S. for the direct fortification of healthy foods and beverages.
Recently OmegaTech reached an agreement with PVG Malaysia, one of Asia's leading suppliers of specialty feed and animal health products, to introduce eggs enriched with DHA Gold to Malaysia. The product is currently sold in the U.S., South America, Mexico, and Europe, and will soon be available to other Asian countries as well. Also, the company is opening a research and sales facility near Frankfurt, Germany, which is expected to significantly expand its capacities.
The July 13 issue of Science, the journal of the American Association for the Advancement of Science, featured information of the company's discovery of a pathway for the production of DHA and other fatty acids in marine algae. The discovery and development of this novel pathway for DHA synthesis was achieved in collaboration with Monsanto over a six-year-period. A recent agreement with Monsanto established OmegaTech as the sole owner of the intellectual property rights to this technology, which is the subject of several pending U.S. and international patents.
--- PAGE BREAK ---
Cold-water-soluble beta-carotene. A cold-water-soluble beta-carotene, CaroCare® CWS, was recently launched at Supply Side West 2001, November 28-30, by DSM Food Specialties, Nutritional Ingredients Business Unit (phone 775-329-2269; fax 775-329-2261; www.dsmfoodspecialties.com).
Natural fermentation and extraction processes are said to preserve the purity of the ingredient. Containing beta-carotene at a typical concentration of 1%, it yields repeatable color shades varying from yellow to orange, depending on the dose used. Derived from the naturally occurring microorganism Blakeslea trispora, the ingredient is dispersible in cold water and soluble in warm water and it is easily incorporated into existing formulations without the need for new processes or equipment.
In addition to be its use as a colorant in a wide range of food products such as baked goods, confections, ice cream, beverages, sauces, and seasonings, the ingredient is associated with a range of health benefits and may be used as an antioxidant and pro-vitamin A.
Riboflavin with spherical structure. Riboflavin—now produced by a new fermentation technology using a genetically modified microorganism combined with a stringent purification process—is available from Roche Vitamins, Inc., 45 Waterview Blvd., Parsippany, NJ 07054-1298 (phone 800-526-0189; fax 973-257-8420; www.roche.com).
The resulting riboflavin is a yellow to orange-yellow granular powder. In contrast to traditionally manufactured riboflavin, which is characterized by brittle, needle-shaped crystals and conglomerates, the new product takes the form of individual spherical particles. They are homogenous in form and size, and stable under mechanical stress. This results in better flow; better tableting performance; higher solubility and better dissolution; and better physical stability of the particles, resulting in less dust.
The structure is achieved using a crystallization process, followed by an advanced drying process. Because of its improved properties, the product offers an excellent tableting performance in direct compression compared to currently available granulated forms. Tablets with a high concentration of vitamin B-2 can be produced easily. For tablets with a low riboflavin content, such as multivitamin tablets, a smaller particle size with a similar tableting performance can be used.
The new development was highlighted at Supply Side West 2001.
--- PAGE BREAK ---
Fermentative carotenoid production. Fermentative carotenoid production is the subject of U.S. Patent No. 6,291,204, issued September 18, 2001, and assigned to Roche Vitamins, Inc., Parsippany, N.J. The patent discusses the proteins and DNA sequences that provide an improved biosynthetic pathway from farnesyl pyrophosphate and isopentyl pyrophosphate to various carotenoids, including zeaxanthin, astaxanthin, adonixanthin, and canthaxanthin.
According to the patent, more than 600 different carotenoids have been described from carotenogenic organisms found among bacteria, yeast, fungi, and plants. Currently, two of them, beta-carotene and astaxanthin, are commercially produced in microorganisms and used in the food and feed industry. Beta-carotene is obtained from algae and astaxanthin is produced in Pfaffia strains which have been generated by classical mutation. However, fermentation in Pfaffia has the disadvantage of long fermentation cycles and recovery from algae can be cumbersome. Consequently, it is desirable to develop production systems which have better industrial applicability and can be manipulated for increased titers and reduced fermentation times.
More information about this development highlighted at Supply Side West 2001 can be obtained from the patent or from the company.
Fermentation by microorganisms. In Europe, a large collaborative research project is underway on the development of nutraceuticals and functional foods through fermentation of dairy and soy raw materials. The project, referred to as Nutra Cells, is sponsored by the European Commission and coordinated by Nizo Food Research, P.O. Box 20, 6710 BA Ede, The Netherlands (phone 31-318-659511; fax 31-318-650400; www.nizo.com).
The project, which will run for a period of four years, focuses on the formation of health-promoting components in food as a result of bacterial activity. It is executed by a consortium consisting of four academic research groups, four government or private (food) research institutes, and two industrial partners, originating from six different countries. The objectives of the project, the work content, and the main achievements can be found on a newly launched Web site, www.nutracells.com. The following information is taken from this Web site.
In this project, the consortium's main objective is to improve the health status or nutritional value of fermented foods by fermentation with nutraceutical-producing food-grade microorganisms, by addition of nutraceuticals produced as ingredients by the bacterial cells, or by direct delivery of the nutraceutical-producing microorganism to stimulate food digestion.
The health-promoting foods or food components targeted can be categorized into five groups: (1) no- or low-calorie sugars such as mannitol and trehalose; (2) dairy products or dairy components with low lactose and/or galactose content and bacterial (starter) cultures with high lactose/galactose utilizing activities; (3) soy products with low raffinose content and bacterial (starter) cultures with high raffinose-converting activity; (4) oligosaccharides as stimulants for the digestive system; and (5) B-vitamins such as folic acid and riboflavin.
These five groups will be enhanced in different foods through production or converting activity of specific food-grade microorganisms. The nutraceutical-producing microorganisms will be directly selected from natural sources, or induced for high production by specific fermentation conditions, or modified by foodgrade genetic engineering techniques. The resulting strains and production processes will be implemented in food fermentation by the technological involvement of industrial experts involved in the project.
Each of the five groups of food components or "work package" will be coordinated individually by a different partner in the consortium. However, all five work packages involved integrate research of two or more partners within the project. Furthermore, each work package is divided into subtasks involving the contribution of two to three partners. This multi-party approach guarantees a completely integrated approach to reaching the objectives.
Here are some specific examples:
--- PAGE BREAK ---
Researchers at the Universite Catholique de Louvain based in Belgium are focusing on the selection and construction of Lactobacillus plantarum strains producing high amounts of the sugar sorbitol. High sorbitol production by the lactic acid bacteria will ultimately lead to the development of low-calorie dairy products such as yogurt or yogurt-like products with increased sorbitol content.
In most fermented milks and other dairy drinks, the milk sugar, lactose, is only partly fermented by the starter bacteria, making the fermented product unsuitable for people who suffer from lactose intolerance. Furthermore, some fermented dairy products contain significant amounts of galactose—a result of incomplete lactose utilization by the lactic acid bacteria—which can pose health problems for certain individuals. Researchers at the University of Groningen, The Netherlands, are attempting to solve these problems. One possibility is the complete removal of lactose from fermented milk products by increasing the efficiency of lactose utilization in Lactobacillus lactis. A second possibility is the construction of certain bacteria strains which have an improved galactose fermenting capacity.
Developing or selecting lactic acid bacteria that can degrade raffinose in soy products is being focused on by researchers at Institut National de la Recherche Agronomique (INRA) in France. When relevant lactic acid bacteria have been isolated, they can be used for the creation of fermented soy products that do not cause digestive problems.
Methods for the reproducible and cost-effective production of specific polyand oligosaccharides in Lactococcus lactis are being developed by researchers at the Netherlands-based Wageningen Centre for Food Sciences (WCFS). The polysaccharides and oligosaccharides produced by these bacteria are considered foodgrade additives and have received considerable attention for their role in texture and mouthfeel of dairy products. Also, they may have prebiotic, cholesterol-lowering properties.
The bacterial production of B-vitamins such as riboflavin and folate are being investigated. Researchers at University College Cork, Ireland, are coordinating these efforts leading to the development of high-vitamin-producing probiotic strains and dairy products with increased vitamin content; and the isolation and construction of Lactococcus lactis and Streptococcus thermophilus strains producing high amounts of the B-vitamin riboflavin.
--- PAGE BREAK ---
Natural flavors. A line of natural flavor systems based on fermentation have been recently introduced by International Bioflavors, Inc., P.O. Box 1021, Oconomowoc, WI 53066 (phone 262-569-6200; fax 262-569-6202; www.bioflavors.com).
Called Bio-Ferment™, these flavors have reportedly been in development for more than 10 years. They are said to deliver true-to-nature taste as well as a high concentration of flavor strength, yielding more flavor for less cost.
The flavors are made using a technology referred to as bio-fermation by the company. According to the manufacturer, natural flavor compounds are formed through the use of enzyme and culture bioactives. These natural flavor compounds are harvested and converted into novel raw materials which enable flavorists to construct complex, sophisticated flavorings.
Flavor types include Blue Cheese, Butter, Cheddar Cheese, Cream, Parmesan Cheese, Romano Cheese, Swiss Cheese, and Tomato. They may be used in a variety of applications including bakery products; cheese powders and seasonings; sauces, dips, and dressings; confectionery products, and processed prepared foods.
The natural dairy flavors can be customized to meet individual customer requirements. In addition, a line of nondairy flavors utilizing the technology is currently under development and will be introduced in the near future.
Noncaloric bulk sweetener. Crystalline erythritol, marketed under the name C*Eridex by Cerestar, 14 Blvd., Du General Lecle, Neuilly-sur Seinc, France (phone 33-1-41-43-19-24/25; fax 33-1-41-43–19-74; www.cerestar.com), is a noncaloric bulk sweetener produced from starch by fermentation.
The sweetener is moderately sweet with a significantly cooling effect and taste quality similar to sucrose. It has a high stability against heat and acid, medium solubility, low hygroscopicity, and excellent crystalline properties. It received food approval in Israel and has been marketed successfully in Japan, U.S., Australia, New Zealand, Korea, Taiwan, and Singapore.
Fungi in fermented foods. The use of fungi to create novel fermented foods is being explored by researchers at the TNO Nutrition and Food Research Institute, Utrechtseweg 48, P.O. Box 360, 3700 AJ Zeist, The Netherlands (phone 31-30-69-44802; fax 31-30-69-44-192).
According to Thought for Food, the newsletter of TNO, fermentation processes have been developed in which fungi are brought into contact with substrates and oxygen under defined conditions. As the fungus consumes the substrate, it grows both in size and number of organisms and produces the desired products.
Depending on the desired end product, the mixture of fungus, substrate, and product may either be further treated to obtain purified enzymes and organic compounds or sold as is (blue cheeses, tempeh, beer, and other such products).
--- PAGE BREAK ---
Cherry-derived hard cider. A cherry-derived hard cider may have potential value as an ingredient in beverages and other food uses that traditionally use hard apple cider in their formulation.
Researchers at Michigan State University are creating a hard cider made from tart cherries—a plentiful commodity in Michigan. The market for hard cider is around 100 million gallons per year in the United Kingdom and is rapidly growing in the United States. The hard cherry cider is modeled on the British hard apple cider.
Hard cider, much like wine and beer, is fermented by microbes under controlled conditions. The malic acid and tannins that create hard apple cider in the United Kingdom are reportedly found in similar amounts in cherries. Cherries for this project are being supplied by Michigan cherry growers and MSU horticulturists.
The first stage of producing hard cherry cider, the making of the alcohol, is accomplished using wine-derived yeast and malo-lactic bacteria. Then, lactic acid is diverted to make less acid and more alcohol. "This is done by tricking the bacterium into changing its physiology and doing things it doesn't normally do," said the researchers.
The resulting product, which is carbonated and has 5–7% alcohol, is said to have attracted the attention of viticulturists at the University of California-Davis, British hard apple cider makers, and a cherry product market in northern Michigan.
For more information, contact Michigan State University Extension, ANR Communications, 310 Agriculture Hall, East Lansing, MI 48824-1039 (phone 517-432-1555; fax 517-355-1804; www.anrcom.msu.edu).
---
New Online Journal Debuts with Fermentation Article
IFT's new online journal, Comprehensive Reviews in Food Science and Food Safety, is making its debut. The premiere issue features an article, "Fermentations in World Food Processing," written by K.H. Steinkraus, Professor Emeritus, Microbiology & Food Science, Cornell University, Ithaca, N.Y.
The article provides a review of fermentation's roles in food processing. These can include (1) enrichment of the human dietary through development of a wide diversity of flavors, aromas, and textures in food; (2) preservation of substantial amounts of food through lactic acid, alcoholic, acetic acid, alkaline, and high-salt fermentations; (3) enrichment of food substrates biologically with vitamins, protein, essential amino acids, and essential fatty acids; (4) detoxification during food fermentation processing, and (5) a decrease in cooking times and fuel requirements.
Fermented foods, consumed by hundreds of millions of people every day in both the developed and the developing world, generally have a very good safety record. The article discusses the evolution of indigenous fermented foods and the principles behind the safety of fermented food processes.
Food fermentations can be classified in a number of ways. Steinkraus classified fermentation according to the following categories which serves as the basis of the paper: Lactic acid, alcoholic, acetic acid/vinegar, leavened bread, alkaline, and high-salt savory flavored amino/peptide sauces and pastes.
The article also discusses the nutritional aspects of fermented foods and biological enrichment with protein, essential amino acids, and vitamins.
Other areas covered include reduction of toxins by the fermentation process and reduction of cooking times.
Don't forget to check out this interesting and indepth review of fermentations in food processing by logging in at www.ift.org/publications/crfsfs.
Also, a second electronic journal, Journal of Food Science Education, is being launched at www.ift.org/publications/jfse.
--- PAGE BREAK ---
Ingredients Highlighted at SupplySide West
An international trade show and conference, SupplySide West, held in Las Vegas on November 28–30, 2001, featured a broad range of foods, ingredients, and supplements that have the potential to provide health benefits. Here are some of the highlights:
Raspberry Marshmallow Nutrition Bar is a new application for a dispersible powder containing microencapsulated oil with a high concentration of conjugated linoleic acid (CLA) in glyceride form. The ingredient, marketed under the name Clarinol® CLA Powder, enables a 58-g bar to deliver a daily dose of 2 g of CLA, including the most active isomers. Processed from natural safflower oil, this special glyceride form of CLA does not impart off-flavors, colors, or textures. In addition, it does not have some of the digestion issues that may be experienced with higher doses of other forms of CLA. The powder is also heat stable, making it suitable for use in a range of food and beverage applications.
The new prototype application, a three-layer bar consisting of a standard marshmallow base enhanced with the powdered ingredient, contains within the marshmallow a natural raspberry emulsion. High-protein soy crisps are layered on top to add texture and the nutritional benefits of soy. The bar is enrobed with a specially formulated dark chocolate coating to boost nutrition and taste. At 195 calories, it provides 7 g of protein, 6 g of fat, 32 g of carbohydrate, and 50% DV for Vitamins A, C, and E, and 30% DV for folic acid. For more information, write to Loders Croklaan, 24708 W. Durkee Rd., Channahon, IL 60410-5249 (phone 815-730-5200; fax 815-730-5202).
Soy Isoflavones high in genistein, daidzein, and glycitein are featured. A proprietary fermentation process is said to deliver products that are up to 40% more potent than other glucoside-bound isoflavone products. Produced from GMO-free soybeans, the ingredients are offered in a patented micro-emulsification delivery system for enhanced availability. The ingredients are available in powder or liquid forms. For more information, write to FutureCeuticals, a division of Van Drunen Farms, 2460 W. Third, Ste. 240, Santa Rosa, CA 95401 (phone 707-575-9358; fax 707-575-4756).
Tomato-derived Ingredients may be used to introduce lycopene, a carotenoid that has important antioxidative properties, into nutraceuticals, functional foods, and dietary supplements. Lyc-O-Mato formulations are available that offer varying amounts of lycopene depending on the formulation.
For example, Lyc-O-Mato 6%, available as a viscous, dark red liquid, offers 6% lycopene content in addition to other natural tomato components such as tocopherols, phytoene, phytofluene, betacarotene, phospholipids, and phytosterols. Lyc-O-Mato 5% CWD is a stable crystalline formulation in a free-flowing powdered form that provides 5% lycopene to premixes. It introduces a bright red color into premixes and disperses easily in water. Other tomato-based ingredients include lycopene-rich tomato pulp, natural tomato fibers, and clear tomato concentrates.
New studies conducted in Israel suggest that tomato lycopene combined with other tomato phytonutrients may be more effective in treating breast cancer than lycopene alone. It is believed that the therapeutic benefits of the tomato come from the synergy of tomato phytonutrients and not from any one phytonutrient. The manufacturer is also working on developing combinations of herbal extracts and tomato lycopene for use in functional foods and nutritional supplements.
For more information, write to LycoRed Natural Products Industries, Ltd., a subsidiary of Israel-based Makhteshim-Agan Industries Ltd., 551 Fifth Ave., Suite 1100, New York, NY 10176 (phone 212-661-9800; fax 212-661-9038).
--- PAGE BREAK ---
Fenugreek Extract for the natural management of blood sugar levels and weight loss was showcased in two prototype applications, a sugar-free kiwi instant beverage and sugar-free chocolate chews. Called FenuLife, the odorless and tasteless extract is said to deliver up to three times more galactomannan than whole fenugreek seeds. Studies have shown that the ratio of galactose: mannose in fenugreek gum can help reduce the glycemic index of food; maintain healthy blood sugar levels, lower insulin response to meals; and promote weight loss.
The highlighted applications demonstrate how the ingredient can be used in tasty, convenient products without imparting a fenugreek aroma and flavor. It is available as a free-flowing powder offered in two concentrations. For samples of these prototypes and more information, write to Schouten USA, 3300 Edinborough Way, Minneapolis, MN 55435 (phone 925-920-7700; www.fenulife.com).
"Guide to Thickening/Texturizing Organic Foods" is the title of a 4-p brochure focusing on the suitability of a series of native corn starch products, Novation OC, in processed organic foods. The Organic Materials Review Institute (OMRI) was asked to review these starches for their acceptability using USDA's criteria, and they were deemed to meet those criteria and are now on the Brand Name List of materials allowed for use in organic foods.
These Novation Products include 2300-OC, 2600-OC, 2700-OC, 4600-OC, and 5600-OC. They are said to differ dramatically from typical native corn starches by offering the processing tolerance, viscosity control, and textural stability typically available only from traditional modified food starches. The starches possess a range of functionality suitable to meet both processing and consumer cooking requirements, whether it be high-heat, low-pH, high-shear processing, or easy-to-cook stove-top preparation. They are available in cold-water-swelling versions that can reduce preparation steps and save energy costs for the processor.
When the starches are used as thickeners/texturizers, the true flavor of dairy ingredients, fruits, and herbs and spices will not be masked by the starch. The starches may be used in a variety of food systems, including dairy products, such as yogurt and pudding; soups, condiments, and dressings; high and low pH gravies and sauces; and fruit preparations. For a copy of the brochure, write to National Starch & Chemical Co., 10 Finderne Ave., Bridgewater, NJ 08807-3300 (phone 800-797-4992; fax 609-409-5699; www.foodstarch.com).
Soy Isoflavone Ingredient—called AdvantaSoy™ Clear—can deliver higher concentration of isoflavones while providing improved functionality benefits. The ingredient is said to provide an improved solubility which contributes to clearer, cloud-free beverages; a whiter color which lends to pleasing finished product appearance; reduced undesirable taste and odors when compared with other isoflavones on the market; and excellent performance in dietary supplements, beverages, and other functional foods. Custom formulations are available in varied isoflavone concentrations up to 50%. For more information, write to Cargill Health & Food Technologies, 15407 McGinty Rd. W., Wayzata, MN 55391 (phone 866-734-2111; fax 952-742-7573; www.cargillhft.com).
--- PAGE BREAK ---
Natural Fibers extracted from chicory roots was introduced for use in a variety of applications, such as dairy products, dressings, spreads, beverages, cereals, baked goods, and nutritional supplements. Called Oliggo-Fiber™, the family of inulin and oligofructose soluble fibers are said to offer a number of health benefits, including helping to promote bone health by boosting calcium absorption, and a healthy digestive system by stimulating the growth of beneficial bifidobacteria. These ingredients also provide functionality benefits, and may also be used as a fat mimetic, mouthfeel improver, bulking agent, and substitute sweetener. For more information about different members of the family, write to Cargill Health & Food Technologies, 15407 McGinty Rd. W., Wayzata, MN 55391 (phone 866-734-2111; fax 952-742-7573; www.cargillhft.com).
Line of Encapsulated Probiotic Cultures called Probiocap™ have been created, as the result of a strategic alliance between Institut Rosell/Lallemand and Balchem Encapsulates, Slate Hill, N.Y. By combining proprietary encapsulation technology from Balchem (www.balchem.com) and probiotic cultures from Institut Rosell, the companies created stable probiotic cultures that are protected from moisture, high humidity and acidity, and can pass through the gastrointestinal tract without being destroyed. The line, marketed by Institut Rosell, includes Lactobacillus acidophilus, L. rhamnosus, and Bifidobacterium longum. For more information, write to Institut Rosell/Lallemand, 8480 St. Laurent Blvd., Montreal, Quebec H2P 2M6 Canada (phone 514-381-5631; fax 514-383-4493; www.lallemand.com).
Nutritional Yeast is derived from pure strains of Saccharomyces cerevisiae grown on mixtures of cane and beet molasses. Grown specifically for its nutritional value, the ingredient is an excellent source of protein, containing essential and non-essential amino acids; is rich in vitamins, especially B-complex; provides folic acid; and contains other beneficial components such as beta- 1.3-glucan, trehalose, mannan, and glutathione. Applications include nutritional supplements, tablet/capsule ingredients, functional foods, sports nutrition products, and vitamin/mineral premixes. For more information, write to Red Star Yeast & Products, 433 E. Michigan St., Milwaukee, WI 53202 (phone 414-615-4027; fax 414-615-4003; www.redstaryeast.com).
"Flavors for the Healthcare Industry" is the title of a report addressing challenges that flavorists encounter when formulating health products and suggesting flavors that can help mask or modify unpleasant off tastes. For example, flavors such as berry, cherry, grape, lemon, lemon-lime, orange, raspberry, and strawberry can work well with multivitamins with or without added minerals or calcium. Acerola, berry, cherry, orange cream, raspberry, and vanilla can work particularly well for calcium and vitamin C products. Flavors such as orange, lemon, lemon-lime, malt, brown sugar, strawberry, vanilla, and mint can work with high-fiber products. For a copy of the report, write to Flavors of North America, Inc., USA, 525 Randy Rd., Carol Stream, IL 60188 (phone 630-462-1414; fax 630-462-8855; www.fonaflavors.com).
Chocolate Dietary Supplement called Chocamine™ is a new proprietary formulation reportedly based on a potent chocolate extract with natural sources of theo-bromine, caffeine, synephrine, amino acids, and aromas. The beneficial effects of chocolate are thought to come from more than one component and this supplement provides a synergistic blend of these ingredients with added guarana, bitter orange, and natural flavors and extracts.
According to the manufacturer, the supplement can promote positive mood and outlook, suppress appetite, promote healthy energy levels, speeds up the metabolism, and other benefits. Potential applications for this supplement include drinks, nutritional bars, brownies, cookies, diet shakes, capsules, chewable tablets, and other products. For more information, write to Nattrop, 2104 Adams Ave., San Leandro, CA 94577 (phone 510-568-7862; fax 510-639-5500).
--- PAGE BREAK ---
Maltodextrins, marketed under the name Maltrin, may be used to formulate healthy drinks such as a frozen isotonic energy slush, a dry mix strawberry-flavored soy drink, and a dry mix vanilla-flavored soy drink. In the frozen slush, benefits include minimal effect on freezing point, minimal sweetness contribution, clean flavor at high usage levels, soluble glucose polymers, and instant dispersibility. In the soy drinks, benefits include a high level of digestible carbohydrates, improved dispersion, clean flavor, and improved body and mouthfeel. For more information about the specific benefits of these maltodextrins and formulations, write to Grain Processing Corp., 1600 Oregon St., Muscatine, IA 52761-1494 (phone 563-264-4265; fax 563-264-4289).
Mineral Ascorbate—called Ester-C—is available in four new grades. Multivitamin Grade, added to multivitamin formulations, offers a nonacidic form of vitamin C. Chewable Grade is nonacidic, avoiding problems that ordinary vitamin C can cause to tooth enamel. Effervescent Grade can be used in juices and other beverages and has been studied for its efficient absorption. Beverage Grade can be used in tea bags and as a drink mix with standardized granules that instantly dissolve and disperse in hot or cold liquids. For more information, write to Inter-Cal Nutraceuticals, 6735 Inter-Cal Way, Prescott, AZ 86301 (phone 928-445-8063; fax 928-778-7986).
Inulin, marketed under the name Frutafit®, was showcased in nutritious and flavorful energy bars and beverages. Among the applications included a low-glycemic lemon dessert bar; an antioxidant breakfast drink in Raspberry Creme and Mango Peach flavors, and high-fiber and sugar-free drinks made with soy and inulin, and flavored with cherry and vanilla hazelnut flavors.
These applications demonstrate how inulin can increase the nutritional value of foods and beverages without adversely impacting flavor profiles. Inulin has also been used to formulate low-glycemic index bars which provide several hours of satiety without causing a sharp increase in blood glucose level. The bars provide serious dieters an alternative to traditional snack foods as it delays the onset of hunger through sustained energy release. Low-glycemic eating is also used in the dietary management of Type II Diabetes. The bars contain 5 g of inulin, and are an excellent source of fortified vitamins and minerals. Inulin is a natural ingredient extracted from chicory root that offers many benefits including prebiotic and water-soluble dietary fiber properties.
Also, highlighted at the show was the company's newest ingredient, Tex, described as a fractionated inulin that offers enhanced gelling properties. For more information, write to Imperial Sensus, P.O. Box 9, Sugar Land, Texas 77487-0009 (phone 281-490-9522; fax 281-490-9615).
Highly Soluble Soy Proteins called Alpha™ are produced using a process which retains their natural solubility and emulsification properties. According to the manufacturer, their milk-like viscosity and mouthfeel make them suitable replacements for whey protein concentrates, whey protein isolates, nonfat dry milk, and other proteins. Because of their mild flavor characteristics, they may be used in virtually any formulation. For more information, write to Central Soya Co., Inc., P.O. Box 1400, Fort Wayne, IN 46801-1400 (phone 219-425-5432; fax 219-425-5301; www.centralsoya.com).
Natural Color Blends, green and blue, have been developed for use in compressed tablets and food applications. The color blends are available as free-flowing powders which have moisture levels below 5%. They are light- and heat-stable. For more information, write to ColorMaker, Inc., 3345 E. Miraloma Ave., Ste. 131, Anaheim, CA 92806 (phone 714-572-0444; fax 714-572-0999).
Beverage Prototypes have been developed to demonstrate both health properties and desirable flavors. Highlighted prototypes included Citrus Still Beverage (containing 1,500 mg glucosamine HCL and 1,200 mg chondroitin sulfate per 16-oz serving), Mixed Berry Still Beverage (containing 1,500 mg glucosamine HCL and 1,200 mg chondroitin sulfate per 16-oz serving), and Lemon Green Tea (with ginkgo biloba and 5% juice). Formulations are available listing ingredients and their usage amounts. For more information, write to J. Manheimer Inc., Flavor Div., 546 Rte. 46, Teterboro, NJ 07608 (phone 201-641-5599; fax 201-641-2689).
--- PAGE BREAK ---
Fruit-Based Powders and Oils—called Berry Max™—have application in nutraceuticals, foods, and beverages. Products include Red Raspberry Seed Powder with Ellagic Acid, Cranberry Seed Powder, Whole Blueberry Powder, Red Raspberry Seed Oil, and Cranberry Seed Oil. For more information, write to Fuji Chemical Industries (USA), Inc., 7-B Marlen Dr., Robbinsville, NJ 08691 (phone 800-905-3854; fax 609-890-2495).
A Novel Enzyme has been isolated for isoflavone aglycone production. The microbial enzyme is capable of transforming isoflavone glycosides into isoflavone aglycones in soy products. This enzyme preparation utilizes all 9 isoflavone glycoside isomers found in soybeans. As a result, the enzyme preparation converts nearly all soy isoflavone glycosides to isoflavone aglycones (daidzein, genistein, and glycitein) in a one-step reaction. With a new production method using this enzyme, isoflavone glycosides in various soy products (defatted soy meal, soy concentrates, roasted soy flour, and soy milk) can be efficiently converted to isoflavone aglycones, the readily bioavailable isoflavone form. For more information, write to Amano Enzyme USA, Co., Ltd., 1157 N. Main St., Lombard, IL 60248-1360 (phone 630-953-1891; fax 630-953-1895).
Mineral Supplements, based on an organic citrate form, have a high solubility, reportedly allowing for supplementation of foods and beverages that previously could not be accomplished. Products in the line include Gadocal+ (calcium), Gadomag+ (magnesium), and Gadozinc+ (zinc). The mineral supplements are highly bioavailable, have a high mineral content, and are designed for applications requiring extra high solubility. Potential uses may include baby foods, sports drinks, soft drinks, soups, dietary supplements, and other products for increasing the intake of a particular mineral. Brochures describe in detail each of the products. For a copy, write to Gadot Biochemical USA, Inc., 1440 Hicks Rd., Ste. C., Rolling Meadows, IL 60008 (phone 847-259-1809; fax 847-259-6984).
Melon Extract, marketed under the name Extramel®, may be used as an antioxidant in dairy products, cereals and bars, sports products, and dietary supplements. Derived from the pulp of the melon, the ingredient is available as cream-colored microgranules containing 20% melon extract and 80% vegetable fat matter. According to the manufacturer, the ingredient is a source of several antioxidant compounds, including superoxide dismutase, catalase, peroxidase ascorbate, co-enzyme Q10, carotenoids, vitamins A, E, and C, and others. It was developed by France-based Bionov, a subsidiary of A.S.L. For more information, write to Seppic, Inc., 30 Two Bridges Rd., Suite 210, Fairfield, NJ 07004-1530 (phone 973-882-5597; fax 973-882-5178).
Next month's Ingredients section will look at innovative ingredient developments for use in meat and poultry products. The article will highlight some of the new ingredient research and product development in the areas of beef, turkey, veal, lamb, chicken, and others.
by DONALD E. PSZCZOLA
Associate Editor