The Alaska seafood industry received a boost last September, when Anchorage-based Alaska Seafood International (ASI) reopened the largest seafood processing plant in the United States. The 202,000-sq-ft plant is capable of processing 125 million lb of seafood per year.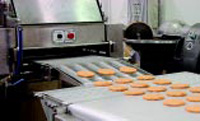 The plant was built in 1999 and was operated from March 2000 until August 2000, when it was shut down because of financial troubles. Last May, Sunrise Capital Partners, a New York investment firm, bought a 51% stake in the company, and installed Russell Schreck as chief executive. The Alaska Industrial Development and Export Authority (AIDEA), the state agency that spent about $50 million to build the plant, owns 29% of the company, with most of the rest held by Taiwanese investors.
The plant operates all year long to produce value-added products such as salmon, halibut, and cod portions with glazes and coatings, as well as salmon burgers and fish tenders, from fresh and frozen fish. The latest industry technology is used to produce precisely cut portions of skinless, boneless fish for retail and foodservice markets under the Great Alaskan Seafood Company brand name.
According to Ed Krysinski (phone 907-770-8315), ASI's Vice President of Research & Development, fresh or thawed fish is processed on a high-speed Marel processing line. After the collar and skin are removed, the fillets may be injected with a marinade, then are automatically cut into portions (loin, center cut, or tail) which are then weighed and sorted automatically into 4- to 6-oz portions. These portions are then frozen and either packaged for shipment or further processed by the addition of glazes or forming into other value-added products.
To make a salmon burger, for example, the frozen fillet is chopped in a bowl chopper with other ingredients and formed into a 1- or 2-oz tender, battered and breaded, and par-fried as an appetizer. The consumer simply heats the product in an oven at 375–400ºF for 10–15 min. The product was introduced early this month in local stores and nationwide in Sam's Club outlets. The bowl chopper has the capability of vacuum infusing the product with marinade. Liquid carbon dioxide can also be added as a fog to lower the temperature to below freezing to facilitate forming.
The plant has three processing lines, a forming machine, a breading line, and five spiral freezers. A press stamps out portions that feed into the breader, and a steaking machine produces steaks of salmon, halibut, swordfish, and tuna. A glazing line applies flavored glazes to portions. Also included are various packaging lines, including vacuum packaging for retail sales and bulk packaging for Sam's Club.
The natural portions are packaged in styrofoam trays with a clear overwrap or vacuum packed and frozen for retail sale. Some products, such as the Jalapeño and Cheese Salmon Tenders, are frozen and packaged in 2.5-lb standup polybags for sale in Sam's Club.
Currently, the products are shipped frozen, but since the plant is conveniently located one-half mile from the Anchorage airport, the company will start shipping fresh refrigerated products this summer.
Krysinski said that the company infuses its products with ASI's exclusive Arctic Mist Flavor-Loc™, an all-natural, proprietary marinade that has the ability to bind water to protein on a molecular level. When the fish is cooked, the moisture is retained in the product and prevents the product from overcooking, even at 200ºF. In comparison blind testing of untreated and treated products, he said, the treated product is always preferred. The company is also doing research to improve moisture retention in shrimp and scallops by this method.
The company also adds flavors, such as garlic, butter, and honey-sesame ginger, to the marinade to enhance the natural flavor of fish, salmon, cod, scallops, and other seafood. The marinade can be either injected directly into the fillets or incorporated into shellfish by vacuum tumbling.
The company is also considering using acidified sodium chlorite, recently approved by the Food and Drug Administration, to extend the shelf life of the fish. Incorporated into ice, the acidified sodium chlorite releases chlorine dioxide on a time-release basis to kill bacteria on the surface of the fish, extending the shelf life by 3–4 days. The usual shelf life for sockeye salmon is 10–12 days.
According to Don Kramer (phone 907-274-9691), Seafood Specialist at the University of Alaska Marine Advisory Program, the Alaskan fishermen are enthused about having a place to sell their fish. It's a big step forward for Alaska salmon, which has had competition from the aquaculture industry, resulting in poor prices over the past few years.
by NEIL H. MERMELSTEIN
Editor